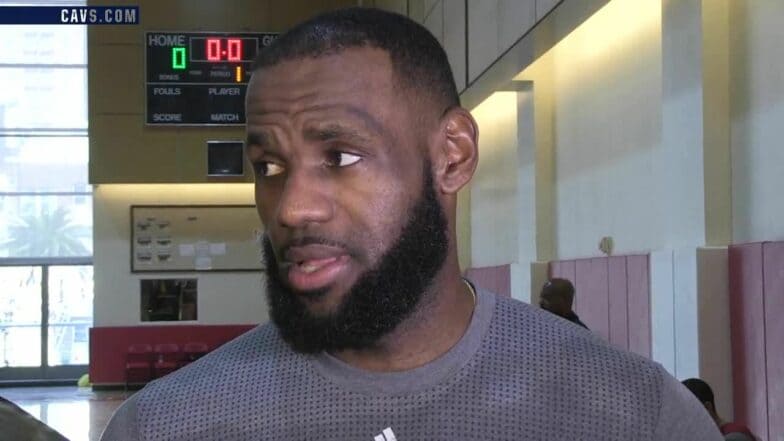 OAKLAND, Calif. — When the Warriors traveled to Cleveland last January after winning the 2015 NBA title by beating the Cavs, Stephen Curry had so many fond memories there he mentioned the chance of champagne smells still lingering in the visiting locker room all those months later.
"Obviously, walking in the locker room, it'll be good memories," Curry said at the time. "Hopefully, it still smells a little bit like champagne."
Understandably, that didn't go over too well with LeBron James and Co.
Curry is surprised his comments were taken quite so literally . He insists once again there was no harm intended but rather just the excitement thinking back to the memories of winning the franchise's first championship in 40 years.
"I was surprised it was maybe taken the way it was because I was because obviously if I'm thinking about that locker room I'm thinking about great memories and celebrating with my team," the two-time reigning MVP said Sunday after practice. "It may have come off the wrong way but at the end of the day it was a comment about just what it would be like to go back to that setting. And I heard a lot of it right back at me this summer, so it's all in good fun."
Even on the golf course – "that was pretty good" – at Lake Tahoe.
Not on his backswing. That would be problematic for Golden State's superstar.
"I would have went full Happy Gilmore , Bob Barker, the whole deal," Curry said. "Don't mess with my golf game. You can talk trash all you want to."
Curry's words carried some weight: He scored 35 points in three quarters of that 132-98 rout back in Cleveland a year ago.
Now, the champion Cavaliers get their chance – not that they're treating Monday night's much-anticipated rematch at Oracle Arena as make-or-break. Not in mid-January, anyway.
"We don't look at it as a rivalry," James said. "They're a great team. They've been the best team in the league the past couple of years, the last three years. We just want to get better."
OK, King James.
Kyrie Irving has hit the game-winning shot in the final seconds the past two matchups.
"Two teams that went to the Finals back-to-back years and split, I would consider it a rivalry," Cavs coach Tyronn Lue said.
Golden State certainly knows how meaningful this one will be in Cleveland's first visit to Oracle Arena since rallying from a 3-1 deficit to stun the 73-win Warriors in Game 7 of the NBA Finals on their home floor and deny them a repeat title.
Then, they squandered a 14-point lead to lose 109-108 on Christmas Day in Cleveland, and Golden State wasn't even as upset about the NBA saying the referees missed two key calls as it was about the uncharacteristic late-game collapse.
After that, Curry committed to being more aggressive considering he took just 11 shots and made four for 15 points. He and Kevin Durant are playing more together of late, too.
This time, they play again in a spotlight game on Martin Luther King Jr. Day.
"You want to give it all you've got each and every time you step on the floor but that's just not realistic. But there are certain games that you want to get up more so than others," Golden State's Draymond Green said Sunday. "I think that's at any level of basketball."
As Cleveland incorporates newcomer Kyle Korver after acquiring him from Atlanta, the Warriors also are still finding their way.
"I know the talk around us is we have this super team and we have 12 superstars on one team," Durant said. "I hear that all the time. But this is an adjustment."
A day after the loss at Cleveland last month, the NBA said that James should have received a technical for hanging on the rim with 1:43 to play and that Richard Jefferson fouled Durant on the game's final play. That prompted Durant to call on the league to ditch the Last Two Minute Report altogether.
Golden State will have had three days off to get ready for the rematch.
"We've got perspective on it," Warriors coach Steve Kerr said Sunday. "It's a good gauge for us. Obviously it's a great rivalry. We're looking forward to the game just as I'm sure they are. What it means long-term, probably not a whole lot. It's a good matchup and a team that beat us last year in the Finals, so, yeah, it means something."
—
AP Sports Writer Josh Dubow contributed to this report.