Balancing dual roles of coach, GM a tough act to do in NBA
Only five men hold both jobs, which is easier said than done in most cases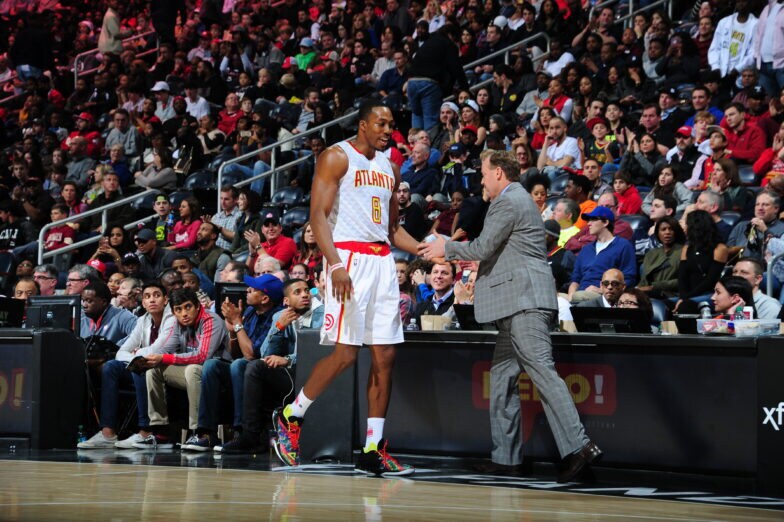 When Paul Millsap wanted clarity on his status last week with the Atlanta Hawks, who recently accepted bids for his services, he went from the coach's office to speak with the team president, and never left his chair.
That's because Mike Budenholzer holds both positions and therefore held Millsap's fate as well. It was a unique study in front-office dynamics, where one man pulls all the strings and is fully capable, without interference from above, to pull the rug from under the feet of any player. Budenholzer had to coach Millsap one moment, then weigh offers for him the next moment. A tricky situation, for sure.
He's in an exclusive group in that regard; only a handful of coaches carry that clout. The others: Doc Rivers with the LA Clippers, Stan Van Gundy of the Detroit Pistons, Tom Thibodeau of the Minnesota Timberwolves and Gregg Popovich of the San Antonio Spurs. Two other coaches lack the dual titles, but do have massive sway in basketball decisions: Rick Carlisle of the Dallas Mavericks and Jason Kidd of the Milwaukee Bucks.
For a coach, having final say on all personnel matters is the perkiest of perks. It empowers them in the organization and lifts them above the resident star player, for the most part. The coach/GM has greater sense of authority and works without fear of someone going over his head. He answers only to the owner.
Just the same, there's no one to blame if something goes wrong, except maybe the overworked personnel director who does most of the legwork in terms of scouting both NBA and college talent. Most owners prefer a clear chain of command and a sense of balance in the basketball operations, instead of one voice. For example, who has the authority to protect the coach from himself? Who is the higher-up who can offer healthy debate, disagreement and ultimately overrule the coach/GM?The gold standard is Red Auerbach, who oversaw the Boston Celtics' drafts and trades while coaching, but that was a different time and era.
The game is so much more complicated and detailed with drafting and free agency. But Auerbach had power, especially over the locker room, something all coaches secretly crave, the kind of power that allows them to win any potential battles or conflicts.
How many of today's double-duty coaches are getting the results that justify holding both jobs? In that sense, it's a mixed bag, with only Popovich even approaching Auerbach's balancing act on the bench and inside the front office.
Here's an examination of the five whose desk is where the buck stops inside their organizations:
Mike Budenholzer, Atlanta Hawks
Four years ago he was a long-time assistant coach with the Spurs and rather anonymous. Right now he's running a team. That's a rapid climb by any measure, and if former Hawks GM Danny Ferry hadn't read a certain passage from a scouting report on a conference call with team owners, Budenholzer would likely be a coach only. But, as you know, things happened with Ferry, and Budenholzer leveraged his way into more clout within the organization during the Ferry fallout and subsequent ownership change.
He coached the Hawks to a team-record 60 wins two seasons ago while Ferry was in exile and then assumed the controls the following summer. Since then, Budenholzer's efforts have been spotty. He lost DeMarre Carroll and Al Horford in back-to-back offseasons, traded Jeff Teague (for whom he didn't get equal value in return) last summer and spent heavily to either add or re-sign Dwight Howard, Dennis Schroder and Kent Bazemore (none of whom will be an All-Star this year).
He also traded Kyle Korver to the Cavs for little, and briefly explored the idea of trading Millsap, the best player in the Budenholzer era, before pulling back, at least for now. Meanwhile, the Hawks since 2014-15 have been an average team record-wise and failed to return to the Eastern Conference finals. While Budenholzer doesn't appear to be in any apparent danger of being stripped of one or both jobs, it'll be interesting to see the level of patience by new owner Tony Ressler, who's spending millions on a new practice facility and upgrade to Philips Arena.
Doc Rivers, LA Clippers
He squeezed his way out of Boston once the desperate Clippers dangled both jobs and were even willing to unload a first-round pick as compensation. Rivers inherited Chris Paul, Blake Griffin and DeAndre Jordan in the process. He got money, power and talent — what's not to like in that situation?
Furthermore, Rivers was the picture of reasoned anger during the Donald Sterling debacle. When Steve Ballmer purchased the club, Rivers' standing in the organization was strengthened as the inexperienced Ballmer leaned heavily on Rivers and gave him carte blanche.
Yet the Clippers haven't gone much farther under Rivers than they had under former coach Vinny Del Negro, who was crushed and ultimately run out by the leaders in the locker room. That's the baggage Rivers currently carries until he gets LA to the Western Conference finals, at the very least. His personnel decisions have been met with critical response; only this season have the Clippers upgraded their bench to meet the standard of most championship-caliber teams.
This summer will be crucial for Rivers. Paul and Griffin will be free agents, and while it's hard to imagine either player signing elsewhere, they'll demand (and likely get) massive contracts bound to stretch beyond their prime-performing years.
Stan Van Gundy, Detroit Pistons
Stung badly by the messy Dwight Howard conflict in Orlando that eventually cost him his coaching job, Van Gundy was determined to wait until his next job came with assurances. The Pistons (like the Clippers) were desperate to make a splash, and they gave Van Gundy the power he wanted.
Almost immediately, Van Gundy began ridding the Pistons of the mistakes made by former GM Joe Dumars. Van Gundy even jettisoned Josh Smith after less than two seasons in late 2014 and ate the remaining contract.
The Pistons, however, are not yet an elite team and will reach the halfway point of this season with a losing record. Van Gundy has assembled a decent load of talent with Reggie Jackson and Tobias Harris ex-Dumars Draft picks Andre Drummond and Kentavious Caldwell-Pope. Yet, he also drafted lottery pick Stanley Johnson, who's struggling two years later, and spent millions last summer on free agents Boban Marjanovic and Jon Leuer with mild results.
Coincidently, Van Gundy lacks the player he had in Orlando, where Howard helped the Magic reach the NBA Finals, the kind of star Van Gundy now craves.
Tom Thibodeau, Minnesota Timberwolves
This was another Van Gundy-like situation: Desperate team seeks a proven winner. Deposed coach, burned by management in his last gig, waits for the right situation. On paper anyway, Thibodeau was an automatic choice for the Wolves last summer, when his hiring received an almost universal thumbs-up. Suddenly, the expectations for the Wolves was raised as well.
Thibodeau preached the gospel of defense, which allowed him to win in Chicago even after Derrick Rose suffered from a rash of injuries, and the young Wolves needed those lessons in the worst way. Not only can they not stop anyone (they're 24th in Defensive Rating), they can't close out games (0-7 so far in games decided by 3 points or less), all of which was understandable for a team of mainly players in their early 20s.
It's been a painfully slow transition, however, and based on projections (which might've been unrealistic to begin with), the Wolves are a disappointment. So far, Karl-Anthony Towns, Andrew Wiggins and Zach LaVine haven't been enough to pull Minnesota on par with, say, the Milwaukee Bucks, who are similarly built.
Gregg Popovich, San Antonio Spurs
He was GM until he yanked the coaching job from Bob Hill in a controversial move in 1996 and assuming that job as well. Of course, the rest is history: five NBA championships, 18 50-win seasons in 21 campaigns and a reputation for stellar decision-making put Popovich at the very top of his profession and made the Spurs the model organization of the NBA (if not all pro sports).
If you ask Popovich, he'll say he's been lucky as well. His stars were Hall of Famer David Robinson and future Hall of Famer Tim Duncan, two of the most professional, loyal and team-oriented players of our lifetime. They allowed Popovich to coach them and, on occasion, yell at them. They set the tone for the rest of the players in the locker room for decades, and Popovich's authority was rarely challenged.
Along with his trusty GM sidekick RC Buford, Popovich has made the most of the Draft despite lacking high picks, reeling in Tony Parker, Manu Ginobili and Kawhi Leonard. He also swung trades for, or signed valuable role players: Stephen Jackson, Steve Kerr, Steve Smith, Pau Gasol, Brent Barry, Avery Johnson, etc.
There was some buzz about whether Popovich would continue once Duncan retired last summer, but the play of Leonard erased that idea; along with LaMarcus Aldridge the Spurs are once again near the top of the West and giving Popovich a chance to add to the trophy collection.
Veteran NBA writer Shaun Powell has worked for newspapers and other publications for more than 25 years. You can e-mail him here, find his archive here and follow him on Twitter.
The views on this page do not necessarily reflect the views of the NBA, its clubs or Turner Broadcasting.