Uncategorized
LeBron used to spotlight; Cavaliers learn to adjust
Just another Monday for James, but Pelicans rise up to win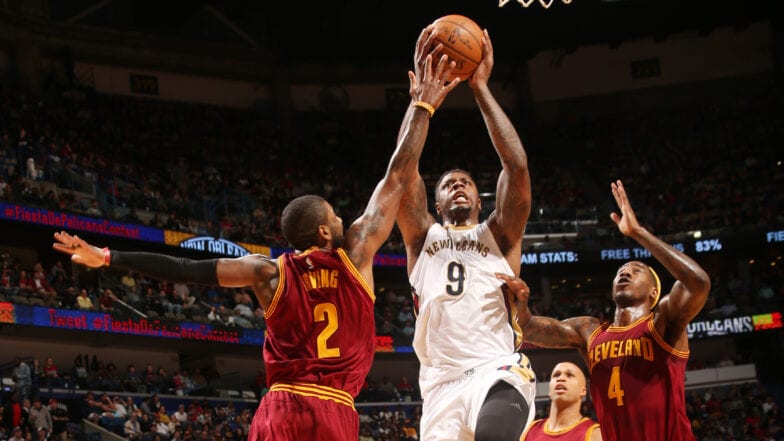 NEW ORLEANS — Could he remember the last time he wasn't the focus of attention at a basketball game? LeBron James had to think back to answer the question.
"Probably my freshman year in high school,'' he said, and then he pinpointed the last time he was the underdog, free of expectations. "At the beginning of the season,'' he went on. "Because towards the end, it started to get pretty hectic.''
Ever since he was 15, James was saying, he had been central to the story of every game he played. He was known as the star who elevated his team, but there was another side to that priceless coin: James's presence also tended to bring out the best in his opponents.
He was discussing this subject from a corner of the court before his team's morning shootaround, not quite nine hours before the next game. For his hosts, the New Orleans Pelicans, this event was promising to be a defining contest for their up-and-down season. For James, it was another Monday.
"Initially it's just not knowing what to expect,'' said Kevin Love, who grew up in Lake Oswego, Ore., played one year at UCLA and then spent six seasons missing the playoffs with the Minnesota Timberwolves before joining James in 2014 with the Cavaliers. "It took a little bit of time. Every city, every road trip, was a circus. Every time we turned into a hotel at 2 or 3 in the morning, it would be lit up with people waiting for autographs, taking photos.''
In their biggest recent games against the Golden State Warriors, when the Cavaliers have stayed in San Francisco, there have been hundreds of fans gathered around their hotel. James and his teammate have remained largely unaffected by the scrutiny — having reached the last two NBA Finals while recovering from a 3-1 deficit to win the most recent championship — because it's built into their everyday life.
"That was one of the easier transitions to get used to,'' Love said of the attention that follows the Cavaliers everywhere. "I think more than anything, it was getting everybody's best shot every single night.''
James tends to unify the opposition. Just three nights earlier, the Pelicans had been blown out here 143-114 by the Brooklyn Nets, who had arrived with an 11-game losing streak and the NBA's worst record. On this Monday night, however, the Pelicans looked like potential champions themselves. They opened up a 12-point lead in the opening quarter and were ahead 70-48 in the final seconds of the half.
"Everybody wants to dethrone `The King,' so to speak — the guy that's been to, what, six straight Finals now? Or is it his seventh?" said Love. The answer is that it is likely to be seven straight this June. "So many people want what he has,'' Love went on. "So naturally you're going to get everybody's best effort. It was something that definitely you had to know that it's coming. Once you've gone through it so many times, you find almost a comfort level in it, and a way to make yourself better. It starts to really up your game. You feel like you are part of this thing.''
"At the end of the day we always know, no matter who we go against, no matter the record, teams are going to always play better against us,'' James was saying Monday night, as he sat with both feet in a large tub of ice water at the end of the long day. "Especially on the road. The crowd is going to be excited. It's going to be sold-out for most of the games and they're going to feed off their crowd.''
Not only does that marketplace create energy that influences the outcome of the game, but it also forces James and his Cavaliers teammates to pay the highest variably-priced ticket prices for family and friends.
"I buy tickets for family in Phoenix,'' said Richard Jefferson, who attended high school and college in Arizona, "and then after that it's like, I got two tickets for free and that's all I got. I'm not going to Golden State where their tickets are up-charged $600-$700 just to get in the doors. Oh, no, I ain't doing that.''
Jefferson and his teammates share their free tickets when possible. "You need tickets here, I need tickets there — so guys aren't having to pay thousand of dollars for tickets,'' he said. "Especially for the young guys. We will all try to make sure we give our tickets to Kay Felder (their rookie from Oakland University) when we go to Detroit, so maybe he's going to get eight tickets from his teammates to help. Then he gives us his tickets in other cities — like he will give me his tickets in Phoenix.''
There appeared to be a few hundred empty seats in the sold-out Smoothie King Arena, but there was no absence of energy in either direction. The loudest applause was received by James when he was introduced before the game. There was no equitable response on behalf of the host Pelicans because their star, 23-year-old Anthony Davis, had been ruled out with a right quadriceps injury — a charley horse incurred during the blowout loss to the Nets on the other side of the weekend.
"We had a gameplan as if he was playing this morning, and didn't know that he wasn't playing until 30 minutes on the clock,'' James said of Davis's absence. "So we had to switch our whole gameplan, which is a tough adjustment period. But we still have to be better than that.''
Davis's replacement, Terrence Jones, was going to respond with an unlikely 36 points, 11 rebounds and three blocks in 36 minutes. He was going to make his first eight shots from the field in concert with point guard Jrue Holiday, who would put up 33 points (12 of 19) with 10 assists, six rebounds and two blocks.
"They know every night they're going to get the best from anybody out there,'' Pelicans coach Alvin Gentry said of LeBron's Cavaliers. "Because they are the measuring stick. Every night when they line up and play a team, this team says, `If we ever want to be champs, this is who we have to beat — and we have to beat them consistently.' I think that's the way you've got to approach it. And that's why I tell our guys, `You should really embrace the opportunity to play against this team.' And it doesn't matt if we have A.D. or don't have A.D., you have to compete at the highest level.''
"I think more than anything, it was getting everybody's best shot every single night.''

Kevin Love
There was an ongoing story that needed to be understood in the context of this game in New Orleans. The narrator of the story was James. He had been talking about the pressure he had faced as a basketball star for more than half of his young life, ever since he was 15.
Except, for him, the demands to excel in basketball did not feel like pressure. He did not believe that basketball had forced maturity upon him at a young age.
"I think it started before then,'' James said of his ability to see the bigger picture. "Just growing up in the situation I grew up in — single-parent household, and the only child. I had to grow up faster than a lot of kids, you know. I had to grow up at like 5 or 6 years old. I didn't need basketball to grow up.''
He has not had to remind himself that he has faced with worse pressure than basketball can create, James insisted. He was asked if he reminds himself that he has faced much harder struggles than basketball has created for him, and he shook his head.
"No, it's just in me,'' James said. "It's in me.''
The Pelicans were going to upset his champion Cavaliers 124-122 on Monday night. They would block 11 Cleveland shots, derive 26 points from backups Donatas Motiejunas (14) and Langston Galloway, and withstand a spectacular 49 points from Kyrie Irving (15 of 28 from the field) and a triple-double in 44 minutes from James (26 points, 12 assists and 10 rebounds). And yet, for the winning coach, the context was narrow and fleeting.
"It's one game,'' said Gentry. "For us its all about creating consistency. We have to do it for the next game, and the next game, and the next game. If we do it eventually, then yeah, it will become habit. But just like I didn't put a whole lot on the Brooklyn game, I don't put a whole lot on this game too. It was one game that we played well. We've got to do it a lot more consistently before we can say this is who we are.''
The consistency of having played in these settings for 17 years has enabled James to know who he is regardless of his opposition. At age 32, the champion is intent on winning more championships.
For Terrence Jones, the isolation spin move that he executed crucially against James with 1:39 remaining is a crucial play that he will never forget.
For James, a play like that can leverage future outcomes that the rest of us may always remember. He was fully invested in this loss, and still optimistic. Angry and yet reasonable.
"We're just not very good right now,'' LeBron James was saying, before he would shower, dress and fly home to Cleveland. "`Got to be better.''
His next road game will be in Dallas Jan. 30 in a rematch of the 2011 NBA Finals. It promises to be a big evening for the Mavericks. For James, it will be yet another Monday.
Ian Thomsen has covered the NBA since 2000. You can e-mail him here, find his archive here or follow him on Twitter.
The views on this page do not necessarily reflect the views of the NBA, its clubs or Turner Broadcasting.