Cleveland Cavaliers GM Koby Altman has 'good dialogue' with LeBron James about future
From NBA Twitter and media reports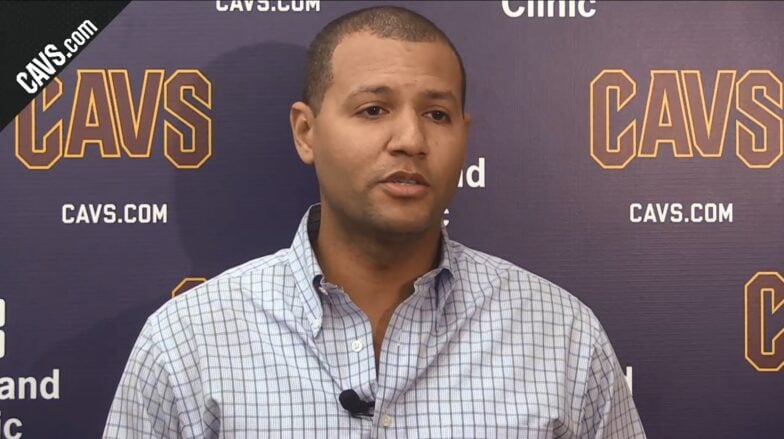 The Cleveland Cavaliers made their pick in the 2018 Draft on Thursday without knowledge of what LeBron James will do in free agency this summer. After doing so, GM Koby Altman — the man tasked with keeping James in Cleveland this summer — says he had a "good dialogue" with LeBron and his camp.
James has until June 29 to exercise his $35.6 million contract option for next season or decline it and become an unrestricted free agent, officially making him the planet's best and most coveted player.
The Cavs chose Alabama guard Collin Sexton with the No. 8 pick last night, who immediately made a pitch of sorts to try and get LeBron to stay. As for Altman, he told reporters after the 2018 Draft that James has more than earned the right to play out his free-agency decision how he chooses.
ESPN's Dave McMenamin has more from Altman, who briefly discussed his conversation with James:
"We continue to have good dialogue with his management team," Altman said Thursday after the Cavs drafted Alabama point guard Collin Sexton with the No. 8 pick. "I think LeBron has more than earned the right to approach his contracts the way he does. He's done that before, so this is nothing new for us.

"We want to respect his space during this process, and I continue to have really good dialogue with his management team as he goes through that process. That's probably all I can say at this point regarding him, but we don't take him for granted. We love him, this city loves him. He means the world to us and this franchise."

Cleveland went into the draft without knowing James' intentions for next season; he has spent this week on a family vacation, multiple sources told ESPN.

…

Altman was also asked whether he felt as if the Cavs are capable of positioning themselves to beat the Golden State Warriors should they get back to the NBA Finals for a fifth straight year with James next June.

"I think there's two things to that: One, the Finals hurt us so much because we were competitive in that Finals," Altman said. "That was what hurt. Because we were more competitive, I think, this year than we were a year ago when we came back from Golden State having lost by a combined 40 points or something like that [in Games 1 and 2]. We were really competitive in this series, and to come away how we came away just really hurt, because I thought we were really in a couple of those games and could've swung the series either way.

"That being said, we need to get better to beat one of the all-time great teams in the history of the game, with their talent level and what they put together. Dan Gilbert will spare no expense and is committed to winning championships. That is our goal. We did not meet that goal, but we have to keep doing better, and we have to invest in player development. We have to get better with our youth, and then we have to explore opportunities to add and try to improve our talent level as well. That's my job, and we are certainly trying to attack that as we speak, for sure."
Koby Altman raves over LeBron's season and playoff run. Won't comment much further on what his status is with #Cavs because the organization wants to give him his space and respect how he handles things. pic.twitter.com/3nBjjK6r81

— Spencer Davies (@SpinDavies) June 22, 2018
#Cavs GM Koby Altman on @KingJames. Says they continue to have dialogue with LeBron's representation, James has earned right to handle contracts the way he has, & Cavs don't take for granted what LBJ disld for them this year pic.twitter.com/aBInIUF3v9

— Daryl Ruiter (@RuiterWrongFAN) June 22, 2018
Following Game 4 in The Finals, James said he'll factor in his family's well-being along with his thirst to win more titles into a decision that once again has Cleveland edgy. James has remained off social media since the playoffs began in April, and his self-imposed blackout has continued since the Finals ended.
If James doesn't stay in Cleveland, there's a strong chance he'll look to join the Los Angeles Lakers, who have salary-cap room to sign two maximum contract players. James already owns two homes and a film production company in Southern California.
Moments after the team selected Sexton last night, the Alabama playmaker made his appeal for LeBron James to resign with Cleveland.
"Man, LeBron, let's do it," Sexton said during ESPN's telecast from the draft in Brooklyn. "Let's do it. I've you needed a few extra pieces this past season, and let's do it. Let's go back to the Finals."
Sexton averaged 19.2 points and 3.6 assists as a freshman for the Crimson Tide, and the 19-year-old also led the school to the NCAA Tournament for the first time since 2012. The confident 6-foot-3, 190-pounder is a proven scorer and he addresses a major need for the Cavs, who traded All-Star point guard Kyrie Irving to Boston last year and spent all season trying to replace him.
Cleveland coach Tyronn Lue started eight different point guards during the regular season.
Sexton said he had one of his better workouts with the Cavs, and that while he was in Cleveland he attended Game 4 of the Finals.
The Cavs passed on a chance to take Missouri forward Michael Porter Jr., whose back issues have caused him to drop in the draft. Porter was selected No. 14 by Denver.
* * *
Information from The Associated Press was used in this report.