Top Stories
Derrick Rose thinks he will be OK to play Thursday vs. Orlando Magic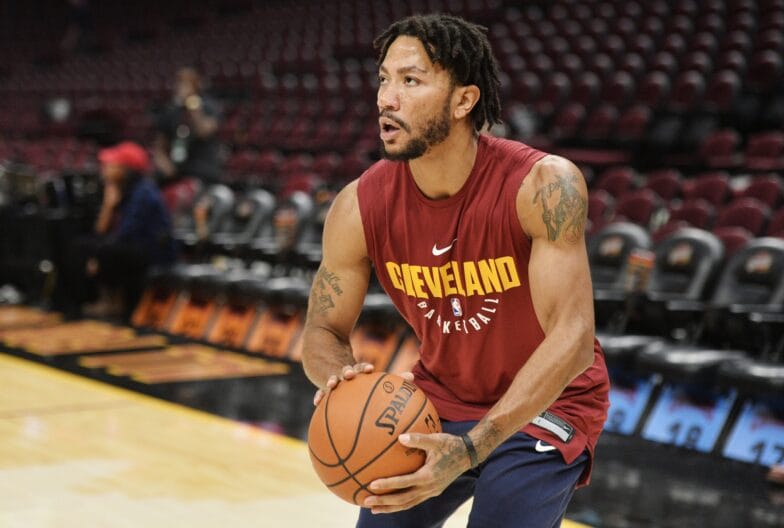 Derrick Rose has been back working with the Cleveland Cavaliers' medical staff since early December in hopes of recovering from a sprained left ankle and bone spurs. With the Cavs in need of some kind of a boost, perhaps Rose will be able to provide that tomorrow night.
Rose said after practice Wednesday that he thinks he is a go for Thursday's road game against the Orlando Magic (7 ET, NBA League Pass). The final call on his status will be made tomorrow and will likely be based on how his body responds to another practice.
#Cavs Derrick Rose thinks he's a go for tomorrow against Orlando. Wants to see how his ankle responds to today and how he feels tomorrow.

— Chris Fedor (@ChrisFedor) January 17, 2018
.@drose says he feels good and looks like a go tomorrow after a good practice today..all depends how his body responds tomorrow pic.twitter.com/ledxbuhRn9

— Fred McLeod (@CavsFredMcLeod) January 17, 2018
Derrick Rose says he thinks he's a go for tomorrow. He hasn't played since, well, I'm not sure. Awhile

— Joe Vardon (@joevardon) January 17, 2018
Here's more from Cleveland.com's Chris Fedor
"I just want to hoop," Rose said Wednesday afternoon following the Cavs' lengthy practice. "It's not about stats or anything like that. I just want to go on the floor and show people what I still have in the tank and help this team in any way I can."

…

"It's hard but at the same time it's the same team that…how many we lose in the beginning of the season? Exactly, 5-7, we won 13 straight," Rose said. "You're going to have ups and downs in a season. It's all about how you handle your losses and how you communicate after them.

"Usually teams tend try to handle everything by themselves or players try to handle everything individually on the floor, but we need each other. We know that we gotta help everybody up, help everybody's game and just make the game easy for each other while we're out there."

…

While Rose is more of a score-first player, he believes, at the very least, he can provide a spark.

"I can help the team in many ways," Rose said. "I think that pace can be one of the ways, where pushing the ball and facilitating, getting guys in the open court."
Rose made seven starts and is averaging 14.3 points and 26.9 minutes with the Cavs, who signed him to a one-year, $2.1 million free-agent contract this summer.