Chris Bosh could potentially join stacked Hall of Fame class of 2021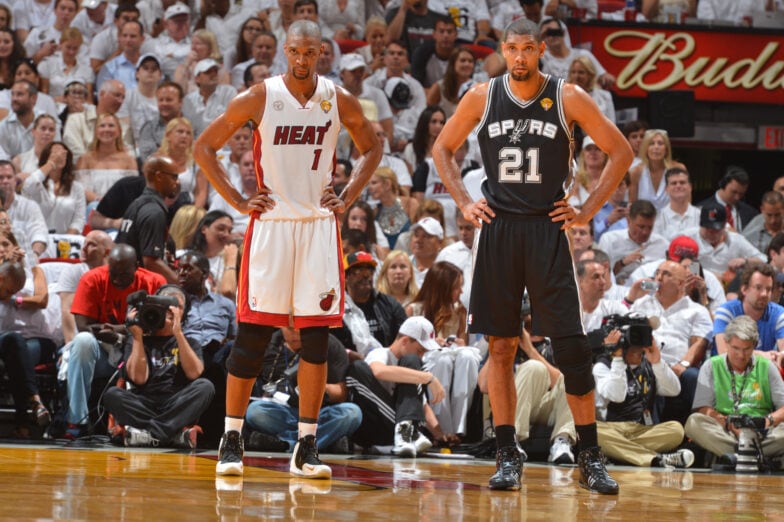 The Hall of Fame class of 2021, already destined to become arguably the greatest ever, could turn out to be even better than expected.
The Heat waived Chris Bosh on Tuesday, setting the stage for Bosh to join Kobe Bryant, Tim Duncan and Kevin Garnett, among others, on the ballot for the first time.
Bosh has not announced his retirement, and playing in the NBA again, after signing as a free agent, would re-start the waiting period on his candidacy. But if the long-expected procedural move by the Heat is the final official chapter of his career, the 11-time All-Star and two-time champion in Miami would be eligible for the election cycle that begins in 2020 and ends with 2021 enshrinement.
Bosh's last official connection as an NBA player may end up being in 2016-17, but the countdown to eligibility starts with a final game. That was 2015-16 in his case — what also turned out to be the last season for Bryant, Duncan and Garnett. Spurs coach Gregg Popovich, having previously made it clear he did not want the attention that would come with induction, may finally accept his fate if he could enter Springfield, Mass., with Duncan and be joined once again and forever with another pillar of decades of San Antonio success.
Amar'e Stoudemire could also be on the ballot — Elton Brand and Caron Butler will be among others eligible for the first time — but the Hall will have to rule on Stoudemire's timeline. While he last played in the NBA in 2015-16, as a Bosh teammate in Miami, Stoudemire, a six-time All-Star and five-time All-NBA pick, has continued his career in Israel. Officials disregarded Allen Iverson's 10 games in Turkey in 2010-11 and stuck to his NBA exit for eligibility, but Stoudemire has already played one full season for the Jerusalem team he co-owns and is signed for another.
Additionally, Tamika Catchings should be easily elected by the Women's committee for the Class of 2021 if she is nominated in her first year of eligibility.
Scott Howard-Cooper has covered the NBA since 1988. You can e-mail him here, find his archive here and follow him on Twitter.
The views on this page do not necessarily reflect the views of the NBA, its clubs or Turner Broadcasting.