BYU big man Eric Mika takes unique path to follow NBA dream
Lacrosse's loss is basketball's gain.
When Erik Mika attended the tiny Waterford School in Salt Lake City, Utah, lacrosse was his game, even though he was built more along the lines of a basketball post man at 6-foot-10 and 230 pounds or so. His older brother and role model had played lacrosse and helped BYU win a club team national championship, and the aggressive nature of the sport appealed to him.
"It's like football, and hitting people with a metal stick while you're at it," Mika said, laughing. "It's a physical game, a man's game. I started playing lacrosse because I loved just hitting people. You could body check, just like in hockey. You can level people, and it's legal."
Complete coverage of 2017 NBA Draft
But Mika's infatuation with lacrosse wouldn't last, not after he moved to Lone Peak High School, a Utah basketball powerhouse that he helped win the 2012-13 5A state title. Besides the obvious reasons for switching sports — he was a large man who could move his feet — Mika fell under basketball's sway at Lone Peak because the sport was a big deal there. College scholarship offers followed, and there was little question where Mika would end up — he followed his brother's lead and went to BYU, where as a freshman he channeled his penchant for contact, averaged 11.8 points and 6.4 rebounds, set a school record for offensive boards in a season and made the West Coast Conference All-Freshman team.
"I took as many different paths as anyone has ever taken to get here. … I'm up for the challenge. Whatever it takes to get there, I'm ready to do it."

— Eric Mika
If lacrosse and its physicality, and his older brother helped shape Mika's athletic career to that point, another, more life-changing event lay ahead. After his first season at BYU, Mika embarked on a two-year Mormon mission to Italy, where nearly every day he worked from sunup to sundown spreading the gospel, helping people move, learn English or build houses — anything to be of service. He was allowed to exercise 30 minutes a day, but because his designated workout time was 6:30 a.m., Mika didn't exactly adhere to a strict regimen. He didn't have access to email or social media, and phone calls to his family or girlfriend were limited to a few times per year.
Suffice it to say Mika had a lot of time as he walked countless miles during the course of his mission, to think about life in general, and his in particular. Though he barely touched a basketball, a hoop monster was growing inside him, just because his worldview had been forever altered.
"The mission, it mans you up," Mika said. "It's paramount to your development as a person because you learn to not sweat the little things. You just see the big picture. There are so many things that can go wrong in a country you're not used to and working 24/7 with a partner you've never met before. It's different. You learn to deal with it, and make the best of every situation you're in."
Mika realized something else in Italy. He loved basketball. And he missed it. So when his mission ended and he returned to Utah in May 2016, he went to work.
"I chilled for a couple of days," Mika said. "And then I started getting my legs back, step by step. Every two weeks, I'd pick up the workouts a little bit more. I wanted to push my body to its limits, and that's what I did. I had a good communication system with the coaches to where, if I felt like I was on the verge of death, I'd tell them I've got to take a day off.
"By time August rolled around, I was in the best shape of my life."
Partly because of opportunity — BYU was in dire need of a post player — and partly because of his hard work, Mika became the scourge of the West Coast Conference in 2016-17. He averaged 20.3 points (second in the league), 9.2 rebounds (second) and 1.9 blocked shots (first), scored in double figures in all 34 games and racked up 17 double-doubles. When BYU, for the third season in a row, won at WCC perennial power Gonzaga, thus ending the Zags' hopes at an undefeated regular season, Mika's fingerprints were all over the game thanks to his 29 points, 11 boards and two blocks.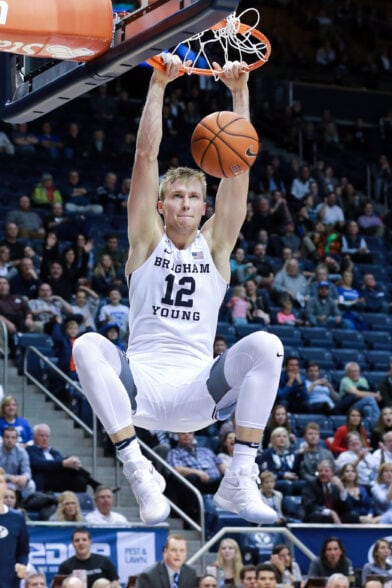 "We've had so many guys come back from a mission after two years and try to find where they left off," said BYU coach Dave Rose, who as a young man went on his own mission, to England. "Of the post guys [Rose has coached at BYU], Erik found it quicker than anybody. He's obviously a guy who understands his body and did what he needed to do [walking everywhere he went] to keep it in some kind of shape when he was over there, not just ignore it for two years.
"Erik's improvement was a product of his work ethic and his determination and the time he spent. The position he played was wide open, and he jumped in there and was able to take advantage of it. He had a great season."
So great that Mika decided he was ready to challenge himself at the highest level possible. Though some NBA Draft analysts have opined that Mika's age (22) gave him a sense of urgency to give up his final two seasons of college eligibility, Mika says that figured into his decision only minimally. The way Mika sees it, he may be older than most NBA Draft picks, but he's a youngster in terms of his basketball maturation.
"I'm still young in basketball," he said. "You've got to remember that [counting a season on the sidelines after transferring to a different high school and the two-year mission], I've played only three seasons out of the last six. I entered the Draft to try to get better.
"I'm a student of the game. I love being in the gym. I love watching film. I feel like I can contribute to a team. I have skills that are hard to teach, like that competitive drive that can help right away. The rest is development."
"I think his size and athleticism and his competitive motor will serve him well," Rose said. "He's a kid that will run the floor relentlessly. He'll go after rebounds relentlessly. He's just got a real competitive piece to his play."

BYU coach Dave Rose
Rose, who played with Hakeem Olajuwon and Clyde Drexler on those legendary Phi Slamma Jamma teams at the University of Houston, knows what it takes to succeed in the NBA. He thinks Mika has a package that will help him carve out a role.
"I think his size and athleticism and his competitive motor will serve him well," Rose said. "He's a kid that will run the floor relentlessly. He'll go after rebounds relentlessly. He's just got a real competitive piece to his play.
"Of all the guys I've ever coached, he's asked to take a break more than anybody. That's because he plays himself to exhaustion. You give him a few minutes and he's back out there. As far as the NBA is concerned, he's just in the infant stages of what he's going to be. What he has will transform to any level, to any coach, to any place. It's a real gift that he has."
Mika has spent his time since BYU's season ended working on guard skills. Anyone who thinks he can't shoot a face-up jumper had best refer to the tape of that upset win at then No. 1-ranked Gonzaga, during which Mika knocked down a top-of-the-key shot to help secure the outcome. But Mika has still put up thousands of shots and worked on his ball handling in an effort to solidify his perimeter game. He's not concerned about his ability to body up and score in the post, or rebound.
The team that takes a chance on Mika is going to get a high character, intelligent (he made second-team Academic All-America in 2016-17), introspective and hard-working guy whose best basketball, as the coaching adage goes, is ahead of him.
"I like my chances [to make an NBA roster]," Mika said. "I'm confident that a team's going to like me and take a chance on me. I know I'm doing my part and the right thing will happen. If that means I go right at the beginning of the second round great; if it means I'm the last pick in the draft and a team's going to put me on a two-way roster, then that's great.
"I took as many different paths as anyone has ever taken to get here. If that means I have to keep going on a different path to really solidify myself in the league, that's great. That's fine. I'm up for the challenge. Whatever it takes to get there, I'm ready to do it."
Chris Dortch is the editor of the Blue Ribbon College Basketball Yearbook. You can email him here, follow him on Twitter and listen to the Blue Ribbon College Basketball Hour.
The views on this page do not necessarily reflect the views of the NBA, its clubs or Turner Broadcasting.