Budding star Kristaps Porzingis plans to be with New York Knicks for a 'long, long time'
From NBA Twitter and media reports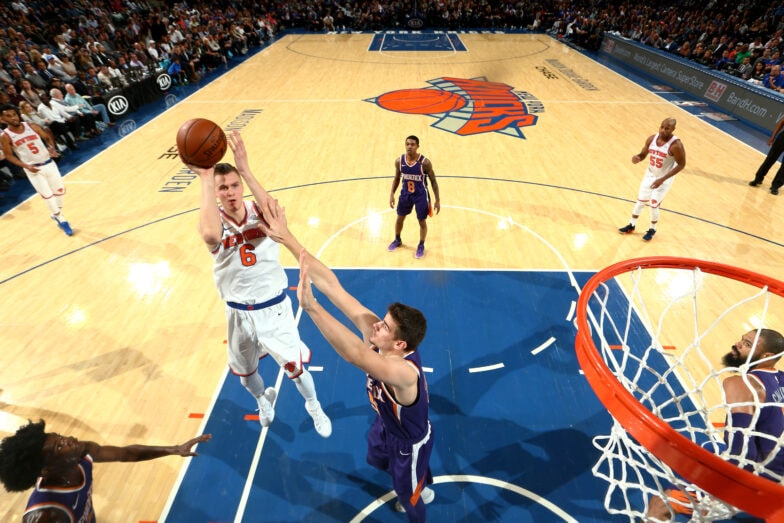 In his third season in the league, Kristaps Porzingis' potential is becoming reality. He ranks third in the league in scoring, having scored at least 30 points in six of his eight games. The Knicks have won four of their last five, with the highlight of Friday's win over Phoenix (and the season so far) being the Unicorn's incredible block-dunk sequence in the fourth quarter.
🦄 things are happening… pic.twitter.com/FPea0ZEB4B

— NEW YORK KNICKS (@nyknicks) November 4, 2017
But just as Knicks fans were getting giddy about the team's future with Porzingis as the centerpiece, Porzingis' brother poured some cold water on the situation, telling a Latvian media outlet that Porzingis wouldn't automatically sign a max extension with the Knicks.
On Friday, though, Porzingis told Knicks fans not to worry, as ESPN's Ian Begley writes:
Kristaps Porzingis said some of his brother's comments about the player's future with the Knicks were taken out of context and that he sees himself as a Knick for a "long, long time."

In an article published Tuesday, Janis Porzingis suggested that Porzingis would not decide to sign an extension solely because the Knicks can offer him the most money, fueling speculation that Porzingis would leave the Knicks rather than signing a rookie extension.

Asked before Friday's game about the possible fan reaction to his brother's comments, Kristaps Porzingis strongly indicated that he planned to remain with the Knicks.

"I think fans know I'm here in New York, I love New York and I see myself as a Knick for a long, long time," he said. "And I think they shouldn't be worrying about that."