Boston Celtics forward Gordon Hayward sheds walking boot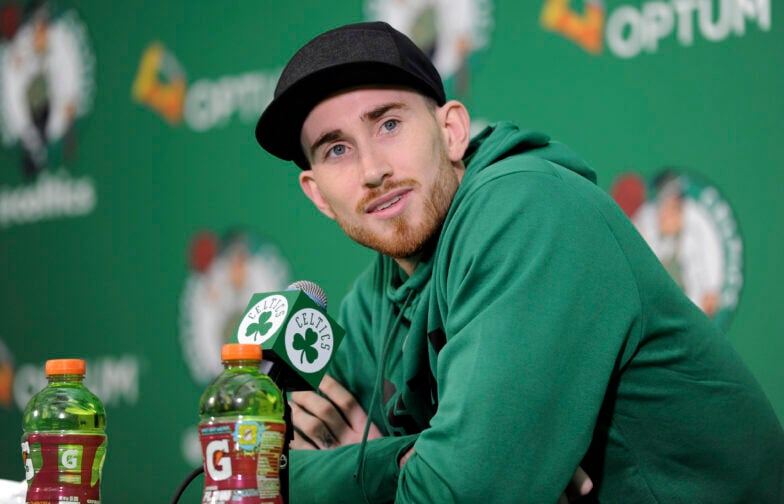 Wednesday marked a milestone in Gordon Hayward's recovery process from his broken left ankle. He shed the walking boot he's been using since his surgery in October. He will continue to wear a protective brace. It's a promising step in is rehab, coach Brad Stevens said, but he cautioned it's just the next one in an ongoing process.
.@gordonhayward is out of his boot! 👍

(via @NBCSCeltics) pic.twitter.com/vD3IcJV4qX

— NBA TV (@NBATV) December 13, 2017
http://​%20."%20data-url-provider
"It's another box to check. There's a big difference in getting out of the boot and playing in an NBA game," Stevens said. "He's got a long way to go. But it's good that he has these things as goals. He keeps checking them off and he's working really diligently at it. He feels good about that, so it's a good thing."
When reached by ESPN, Hayward was pleased with his progress so far in rehab program.
"The process is always fluid and can change at any time, but, for me, today was the day where I walk around without the boot at all," Hayward told ESPN. "And so, I'm going to try to move forward without the boot. Depending on how my foot reacts, how much activity I'm able to do on it without it being sore, I could move back into the boot or I could never look back and never see the boot again.

"I'm just taking it day by day; today has been awesome so far without the boot."
Hayward spoke with the Boston Globe's Nicole Yang about how some words from Kobe Bryant have driven him to recover from his injury and all the ups and downs of that process.
"Kobe Bryant told me in a text message: 'You have to get up and attack it each day,'" he said. "One of the things he said that really stuck was you gotta 'embrace it.' Embrace the struggle. Embrace the challenge until you get to a point where you look back and you can just laugh at that. Laugh at what happened and know that it made you stronger."

That day-by-day approach not only motivates Hayward, but it also reflects his perspective as he continues to inch toward returning to the court. Now that he is without the boot, the 27-year-old is undoubtedly excited about the progress — while also maintaining the understanding that the recovery process is fluid and always subject to change.

He'll be monitoring how his foot responds to wearing only an ankle brace, with full knowledge that he could potentially return to the walking boot depending on how his foot reacts. As he navigates the next stage of his recovery, Hayward said he'll continue to rely on goal-setting — a tactic that has helped him since he was in middle school.

"I truly believe in goal setting," he said. "I think that's really important. Writing them down, too, not just thinking about them. It allows you to track your progress and monitor how you're doing. It's a visual aid of what you're working for every single day."