In trading No. 1 pick, Danny Ainge stays true to his path for building Boston Celtics
Executive 'not afraid' of potential scrutiny that comes with trading pick to Philadelphia
BOSTON – The questions keep emerging, one replaced by the next like water fountaining up from a natural spring. Every point of rumor is answered by the NBA's most entertaining executive with a smile, a shake of the head, a shrug. Danny Ainge, president of the Boston Celtics, is as intrigued as much as everyone else.
Are you pursuing a trade for Anthony Davis?
Would you gamble on a year-long rental for Paul George?
What about Jimmy Butler? Are you still chasing him?
No sooner were Celtics fans celebrating their long-sought victory in the Draft lottery last month than Ainge was conspiring to trade the No. 1 pick. On Monday, he agreed officially to send it to the Philadelphia 76ers, who plan to choose Markelle Fultz, the Washington point guard rated as the best of the best by virtually all the mock drafts. Ainge clearly was not part of that consensus.
"We think there's a really good chance the player we take at 3 is the player we would have taken at 1," said Ainge, who received the No. 3 pick of Philadelphia in addition to the 2018 pick of the Los Angeles Lakers (so long as it lands Nos. 2-5) or the 2019 pick of the Sacramento Kings.
The best guess is that the Celtics' pick — at No. 1 or 3 — was always going to be Kansas forward Josh Jackson, arguably the best athlete at the top of the Draft. But no one knows what Ainge is going to do. Will he move back further in the Draft? Will he trade the No. 3 pick for an established player? Will he package the two first-rounders from Philadelphia along with the unprotected 2018 pick of the Brooklyn Nets in exchange for a franchise star?
"They can be valuable in trades, and they can be valuable by using the picks to Draft good young players," said Ainge by way of providing no insight whatsoever on how he may manage his wealth of seven first-rounders over the next three Drafts. "So we'll continue on that path until a brighter, quicker future that we like approaches."
When the right deals come around, we will move on them. And if they're not good deals then we will be more patient."

Celtics president Danny Ainge
If an everyday NBA fan were to become a GM from out of nowhere — a lover of the league put in charge of a franchise — wouldn't they hope to do the job in this spirit? The reason it has been so much fun to follow the comings and goings of the Celtics over these last four years of rebuilding is because Ainge has had even more fun running them. With every move, he has been investigating his what-if instincts, pursuing his plans to earn an 18th NBA championship banner for Boston one way or another, fulfilling his gambler's need to take on the risks that are necessary to all championship teams.
Having seen something in 5-foot-9 underdog Isaiah Thomas, the former No. 60 pick who was languishing on the bench in Phoenix, Ainge offered — in the last hour of the 2015 trade deadline — two players who are no longer in the NBA (Tayshaun Prince and Marcus Thornton) and the No. 28 pick in last year's draft (Skal Labissiere) for Jonas Jerebko as well as Thomas. Since then, Thomas has led Boston to three postseasons and made two All-Star teams while becoming the Celtics' most prolific scorer since Larry Bird.
Brad Stevens was the most promising young coach in America. Who cared if he came from a small school? So what if so many other college coaches had failed in the NBA? Ainge signed Stevens to a six-year contract, and by last season — year four — his overachieving young Celtics were winning the East and reaching the conference finals.
Ainge is once more at the center of the NBA marketplace. His Celtics are contacted by every team interested in making any kind of a deal because of the Draft picks, the young talent on cost-efficient contracts, and the cap space that could be squeezed out to the max this summer. All of this goes back to 2013, when the Nets sought to launch a run at the championship around Kevin Garnett and Paul Pierce. Ainge held out for four first-round picks from Brooklyn. Without protections. Take it or leave it.
In this incredible era of franchises valued at $1 billion and super-max contracts worth more than $200 million, the default position for many GMs is to manage their teams conservatively. They fear the potential mistakes more than they covet the championship they claim to seek above all else. And then there is the smaller group of executives that includes Ainge, who gambles on his own learned instincts as freely as if he's pitching nickels in an alley.
Free agents are watching to see what Ainge does over the next week, because the Celtics have already won 53 games and two playoff rounds without spending much of their capital. Is he going to overplay his hand? When is the right time to cash in?
"When the right deals come around, we will move on them," Ainge said Monday. "And if they're not good deals then we will be more patient."
It must be so exhilarating to believe in yourself, having devoted your life's work to understanding the game from every point of view – as a national college player of the year, as a cocky guard known for shooting impulsively while angering teammates and opponents alike, as a two-time NBA champion with the Celtics who played in an All-Star Game and finished his 14-year career with four teams as a role player. Ainge was a broadcaster, an assistant coach, a head coach. Since 2003, he has been running the Celtics, winning a championship in 2008 and surviving a heart attack in 2009 and refusing to oblige by the normal conventions that hem in many of his rivals.
While the Lakers were holding onto Kobe Bryant beyond his sell-by date as a title contender, Ainge was trading his two most beloved stars.
While others around the NBA hire pro personnel directors and scouts to gauge NBA rosters for possible trades, Ainge takes it upon himself to study opponents per his unique point of view.
While rival front offices swarm with scouts covering every area of the country and the larger world, Ainge keeps a small staff. At night, some of his aides may join him in his office to watch college and NBA games. At other times, he may be seen wandering by the desks of his scouts and analysts, stopping to ask for an opinion on a player or a team while playing the devil's advocate.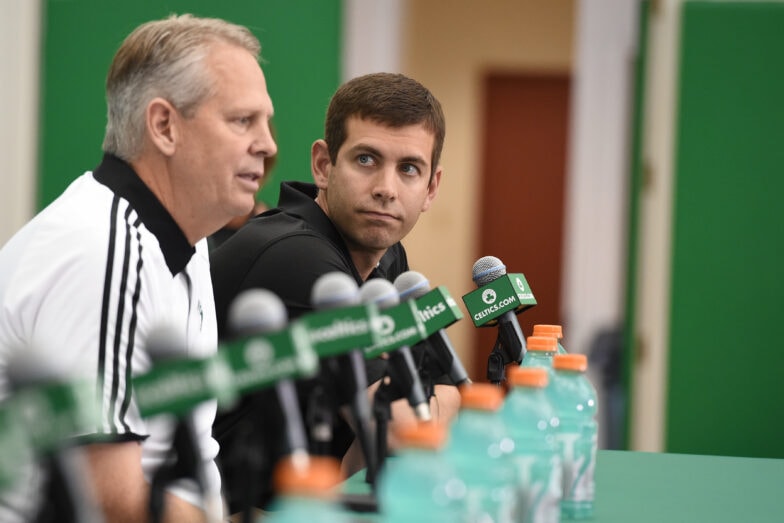 It may very well be that his own staffers — including his son, Austin Ainge, the Celtics' director of player personnel — do not know everything that Ainge is planning. In general, he wants them to form their own opinions, instead of responding to what they believe he wants to hear. He also wants to keep his ideas secret for another important reason: Because he doesn't want rivals finding out, even by accident, what he is thinking.
As Ainge stands on the brink of completing what he started four years ago — maybe — his biggest advantage appears to be his perspective. He has a fear of failure, and yet he is not reluctant. His previous life as a player has taught him to compete as hard as anybody, because total commitment and belief are the minimal requirements for championship teams. And yet, whether the moves he makes or doesn't make pay off or fizzle out this week, he knows there will be another opportunity.
"This is certainly a trade that is under the microscope more than other trades," Ainge was saying of his controversial move with the No. 1 pick. "But we're not afraid of that."
Even as the 76ers were celebrating the imminent arrival of their franchise point guard, the Celtics president — with nothing yet to show in return — was sounding over the phone as if he was having the greatest day. How much fun was this? The pressure was building, and Danny Ainge's career was feeling like one long unpredictable game.
Ian Thomsen has covered the NBA since 2000. You can e-mail him here, find his archive here or follow him on Twitter.
The views on this page do not necessarily reflect the views of the NBA, its clubs or Turner Broadcasting.