NBA All-Star 2017
Boston Celtics' Brad Stevens looks forward to first All-Star experience
By Tim Reynolds | The Associated Press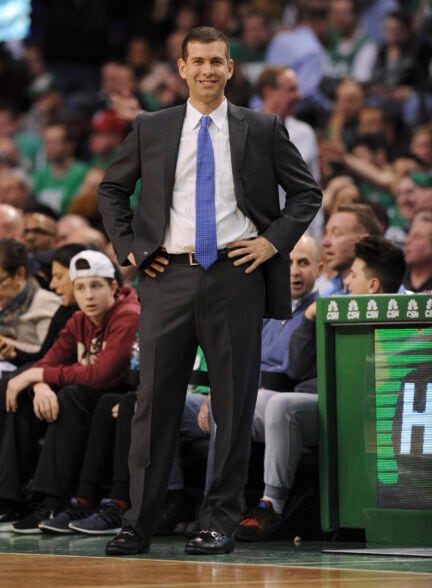 NEW ORLEANS (AP) — Brad Stevens was preparing to have this weekend off. A family trip was in the works, likely to someplace relatively close to home like New York or Washington.
The getaway is still happening.
The days off have been cancelled.
Stevens has never been to an NBA All-Star Game, and that's about to change. Boston's fourth-year coach will lead the Eastern Conference side in New Orleans this weekend, a perk that comes with his team sitting at No. 2 in the East and with Stevens well on his way to having the Celtics improve their record for the third consecutive season.
"My 11-year-old son is really excited," Stevens said. "My 7-year-old daughter is just as excited but for different reasons. She hasn't gotten the basketball bug like my 11-year-old. She's just looking forward to hanging out with our staff's other kids. We're excited and to spend that moment together and share that moment together, I think it is the best part about this for our staff and our family."
Stevens and the Celtics' staff got the nod because of the league rule preventing a coach from having to accept All-Star responsibilities in consecutive seasons. Cleveland leads the East, which means Tyronn Lue would have been in line for the job – but he and the Cavs' staff had the All-Star gig in Toronto last season.
Celtics All-Star guard Isaiah Thomas said he thinks Stevens and his staff deserve the spotlight.
"That says a lot," Thomas said. "That says we're winning, we're doing pretty good – and for them to get there, I'm happy. I'm happy for them."
The Celtics were 25-57 in Stevens' first season and gotten better ever since. They went 40-42 in his second year and made the playoffs, then were 48-34 last season and got Stevens his first two playoff victories.
This year, they've won 11 of their last 12 games going into the pre-All-Star finale in Chicago on Thursday night – and are on pace for the franchise's best record since the 2010-11 season. Many players around the league, including some of the ones Stevens will coach this weekend like LeBron James, have long said from afar how impressed they've been with the job he's done.
"At the end of the day, you do this job because you really like working with your team and like the chance to compete as an organization," Stevens said. "If somebody gives you accolades, that's nice to hear but it's not the end-all, be-all for me."
Stevens came to the Celtics from Butler, where he went to consecutive NCAA championship games. It's a daunting leap from the college level to the NBA, especially for a first-time pro coach, even moreso when that first-timer is taking the reins of a storied franchise like the Celtics.
He's rarely seemed flustered.
Stevens usually walks the sideline calmly, rarely raising his voice. His intellect is well-known, but that cool demeanor is something that University of Miami coach Jim Larranaga – whose son Jay is an assistant on Stevens' staff – thinks sets Stevens apart.
"Brad Stevens is headed to the Hall of Fame," Larranaga said. "You see what he did in college – amazing. But when he goes to Boston, takes a team that trades away its best players … is starting over almost from scratch and he's built it to second place in the East only behind Cleveland, the world champions? He's an amazing coach."
Other than asking his video staff to get some things together, Stevens has not done any All-Star planning yet. There's only two games in the NBA on Thursday night and he's coaching in one of them – meaning his All-Star break, which was already going to be busy, starts later than just about everyone else's.
Stevens' schedule for this weekend is already loaded with community-service events and media responsibilities, plus family time. He's not sure how much time he'll have to socialize with players while in New Orleans.
"I like the idea of obviously getting the chance to be around them as they're getting ready to play a game and see what they're like in a game," Stevens said. "I've admired the way these guys have played for a long, long time. These are some of the guys in the league you lose sleep at night trying to figure out how to slow down. It's pretty neat when a lot of those guys are under one roof."
In other words, it's going to be a memorable family vacation.