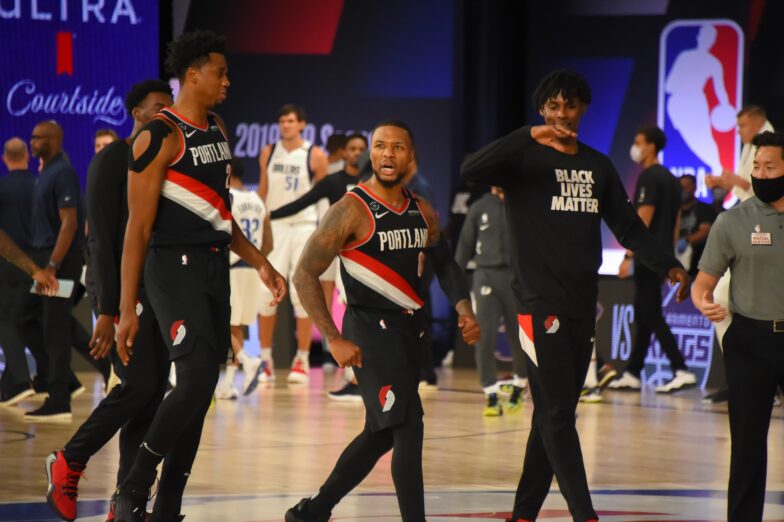 * * *
Who is your NBA 'bubble' MVP?
* * *
Steve Aschburner: Damian Lillard, in a unanimous ballot. That's my guess, anyway. No one did more to boost his team, while providing some vital restart emotion and drama. My all-NBA ballot had to be completed without considering the eight seeding games for each team, but I'm doubly glad I had Lillard in my first-team backcourt because it would feel so wrong now given what we've just seen. And maybe, what we'll keep seeing.
Shaun Powell: Damian Lillard was fueled by missing two clutch free throws against the Clippers and hearing about it from Paul George and Pat Beverley and subsequently went on an epic roll. He carried the Blazers those last three games and suddenly was the picture of clutch-ness. Props to Devin Booker for helping Phoenix run the table.
John Schuhmann: Damian Lillard by just a hair over Devin Booker. It's not just that Lillard was the leading scorer in the "bubble" (37.6 points per game). He scored efficiently (his true shooting percentage of 67.7% ranks third among 33 players who have taken at least 100 shots), he averaged 9.6 assists, and had a few of the league's best defensive teams making things up on the fly because he had to be guarded (sometimes by two guys) as soon as he cross halfcourt.
Sekou Smith: Damian Lillard cannot be denied. He willed the Trail Blazers to the eighth seed with one wicked performance after another, reminding us all that Dame Time is any time he feels like turning it on. As brilliant as he was, though, he'd have to share the hardware with Suns All-Star Devin Booker, who carried his team to the only blemish-free record during the seeding games. The Suns weren't on anyone's radar before the action kicked off in Orlando and Booker helped change that by showing off every aspect of his game. The rest of the league is on notice moving forward.
Michael C. Wright: Devin Booker deserves mention for his performance in leading Phoenix to 8-0 in the bubble. But when Damian Lillard responds from a tough night and a little social-media trash talk from Paul George and Patrick Beverley to light it up for 51 and 61 points in back-to-back games, I've got to give the 'bubble' MVP to Lillard. Even outside those games, Lillard put up 30, 45, and 42 points in three more outings. That's ridiculously high-level production in more than half of Portland's bubble games.