Blogtable Archive
Blogtable: What are you most eager to see in NBA in 2018?
Each week, we ask our scribes to weigh in on the most important NBA topics of the day.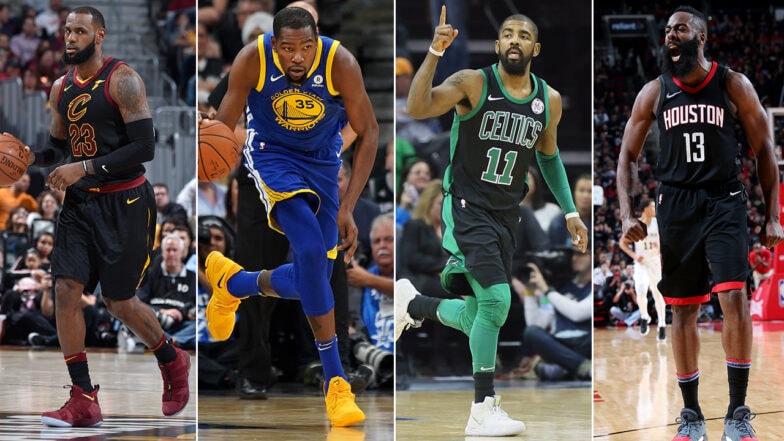 * * *
What one thing are you most eager to see in 2018?
* * *
Steve Aschburner: More competitive playoff series than we got a year ago and, most of all, the Golden State Warriors and the Cleveland Cavaliers really being pushed to the wall in at least one round each. I think last year's hunger for The Rubber-Match Finals made us accept without too much grumbling the relative breezes both Golden State and Cleveland had through the April and May portions of the postseason. But seeing some new blood, however unlikely, would be fine, maybe even welcome, this time around. That requires some fine team on either side — Toronto, Washington, Boston out East, Houston, San Antonio, Oklahoma City to the West — mustering a serious challenge. And, allowing for an injury or suspension or whatever, maybe pulling off something more notable than that. We can always find context and storylines for The Finals, if we get a bit of freshness dialed in.
Shaun Powell: I'm eager to see the playoffs and if someone can come along and disrupt another Golden State Warriors-Cleveland Cavaliers matchup in June. Because nobody is creating much doubt as of yet. The team that's coming the closest is the Houston Rockets but they have three people who have underperformed in the playoffs: Mike D'Antoni, Chris Paul and James Harden. There's always the San Antonio Spurs, yet they seem a star shy. And in the East, the Boston Celtics of 2019 stand a better chance and the rest … meh. Which means, I'm most eager to see Warriors-Cavs in June.
John Schuhmann: I want to see what will happen with the Thunder, both on and off the floor. Can they continue to make progress offensively and if they do, will that encourage Sam Presti to keep the group together through the trade deadline? Or will the threat of Paul George leaving in free agency (and the long odds at beating the Warriors) force Presti to see what he can get for George by Feb. 8? Is it a guarantee that Carmelo Anthony will decline his early termination option this summer and stay under contract for another year? Do other stars want to play with Russell Westbrook?
Sekou Smith: As much fun as the trade deadline can be in a given year, I have to admit that the free agent summer has me daydreaming about the chaos that a couple of moves could cause. Of course, LeBron James could turn the basketball world upside down if he were to decide to take his talents elsewhere (I'm not suggesting he should or I even think he will, I'm only thinking about the seismic activity it would cause). What happens with Paul George is also another potential game-changer for several teams around the league. That said, it's the great unknown that most intrigues me about 2018. None of us saw the Kyrie Irving trade request coming or the Chris Paul-to-Houston move coming. Things like the Draft and trade deadline offer a season of speculation that usually centers on name players we know will be involved in the process. It's the moves we don't see coming, the things we cannot forecast, that produce the best drama.