Best viral moments from All-Star Saturday Night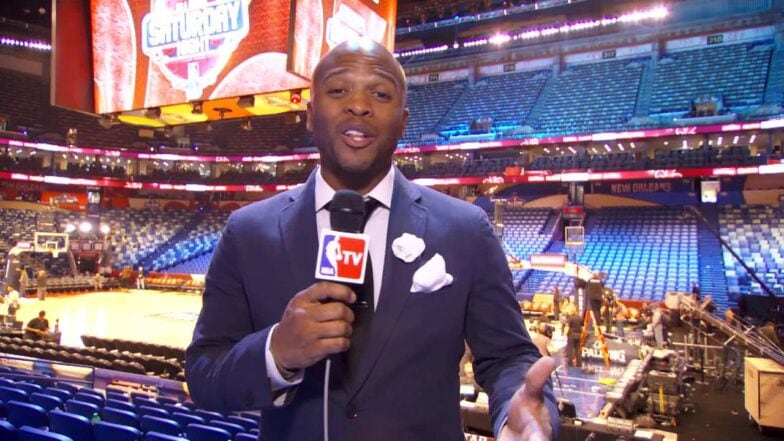 All-Star 2017 festivities continued on Saturday in New Orleans, with another batch of fun moments beyond the showcase events.
Commissioner Adam Silver held his annual All-Star press conference, during which he poked fun at fellow Duke attendee Kyrie Irving before opining that the Cleveland Cavaliers star just might have been making a larger point with his recent head-scratching comments about the Earth being flat.
Adam Silver: "Personally, I believe the world is round." pic.twitter.com/fIAVUh0eCo

— Tim Reynolds (@ByTimReynolds) February 19, 2017
Retired Brazilian legend Ronaldinho isn't really the greatest soccer player of all time…but he was pretty, pretty good. LeBron James obviously thinks so.
The GOAT and some random guy from Ohio pic.twitter.com/hJyBG9YTQL

— Zito (@_Zeets) February 18, 2017
A combined 24 All-Star appearances (12 apiece) for these two gentlemen.
LEGENDS! Oscar Robertson & Bill Russell in the building. pic.twitter.com/uGOigfo3DJ

— #NBAAllStar 2021 (@NBAAllStar) February 19, 2017
Shaq has the late, great Craig Sager covered on All-Star Weekend.
Estoy no podía arrancar sin él #shaq está en el pabellón! #NBAAllStar pic.twitter.com/KuIsWAs1oX

— NBA Spain (@NBAspain) February 19, 2017
https://twitter.com/HeatherZeller/status/833121739668340736
James Harden also made a strong challenge for sartorial supremacy.
This jacket is the true winner of All-Star Saturday Night pic.twitter.com/JbRbX3cfQF

— Michael Lee (@MrMichaelLee) February 19, 2017
Speaking of Harden, he was absolutely glued to the action. Just ask John Wall.
How many taps does it take for John Wall to get James Harden's attention? A one, a two, a three… https://t.co/Y7bWXyROfH

— Michael Lee (@MrMichaelLee) February 19, 2017
Guy Fieri loves him some All-Star action.
https://twitter.com/teamziller/status/833124860503003136
Regardless of the outcome of the Slam Dunk contest, Derrick Jones Jr. is the real winner thanks to these incredible kicks.
Sup, #AirplaneMode! #NBAKicks Stage. pic.twitter.com/Yj6VG2BQgL

— NBA (@NBA) February 19, 2017
With some long-range shots and a Shaq-aided slam, the SagerStrong Foundation has received a $500,000 donation.
Following a tribute to Craig Sager after the 3-point contest, TNT broadcaster Ernie Johnson came onto the court with champion Eric Gordon and finalists Kyrie Irving and Kemba Walker. Johnson said $10,000 would be donated to the charity for each shot they made in a minute.
Then TNT analyst Reggie Miller, one of the great 3-point shooters in NBA history, said he wanted to get involved, bringing with him onto the court All-Stars James Harden and DeMar DeRozan, WNBA champion Candace Parker and actors, including Anthony Anderson and Michael B. Jordan. They combined for 13 makes for $130,000.
Everyone is getting buckets for #SagerStrong pic.twitter.com/pfqHFj0mQ4

— NBA on TNT (@NBAonTNT) February 19, 2017
Johnson then offered to raise it to $500,000 if two-time MVP Stephen Curry could make a halfcourt shot. Curry missed his attempts, but Shaq then hoisted Sager's youngest son, Ryan, up so he could dunk to earn the total.
❤️ #SagerStrong pic.twitter.com/a9R8hlm0Nn

— Bleacher Report (@BleacherReport) February 19, 2017
Chicago's finest, Dwyane Wade and Chance The Rapper, hangin' in New Orleans.
Dwyane Wade and Chance The Rapper! pic.twitter.com/igwJobxsNT

— Daniel Greenberg (@ChiSportUpdates) February 19, 2017
Color Chris Weber and Alonzo Mourning impressed with Glenn Robinson III's impressive slam in the opening round of the dunk contest.
.@realchriswebber's reaction to that Glenn Robinson III dunk 😂😂😂 pic.twitter.com/kw1xLhdY7T

— Sacramento Kings (@SacramentoKings) February 19, 2017
All-Star Saturday Night: When one phone is not enough.
Someone help Paul. pic.twitter.com/vGQCxY0tZ7

— Bleacher Report (@BleacherReport) February 19, 2017
"Piercing" is now a thing.
#Piercing pic.twitter.com/3WX5NIupeQ

— ☕netw3rk (@netw3rk) February 19, 2017
Last year's dunk champion was on hand in the Big Easy to congratulate his successor.
My Boi @GRIII congratulations my guy happy for you! pic.twitter.com/C6uoNmRge5

— Zach LaVine (@ZachLaVine) February 19, 2017
Frank wears his sunglasses at night.
CAPTION THIS.#NBAAllStar #RisingStarsFrank pic.twitter.com/fOfmprvivU

— Charlotte Hornets (@hornets) February 19, 2017
The caption speaks for itself.
The GOAT and The PROCESS🐐🐐 pic.twitter.com/HTuZuAHi0Y

— Joel "Troel" Embiid (@JoelEmbiid) February 19, 2017