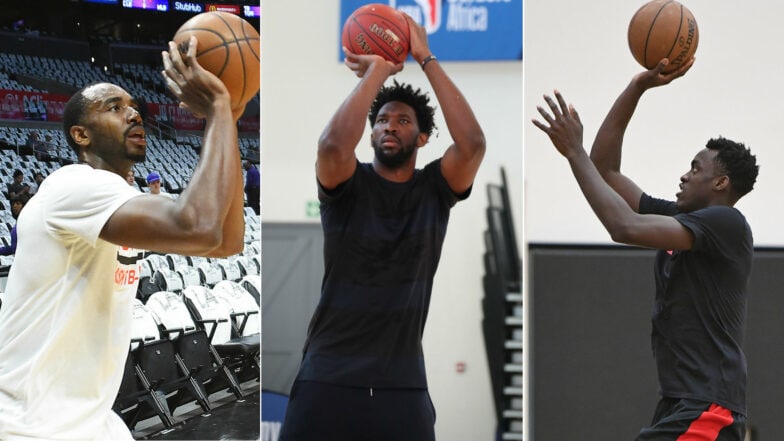 NBA Africa Game 2018, the NBA's third game in Africa, will take place on Aug. 4 at 11 a.m. ET at Sun Arena at Time Square in Pretoria, South Africa. It follows the 16th edition of Basketball Without Borders Africa — the NBA and FIBA's global basketball development and community outreach program.
When the game tips off on ESPN2, three of the 19 players that will take the court are alumni of the Basketball Without Borders program (which began in 2001). Joel Embiid and Pascal Siakam of Team Africa and Danilo Gallinari of Team World represent the completed circle of a program that has helped expand the NBA into a truly international game. It is a game that is not only loved by fans worldwide, but one that kids around the world can aspire to play at the highest level.
"It was great. Back in 2011, I was kind of shy. I wasn't as good because that was the year also when I started playing basketball," said Embiid on a conference call from the latest Basketball Without Borders Africa on Wednesday. "Just being here, being around other guys that were obviously much better than me, it was tough. I was shy. By the end of the weekend, I felt comfortable. I had a great time. I ended up kind of showing my potential. I got a scholarship to come to the States. Other than that, I had a lot of fun with all the other guys. The coaches and everyone, they were all fun to be around."
Embiid's journey from a BWB camper in 2011 to becoming the No. 3 overall pick in the 2014 NBA Draft is a remarkable one. Although foot injuries delayed his NBA debut for two seasons, Embiid showcased his phenomenal talen when he finally suited up for the Philadelphia 76ers for the 2016-17 season. However, a torn meniscus in his left knee limited him to just just 31 games that season.
He finished his rookie season with averaging 20.2 points. 7.8 rebounds, 2.1 assists and 2.5 blocks in just 25.4 minutes per game and was the runner up for the Kia Rookie of the Year award. After a healthy offseason to prepare for his sophomore campaign, the Sixers cautiously allowed Embiid to play more minutes (30.3) and more games (63). The result was Embiid averaging 22.9 points, 11.0 rebounds, 3.2 assists and 1.8 blocks per game while recording 38 double-doubles.
Embiid, who was one of only six players to average at least 20 points and 10 rebounds last season as he finished the year ranked 12th in the league in scoring, tied for sixth in rebounding and fourth in blocks. Not only was he named to his first NBA All-Star team as a starter, he also earned All-NBA Second Team honors and was the runner-up to Rudy Gobert for the 2017-18 Kia Defensive Player of the Year award.
Before he begins his third NBA season this fall, Embiid is back in Africa with Basketball Without Borders as he becomes one of the hundreds of current and former NBA and WNBA players that serve as mentors and inspiration for the young campers that hope to follow in their footsteps.
"Yeah, it's fun for me. I think as long as God allows me, as long as my schedule allows me, that's something I want to do every year, just come back and give back," Embiid said. "When I was in that situation, I felt great being among NBA players. I wanted to learn from them. I wanted to touch them because I was so amazed by them.
"I feel like me now being in this situation, I feel they also feel that way. I feel that's a way for me to kind of give back and show them how it's done. At the same time, it's also a way for me to grow the game of basketball in Africa. I feel like we have a lot of talent, undiscovered talent that can have a chance just like I did. They just need an opportunity. It's great. I enjoy. It's really fun for me being among the kids, being able to walk out with all the other NBA guys."
While Embiid's story may be worthy of a feature film or documentary some day, he is not the only Basketball Without Borders success story on display this weekend.
Pascal Siakam, a fellow native of Cameroon, followed the path set by Embiid and laid out by another NBA player from Cameroon – the LA Clippers' Luc Mbah a Moute. It was at Mbah a Moute's camp that Embiid displayed the raw talent that earned him a spot at the Basketball Without Borders clinic. A year later, it was Siakam that participated in Mbah a Moute's camp and Basketball Without Borders Africa.
Like Embiid, Siakam would emigrate to the United States as a teenager in pursuit of NBA dreams. After a year of high school and two seasons at New Mexico State, Siakam was selected by the Toronto Raptors with the 27th pick in the 2016 Draft. He posted modest stats (4.2 points and 3.4 rebounds in 15.6 minutes per game) in 55 games his rookie season before his stats jumped up last season.
He finished his sophomore NBA campaign averaging 7.3 points, 4.5 rebounds and two assists in 20.7 minutes per game for the Eastern Conference-leading Raptors. He appeared in 10 playoffs games in 2018, averaging 6.6 points per game on 61 percent shooting in just under 18 minutes per game.
While he has not risen to the superstar heights of Embiid after two seasons, Siakam has become a key rotation player on a playoff team with championship aspirations. And he's doing so just six years removed from being a camper in a Basketball Without Borders clinic on his native continent.
Rounding out the field of Basketball Without Borders alums is Team World's Danilo Gallinari, who will play against Embiid and Siakam on Saturday. Gallinari, who plays for the LA Clippers, is the veteran of the bunch and is closing in on his 10th NBA season.
A native of Sant'Angelo Lodigiano, Italy, Gallinari took part in the 2003 Basketball Without Borders Europe camp (alongside fellow future NBA players like Marc Gasol, Omri Casspi and Andrea Bargnani) before beginning his career as a professional player in Europe. Following four years of playing overseas — he was named the Italian League MVP and a EuroLeague Rising Star in 2008 — Gallinari entered the 2008 NBA Draft and went No. 6 overall to the New York Knicks.
After playing his first two-and-a-half seasons in New York, Gallinari was traded to the Denver Nuggets as part of a blockbuster deal that sent Carmelo Anthony to New York. (There is a Basketball Without Borders tint to that move, too: then-Nuggets general manager Masai Ujiri was the one who dealt Anthony. Ujiri is now the director of Basketball Without Borders Africa and is the GM of the Raptors, overseeing Toronto's drafting of Siakam two years ago.)
Gallinari would spend the next five seasons in Denver, where he averaged a career-best 19.5 points per game in 2015-16. Following the 2016-17 season, Gallinari was traded to the LA Clippers, where he averaged 15.3 points and 4.8 rebounds as he was limited to just 21 games due to injury.
Now recovered from the injuries that hampered him in his first season in LA, Gallinari is ready to take the court once again. But before he suits up for the Clippers this fall, he will be a part of Saturday's NBA Africa Game, where he joins Embiid and Siakam as outstanding examples of the success of the Basketball Without Borders program.