Kevin Durant didn't want to hear it, so he made sure the question wouldn't come up more than once.
"Don't ask me about that again."
"That" is the much-publicized on-court tiff between Kevin Durant and Draymond Green, which resulted in the latter being suspended by the team for one game. Chris Haynes of Yahoo Sports reports that Green even challenged his superstar teammate to leave.
"We don't need you. We won without you," was the emotional forward's verbal gauntlet.
Green and Durant were reunited on Thursday, and they appeared to have put the recent past behind them in the opening minutes.
Things fell apart quickly after that, however, with the Warriors toppling to the Rockets 107-86. Durant shot just 6 for 15, Green had as many turnovers as assists (five) and failed to score, and the Warriors simply looked shell-shocked.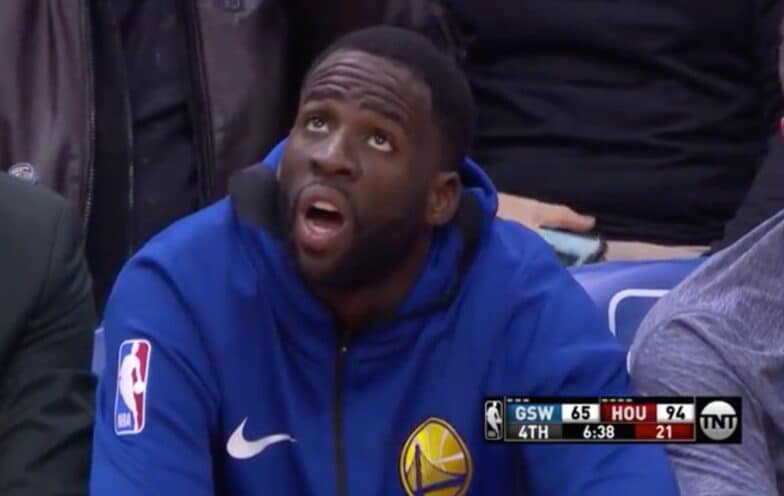 It'd be foolish to not mention the absence of two-time Kia MVP Stephen Curry (groin). It would also be equally silly to dismiss the remaining two-time Finals MVP (Durant), former Kia Defensive Player of the Year (Green), and a historically great 3-point shooter (Klay Thompson).
It's too early in the season — and too soon after the Green-Durant tiff — to tell whether the Warriors' latest mini-drama will last. For Golden State, however, every day with their current dynastic makeup matters. Durant's free agency inches closer. The ripple effects from it will be very real and very expensive, one way or another.
Will a November confrontation matter? Don't ask Durant.
No 'Melo, More Defense
The Carmelo Anthony experiment came to a very abrupt end in Houston with the Rockets parting ways with the 10-time All-Star after just 13 games. Now they will rely on other means to replace the presence of Trevor Ariza and Luc Mbah a Moute, both of whom defected during the offseason.
Night one of that adjustment went pretty well.
The Rockets entered Thursday as a bottom-half team on defense. Then they held the Warriors to just 42.1 percent shooting, including a frigid 4-for-18 from 3-point range.
Just as telling was who picked up the 30 nightly minutes that are now available with Anthony out of the picture.
It's a one-night snapshot from a blowout win, but telling nuggets can still be found. Ennis and Clark are now Houston's best big wings not named PJ Tucker, and they're already being asked to shoulder a bigger load. Isaiah Hartenstein provided valuable stretch five minutes behind Capela and was a plus-27 in that playing time. On nights they don't produce, coach Mike D'Antoni won't hesitate to bump his regulars' minutes back into the mid-30s.
As for Anthony, don't assume that a win over the Warriors makes his odd departure any easier to witness for the stars who have shone alongside him.
'I Gotcha Fam'
Speaking of stars having each other's backs…
😂😂😂 pic.twitter.com/Gyd8kBtjtT

— Bleacher Report NBA (@BR_NBA) November 16, 2018
That's ❄️, Dwyane.
Revolving DeRozan
At what point did DeMar DeRozan's brilliant, brilliant mind say, "Yeah, this the best and easiest way to score these two points right here"?
Ernie Gets Chuck Again
We need to see Chuck win one of these someday.
Chuck had to make good on his friendly wager with EJ after Georgia beat Auburn 😂 pic.twitter.com/8reL5jjDKL

— NBA on TNT (@NBAonTNT) November 16, 2018
Links Leftovers