2017 NBA Finals: Warriors vs. Cavaliers
Five things we learned from Cleveland Cavaliers' Game 4 victory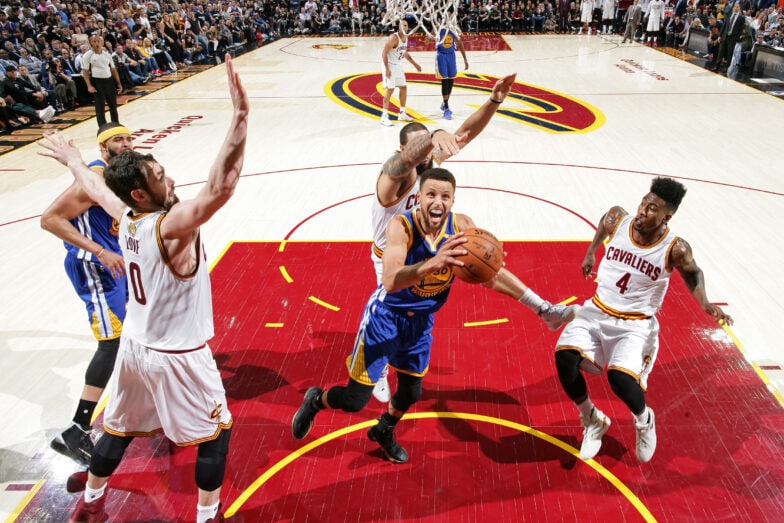 • Game 4: Full analysis, reactions
• Complete coverage of The Finals
CLEVELAND – Five things we learned from the Cleveland Cavaliers' 137-116 Game 4 victory over the Golden State Warriors in the 2017 Finals Friday at Quicken Loans Arena:
1. It wasn't just weak competition in the East.
Wait, that was the Cavaliers' best punch, contrary to what we took away from Game 3. Just when it looked as if the Cavaliers were ready to punch out for summer, they came roaring back with an ornery, jut-jawed, not-in-our-house game that kept the series alive, the NBA happy and its broadcast partners busy with an extra opportunity to recoup some of those rights fees. (Sweeps are fine for basketball history but not at all fine for business bottom lines.)
But there was more going on Friday night than the defending champions not wanting to let their legit rivals from out West cavort on the Quicken Loans Arena court and stink-and-sticky up the visitors' dressing room. The Cavs played Game 4 as if they wanted to demonstrate to the world just how forceful and potent their 2016-17 brand of ball really was. And hoo boy, did they demonstrate.
It kind of got lost in the early-rounds shuffle just how lethal Cleveland's offensive game was in sweeping past Indiana and Toronto. By the time folks outside the 216 started to pay close attention to the East finals, Boston was giving the Cavaliers a little prep problem with its Isaiah Thomas vs. no-Isaiah Thomas stratergizing. Then came the three losses to open these Finals, the first two by knockout and none of which made much of a case for Cleveland as a toe-to-toe threat to the Warriors.
But the Cavs came with that "A++" quality game LeBron James had talked of while praising Golden State this week. This was the Cleveland attack that James, coach Tyronn Lue and GM David Griffin envisioned and built. This was the Big Three in all its glory (James, Kyrie Irving and Kevin Love combined for 94 points) surrounded by contributing role players (15 points from J.R. Smith, 10 rebounds from revived Tristan Thompson). This was The Q as loud and cantankerous as it had been all season.
Not letting the Warriors win and celebrate in their building was part of it. But equally important was the Cavaliers raging against the dying of their season's light, lest people forget just how well they played (when they wanted to through 82, then most of the time in this postseason).
2. Steph Curry still a stranger to Bill Russell's trophy.
Through three games, Kevin Durant was the Warriors' alpha dog, the newer former MVP playing like the difference-maker Golden State signed him to be. And then in Game 4, Stephen Curry – who has Durant beat 2-1 in regular-season MVPs – had a truly bad game. He missed shots he typically can make with one eye closed, going 2-for-9 on 3-pointers and 4-for-13 overall for just 14 points. He wasn't helpful in his usual modest way defensively, with all of Cleveland's regulars comfortable in their contributions and even rigor-mortis Deron Williams showing life. And Curry's four turnovers loomed larger by the end than his 10 assists.
Curry wasn't alone, though. Klay Thompson never got hot. Zaza Pachulia was more dancing bear than unsung hero. And the role players, beyond Shaun Livingston, played more like newbies than vets.
Golden State started soft and tentative and, even when it got sufficiently proficient later, it never applied legit pressure to Cleveland's double-digit leads. It has much to prove still at both ends of the court after letting the Cavs off the hook. And with just one more victory available to the Warriors, it's unlikely Curry will find a path to the Russell trophy presented to the Finals MVP each year.
3. Running with scissors? Try rasslin' with whistles.
Cleveland gave a tremendous performance. Golden State righted itself in basketball terms after its rocky start, if not entirely in emotional terms. But the third team on the floor Friday struggled from start to finish.
It was not Mike Callahan's, Marc Davis' or John Goble's finest hour as the three-man officiating crew.
Even as the Cavaliers acknowledged that they would – and did – come out intending to play a much more physically assertive game, the foul calls tilted heavily against the Warriors in the first quarter (12-6). Thus, the free throws followed suit (22 for Cleveland, 11 for Golden State). Just imagine if the Cavs hadn't missed eight of theirs, in a quarter in which they scored 49 points as it was.
From there, it got harder and harder for the Warriors to return the Cavaliers' roughhouse play. As Draymond Green said: "You've got to give them credit, they were very aggressive. But when everyone has two fouls, it's hard to match the physicality."
Then there was the third quarter, and the magical jumping technical foul. When the period began, it belonged to Green – said so right there on the score sheet. But when Green picked up a T at 6:18 of the third, it did not lead to his automatic ejection. No, at that point, the world learned that the first technical had been called on Warriors coach Steve Kerr. So it was a clerical error – really? – and Green was permitted to stay.
The quarter also featured an intense grill-to-grill yammering session between James and Durant, and later an apparent groin smack by Zaza Pachulia while he was on the floor fighting both Kyle Korver and Iman Shumpert (his groin) for the ball.
All three of them – lead ref Callahan, Davis and Goble – looked like they'd have rather been next door working the plate and bases at the Indians game. The NBA issued an explanation, with a pool reporter querying the refs, of the technical confusion:
The following was released by the NBA: pic.twitter.com/nr8WvvXxRk

— NBA Official (@NBAOfficial) June 10, 2017
4. History was made after all.
OK, so we didn't get to see the first 16-0 championship run in NBA history. We might never. The Fo', Fo', Fo', Fo' Club thus remains exclusive to a membership of none.
But we did see something pretty rare – a team that had fallen behind 3-0 in The Finals managing to stave off a sweep. Eight of the first 12 times a team lost the first three games in this best-of-seven competition, it also lost the fourth. But four plucky teams were able to slow the eventual champions' roll, and now the Cavaliers are the fifth.
In 1947, the old Chicago Stags found a way to delay the Philadelphia Warriors' coronation as early-NBA royalty by winning Game 4 before losing in five games. Two years after that, the Washington Capitols won not once, but twice before the Minneapolis Lakers could close them out for the title. Forty-seven years later, the Seattle SuperSonics did the same thing to the Chicago Bulls – after Michael Jordan and crew grabbed its quick 3-0 series lead, the Sonics fired back twice at home under the 2-3-2 format to force everyone back to Chicago for a Game 6 the Bulls won.
And in 1951, the New York Knicks put the ultimate scare into the Rochester Royals, matching the Royals' three consecutive victories to start the series with three of their own for an up-for-grabs Game 7. The Royals steadied themselves, however, and won.
Now it's Cleveland, hoping to top its unprecedented comeback from a 3-1 Finals hole last spring by likewise becoming the first group in Finals history to climb out of a 3-0 grave. It's early still, but the experience of doing it a year ago – against the very team that had it done to them – instantly added some needed drama to this 2017 title chase, as steep as the hill still looks.
Oh, and there was more history: Cleveland setting Finals records for points scored in a quarter (49) and a half (86), for the most 3-point buckets (24) and via James' ninth triple-double (breaking a tie with Magic Johnson at eight).
5. If this goes six, it goes seven.
The last thing Golden State wants to risk is a trip back to The Land, the Q and the what has become an increasingly difficult place for it to play. Already, the Warriors are a missed 3-pointer by Kyle Korver (near the end of Game 3) away from being deadlocked 2-2 in this series. But coming back now would mean waking every last ghost from their collapse in the final three games of the 2016 Finals.
It wouldn't be any easier now, either, thanks to Green insulting the folks who'd be in the stands. And serving him his meals. And seeing him on the sidewalks. Not after he dropped this zinger on the city he was about to leave late Friday: "I don't pay much attention to people in Cleveland, honestly. They don't seem to be the sharpest people around."
Niiiiice. Green might want to focus on the Warriors' opportunity to win their second championship in three years at Oracle Arena this time (they won in Cleveland in 2015). He might want to zip it before and during Game 5 and, while maybe not improving on his 16 points and 14 rebounds, find a way to do better than 6-for-16 from the floor, along with the constant foul trouble and tightrope of technical fouls he's been walking.
The Warriors don't want to tempt fate by letting this go beyond five games, even as the Cavaliers are quite confident they can make them.
Steve Aschburner has written about the NBA since 1980. You can e-mail him here, find his archive here and follow him on Twitter.
The views on this page do not necessarily reflect the views of the NBA, its clubs or Turner Broadcasting.