Warriors All-Star Klay Thompson to defend title in 2017 JBL Three-Point Contest
Three East All-Stars in field: Cavaliers' Irving, Raptors' Lowry and Hornets' Walker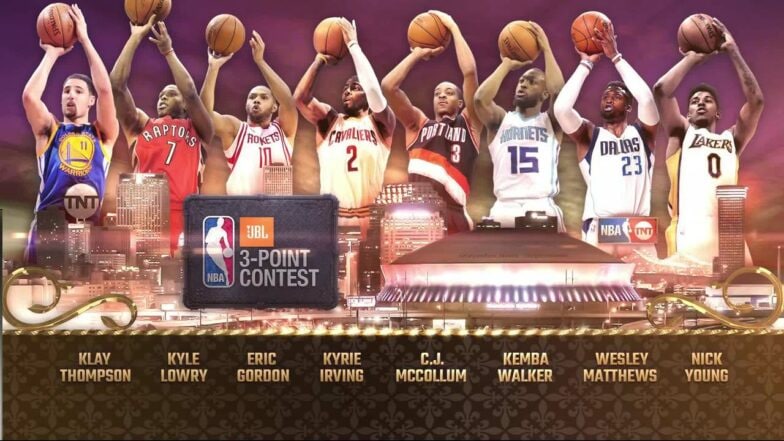 NEW YORK — Defending champion Klay Thompson of the Golden State Warriors and 2013 winner Kyrie Irving of the Cleveland Cavaliers lead the list of four NBA All-Stars who will showcase their shooting range in the 2017 JBL Three-Point Contest on Saturday, Feb. 18 at Smoothie King Center in New Orleans.
The eight-player field also features 2017 All-Stars Kyle Lowry of the Toronto Raptors and Kemba Walker of the Charlotte Hornets, as well as Eric Gordon of the Houston Rockets, Wesley Matthews of the Dallas Mavericks, CJ McCollum of the Portland Trail Blazers and Nick Young of the Los Angeles Lakers.
The JBL Three-Point Contest is part of State Farm All-Star Saturday Night, which will be televised by TNT at 8 p.m. ET and will also be available on the Watch TNT App and on TNT Overtime. In addition, the competition will be broadcast on ESPN Radio, with audio also available on the ESPN app.
Each participant ranks in the NBA's top 20 in three-pointers made this season, including seven of the top 12. Thompson, an All-Star selection for the third consecutive season, ranks fifth in that category with 149. He connected on eight three-pointers on his way to a career-high 60 points against the Indiana Pacers on Dec. 5, the NBA's highest-scoring game in 2016-17. Last season, the 6-7 guard sank 276 three-pointers, the third-highest total in league history.
The other three 2017 All-Stars in the field are from the Eastern Conference. Irving, voted a starter for the All-Star Game, is averaging career highs of 2.4 three-pointers and 24.2 points per game this season. Lowry, who competed in the 2016 Three-Point Contest, is third in the NBA in three-pointers made (162), seventh in three-point field goal percentage (42.7) and 15th in scoring (23.3 ppg). Walker (22.9 ppg), a first-time All-Star, is shooting a career-high 40.2 percent from long distance and is on pace for his first season with at least 200 three-pointers made.
Gordon and Young join Walker as first-time competitors in the Three-Point Contest. In his first season with the Rockets, Gordon ranks second in the NBA in three-pointers made with 170, which is already a career high. Young has 128 three-pointers in 2016-17, which is only seven fewer than his single-season career high of 135, and the Lakers' guard/forward is ninth in the NBA in three-point field goal accuracy with a career-high mark of 42.4 percent.
Matthews (2015 participant) and McCollum (2016 participant) return for their second appearances in the Three-Point Contest. With 129 three-pointers made in 2016-17 (10th in the NBA), Matthews is now the only player to hit at least 125 in each of seven straight seasons from 2010-17. McCollum, the 2015-16 Kia NBA Most Improved Player, is 14th in the NBA in scoring (23.4 ppg) and tied for 10th in three-point field goal percentage (42.3).
The JBL Three-Point Contest is a two-round, timed competition in which five shooting locations are positioned around the three-point arc. Four racks contain four orange balls (each worth one point) and one multicolored "money" ball (worth two points). The fifth rack is a special "all money ball" rack, which each participant can place at any of the five shooting locations. Every ball on this rack is worth two points.
The players have one minute to shoot as many as the 25 balls as they can. The three competitors with the highest scores in the first round advance to the championship round.
Below is the lineup for the JBL Three-Point Contest and a list of previous winners:
(Statistics through games played on Wednesday, Feb. 1)
JBL THREE-POINT CONTEST WINNERS
1986 – Larry Bird, Boston
1987 – Larry Bird, Boston
1988 – Larry Bird, Boston
1989 – Dale Ellis, Seattle
1990 – Craig Hodges, Chicago
1991 – Craig Hodges, Chicago
1992 – Craig Hodges, Chicago
1993 – Mark Price, Cleveland
1994 – Mark Price, Cleveland
1995 – Glen Rice, Miami
1996 – Tim Legler, Washington
1997 – Steve Kerr, Chicago
1998 – Jeff Hornacek, Utah
2000 – Jeff Hornacek, Utah
2001 – Ray Allen, Milwaukee
2002 – Peja Stojakovic, Sacramento
2003 – Peja Stojakovic, Sacramento
2004 – Voshon Leonard, Denver
2005 – Quentin Richardson, Phoenix
2006 – Dirk Nowitzki, Dallas
2007 – Jason Kapono, Miami
2008 – Jason Kapono, Toronto
2009 – Daequan Cook, Miami
2010 – Paul Pierce, Boston
2011 – James Jones, Miami
2012 – Kevin Love, Minnesota
2013 – Kyrie Irving, Cleveland
2014 – Marco Belinelli, San Antonio
2015 – Stephen Curry, Golden State
2016 – Klay Thompson, Golden State
About HARMAN
HARMAN (harman.com) designs and engineers connected products and solutions for automakers, consumers, and enterprises worldwide, including connected car systems, audio and visual products, enterprise automation solutions, and connected services. With leading brands including AKG®, Harman Kardon®, Infinity®, JBL®, Lexicon®, Mark Levinson® and Revel®, HARMAN is admired by audiophiles, musicians and the entertainment venues where they perform around the world. More than 25 million automobiles on the road today are equipped with HARMAN audio and connected car systems. The Company's software services power billions of mobile devices and systems that are connected, integrated and secure across all platforms, from work and home to car and mobile. HARMAN has a workforce of approximately 29,000 people across the Americas, Europe, and Asia and reported sales of $6.9 billion during the 12 months ended June 30, 2016. The Company's shares are traded on the New York Stock Exchange under the symbol NYSE:HAR. © 2016 HARMAN International Industries, Incorporated. All rights reserved. Harman Kardon, Infinity, JBL, Lexicon and Mark Levinson are trademarks of HARMAN International Industries, Incorporated, registered in the United States and/or other countries. AKG is a trademark of AKG Acoustics GmbH, registered in the United States and/or other countries. Features, specifications and appearance are subject to change without notice.
About State Farm®
The mission of State Farm is to help people manage the risks of everyday life, recover from the unexpected, and realize their dreams. State Farm and its affiliates are the largest providers of auto, home and individual life insurance in the United States. Its 18,000 agents and more than 65,000 employees serve more than 83 million policies and accounts – nearly 81 million auto, home, life, health and commercial policies, and nearly 2 million bank accounts. Commercial auto insurance, along with coverage for renters, business owners, boats and motorcycles, is available. State Farm Mutual Automobile Insurance Company is the parent of the State Farm family of companies. State Farm is ranked No. 35 on the 2016 Fortune 500 list of largest companies. For more information, please visit http://www.statefarm.com.
About NBA All-Star 2017
NBA All-Star 2017 in New Orleans will bring together some of the most talented and passionate players in the league's history for a global celebration of the game. The 66th NBA All-Star Game, which will take place on Sunday, Feb. 19 at Smoothie King Center, will reach fans in more than 200 countries and territories in more than 40 languages. TNT will televise the All-Star Game for the 15th consecutive year, marking Turner Sports' 32nd year of NBA All-Star coverage. Smoothie King Center will also host the BBVA Compass Rising Stars Challenge on Friday, Feb. 17 and State Farm All-Star Saturday Night on Saturday, Feb. 18. The NBA All-Star Practice, NBA All-Star Celebrity Game and NBA Development League All-Star Game presented by Kumho Tire will take place at the Mercedes-Benz Superdome.