Wizards Odds
+8.5
Nets Odds
-8.5
Over/Under
N/A
Time
7:30 p.m. ET
TV
NBA TV
Odds via . Get up-to-the-minute NBA odds here.
On Monday evening, the Brooklyn Nets host the Washington Wizards in the second game of back-to-back. On Sunday, the Nets were blown out in the second half against the Charlotte Hornets to fall to a disappointing 1-2 record on the season. The new-look Wizards, on the other hand, have begun this season 2-0 and will look to keep this momentum going.
Less than one week into the season, the injury reports around the league are already in midseason form. Bradley Beal is listed as questionable with a right hip bruise. Keep your eyes out for any updates by following the Fantasy Labs NBA Twitter account.
The Nets' Blake Griffin had a DNP-rest day for Sunday's game, so it wouldn't surprise me if one of the other Nets veterans gets a night off on Monday against the Wizards.
With so many potential injury news and uncertainty, this game is difficult to handicap, but let's break this game down to see if we can find an edge.
New-Look Wizards Off To Hot Start
The new-look Wizards have started this season off with a 2-0 bang. They are in a transition year with a new head coach (Wes Unseld Jr.) and having unloaded Russell Westbrook for a package of younger players. Here is a summary of their key offseason moves:
Additions: Spencer Dinwiddie, Kentavious Caldwell-Pope, Kyle Kuzma, Montrezl Harrell
Departures: Russell Westbrook, Ish Smith, Robin Lopez, Alex Len
The first win was a convincing 15-point win against the Toronto Raptors. The second was a one-point victory in an overtime thriller against the Indiana Pacers behind newcomer Spencer Dinwiddie's 34 points.
Their new point guard has looked promising, especially after missing last season with a torn ACL. It is still yet to be seen if he can take that leap to become a star. He is a career 41.1% shooter, but he has scoring and playmaking ability to relieve some of those duties from Beal.
Kuzma and Harrell are two players that bring a lot of energy and hustle to the team. This hustle could come very useful against a Nets team that is on the second game of a back-to-back and is composed of veteran players that may not have as much interest in running with these young guys. Kuzma is averaging 13 rebounds in his two games and has the speed and length to keep up with Durant on defense.
---
Nets Have Looked Rusty
The NBA schedule makers were not kind to the Nets to start off this season. They split a pair of consecutive road games against the Bucks and 76ers, two of best teams in the NBA. Now, they have a back-to-back series at home.
The Nets are very close to being 0-3 right now. They had been losing to the 76ers for almost the entire game, but mounted a 16-1 run in the fourth quarter to sneak away with the win.
Bottom line, the Nets have looked rusty. James Harden has started off this season going 19-for-49 (38.7%) from the field. As I've mentioned in previous game guides, the NBA is implementing rule changes to prevent "non-basketball moves" in an effort to draw fouls. This works to the detriment of Harden, whose crafty game is centered around foul-baiting. I anticipate the referees will continue to set the tone by enforcing the rules, and this is one of the reasons Harden is struggling.
Two veteran additions to the Nets frontcourt are Paul Millsap and the LaMarcus Aldridge. Millsap is a versatile big man who can provide scoring from inside and out while providing veteran leadership and a defensive presence. Aldridge is returning to the NBA after briefly retiring due to an irregular heartbeat. However, they may struggle to integrate several new pieces on offense as they adjust to life without Irving. They will need some time to develop a rhythm and chemistry together.
Going into Monday, the Nets are 27th in Net Rating of -11.7, per NBA Advanced Stats. Their offense is stagnant. Their defense continues to be non-existent. It is an extremely small sample size and it is still incredibly early, but the Nets look like they are in trouble.
Wizards-Nets Pick
The Nets has opened up as 8.5-point favorites over the Wizards, which I believe is a tad too high. With the Nets' struggles on both sides of the ball and with the new rule changes clearly impacting Harden's game, I can't trust them to win by margin. Also, the Wizards have shown to have an energetic group of players that can keep it close, especially against a Nets team that is on the second half of a back-to-back.
Road teams off a win with two-plus days of rest have gone 90-60-4 (60%) ATS since the 2019-2020 season, per our Bet Labs tool. This is active as play on the Wizards. These well-rested teams carry over the confidence from their previous win into the following game.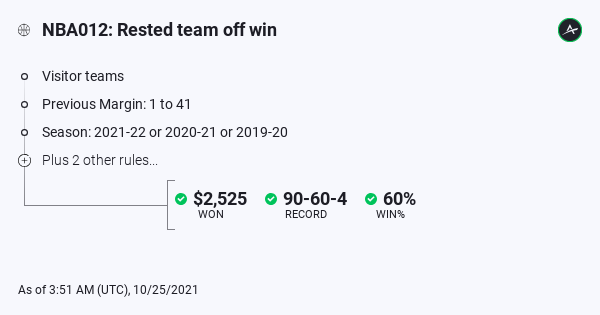 Assuming Beal plays, I make the line on this Nets -6. Therefore, I see some value in taking the Wizards at 8.5 and would play it down to 7.
Pick: Wizards +8.5 (down to +7 if Beal plays)
More NBA Playoffs Coverage