Timberwolves vs. Lakers Odds
The Lakers host the Minnesota Timberwolves in what is a critically important game for both teams as they look to secure a spot in the playoffs.
These teams are separated by just one game in the loss column, so this should be an exciting matchup.
---

Minnesota Timberwolves
The Timberwolves enter this game relatively healthy with just Jaylen Nowell (knee) listed as questionable as Karl-Anthony Towns continues to miss time with his calf injury.
This team was impacted by the trade deadline as it acquired a number of players, but it was headlined by the acquisition of Mike Conley and the departure of D'Angelo Russell.
From a fit perspective, this was a benefit to all parties involved. In Conley's six games with Minnesota, the team is +6.8 points per 100 possessions. He has directly improved its offense by taking some of the facilitating pressure off his teammates. Even though he's averaging fewer assists than he did as a member of the Jazz (5.8 compared to 7.7), Conley's presence is much needed.
Two players who have directly benefitted from Conley's presence are Anthony Edwards and Rudy Gobert. Both have seen their scoring increase — Gobert has gone from 11.8 without him to 14.8 with him, and Edwards from 21.6 to 23.7.
This is also a matchup Gobert has fared well in, finding with strong success against Anthony Davis. In 16 career games, Gobert has averaged 12.7 points, and 13.4 rebounds in head-to-head matchups vs Davis. However, his best games came when he was a member of the Jazz and Davis was on the Pelicans. His points + rebounds prop is one I'll be monitoring throughout the day.
---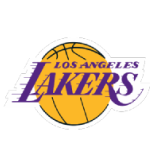 Los Angeles Lakers
The Lakers' starting lineup has been a revolving door this season due to their injuries, and they'll continue to be without LeBron James (foot) and D'Angelo Russell (ankle) tonight. While Anthony Davis (foot) is listed as probable, this isn't a back-to-back set, so maybe he won't take a surprise rest day.
Regardless, this is a matchup Davis has struggled in throughout his career. Although he has found tremendous success rebounding the basketball without LeBron this season (16.2 without him), this matchup versus Gobert has proven difficult for him. In 17 career matchups vs Gobert, he has averaged 9.5 rebounds per game and has exceeded 12.5 boards just twice in those 16 games.
I fully expect this to be a sweat, but I like his under 12.5 rebounds prop tonight, and you can grab that at plus money on FanDuel right now.
Despite losing Russell and James, the Lakers are simply trying to survive right now. They've received strong minutes from Malik Beasley (+10) and Dennis Schroder (+3.9), and basically every new acquisition has played better than the Lakers' role players prior to the trade deadline.
Timberwolves-Lakers Pick
Since the All-Star Break, the Lakers are 3-1 with a +6.8 point differential compared to the Wolves, who are just 1-2 with a -1.6 point differential. They've narrowed the gap in the standings, but Minnesota's competition has been a bit tougher than the Lakers' of late.
This spread essentially sits at a pick'em, and the Lakers have been a hair better than the Timberwolves on the full season with the 20th Adjusted Net Rating compared to Minnesota's 22nd Adjusted Net Rating, per Dunks and Threes.
The Lakers still have a winning record at home, and the Wolves have struggled mightily on the road with a 12-18 record. Although the Wolves defeated the Lakers earlier in the season on Oct. 28, these rosters are drastically different now.
I'll give the Lakers a slight edge here despite missing LeBron and Russell.
Pick: Lakers +1.5