Professional athletes love to buy into the idea that no one believes in them. Inventing motivation is deeply embedded in great competitors' mindsets, but it's often a fabrication to spark that competitive spirit.
But seriously: no one believed Nikola Jokic could win MVP.
Jokic was +1600 to win the Most Valuable Player Award in the preseason the next season after winning the award the first time.
Voters were reluctant to vote for Jokic last season, finally grumbling as they turned in their ballots with him No. 1 after Joel Embiid got hurt late last season. He did not have a compelling narrative. The Nuggets were expected to be good, not great, and that's honestly how the team finished.
A plodding, awkward Serbian big man with passing skills does not light up Instagram. He does not jump off the page. He is not media friendly. He has not done in-depth profiles with reporters to make his case, and his team has not sent out promotional materials for him.
And yet, he is most likely the two-time NBA Most Valuable Player.
How did Jokic establish himself as one of the game's best players and overcome so much built-in resistance to him, and has anyone ever had a season like this?
Here is the definitive case for Nikola Jokic for MVP.
A Brief Word on Advanced Metrics or "Analytics" 
I  can't honestly believe we're here in 2022, but once again, the idea of statistics being somehow a bad thing is back.
The going argument against Jokic is that it's somehow a bad thing that he's the leader in categories like VORP (Value Over Replacement Player). It's essentially anti-intellectualism. Being smart is bad, and you should care more about points per game, like it's 2002 again.
Advanced metrics are indeed flawed. They're not designed to determine the best player. Player Efficiency Rating is intended to measure productivity in the time spent on court. VORP is intended to estimate the points a player contributes to an offense per 100 possessions.
Defensive Win Shares, a metric Jokic leads the league in, is heavily impacted by rebounds. Guess what? Jokic had the 12th-best defensive rebounding season (pace adjusted) of all time. So yeah, it's going to reflect well on Jokic.
Each one has a different angle taken, and each has oversights and weaknesses.
But just because you disagree with what the metrics say is not a reason to throw them out entirely. Their use of actual concrete evidence is not a reason to take them as gospel, either.
The key with Jokic is not that he leads in VORP. Or PER. Or Win Shares. Or Box Plus-Minus. Or EPM. Or RAPTOR. Or LEBRON.
It's that he leads in all of them.
You want to poke holes in these metrics, that's fine. But the fact that he leads, by a comfortable margin, in all of them, probably means something. Seven different metrics intended to measure statistical impact on the game all suggest he's the most impactful player in the league. All of them.
The Defensive stats are the ones most commonly maligned. Jokic leads the league in Defensive Box Plus-Minus, a stat published at Basketball-Reference with this caveat:
What does this mean? Box Plus/Minus is good at measuring offense and solid overall, but the defensive numbers in particular should not be considered definitive. Look at the defensive values as a guide, but don't hesitate to discount them when a player is well known as a good or bad defender.
And that's fine! You can throw out those numbers entirely, and the end result is the same: Nikola Jokic is having the best defensive season of his career and the gap between him and his competitors is not greater than the offensive gap between him and those players.
As we'll demonstrate, Jokic is a good defender. Embiid is a great defender, but Jokic leading in a statistical category that exaggerates his supposed impact does not make him a worse defender than he actually is.
This is all to say that I will not be using those numbers to make the case. If you want to look them up, I linked them above. I don't need to give you the ranking of where Jokic stands in these metrics like I did with Giannis because I can shorthand it:
Jokic is No. 1.
In all of them.
Offense: the Entire Vehicle
Jokic isn't the engine of the Nuggets' offense. He's the engine, the wheels, the frame, the heated bucket seats, the Bluetooth player, the navigational system, the fuel injection system, and the windshield wipers.
Here's a good example of what Jokic does for the Nuggets offense.
Primary ball-handler, drives on Towns, fake hand-off, kick out to shooter, re-post, footwork, contested score.
Deandre Ayton is a player Jokic has said gives him trouble, and yet Jokic is able to get to his spots easily. This is part of how he's better than he was two years ago, even one year ago:
Jokic's skill and passing gets talked about, but the man is an absolute bull in a china shop when he wants to be one. Jonas Valanciunas is 7-0, 265 pounds, and Jokic still bodies him:
Jokic doesn't win the position battle all the time, but the key is that he doesn't need to:
His footwork on these fadeaways make them unblockable without help from behind him:
Blake Griffin does everything here, absolutely everything, and it didn't matter:
Even if you manage to get a stop on Jokic, putbacks are a massive problem. Robert Williams does everything here, and Jokic still finds his way to a bucket:
Jokic keeps the ball alive with his fingertips and without ever grabbing it, still gets the bucket:
Jokic's efficiency this season is better than any other candidate's. Here's his True Shooting% (factoring free throws) relative to the league via Positive Residual: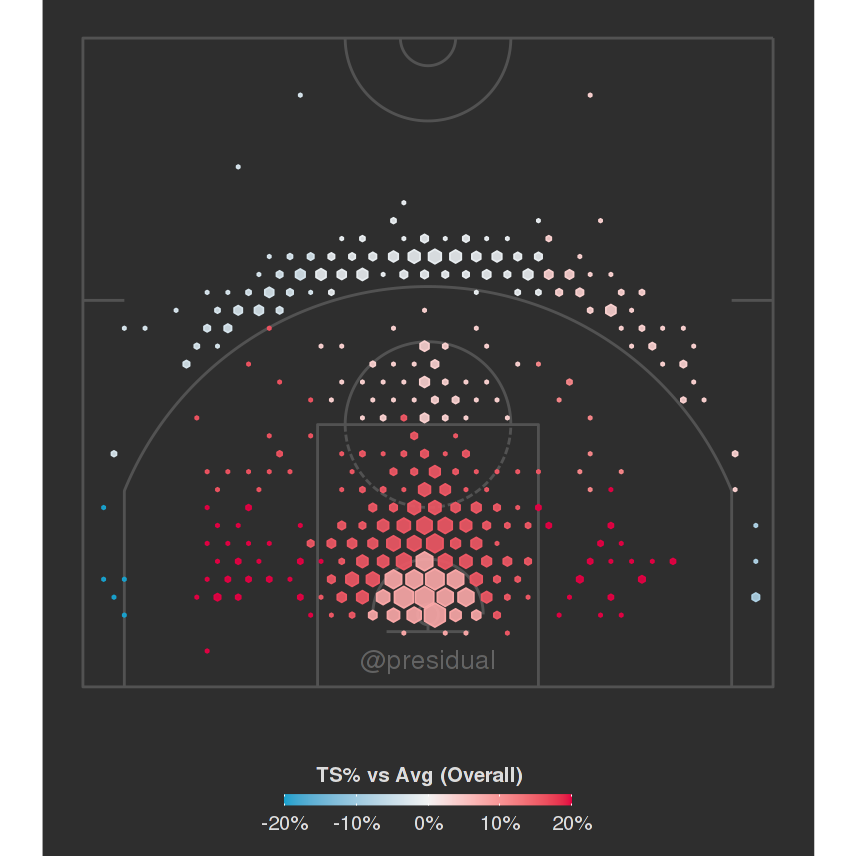 Minimum 13 2-point attempts per game, Jokic has the second-best field goal percentage on 2-pointers in NBA history. It's Wilt Chamberlain and then him.
Jokic's 3-pointer took a dip this season, in part due to a wrist injury he suffered midseason that bothered him. He shot just 34% compared to 38% from deep last season. What's impressive is that despite that drop, Jokic still lead the league in eFG%  among players with at least 20 points per game. He has the second-best eFG% of all time for players with at least 25 per game.
His individual scoring has been the strongest combination of volume and efficiency that we've seen in decades, and that's before we talk about his passing.
When facing a bigger player, you want to get low for leverage. With Jokic, this works against you because it opens up his passing lanes. Here Kevon Looney gets low in a wide stance to try and stop him, and Jokic just breezes a pass to the cutter:
Jokic often times just puts on a clinic. Here he catches in the post, reverses on target to the weakside, relocates to the corner, pump-fakes to get the defender up, drives, and then dishes to the open man under the bucket:
Jokic is so good at hitting cutters, that the Nuggets can draw defenders with a cut they have to respect even on difficult angles, and then Jokic burns them by being ahead of them. This is important. Jokic doesn't just make crazy passes, he hurts the opponent by not taking what they give him but instead what they're trying to hide behind their coverage:
Passing greatness is often evaluated by the angle, or it being a no-look, or threading between defenders. But what really makes a great pass in the NBA is placement. Can you hit a teammate in his shooting pocket or in stride for a layup? Jokic is one of the best in history at it. Look at where this pass lands for Aaron Gordon:
No look passes are a little overrated. Often times players don't even need to look away to make the pass. But Jokic just wrecks teams with it. The weak side defense so often falls asleep because of how he uses his eyes:
Jokic's ability to move away from double-teams and punish them is unparalleled. He generated more points from double teams than any other player in the league, and he punishes it in unconventional ways like this wild one-legged pass:
The outlet pass is unquestionably the most fun part of Jokic's game. His deep ball is better than 90% of the quarterbacks' in the NFL:
It's not just that he can throw them, it's how quickly he goes from rebound to pass:
No player in NBA history has averaged 25 points, 13 rebounds, and 7 assists until this season (Jokic averaged 27-13-7.5).
No player has scored what he has on the efficiency he has outside of Steph Curry, and no player has put together the stat line he has on the efficiency he has.
Defense
This has become a sore point because of the above analytics discussion.
The case for Jokic on the defensive end slid as the season wore on. The Nuggets went from top-10 in adjusted defensive rating to 16th as the season wore on. Their point of attack defense on the perimeter fell apart.
But ultimately, Jokic was a net positive this season defensively. He has quick hands and an incredible basketball IQ. Those skills, combined with his improved fitness and athleticism from his earlier seasons after he started to take his conditioning seriously have made him a good defender.
He's not as good as Embiid or Giannis Antetokounpo, but Jokic is not a defensive weakness.
Jokic's quick hands have helped him to 12th in steals per game this season:
The big knock on Jokic is the idea he can't switch. Funny story, he allows the same eFG% as the big in switches as Joel Embiid this season at 42% – Jokic is actually better by .08%.
These estimations are largely useless, though, because in the NBA, teams rarely attack those weakpoints like they do in the playoffs. But the MVP is a regular season award.
Curry doesn't try much here vs. Jokic:
Jokic does a good job here walling off Maxey:
Jokic has three game-winning blocks this season:
The Nuggets' defense is 4.1-points better per 100 possessions with Jokic on the floor this season, and the eye test matches that. He is 65th percentile as the big man defending in pick and roll situations, and again, the eye test shows that.
Rebounds have always been tough for me. Someone's going to get the rebound after a missed shot, for one team or the other, and usually for the defensive team.
But Jokic's rebounding has been impactful; the Nuggets are No. 1 in Defensive Rebound Rate. They do not allow the opponent second chances, and that goes a long way when you're shorthanded in weapons and don't have great perimeter defenders.
For Jokic to have such a wide margin over his competitors in rebounds both explains his gap in the defensive metrics and should probably garner some respect. He may not be the best rebounder in the league, but he's the best among high-usage superstars.
Narrative: Best Against Adversity 
The unfortunate reality is that the strongest argument for Jokic in terms of the narrative is an insult to the players around him. Aaron Gordon has played extremely well in his first full season as part of a winning team. Monte Morris, a back-up point guard, has stepped up in tremendous fashion. Rookie Bones Hyland has been a huge spark and become a fan favorite.
Jeff Green has brought his veteran savvy. Austin Rivers takes the toughest defensive assignment most nights. Will Barton has had to play more minutes earlier, and it took a huge toll on his body.
So when everyone looks at the Nuggets' role players as a reason why Jokic is so great, the implication is that they're terrible, and that's both unfair and wrong.
But the reality remains that the Nuggets have missed their second-best player (Jamal Murray) the entire season and their third-best player (Michael Porter Jr.) for all but nine games. Murray was supposed to return sometime after All-Star to provide an emotional boost and relief, and it never happened. Murray's body just didn't get there.
The Nuggets' fourth-best player has to be their second-best player, their fifth-best player their third-best and so on. On top of that, the team made a misstep in their bench calculations this summer. They did not add another point guard who could shoot and did not bring in a rim-rolling traditional big man.
The minutes with Facu Campazzo sunk the Nuggets in a huge way. That's not necessarily Campazzo's fault, but the Nugget lost the minutes with Campazzo when Jokic was not on the floor by 12 points per 100 possessions. The starters would build double-digit leads only to see the bench turn around and lose them before they could return in the second quarter.
And yet, the Nuggets have reached the playoffs and are just three games behind the Sixers and Bucks. That's because of Jokic, more than any other player, and by a margin enough to call him most valuable.
I don't believe in punishing players for having good teammates. It's not Joel Embiid's fault or Giannis Antetokounmpo's fault that Jamal Murray and MPJ got hurt, nor that their teammates stayed healthy.
This is why on-court Net Rating matters to me in these discussions. It's a stat yes, and I guess it's an advanced one, but all it really is is plus-minus per 100 possessions.
To put it in different terms, it is "adjusted for pace, how much do you win your minutes by?" That's it. Just "How much did you outscore your opponent by, accounting for pace of play?"
Jokic leads the MVP pack:
Jokic: +8.4
Antetkounmpo: +8.0
Embiid: +7.9
Jokic 's team didn't win by almost as much with him on the floor as the others. They didn't win by as much with him on the floor as the others. They won by more. Think bout that. Without his second and third-best players, Jokic's team still won his minutes by more points per 100 possessions than the other two major candidates.
It's a team stat, you can often find role player bystanders with great Net Ratings. But the usage, stats, eye test, all of it points to the validation of that number.
Nikola Jokic has impacted his team's chances of winning this season more than any other player.
That makes him the league's Most Valuable Player.