Nuggets vs. Suns Odds
Nuggets Odds
+4
Suns Odds
-4
Over/Under
224
Time
10 p.m. ET
TV
ESPN
Odds via FanDuel. Get up-to-the-minute NBA odds here.
This series between the Denver Nuggets and Phoenix Suns was supposed to be a showdown between the top teams in the West, but only the Nuggets showed up so far.
They rolled in Game 1, using a huge second quarter run to slice the game open and coast to an easy win. Game 2 was a much harder fight, but Denver's run came in the final stanza this time with the Suns scoring just 14 in the fourth quarter as the Nuggets grabbed a 2-0 series lead.
Even worse, Chris Paul left Game 2 with a groin injury, and he's out for at least Game 3, and presumably longer. Phoenix returns home with its backs against the wall, missing the Point God, down 0-2 with the season on the line. Can the Suns keep hope alive?
Let's take a look at the odds, matchups and betting angles in the Nuggets vs Suns Game 3 preview.

Denver Nuggets
The Nuggets have dominated the series, but it was the Nikola Jokic show in Game 2. The night before the MVP announcement, Jokic had a monster game with 39 points and 16 rebounds, recording at least 39% of his team's output in each area in what was a surprisingly slow, defensive grind.
Denver got just five points from Michael Porter Jr. in that one and a total no show from Jamal Murray, who went 3-of-15 from the field and 0-of-9 on 3s. That was in stark contrast to Game 1, where Murray led the charge with 34 points, nine assists, and six 3s while MPJ had a big second quarter stretch and Jokic was his usual self at 24/19/5. Ho hum.
The Nuggets have looked every bit the part as a No. 1 seed, and they're the favorites to win the West. The starting five has been excellent, with Aaron Gordon and Kentavious Caldwell-Pope fitting perfectly as role players and Bruce Brown starring off the bench.
Denver dominated the math in Game 1. The Nuggets attempted 17 more shots, including 14 more 3-pointers, 11 more rebounds, and seven fewer turnovers than Phoenix. The Suns mostly evened out those ratios in Game 2 and actually ended up taking 19 more shots than Denver, but they also got to the line 16 fewer times, a shocking development.
The Nuggets are the clear favorite now in this series. They are beating Phoenix not with great defense, but with superior offense. The question now is whether their performance will hold up on the road, where Denver was much worse this season.
---

Phoenix Suns
Like Denver, the Suns play much better at home, and Phoenix is playing for its season down 0-2.
They'll be without Chris Paul, which has a knock-on effect for a roster already short on options. Cameron Payne likely gets the start. Payne was in and out of the lineup with injuries this year but did start 14 straight games in November and December when Paul was out, averaging 15.1 points and 7.3 assists per game in 31.5 minutes. That assist number effectively matches Paul in the playoffs thus far. Payne also made 2.3 3-pointers per game on 5.8 attempts, so he could actually add some shooting without detracting a ton overall considering how little Paul has been contributing to Suns' scoring lately.
Payne may take Paul's minutes, but Devin Booker will likely take over the bulk of the playmaking duties. He's been money on his assists prop in games with Kevin Durant, now up to 6.7 APG in 15 games. Unfortunately, Paul's injury has finally caused books to push Booker's assist line to 7.5, still with heavy juice on the over.
I don't see a ton of value there, but still like Booker's points + assists. He's averaging 37.0 points and 7.2 assists per game over his last six outings with at least 35 PA every game, going over 38.5 PA in four of the six and a couple possessions away in the others. Booker is playing nearly every minute. He had 11 potential assists last game and probably hits 15 or more with Paul out, and we know he'll score. The last time CP3 missed a playoff game, Booker had a 40-point triple-double in one of the two running point.
The Suns made an obvious concerted effort to take more 3s in Game 2 and closed the math gap but failed to hit many of the shots. Kevin Durant got 12 3s up but made only two and never really looked in rhythm, and Phoenix saw its usually huge free throw margin plummet.
Phoenix is going to have to get shooting and production from its "others," especially with Paul out. Josh Okogie and Torrey Craig should continue to get plenty of wing minutes, but I see a big night ahead for Damion Lee. He played 26 minutes in Game 2 and got five shots up but failed to score. Lee is a good shooter and I expect him to keep firing. He took three treys in Game 2, and he's out there to space Denver out and get shots up.
Role players typically play better at home. I like the over on Lee's 3-point prop at -140. (We only need one!) He averaged 2.1 treys per game on 45% in 24 games with at least 24 minutes this season, scoring 12.2 PPG and hitting at least two 3s in 18 of the 24 (75%) games. Don't be afraid to play a 1-2-3 escalator.
Phoenix looked lost in Game 2, forcing 3s out of rhythm and failing to get to the free throw line. Suns not named Booker, Durant, Paul, or Ayton shot 3-of-19, scoring just six points in 93 minutes combined.
Nuggets-Suns Pick
A return home should help the role players and give Phoenix a chance to catch its breath and make some adjustments before this important Game 3.
The Suns solved some of the math issues in Game 2 but shot too poorly to take advantage. Now a team lacking depth gets its longest rest of the series and returns home, so this is Phoenix's best spot of the series.
Historically, this has been a great spot to back the home team. Teams coming home down 0-2 have gone 67-34-2 ATS in the first half of Game 3, a sparkling 66% hit rate.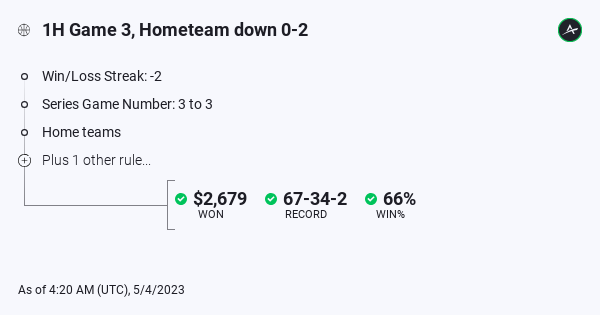 I don't know if I trust Phoenix to finish the job full game, but we have to expect a push from the home crowd and a big game from Booker and Durant, showing up for the injured Paul and trying to save the season. I like the Suns first half -1.5.
I'll also play the two Suns props. Give me Damion Lee over 0.5 3s (BetMGM), plus an escalator if you can find it, and keep riding the Booker wave at over 38.5 Points + Assists. It's now or never for the Suns. Let's see some urgency.
Pick: Suns -1.5 1H (-140)
---
Pick: Devin Booker o38.5 PTS + AST (-118)
---
Pick: Damion Lee over 0.5 3s (-140, BetMGM)