There are a lot of unknowns to consider ahead of tonight's Eastern Conference finals matchup with three key players on the injured list entering Thursday's pivotal game.
Giannis Antetokounmpo is out for the Milwaukee Bucks after hyperextending his knee in Game 4. For the Atlanta Hawks, Trae Young is questionable after sitting out the last game with a bone bruise and Clint Capela is questionable with eye inflammation stemming from an elbow at the end of Game 4.
Oddsmakers still give the Bucks the advantage at home as 3-point favorites, but injury news could shift those odds in an instant.
So how should you approach tonight's game?
That's where our NBA betting staff comes in. Three of our NBA analysts have delivered their top ways to bet Bucks vs. Hawks, Game 5 (8:30 p.m. ET on TNT). Find full breakdowns for each of their three picks below:

Photos via Getty Images.
---
Bucks vs. Nets Game 6 Odds & Picks
---
Atlanta Hawks +0.5 (Second Quarter)
---
Raheem Palmer: Four games through this series, one thing that's immediately clear is that the Atlanta Hawks are a deeper team than the Milwaukee Bucks.
Unlike previous seasons, this incarnation of the Bucks is notably top-heavy. Especially when you factor in the injuries to Giannis Antetokounmpo and Dante DiVincenzo, this is an extremely thin lineup.
Bucks coach Mike Budenholzer has previously been criticized for not shortening his bench during the postseason. So, what will he do now that Milwaukee no longer has the two-time MVP to play 40 minutes?
The losses of Antetokounmpo and DiVincenzo carry huge implications for Game 5. That's two fewer bodies capable of delivering solid playoff minutes, which could be a problem against an Atlanta Hawks team that has a ton of depth.
The Hawks feature Danilo Gallinari coming off the bench, and Cam Reddish returned in Game 4 to provide solid minutes as well. On top of that, if Trae Young returns to the lineup, then we could see Lou Williams playing more bench minutes. Altogether, I simply trust Atlanta's depth more than Milwaukee's.
I expect a hot start from the Bucks, who have the motivational edge with the injury to Antetokounmpo. But, the Hawks should win the second quarter with their bench depth, so that's what I'm betting. I'll take the Hawks +0.5.
---
»» Return to the table of contents ««
---
Bucks -1.5 (First Half)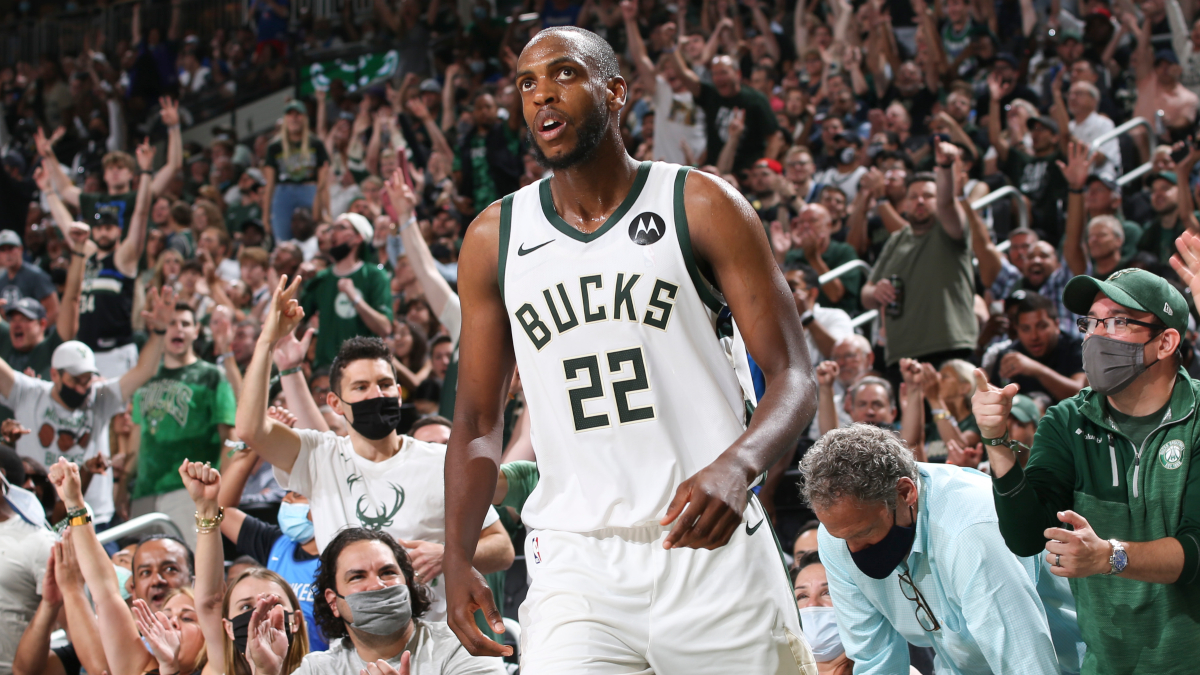 ---
Austin Wang: In Game 5, I am going back to the well with an angle that has been successful for me in the recent weeks. The Bucks are a stellar 28-12-2 (70%) ATS in the first half as home favorites this season, per our Bet Labs tool.
They are 5-0-2 in 1H ATS in this spot during the postseason.
The Bucks will be without the services of superstar and two-time former MVP Giannis Antetokounmpo after suffering a knee injury in Game 4. Fortunately, he only has a hyper-extended left knee and there was no long-term structural damage.
Something strange happens when a superstar goes down. Many call it the "Ewing Theory" and the term was popularized by Bill Simmons in the early 2000s. It occurs whenever a team inexplicably gets better after the departure of their star player.
The rest of team steps up to fill the void. Also, the opposing team may let their guard down and their defense may be slow to adjust their game plan. We saw it with the Clippers without Kawhi Leonard against the Jazz. We even saw it most recently in Game 4 when Trae Young sat out and the Hawks rolled to an easy victory.
Young is currently listed as questionable with a bone bruise to his right foot. If he plays, he will not be 100% and I anticipate the Hawks will initially struggle bringing a high-usage player such as Young back into the mix after they were successful without him the previous game. If he does not play, I think the Bucks' star guards Holiday and Middleton come out strong and overpower the Hawks at home, where they have been extremely successful.
The Bucks seem to possess a similar characteristic as the Clippers where they don't perform at their best until their backs are against the wall. I believe tonight's game will be a prime situation in where they bounce back.
However, I am still not comfortable with backing them the full game with their lack of depth, potential fatigue with their star players logging in so many minutes and the Hawks' ability to perform in the clutch.
My recommendation is to play the first half line at Bucks -1.5 (up to -2).
---
»» Return to the table of contents ««
---
Jrue Holiday Under 10.5 Assists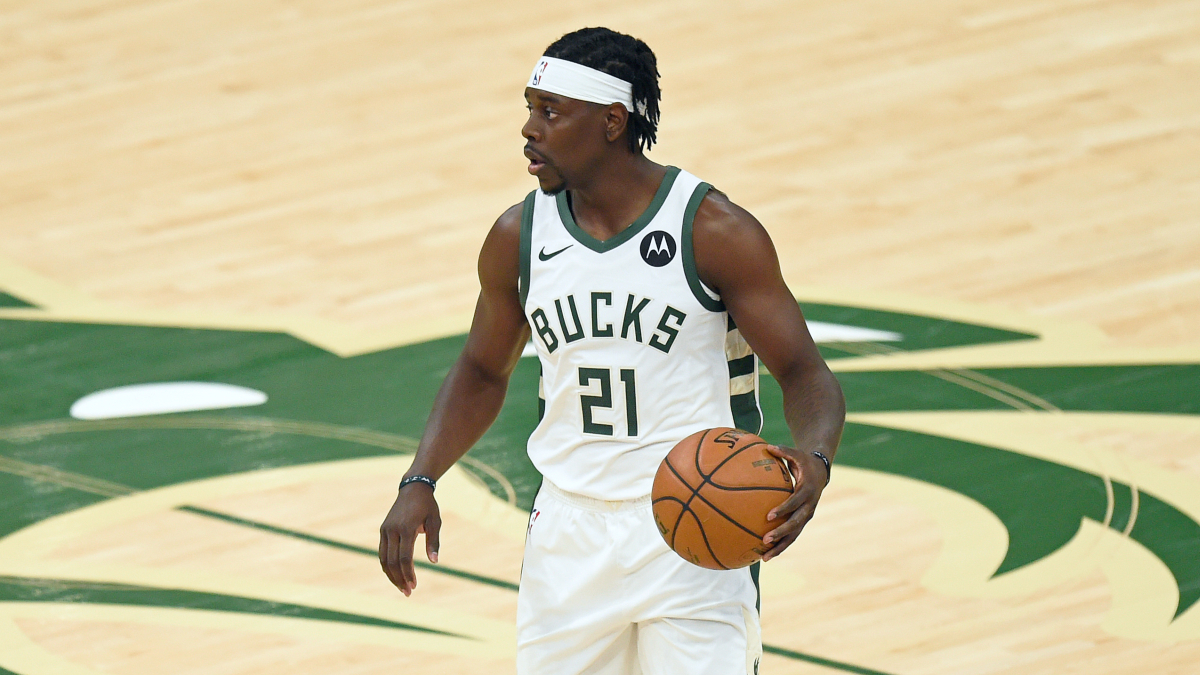 Jrue Holiday under 10.5 assists
---
Joe Dellera: We're uncertain whether Young will suit up for tonight's pivotal Game 5 and we now know Antetokounmpo is out. But those injuries are creating some value on the remaining players.
Jrue Holiday would be expected to step up in Antetokounmpo's absence. When Antetokounmpo exited early due to injury in Game 4, Holiday picked up a usage rate of 33.3%, per Cleaning the Glass.
Throughout the postseason, Holiday has averaged 16.5 points, 5.3 rebounds, and 8.1 assists in 38.5 minutes per game. His assists stand out, considering that's two more assists per game than he averaged during the regular season.
Holiday has played eight games without Antetokounmpo on the court this season. Although that eight-game sample came against weaker competition than the Atlanta Hawks, Holiday managed 6.9 assists per game and only had double-digit assists in two of those eight games.
Returning to Game 4 when Antetokounmpo was injured: Holiday's uptick in usage did not directly translate to an abundance of assists (He finished with nine).
If anything, I'd expect Holiday's increased usage to translate to more points — not more assists. He has eclipsed 10.5 assists in just eight games this season including the playoffs. Today's line of 10.5 is simply too high.
---
»» Return to the table of contents ««
---