The Phoenix Suns ran away with Game 1 of the NBA Finals behind masterful performances from Chris Paul, Deandre Ayton and Devin Booker.
The Milwaukee Bucks haven't backed down from a challenge so far this postseason, so we can expect a strong response from the Eastern Conference champs in Game 2.
Our NBA staff has three best bets for tonight's NBA Finals matchup (9 p.m. ET on ABC). Find full breakdowns for each of their four picks below.
NBA Finals Game 2 Odds & Picks
---
Devin Booker Under 28.5 Series Point Average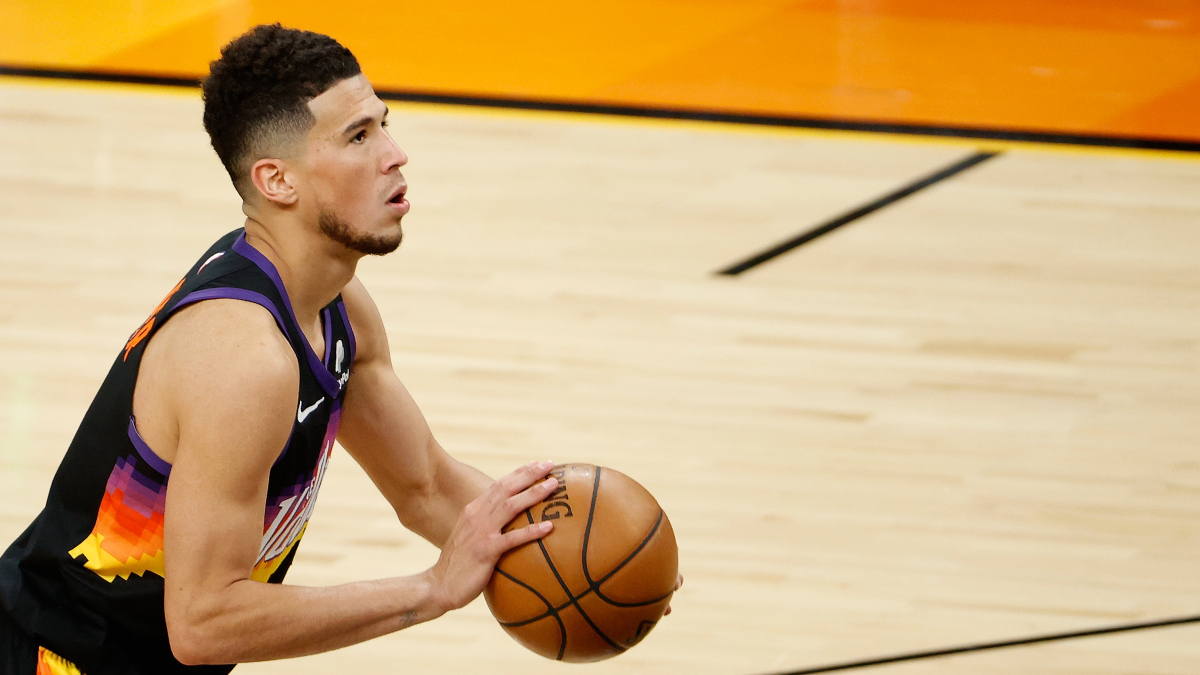 Devin Booker Under 28.5 PPG
---
Brandon Anderson: Devin Booker is one of the stars of the NBA Finals, and he got off to a good start in Game 1. Booker had 27 points and six assists and made his imprint on the game throughout. He lived at the line, going 10-for-10 to boost his scoring total for the night.
Booker has had some big time scoring lines in these playoffs. He scored 30 or more points four times in the first round against the Lakers, including a monster 47-point game in the clincher when he knocked down eight 3-pointers. In the second round, closeout Booker showed up again with 34 points to sweep Denver in Game 4. And who could forget Booker's 40-point triple-double in Game 1 against the Clippers with Chris Paul stuck in COVID protocol?
It's easy to remember the big games, but Booker has actually been an inconsistent scorer this postseason. Along with those big games, he's also had seven other games with 22 or fewer points, including four games below 20. There are no huge clunkers in there, but the Suns have such balanced scoring and can see so many role players step up any given night that Phoenix doesn't even need Booker to put up 30 points per game to win a series.
And it's a good thing too, because Booker has quietly gone pretty cold since that 40-point triple-double. In the six games since, he's down to 23.3 points, 4.0 rebounds, and 3.8 assists per game on an ugly 35% from the field, including just 22% from behind the arc. During that stretch, Booker is at 47% True Shooting and just 38% Effective Field Goal percentage with a 90 offensive rating and 4.3 turnovers per game. None of those numbers are particularly flattering.
And don't forget, this may arguably be Booker's toughest assignment yet. He could be dealing with Jrue Holiday for much of the series, and Holiday is one of the best guard defenders in the league. He will also be asked to defend Holiday or Khris Middleton some of the time, tiring him out at the end of the longest season of his career.
In the end, 28.5 PPG is just a really high line for anyone, and I don't trust Booker to score consistently enough to get to that number for the series.
Booker hasn't gone five straight games without dipping into the teens, so he's likely to one or two quieter games, and I'm not sure he has another 40-point game in him against this tough defense.
With FanDuel offering up this series average, I've got to take the under. The biggest threat here is that one monster Booker game, but I'll bet on the Bucks stopping him from getting there, and on the Suns being good enough that he may not need to.
I'll play Booker to average under 28.5 PPG up to -150 heading into Game 2.

---
» Return to the table of contents «
---
Game Total Under 220.5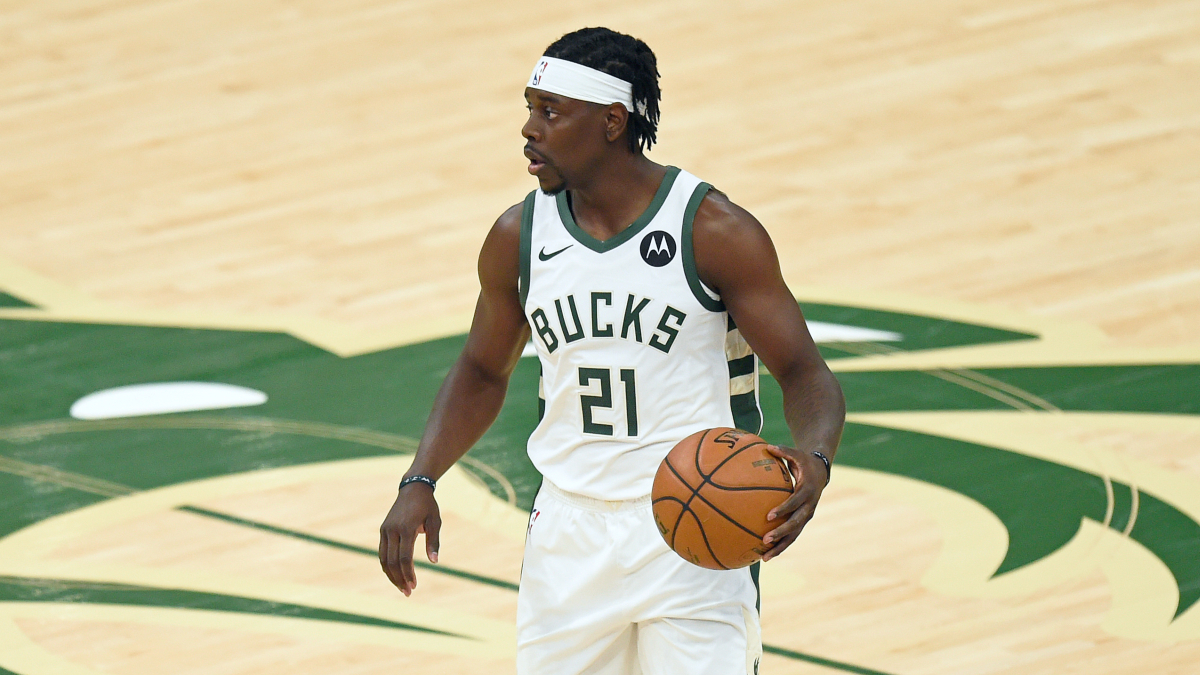 ---
Austin Wang: Game 1 saw the Suns and Bucks both get off to fast-paced, aggressive starts on offense. Now that they each have a glimpse of the opposing game plan, expect the defenses to make adjustments and the pace of the game to settle down.
The Bucks definitely have some adjusting to do. It was easy buckets for Chris Paul every time Brook Lopez or Bobby Portis switched onto him. Paul carved them up with easy mid-range jumpers. Neither Lopez nor Portis played any meaningful minutes in the fourth quarter of Game 1 as Mike Budenholzer realized he needed more speed to combat Phoenix's dangerous backcourt.
Fewer minutes for Lopez and more minutes for P.J. Tucker will make the Bucks much more flexible on defense by being able to effectively switch as the Suns continuously attack with pick-and-rolls. Also, the offense could take a hit without Lopez's scoring abilities.
The Pace of 101.5 in Game 1 was extremely fast for playoff standards. According to NBA Advanced Stats, in Rounds 1-3, Phoenix and Milwaukee played at an average Pace of 95.6 and 97.6, respectively.
The Suns were able to catch the Bucks' defense off-guard, but they got an extremely favorable whistle. The Suns made 25-of-26 free throw attempts. I see the referees letting them play more in Game 2 and I think the Bucks' defensive adjustments could help with better execution and less fouling.
The Bucks shot the 3-pointer really well in Game 1, hitting 16-for-36 (44.4%). This was a huge contrast to Milwaukee's overall 3-point shooting this playoffs, during which it has only shot 31.1% from behind the arc prior to this series. I expect the Suns to tighten up their perimeter defense for Game 2.
Yet, with all the above factors considered, Game 1 went over the closing total of 219.5 by only 3.5 points.
In Rounds 2-4, when Game 1s go over the total, Game 2 has gone 24-10-3 (70.6%) to the under since the 2011-2012 season, per the Sports Data Query Language database. The data reaffirms the theory that defenses tighten up after a high-scoring Game 1.
While a large majority of the betting public will likely eye the Over due to the abundance of scoring in Game 1, I am targeting the under. The total opened up at 221 and has moved down to 220.5 in a move that I agree with. I recommend a bet on the under at 220.5 and would play this down to 219.

---
» Return to the table of contents «
---
Phoenix Suns Spread -5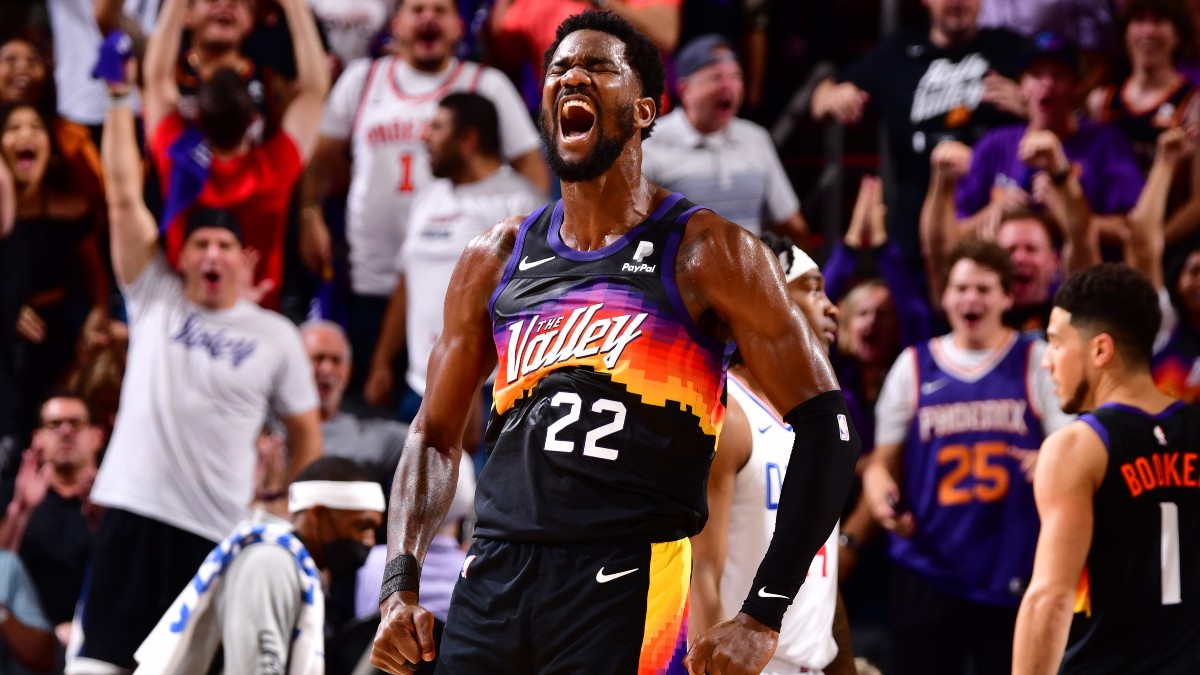 ---
Kenny Ducey: The Milwaukee Bucks shot 50% in the second half of Game 1, and were out-scored by six points. As a team, they shot 44.4% from 3-point range, and got blown out. Just about everything went right — Giannis looked healthy, and even Khris Middleton showed up — and the Bucks were still run off the floor by Phoenix.
While I think this series is far from over, it just doesn't seem likely that Milwaukee can get it done here on the road. Jrue Holiday will probably get to the line more here, and every Bucks player outside of Giannis Antetokounmpo will probably shoot more than four total free throws (that is an actual fact!) this team will not keep hitting threes like this.
Milwaukee is shooting 34% from downtown on the road this postseason, which carries over a trend from the regular season, where it was three percentage points worse on the road. Middleton, in particular, saw his 3-point percentage drop a whopping 10.2 percentage points on the road.
The Bucks have no answer for Deandre Ayton — not even Giannis — and Antetokounmpo himself has been somewhat stymied by Ayton, who Monty Williams has tasked with guarding him one-on-one.
It will probably take another game of experimenting and adjusting for Mike Budenholzer to figure out how to neutralize Phoenix, if it ever happens. The Suns, on the other hand, hardly played their best game in the opener and very easily can improve upon that in Game 2.
---
» Return to the table of contents «
---