He's the reigning, defending NBA Finals MVP and Champion. He ranks top-10 in points, rebounds, blocks per game and field goal percentage.
His team has surged to the top of the East after an injury-plagued start, and he has high profile, monster games what seems like weekly.
The question you have to ask is: What more does Giannis Antetokounmpo have to do to be the MVP favorite?
His Case in Six Words: Giannis Antetokounmpo Is the Most Dominant
He's been most dominant the last three years. You cannot stop him. There are no counters.
Washington Wizards forward Kyle Kuzma is 6-foot-9, 221 pounds and Antetokounmpo moves through him here like water. One of the many issues Antetokounmpo presents is not just his raw size and power. It's his tree limb wingspan.
Look how far behind the rim he is on this play. The Bulls think they have him contained, but nope, that's a dunk:
He isn't just a lob and at-rim threat, though. He's able to finish through contact. Giannis is second in the NBA at drawing and-ones this season behind only Joel Embiid.
You used to be able to build a wall. Pack the paint with multiple guys and make him shoot a jumper. That doesn't work anymore. Part of what helps Giannis in these spots is that opponents have to play back. If they play up, he just brushes past them.
So they have to give him space, which makes it easier for him to get to his spots. His defender disrupts his dribble here at the end of the shot clock.
In previous years, this is a turnover or an airball. Not this season.
To put his shooting in perspective, Embiid is shooting 41.8% from mid-range while Giannis is shooting 41.7%. Embiid shoots way more based on how often he pops in mid-range, but Embiid is considered a good mid-range shooter.
The league average is 30% and Antetokounmpo is 52nd percentile, according to CleaningTheGlass.com. It's not that he is elite in this category; he's not. It's that he's punishing teams enough to make things difficult.
Antetokounmpo's overall shooting efficiency is worse this season than in either of his MVP seasons by effective field goal percentage, precisely because he takes more shots. If you take difficult shots more often, your efficiency will decrease. What matters is here is that his overall efficiency remains elite and these little alterations make him harder to guard.
This shift puts doubt in the defenders. If they even have to consider his jumper, it impacts their defense on him and makes it more difficult to defend him. It's also crushing to think, "I did it! I stopped him from getting to the rim! That's a win!" only to see him hit the jumper.
It also helps in the few rare matchups he has that can give him trouble. This is Anthony friggin' Davis and Antetokounmpo hits the baseline J clean.
You used to be able to make him earn it at the line. That does not work because he keeps forcing you into foul trouble and never relents no matter how many he misses. Not only that, but he's shooting 72% this season and making a career-high from the line.
Take a look at Giannis' offensive progression year by year.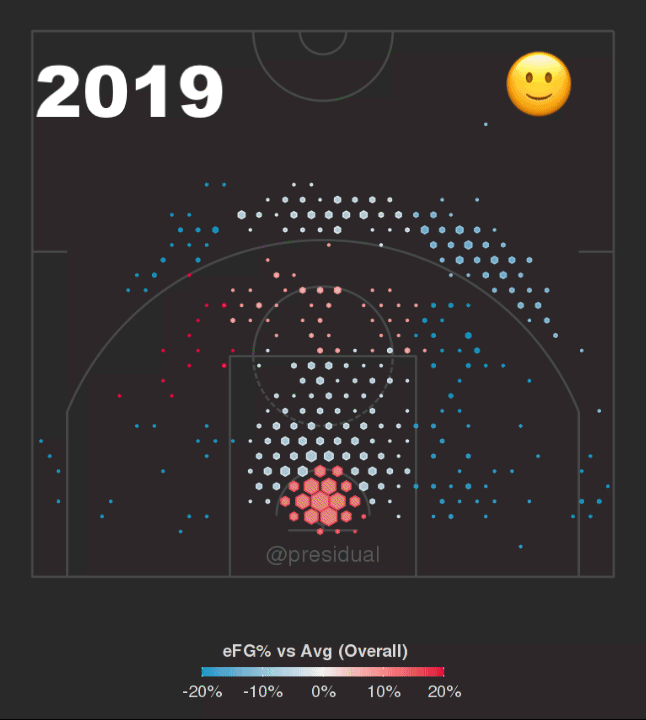 And if you want an example of how the development of his jumper can matter in big moments, I present you this play from the last Brooklyn matchup.
I absolutely cannot overstate the stones it takes to attempt this shot as a 29% 3-point shooter, much less to make it.
Bad luck for Brooklyn from a poor 3-point shooter? Absolutely. But a handful of these plays across the season to makes him even more impactful than he was in his MVP seasons, which he arguably has been.
Now, Giannis is still going to go through four guys sometimes, and if he doesn't get the call because he's stronger and bigger (and those guys are punished more in the NBA unless they have Embiid's savvy), then it can result in plays like this.
Giannis still fails. But what separates him from so many other players, beyond his physical domination and skills is that he isn't afraid to fail. He'll miss at the free-throw line while the fans chant the timer at him and then just go right back to drawing contact.
He is relentless in his competitiveness.
---
Moore: Ja Morant's Definitive Case for MVP
---
Decoding His Defensive Impact
The defense with Antetokounmpo this season is a bit complicated to explain this season.
The plays Giannis is able to make are one-of-one.
He blocks Davis' jumper here, which is insane, and Kevin Durant's here. DeMar DeRozan is one of the craftiest players in the league, and Giannis can still shut him down on the drive. He even makes game-winning blocks on other MVP candidates.
He has the length to contest and bother shooters by disrupting line of sight and is disciplined in his closeouts.
Here's what's interesting, though. Second Spectrum tracks halfcourt matchup possessions and among players with at least 3500 (a total of 101 players), opponents attempt shots against Antetokounmpo just 14.2 times per 100 possessions.
For perspective, the lowest is 11 and the average is 16.1. Antetokounmpo's opponents are able (or willing) to create shots in the 16th percentile.
In short, opponents do not test him. Opposing players generate just 18 points for every 100 matchups against him. So it's all great, right?
Well, not exactly.
Without Brook Lopez, Antetokounmpo was forced to play center often this season, and the results aren't as impressive as you might think when players actually do try him.
Teams with tall stretch-5s can get the necessary clearance to shoot over him, and he'll usually dare them to shoot. Congrats to Trey Lyles who has the most points scored this season with Giannis as his primarily halfcourt matchup at 20 points.
Isolations get even trickier. Opponents have 135 points on 112 isolation possessions against him this season, scoring 1.125 points against the Bucks when they isolate Giannis.
Again, we see the same pattern: Teams don't try him.
He ranks just 17th in isolations against per 100 possessions. But the opponents who do try him tend to have success. Opponents have a 56% eFG against him in isolation, which is 87th percentile. Except that opponents have tried less than 100 attempts against him in isolation.
James Harden has the most points against him in isolation with a grand total of … eight. Terry Rozier has the most points scored with Antetokounmpo contesting him this season, shooting 9-of-11 for 22 points across four games. That's it. 22 points in four matchups.
You'll see what happens with Giannis as the big in the pick-and-roll scheme. In the Bucks' basic scheme, Giannis has to drop, making him passive, a role that he's not as comfortable with. Again, opponents don't test him often, just 28th percentile in picks per 100 possessions. But when they do, there's success. Opponents have a 51.7% eFG with Antetokounmpo as the screener defender in pick-and-roll.
But then you get to the overall numbers, and with Antetokounmpo contesting the shot, here are the players who shot better than 50% on more than 10 attempts against Giannis this season:
Terry Rozier
Trey Lyles
Miles Bridges
Bam Adebayo
Trae Young
That's it. That's the list.
Antetokounmpo's reputation and obvious physical advantage plays a big role in this.
The Bucks' defense has been pretty pedestrian this season, 15th overall in Adjusted Defensive Rating at DunksAndThrees.com. They missed Brook Lopez for the majority of the season and have been without other key players throughout.
With Giannis on the court, they allow 3.6 fewer points per 100 possessions at 107.7, which would rank third-best overall in the NBA. It's comparable with his fellow MVP candidate Joel Embiid (107.4). It's good! It's just not other-worldly.
Here's the reality: Antetokounmpo is an all-world defender in his intended role. If you put Mikal Bridges at power forward, his numbers will probably drop even if he's still an impactful defender.
If you put Embiid at small forward, same deal. But you also can't legitimately consider Antetokounmpo a DPOY candidate unless your No. 1 qualifier is that teams are too afraid to test him (which is honestly maybe a better way to quantify the award).
By MVP standards, Antetokounmpo's impact is greater than his performance, but he makes up for it with huge plays like the ones above.
---
Anderson's Case For & Against the Milwaukee Bucks Winning the NBA Title
---
By the Numbers
Here's an overview of where Giannis stacks up in the advanced catch-all metrics:
| Stat | Giannis rank | Source |
| --- | --- | --- |
| Offensive Estimated Plus-Minus | Third | DunksAndThrees.com |
| Defensive Estimated Plus-Minus | 62nd | DunksAndThrees.com |
| Estimated Plus-Minus | Second | DunksAndThrees.com |
| Value Over Replacement Player | Second | Basketball-Reference.com |
| Defensive Box Plus-Minus | Second | Basketball-Reference.com |
| Offensive Box Plus-Minus | Second | Basketball-Reference.com |
| Box Plus-Minus | Second | Basketball-Reference.com |
| Defensive Win Shares | 12th | Basketball-Reference.com |
| Offensive Win Shares | Second | Basketball-Reference.com |
| Win Shares | Second | Basketball-Reference.com |
| WS/48 min | Second | Basketball-Reference.com |
| Player Efficiency Rating | Second | Basketball-Reference.com |
| Offensive RAPTOR | Third | FiveThirtyEight.com |
| Defensive RAPTOR | 28th | FiveThirtyEight.com |
| RAPTOR | Second | FiveThirtyEight.com |
| Wins Above Replacement Player | Third | FiveThirtyEight.com |
| Offensive LEBRON | Fourth | BBall-Index.com |
| Defensive LEBRON | 13th | BBall-Index.com |
| Overall LEBRON | Third | BBall-Index.com |
| Expected Win Probability Added | First | InPredictable |
The key here is not to zero in on any particular one, because every metric has deficiencies. Instead, let's look at the entire body of work.
It should be noted that Nikola Jokic is first in most of those categories, but that's a story for another day. For Giannis to be the runner up in so many advanced categories, with the Bucks' record, leading in so many traditional stats categories means something.
| Stat | Rank |
| --- | --- |
| Points Per Game | Third |
| Total Points | Sixth |
| Rebounds Per Game | T-Fifth |
| Total Rebounds | Seventh |
| Assists Per Game | 20th |
| Total Assists | T-17th |
| Stocks (Steals + Blocks) Per Game | 15th |
| Total Stocks | 12th |
The impact is significant. With Antetokounmpo on the floor, the Bucks are +7.9 per 100 possessions. I don't like to use the off-court rating because I think what happens on-court matters most, but for reference, the Bucks lose by 3.2 per 100 possessions when he sits.
When Antetokounmpo plays this season, the Bucks are 43-22, a 66% win percentage, and when he sits, the Bucks are 6-8.
The best way to use the metrics in support of his MVP case is to say that despite having to play out of position early and often this season, he dominated, and his team has been as good as any in the league when healthy.
With Antetokounmpo, Khris Middleton, and Jrue Holiday, the Bucks score 117.3 points per 100 possessions and allow just 107.6, nearly a +10 point differential. They absolutely destroy teams when they have those guys, before we factor in Brook Lopez.
The Narrative
There's always the fear that voters will regret their decision when the playoffs come around. It's a regular-season award, but that doesn't make a choice seem any less foolish when the player receives it after he's been eliminated or shortly before he's bounced in an ignominious fashion.
You don't have to worry about that with Antetokounmpo.
He's the reigning, defending Finals MVP. He's certified.
Antetokounmpo is arguably the most competitive player in the league, outside of maybe Chris Paul. He's fierce and unrelenting. He plays long minutes if need be. He's played in nine back-to-backs this season, and he gets up for the biggest games like almost no other player. You want a player who actually treats the regular season with respect? It's Giannis.
Giannis is also what the face of the league should be. A kid from Greece, the son of Nigerian immigrants, who was amazed with things like smoothies when he arrived to the NBA, who worked on his game constantly to become an All-Star, an All-NBA player, a two-time MVP, and champion.
He cracks dad jokes and wears "GIANNIS 3:16" shirts before cracking a beer and saying it's too nasty to drink. He plays with a love of the game. When he suffered a sprained knee in the Finals, he came back to take command of the series and dropped 50 points in the closeout game.
None of this has anything to do with this season, but if you ask who the face of the NBA is with the Lakers wallowing in despair and LeBron James headed towards his twilight, and Stephen Curry facing an oddly down shooting season?
It's Giannis. He's the face of the league. He's the guy who comes out and dominates. He's the guy who scores 15-straight to get his team back into it against the Sixers.
He's the guy who goes for 40 to topple Durant and the Nets. Giannis saves his biggest moments for the biggest games, not for a ho-hum League Pass game against a tanker.
The Bucks are also serious contenders and that's because of Antetokounmpo.
More than anything, though, it's that he is impacting games from all angles, one end to the other, over and over.
This play is emblematic of his greatness on both ends: Makes the rotation, perfect verticality, contests the layup, gets the ball in transition, races the other way, Euro-step, finish.
No one makes plays like that. No one.
No one helps their team be more of a championship contender than Giannis Antetokounmpo, and that's why — despite his +700 odds to win — he's the MVP.