A tied up series with two wins apiece on each side. The Eastern Conference finals is now a best two out of three series. That's the landscape for the Boston Celtics and Miami Heat ahead of tip-off.
For tonight's all-important matchup, I'm looking at one tactical angle, one key question yet to be answered, and one bet to make for Celtics-Heat Game 5.
---
The Angle: Miami Hasn't Had a Good Offensive Game … Yet.
There was little surprising about the Heat having a miserable offensive performance on the road against a desperate Celtics team in Game 4. The Heat's weakness all season has been their offense, and they have long stretches, sometimes full games, where their offense simply sputters.
The Heat scored one point, (1), uno, a single point against drop coverage in the first quarter of Game 4. They scored 18 points on 15 possessions against drop coverage in pick-and-roll the rest of the way.
The Celtics' defense is incredible and deserves credit for disrupting Miami. The Heat's spacing was also horrible.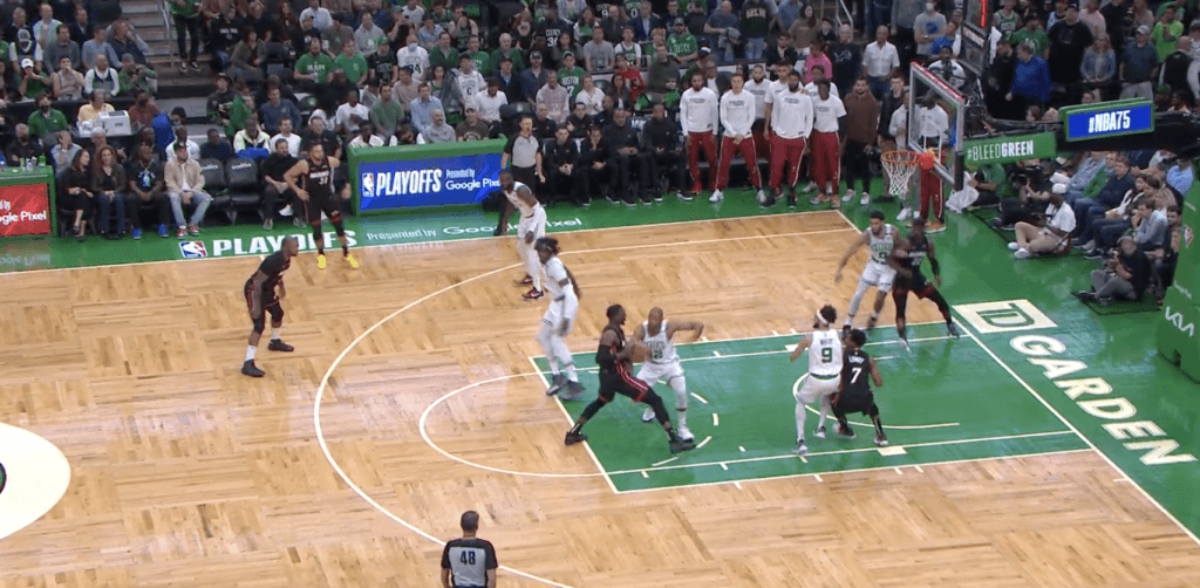 This is the first possession of the game, and it didn't get better. This isn't necessarily surprising, the Heat offense is oftentimes very bad. For the series, Miami is averaging just 90.9 points per play in the half court, per Cleaning the Glass.
That is basically the offensive version of when you make that awkward joke in a meeting and the whole room goes silent. It's the offensive version of passing gas in an elevator. It's the offensive version of putting ketchup on macaroni and cheese. The offensive version of putting Rachel Platten's "Fight Song" on the jukebox on repeat at closing time.
However, Miami hasn't had a good outlier performance in this series yet either. Their best shooting performance vs. expected eFG% was in Game 3 where they shot 2.4 percentage points better than expected. The Celtics, by contrast, shot 10.5 percentage points better in Game 2.
I'm not saying to bet on an outlier, but it provides a little bit of a buffer. Miami has averaged 112 points per game immediately following a loss in these playoffs, including a 109 scoring output in Game 3 to regain home court advantage in Boston.
On the road in the playoffs, they've averaged 99.6 points per game; at home that number goes to 111.5. They aren't facing the Atlanta Hawks or Philadelphia 76ers (especially the Sixers without Joel Embiid). But the Heat defense has been good enough in this series.
If you just don't think the Heat can score at all unless they're facing inferior competition, then by all means, lay the point and a half. But just as I fully expected overall poor offensive performances by the Heat in the series against a great defense, and one game (at least) where they would be particularly bad, they also are likely to find shots to drop.
And just as Game 4 was an obvious spot to believe Boston would respond down 2-1, so too is Miami at home in such a position.
The Question: Can Miami Slow Down Boston's Bigs?
Al Horford continues to throw it back to 2015. Horford has a +23.9 Net Rating in this series and Boston has allowed just 97 points per 100 possessions with him on the court. The Heat have done fine with Bam Adebayo against Horford; even after the crazy-bad Miami performance in Game 4, Boston is still just +1 in the Horford-vs.-Adebayo minutes.
The problem is Robert Williams. Since Williams came back, he's +22 in the minutes vs. Adebayo, and +8 in 14 minutes without Bam on the court. Meanwhile, that means Horford can play more minutes vs. the bench and in non-Bam Horford minutes, Boston has outscored Miami by 41 points.
The Heat not having Markieff Morris as a viable small-ball stretch five here due to his whiplash injury taking him out of the rotation really hurts here. It seems unlikely that Erik Spoelstra will trust Omer Yurtseven, but they could honestly use the size as Dewayne Dedmon simply has not been playable in this matchup.
Miami's options are basically down to trying a small-ball unit without a center, playing Yurtseven, or running Adebayo 45 minutes. But if the Heat are going to win, they have to find a solution for what the bigs are doing to them defensively with Williams back, especially if Marcus Smart plays.
The Bet to Make in Game 5
The Heat are home dogs in a game where Jimmy Butler is not listed on the injury report and Tyler Herro is expected to play. This is madness.
The value is unequivocally on Miami here. Boston is a better team and should win the series; they've proven that since January and over the course of the first four games. But they're not so much better as to be favorites on the road vs. the No. 1 seed in the conference that has been lights out at home.
Butler has bounced back after having down games. The Heat are 9-5 straight up and ATS since Butler joined the Heat in the playoffs after Butler scores fewer than 20 points, including 2-0 at home in these playoffs in such a scenario. They are 4-2 SU and ATS at home after a loss in the playoffs since Butler. Spoelstra is 10-2 straight up at home in Game 5s in the playoffs and has never been a home dog in such a scenario.
I would bet this close to tip to make sure you're aware of all relevant injury news as this series has been brutal in that regard.
I'll be betting light — betting against the team I think will win the series in a Game 5 is perilous — but at plus money, there should be no play but Miami. The sharps agree as we've tracked four sharp moves on the Heat in the Action app while the public comes in on Boston.
The Bet: Miami +1.5