Heat vs. 76ers Odds
Heat Odds
+1.5
76ers Odds
-1.5
Over/Under
207.5
Time
8 p.m. ET
TV
TNT
Odds via BetMGM. Get up-to-the-minute NBA odds here.
Joel Embiid is back. The Sixers managed to win Game 3 behind a dominant defensive effort with Embiid returning from his concussion and orbital fracture. Will that be enough to turn the tide against the top seed in the East?
How much of Game 3 had to do with Embiid's return, and how much of it was just that Miami had a bad game?
Can the Heat Offense Bounce Back?
For the banged-up Heat, Kyle Lowry, Gabe Vincent, Tyler Herro, P.J. Tucker, Caleb Martin, Max Strus, and Dewayne Dedmon are all day-to-day but expected to play.
Miami had an 89 Offensive Rating in Game 3, so clearly Embiid's presence shifted the 76ers' defense dramatically, as to be expected.
Here's a look at the game-by-game points in the paint in this series for both teams.
| | | | |
| --- | --- | --- | --- |
| Series Game | Heat Points in the Paint | Sixers Points in the Paint | Net |
| 1 | 52 | 46 | 6 |
| 2 | 42 | 54 | -12 |
| 3 | 28 | 28 | 0 |
So even though the Sixers didn't have an advantage offensively with Embiid back, they held the Heat to almost half as many points in the paint as they gave up in the first two games. Here's the Game 3 shot chart for Miami: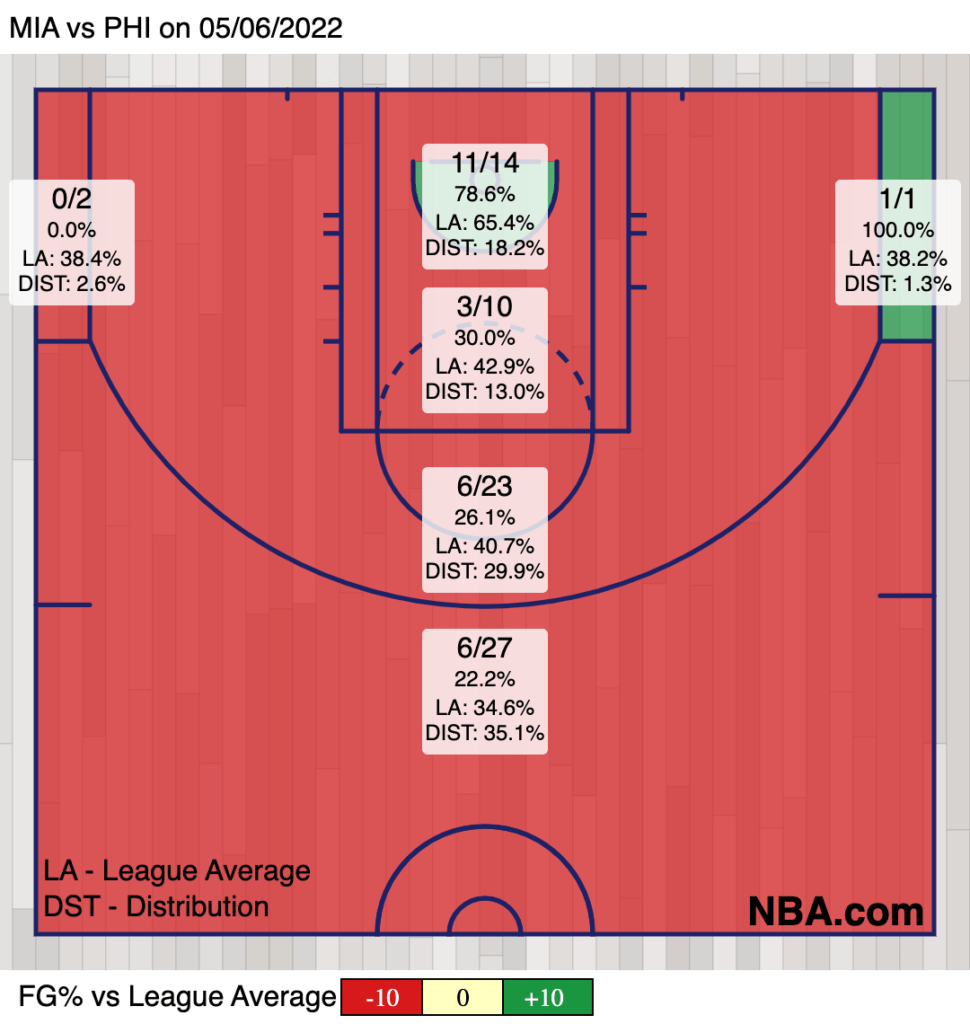 The Heat were 4-of-11 with Joel Embiid contesting the shot in Game 3, and clearly it made a difference.
However, their big problem was on jumpshots. The Contest Rate of Miami jumpers in Game 3 by Philly was 81%, the same rate as Game 2. Miami shot a miserable 29.8% on jumpshots in Game 3. The Heat's expected eFG% on those jumpers based on shooter, shot location, and contest level, via Second Spectrum data provided to Action Network, was 48%. That's an 18.3% differential.
Sorry, not all of that is Embiid. Miami went 2-of-10 on uncontested jumpers in Game 3, the same rate as Game 1. Miami hasn't had a great shooting game yet in this series.
This isn't to say that Embiid didn't have an impact, but for example, the 76ers' defense was 32.4 points better per 100 possessions in Game 3 with Embiid off the floor.
Miami had a pretty typical Game-3-on-the-road-up-2-0 loss. They'll have to make adjustments, but there's been an overreaction in both the narrative and the line for this game based on that game.
The big adjustment is that Bam Adebayo no longer has it easy. Adebayo dominated in the first two games without Embiid. In Game 3, his numbers plummeted. Someone else for Miami is going to have to step up.
The Heat's issues in part were tied to the step-up in difficulty with Embiid back. In Games 1 and 2, they could just run their stuff and create the looks they want. In Game 3, the 76ers switched a lot more often, and the Heat weren't patient enough to hunt the matchups they wanted. That, on top of a terrible shooting performance even on the good looks, made the result academic.
On top of their offensive performances, James Harden looked like an actual All-Star, Danny Green shot 7-of-9 from 3 (!!!) for 21 points, and Philly shot 16-of-33 for 48.5% from deep. It was an avalanche of shooting variance that sunk Miami, aided by the return of Embiid.
Miami needs to adjust and target the weaker spots on the Sixers defense, but the tactical changes don't have to be dramatic if the shooting variance stabilizes even a little in Game 4.
---
Can the 76ers Even the Series?
Embiid is listed questionable but is expected to play.
For the 76ers, they should just try and replicate Game 3 where everything went their way except for Embiid's shooting. If they can get Embiid going offensively, that only makes them more dangerous.
The Sixers will get 3-point attempts; Miami gives up a high rate of them. Having Danny Green and Tyrese Maxey shoot 12-of-15 from 3 is a pretty good formula.
However, even shooting 48.5% from 3 as a team, having Danny Green hit seven threes, and getting 77 points from Green, Maxey, Harden, and Embiid, the Sixers still had just a 111 Offensive Rating and just a 107 ORtg with Embiid on-court. That's not going to cut it.
The Sixers found little gaps vs. a disheveled Heat defense in Miami's first road game of the series, but Miami is likely to be more settled in this one. There's also no longer the emotional boost of Embiid's return.
On the plus side, Doc Rivers' teams are 7-3 against the spread in Game 4s at home.
Heat-76ers Pick
Miami has been the better team this season, and I liked the matchup for the Heat a lot going into this series, even when Embiid was expected to play. There are paths to a Heat win here, for sure, but look at this line.
Game 3 opened Sixers -1, and was bet to Heat -1. When Embiid was listed out for Game 3 on Thursday, it moved to Heat -3, then closed Sixers -1 when Embiid was ruled in.
The line is now Sixers -2, down from -2.5 at open. Game 3 was Heat -3 without Embiid, and Game 4 is Sixers -2 with Embiid. That's a five-point move off Embiid being available and the 76ers winning Game 3 behind a wide shot variance differential.
It's possible Embiid has a stronger game, gets Adebayo in foul trouble, has a parade to the free-throw line, and that determines this game. It's possible that Harden has back-to-back good games (he shot 4-of-11 in Game 3, but his fingerprints were all over the first half). And it's possible that the Heat have another terrible shooting performance on the road.
All three will need to happen, realistically, for the Sixers to win and cover.
I'll play the percentages and take Miami +2 and on the moneyline to go up 3-1.
For the total, the Sixers have gone under in all three games on their team total in this series. Even after getting that terrific 3-point performance in Game 3, the Sixers still just scored 99 points.
Miami's offensive ceiling is pretty low with Embiid back. If they win, they'll put up a good number but likely hold the Sixers down to boost their offense. If Philly wins, it's likely because the Heat have another miserable shooting game. I like both the Sixers' team total under and the combined total under.
Pick: Heat +2 | Heat ML | Under 207.5