Cavaliers vs. Knicks Odds
Cavaliers Odds
+2
Knicks Odds
-2
Over/Under
211
Time
8:30 p.m. ET
TV
ABC
Odds via FanDuel. Get up-to-the-minute NBA odds here.
The Cavaliers vs Knicks series heads to New York with both teams tied at one game apiece. The Cavaliers dominated Game 2 to even up this series and now look to regain home-court advantage with a win at the Garden.
Can the Knicks make enough adjustments to contain the Cavaliers or will Cleveland take a 2-1 lead in the series? Here's my Cavaliers vs Knicks betting preview, including the prediction I'm making for Game 3.

Cleveland Cavaliers
The Cavaliers have listed Cedi Osman (ankle) as questionable for Game 3, but they made some decisions in terms of their rotations. Isaac Okoro started in Game 2 and played just under three minutes. A decision seems to have been made to essentially remove him from the rotation in exchange for more minutes from Caris LeVert (37 minutes) with Cedi Osman and Danny Green seeing 20 and 17 minutes respectively.
If Osman is unable to go, we may see Okoro again, but outside of that scenario, I sincerely doubt that Okoro will now be reentered into the rotation on the road after being benched in Game 2. This is a relatively concerning change though, as a switch to a seven-man rotation without Okoro would be one of the last personnel adjustments Cleveland could make just two games into the playoffs.
When the Cavaliers moved away from Okoro, they were able to better space the floor and prevent the Knicks from helping as much on defense. If the Knicks double the ball handler and/or collapse into the paint, it will leave open shooters on the perimeter. This is where LeVert, Osman, Green are all more valuable than Isaac Okoro.
LeVert went ballistic in Game 2 so of course we don't have listed prop lines for him in Game 3 yet; however, for reference, his points prop was set at 8.5 in Game 2 but 11.5 in Game 1. After his 24-point performance in 37 minutes, I wouldn't be surprised to see a 14.5 line — he has scored at least 15 points in 23 of 74 games this season.
Even when he has played more minutes, it has not necessarily been efficient. In his last 25 games of 30-plus minutes, he's scored at least 15 in 13 games. If LeVert is going, it will continue to open up Garland 3s as the Cavaliers put the Knicks in rotation.
One of the biggest improvements from the Cavs from Game 1 to to was their defensive effort. They began trapping Brunson early and often, trying to get the ball out of his hands. By throwing two players on Brunson, it is stressing the rest of the Knicks' offense to create good ball movement, which is definitely not a strong suit for the rest of the team. Trapping Brunson should slow the Pace of this game down a bit too.
---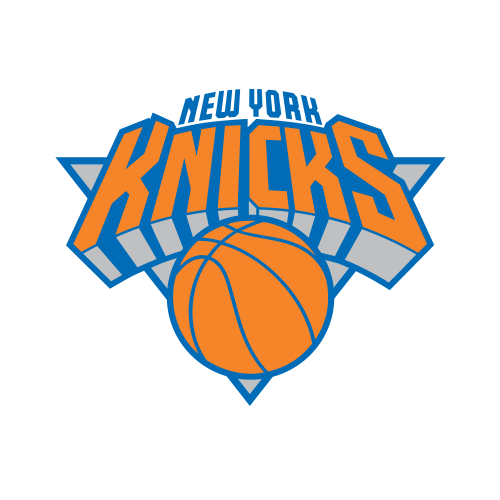 New York Knicks
The Knicks had listed Josh Hart (ankle) as doubtful prior to Game 2; he played nearly 27 minutes and was far less impactful in Game 2 than in Game 1. The Knicks have continued to play a nine-man rotation, but the allocation of those minutes remains questionable. Coach Thibodeau refuses to decrease RJ Barrett's minutes despite him shooting just 24% through two games. The Knicks' role players should see an uptick in performance in their return home, though, as role players generally play better at home than on the road.
The ball is sticking more frequently with the Cavaliers trapping Brunson, and the Knicks will need to open up their ball movement in Game 2. The team has recorded just 18 and 16 assists in both games in this series, a significant drop from their 22.9 per game this season. Some of this is due to Pace, but the Cavaliers have done an excellent job at limiting New York's offense. The Knicks have an eFG% of 43.8%, which is far worse than their expected eFG% of 54.4% and their season-long mark of 54.3%, per Cleaning the Glass; that number that should regress to the mean.
One of the biggest pressure points for New York will be their ability to get Julius Randle going. While Randle is not the most efficient of scorers generally, when the Cavaliers do run their smaller lineup, that's Randle's opportunity to excel. He has only exceeded his 23.5 points line in one of his seven games against the Cavaliers the last two seasons; however, the volume is there and if the Knicks are to win, they'll need a stronger effort from Randle.
Cavaliers-Knicks Pick
One of the Knicks' strengths this season has been their performance in the first quarter. The Knicks are the second-best ATS team in the league in the first quarter at home this season at 25-15-1, while the Cavaliers are 19-21-1 ATS on the road in the first quarter.
Moreover, this is the first road playoff game for many of the Cavaliers' players, so while New York will welcome the home environment, the crowd may be a tough adjustment for many of the younger Cavaliers' players. Both teams have made a few adjustments and still have many they can make over the course of what I still expect to be a long series. However, in this spot, I expect the Knicks to start off strong as they have all season.
Pick: Knicks First Quarter Spread -0.5 (-110)
---