ORLANDO -- When the idea was first floated to complete the NBA season in a "bubble", later euphemized (that's a good Scrabble word by the way, euphemized) to "campus", there was considerable consternation.
But if you had to combine major players to pull it off, you'd pick the NBA and Disney, sprinkled with some Magic.
Having lived it for 54 days and nights, I say, wholeheartedly, congratulations!!!!! Congratulations for the attention to detail and level of care. Congratulations for bringing our game back in the face of adversity and leading the sports world. Congratulations for establishing and executing a successful and innovative blueprint for others to follow. Congratulations for providing an absolutely incredible platform to combat social injustice.
From daily temperature and oxygen rate checks via a mobile app to Coronavirus testing to NBA-branded mask and hand sanitizer availability to social distancing protocols and technology to an AdventHealth clinic to mental health options, safety ruled the day.
Hotel ballrooms turned to practice facilities, complete with weight and athletic training spaces, worked great. Team experiences included boating, bowling, fishing, golfing, a game room and hanging at the resort pool. Amenities included laundry service, a barbershop (dubbed the Bubble Shop), mani-pedi's and a shipping and receiving center which would make Amazon jealous. Actually, all the packages came via Amazon, so they are going to be OK.
The food was great – thank you for the addition of the morning coffee bar and soft serve ice cream station with vanilla and chocolate swirl - and you could order in from a host of local Orlando restaurants.
While players, coaches and staff had to make a sacrifice in missing loved ones, it really had the feel of overnight camp, or as some said, an Olympic Village. Was there a feeling of isolation at times? Yes. But, c'mon, this wasn't doing a tour in Afghanistan.
And, the basketball competition has been, and will continue to be, must-see TV.
The broadcast courts, complete with virtual fans, theatrical lighting and being shot by upwards of 40 cameras, makes for a grand stage. The live audio and mic'd up players and coaches brings you closer to the game. The innovation coming out of this - digital signage, Zoom virtual events, medical saliva testing - will be profound.
The whole thing, from boycotts to just playing ball, feels historical and I can't wait for the ESPN 30 for 30 on it.
Speaking of well done, congrats to the top-seeded Milwaukee Bucks for their first-round win over the Magic.
Magic fans should continue to be excited about the Bucks. After all, it was current Magic general manager John Hammond – then Bucks GM - who drafted Giannis Antetokoumpo with the 15th pick in the 2013 draft.
Side note, where do the Magic pick in this year's NBA Draft? Oh, that's right, 15.
By the way, Jeff Weltman, current Magic president of basketball operations, was the Bucks' assistant GM at the time. Legend has it, Weltman walked into Hammond's office one day and said something along the lines of, "you've got to see this 18-year-old kid from Greece."
So, they hopped on a plane and the rest is history.
Wrote Giannis on his Instagram upon Hammond getting the Magic's GM job under Weltman:
"Where can I start … this man gave me the opportunity of a lifetime! He taught me how to be a professional on and off the court. He helped mold me into the man that I am today. This guy took a chance on me at 18 years old and I am forever grateful. Congratulations Mr. Hammond. I wish you the best with your future in Orlando. From the bottom of my heart thank you for changing, not only my life, but my family's life as well! #MyGuy #ToBeContinued''
And finally, congrats to our Magic. It didn't end the way we all wanted, but the players and coaches poured their heart into it and competed, while also making a difference where we live, work and play. While there was heartbreak (Jonathan Isaac), there were also heart-pounding moments which provide hope (e.g. series opening win against the Bucks; Nikola Vucevic's record-setting showing; Markelle Fultz's flashes of electricity; Grit of trade deadline acquisition James Ennis "The Menace" and the emergence of undrafted/10-day signee Gary Clark). For the first time in eight years the Magic have made back-to-back playoff appearances.
Ironically, we, the Magic, all grew closer in this world of social distancing.
The Glass remains Half Full!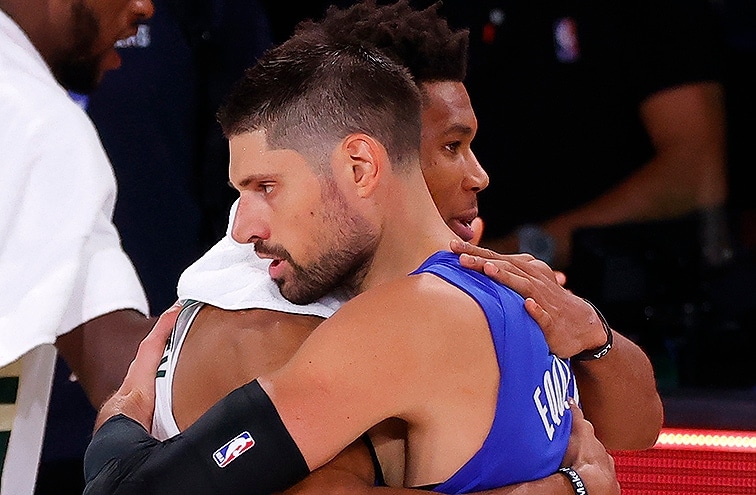 Glass Half Full: Listen to The Boss, Ennis, Clark & Vooch Approaching Day 50 in the Bubble
Well, well, well, we have ourselves a series.
The Magic took Game 1. The Bucks Game 2. It's down to a best-of-five.
Again, there's no discernible home court advantage and the Magic don't have to go to the city of suds to win a game. In a normal year if the Magic had gained a road split, you'd be jumping for joy. The pressure really remains on the top-seeded Bucks.
Magic fans should listen to Bruce Springsteen in his hit song Thunder Road, "Show a little faith, there's magic in the night."
And, talk about Born to Run, this series is all that, and more.
Offensively, the Magic need to continue to play with pace, move the ball, and knock down open looks. Defensively, Orlando's transition defense needs to be dynamite and disciplined.
I continue to love Head Coach Steve Clifford's message to the team: Stay together. Play smart. Make plays. Right attitude, right approach. Clifford and his coaching staff have exhaustively worked to put a game plan in place and will adjust where necessary.
Speaking of the right attitude and right approach, you have to love the desire, and admire the basketball journey of James Ennis III, who has unleashed his "Ennis the Menace" defense in the series.
Since being named the 2013 Big West Player of the Year as a senior at Long Beach State and being drafted 50th overall by the Atlanta Hawks, in order Ennis has played for: the Perth Wildcats in Australia, Piratas de Quebradillas in Puerto Rico, the Miami Heat, Memphis Grizzlies, G League Iowa Energy, Memphis again, New Orleans Pelicans, Detroit Pistons, Houston Rockets and Philadelphia 76ers.
The 6-6, 215 pounder hustles, runs the floor, guards multiple positions and can knock down an open shot. He's been a great trade day acquisition for the short-handed Magic.
Says another hard playing dude in Michael Carter-Williams on Ennis, "He brings an edge to our team…A great teammate."
Adds Ennis, whose family of five at one point in his childhood in California lived in a one-bedroom extended stay hotel, "Only the strong survive…I'm hungry."
Speaking of great acquisitions, how about the Magic's Gary Clark, who originally signed a 10-day deal back in January.
Clark was the American Athletic Conference's two-time Defensive Player of the Year for the University of Cincinnati in 2016 and 2018 and a G League Champion in 2019 for the Rio Grande Valley Vipers (Houston Rockets affiliate).
Clark, as previously mentioned, is the team's best fisherman, and can cast a three-point after working incredibly hard on his perimeter shooting.
And just walk around the NBA campus and you will see how well he is liked. In fact, the Houston Rockets' meal room is adjacent to the Magic's and constantly you hear the Rocket players yelling "Hey G.C.!" whenever his former teammates spot him.
He's really, really easy to root for.
Finally, I love the shooting rhythm Nikola Vucevic is in. He's a true pro who works daily to stay ready.
For the series, Vooch is averaging 33.5 points per game, while shooting 60 percent from the floor overall and 44 percent behind the three-point line.
Not having his own hoop at home, he stayed sharp during the Coronavirus hiatus by shooting on his neighbor's basket.
Like Springsteen, he's been The Boss.
Glass Half Full: "So You're Telling Me There's A Chance!"
Whether it's The Miracle on Ice, Villanova over Georgetown in '85, or Notre Dame's Rudy Ruettiger, everyone loves an underdog.
Welcome to the 2020 NBA Playoffs and your No. 8 seeded Orlando Magic vs. the top-seeded Milwaukee Bucks.
The Bucks own the league's best record, top offensive rating and top defensive rating. Oh, and they arguably have the NBA's top player.
But hey, this is Glass Half Full, so in the words of Lloyd Christmas in Dumb and Dumber, "So you're telling me there's a chance."
Since the NBA expanded the playoffs to 16 teams in the 1983-84 season, No. 8 seeds have defeated No. 1 seeds FIVE times. Never mind the 67 times it hasn't happened, because, well, it has happened.
Philadelphia shocked Chicago in 2012, Memphis sidelined San Antonio in 2011, Golden State downed Dallas in 2007, New York knocked out Miami in 1999 and Denver defeated Seattle in 1994.
The Magic coaching staff has been preparing for this eventuality. Over the Coronavirus pandemic hiatus, Head Coach Steve Clifford's crew did prep work on three potential playoff foes in Boston, Toronto and Milwaukee.
It also helps the Magic locked down their playoff berth and knew its opponent 10 days ahead of the start to the postseason. And talk about a blessing in disguise, with so many Magic regular rotation players sidelined due to ailments during seeding play, the mighty Magic youngsters received quality playing time in the final few seeding games. That can only help, as the Magic's mantra is everyone needs to be ready.
All the pressure will be on the Bucks and there is no discernible homecourt advantage.
As for the keys to watch:
1) The Magic must use their defense to create offense, play with pace and move the ball. On top of that, knocking down open looks beyond the three-point arc is essential.
2) Transition defense will be important and keeping the ball out of the paint paramount as that sets up the Buck's three-point attack.
3) Rebounding will be big, big, big.
So, step aside Hoosiers, Karate Kid, the Mighty Ducks, Miracle Mets, Joe Namath's N.Y. Jets, N.C. State, Spirits of St. Louis (Google it!), Appalachian State, Buster Douglas and Rocky, it's game time.
Glass Half Full: No Diamond in the Rough
As previously mentioned, for the NBA restart the Orlando Magic travel party is a scaled back 37 (16 players, 8 athletic trainers/human performance staff, 6 coaches, 3 basketball operations leadership/logistics people, 1 equipment manager, 1 security, 1 content person, 1 public relations person). In the coming weeks, you will meet the team behind the team.
How can a game of catch lead to the NBA?
Just ask Orlando Magic Equipment Manager extraordinaire Jacob Diamond.
As a thirteen-year-old, the South Florida native watched in wonder from the cheap seats as the Florida Marlins bat boy played catch between innings with right fielder Miguel Cabrera.
Looking to make the most of any opportunity, a determined Diamond spotted Marlins' owner Jeffrey Loria one day and asked loudly from the stands, "How do I become a bat boy?" Loria responded, "Call (Marlins equipment manager) John Silverman."
Problem was, he was underaged and had to wait until he was 16.
A few short years later Diamond spent the first of 11 seasons with the Marlins as both a bat boy and clubhouse attendant.
He eventually got hooked up with the Miami Heat and thus worked baseball from February to October and basketball from October to February.
Through basketball he got to know Rodney 'Sid' Powell, the legendary equipment manager (now director of team operations) for the Orlando Magic. Diamond joined the Magic fulltime just prior to the 2017 season.
His responsibilities include ordering, keeping track of inventory and distributing equipment ranging from uniforms to practice gear to sweats to shoes to more accessories than a runway model.
On a typical NBA road trip Diamond would pack 35 bags. For the bubble, that swelled to 50-plus.
He is rarely seen without his cart packed with equipment bags and over the course of a season he is an unsung hero, doing thousands of loads of laundry (by the way, in the bubble, the NBA has made 66 washing machines and 66 dryers available for team equipment managers to do laundry).
Diamond's the Rain Man of organization and like Radar from M*A*S*H he can see things coming before they happen.
His hobby? "This is my hobby," says Diamond.
His wife Rachel? She's a gem.
Glass Half Full: Playoffs? Playoffs!!!!! ... Buckets & Pools
We are going to the playoffs! This marks the first time in eight years that the Orlando Magic has advanced to postseason play in back-to-back seasons (first time since 2010-11 and 2011-12). All told, this is the Magic's 16th playoff berth in its 31-year years of existence. Pretty awesome.
Also, awesome to see a recent ESPN.com article titled, "How Markelle Fultz found his place in the NBA." The lede by writer Mike Schmitz says it all, "Three years removed from the grandiose expectations that come along with being the No. 1 pick, Markelle Fultz has quietly turned around his young NBA career with the Orlando Magic."
"I think he's come the furthest in the shortest amount of time when you talk about reclamation projects," said one Eastern Conference general manager in the story. "He's done an unbelievable job."
And this from former teammate T.J. McConnell: "I can't put into words how proud and happy I am for Kelle." "To see all his hard work pay off and him knocking down the 3 confidently is amazing."
Kelle is so easy to root for. Such a good, pleasant guy to be around day-in and day-out.
There's a narrative that makes its rounds from time to time that the current version of the Magic can't score. "How will they score?" the drumbeat goes. Well, courtesy of Magic publicist extraordinaire George Galante, here's a Glass Half Full-esque nugget to ponder: During their last 17 games (Feb. 10 – present), the Magic have scored 110-plus points 12 times, 120-plus points eight times and 130-plus points five times.
By the way, I love the Associated Press' Tim Reynold recent tweet:
"Meanwhile, the Orlando Magic ended the pre-pandemic season on a scoring roll, took 140 days off, and somehow go on an even bigger scoring roll."
And speaking of false narratives, certainly got a kick out of this twitter post:
As former Magic executive Pat Williams use to say, just spell our name right. And thanks for the blog plug! I thought only my mom was reading this.
As for more moving pictures, I can't take my eyes off the NBA's rail cam. It's one of 40-plus robotic cameras to show the NBA restart games. So cool. Makes you want to take it home and play with it.
From high tech to efficient. The cold tub/ice bath, a brutally painful process which takes your breath away upon entry, is essential for an athlete's recovery. It reduces inflammation, soothes sore muscles, and changes the way blood and other fluids flow through your body. Any athlete – pro or weekend - really can't live without it.
But what do you do when you can't find one after a practice or game?
Bring on the inflatable kiddie pool of course.
We leave you with this, since the NBA restart, Jonathan Isaac's jersey sales rank No. 2 in the NBA, behind only LeBron James.
Glass Half Full: Under The Big Top
Usually tents are reserved for members of the military, an overnight camping trip, or an extravaganza put on by the Magic's Special Events team.
With life in the NBA bubble, add Magic morning "walk through" to the list.
NBA teams usually head over to the arena for a morning shootaround. Lore has it the game-day regimen dates all the way back to NBA Hall of Fame and Lakers coach Bill Sharman in the '70s as a way for players to not stay out to late and have to get out of bed in the morning. Although, legend has it that when Wilt Chamberlain, a notoriously late riser, was told about the new morning ritual he quipped, "You tell Bill Sharman that I'll go to the arena one time today. Either now or for the game tonight. He can pick." By the way, the morning shootaround worked well for the Lakers, as they won 69 of 82 games, including a record 33 straight, en route to the '72 NBA Championship. From there most every team, pro or college, has employed the practice in some form or another.
When a game has an earlier tip time, say before 7 p.m., or the squad is on the second end of a back-to-back, shootaround usually becomes a ballroom "walk through." There, the coaches review the night's game plan with the players, walk through key opponent plays and corresponding coverages, and maybe add or review a wrinkle or two offensively. It's become an important staple in game preparation. And for a coach as detailed and prepared as the Magic's Steve Clifford it is basketball religion.
Here at Disney, with 22 teams on campus and ballroom spaces reserved for team film, meeting and eating areas, walk throughs take place in a customized tent, complete with air conditioning, a synthetic surface and the lane and three-point arc taped down. The only thing you need to bring is your ball.
It's really another example of brilliant bubble planning by the NBA, as no detail has been left up to chance.
Simply says Clifford about the accommodation, "It's great. There's plenty of space and it's conveniently located right out the door of the hotel."
It would even be easy for Wilt.
Glass Half Full: We Got Winninger
As previously mentioned, for the NBA restart the Orlando Magic travel party is a scaled back 37 (16 players, 8 athletic trainers/human performance staff, 6 coaches, 3 basketball operations leadership/logistics people, 1 equipment manager, 1 security, 1 content person, 1 public relations person). In the coming weeks, you will meet the team behind the team.
There's a reason eight of the Orlando Magic's travel group of 37 in the NBA restart bubble are human performance staff.
After months of no competitive basketball, health of the players is paramount. Throw in the fact that when each team plays its seeding games, they will roughly play eight games in 15 days.
And if you find yourself with a sprained ankle or in need of physical rehab for something much more serious, say Jonathan Isaac's torn left anterior cruciate ligament, you want the Magic's Director of Rehabilitation Lindsay Winninger, who joined the team in September of 2019, on your side.
Fostering a reputation as a key contributor to athletes' success after injury by creatively implementing rehab and return-to-sport plans, Winninger has been a practicing physical therapist for 12 years.
She has treated and returned athletes from sports and orthopedic injuries in the NFL, NHL, MLB, PGA, WTA, MLS, Premier league, U.S. Ski and Snowboard Association, Chinese Basketball Association, and numerous Olympic sports; including working as a physical therapist at the 2014 Winter Olympics in Sochi, Russia.
If you want to get a feel for Winninger, just watch the HBO documentary Lindsey Vonn: The Final Season. Winninger was Vonn's personal therapist, bringing her back after missing the 2014 Olympics to becoming the greatest women's ski racer ever.
Using both science and motivation, among Winninger's favorite sayings is: "Today is your day. Doesn't belong to anyone else but you. Show them who you are." There may be an expletive in there as well.
Hailing from Waterloo, Iowa, Winninger was a three-sport standout while growing up, but suffered from chronic ankle injuries, thus developed an interest in physical therapy. She won a tennis doubles state championship as a senior and went on to play at St. Louis University in Missouri while earning a Master's in Physical Therapy. She moved to Vail, Colorado and got hooked up with the prestigious The Steadman Clinic which treats high level athletes.
She has traveled the world and considers herself an expert packer, perfect for the NBA bubble.
Glass Half Full: It's A Small World After All, Camaraderie & Jonathan Isaac
"It's a world of laughter, a world of tears. It's a world of hopes and a world of fears. There's so much that we share. That it's time we're aware. It's a small world after all…"
For some reason I can't get the tune "It's a small world after all" out of my head here at Disney. And now I know why. The 22 teams participating in the NBA season restart here feature 89 international players from 34 countries and territories. All 22 teams feature at least one international player. The 88 seeding games will include 41 primetime television games in Latin America and 40 primetime games in Europe, the Middle East and Africa. In all, the NBA restart will reach fans in 215 countries in 47 languages.
Cool to see your Orlando Magic ranked No. 1 among NBA bubble teams in ESPN's "Continuity Rankings". The rankings reviewed how much of an edge roster continuity could have in the restart and asked the question, "Could familiarity overcome pure star power inside the bubble?"
Added ESPN's Nick Friedell, "The Magic group knows one another well, and they understand the kind of style coach Steve Clifford wants to play. They aren't going to have chemistry problems…"
And speaking of having each other's back, it was awesome, although very, very predictable, to see Magic players and head coach Steve Clifford publicly support Jonathan Isaac after he made the fearless decision to become the first to stand during the national anthem in the NBA restart.
Said Clifford, "That was Jonathan's personal decision. If guys are not comfortable kneeling and they want to stand, nobody has a problem with that. That's part of living in our country."
Added teammate Evan Fournier surely and succinctly, "We all support him."
And opponent Garrett Temple of the Brooklyn Nets, "People protest in their own way. If somebody believes that isn't the way they want to protest, then they don't do it."
Tony Dungy, the first black head coach to win the Super Bowl, summed it up on Twitter, "We've said people should be able to exercise their right to kneel during the national anthem and we should listen & hear their reasons why. When Jonathan Isaac chooses to stand, we should do the same. He explained his reasons very clearly – he wants to stand in prayer. I say Amen!"
No matter your beliefs or what side of the fence you are on, one word for me sums up JI's decision: Courageous.
If you don't know the 22-year-old, here's a snapshot of the one of the most active, thoughtful, caring, community-minded people you will ever meet:
-During the Coronavirus pandemic he partnered with his local church, J.U.M.P. Ministries, on a project called www.ProjectLifeNow.org, to feed children weekly who otherwise would not have food because of being out of school And when I say, feeding, it wasn't just a financial investment, he actually joined the food line each Friday to pass out non-perishables, while shopping during the week.
-He spearheaded a relief effort when Hurricane Dorian ravaged the Bahamas.
-He's raised funds to fight literacy in Central Florida.
-He's donated money to the organization's Share The Magic ticket program to provide tickets so at-risk and disadvantaged youth can attend games.
-He recently took youth on a tour of the Bronze Kingdom African Art Gallery, where students learned about African American history.
-He's taped countless messages of support and has visited sick children at AdventHealth.
No wonder last year he won the coveted Rich & Helen DeVos Community Enrichment Award, the Magic organization's top honor.
And if that's not enough, he's an Ordained Minister.
Says Isaac, "My teammates know who I am and what I believe as a person…For me, personally it's not coming from a position of wanting to be popular or wanting to be seen; it all came down to what's in my heart. Absolutely I believe Black lives matter. I don't think kneeling and putting on a T-Shirt for me, personally is the answer. Black lives are important in the Gospel and all lives are important in the Gospel."
By the way, how ironic can it get. First Colin Kaepernick is killed for kneeling in protest for racism and calling out police brutality and now Isaac incites some social media backlash for standing. That's a crazier 180 than an Aaron Gordon high-flying, gravity-defying, twisting-and-turning slam dunk.
If you missed it, Spurs coach Gregg Popovich also stood for the national anthem, saying "Everybody has the freedom to react any way they want. For whatever reasons I have, I reacted the way I wanted to."
Talk about taking safety to another level, NBA referee whistle's now have a cloth covering to prevent the spread of spittle. Never thought I'd write the word "spittle" in this blog.
A big car guy, Nikola Vucevic (by the way born in Switzerland, raised in Belgium and Montenegro … yes, it's a small world), certainly misses taking his automobile out for a spin. Vooch noted recently on the ever-popular Orlando Magic Pod Squad (you can find that here and it is a must listen) that at least he has access to a golf cart in the bubble to hop into to take the Magic from their Grand Floridian hotel building to the front convention center where the team meal and meeting rooms are located. Vucevic also has his Formula 1 video game, complete with steering wheel, set up in his room.
Glass Half Full: Hometown Advantage?
#FreeKelle, Minister of Defense, Cornhole, D.J.'s Daycare and Peaceful, Powerful Messages
Maybe there is a slight hometown advantage to the NBA restart in Orlando. As the Magic team recently departed their team hotel for a game, masked Disney employees formed a human tunnel and cheered them on as the club boarded the bus.
#FreeKelle became a popular hashtag on the Magic's team chat as Markelle Fultz was getting near the end of his arrival quarantine. The team was certainly excited to see the popular point guard upon his return to the club after taking care of a family matter.
Speaking of popular, welcome back Jonathan Isaac! For nearly seven months, Isaac attacked his left knee injury rehab ferociously and looks primed to play. The Magic's bench reaction said it all after every board collected and every bucket drained in the Magic's final bubble scrimmage vs. Denver. His stat line in his first action since getting hurt Jan. 1: 13 points, 7 rebounds, 2 steals, 1 assist in SEVEN minutes. The entire team greeted the "Minister of Defense" with a rousing standing 'O' upon coming off the floor. A magical moment in the bubble. By the way, Isaac was a Top 5 topic trending on Twitter at the moment, surpassed only by a few topics, including rapper Nicki Minaj's new hit release "Move Ya Hips" (who says Glass Half Full is not cool?).
Cornhole has emerged as a favorite pastime in the bubble at the Grand Floridian. Glass Half Full: heard James Harden yell "Shooter" as he launched a sandbag and held his famous goosekneck finish, watched 7-4 Boban Marjanovic look like he was literally placing a bag on the board opposite him, and saw seven-footer Mo Bamba toss multiple rainmakers. There's a charity tournament among teams going on at the hotel. Other activities I've seen recently: pool volleyball and a stack of oversized Jenga blocks.
Healthy foods are a staple in the team meal room as Orlando Magic chef Zach Kerko-Provo coordinated with Disney chefs on meal room menus; But awesome to see Mickey Mouse ice cream bars make an appearance.
Oh, the Magic did have a well-deserved Pizza night recently and some members of the team ventured over to Splittsville at Disney Springs for some bowling. There was chicken fingers, nachos and french fries there. Michael Carter-Williams looks like the best bowler.
Orlando Magic Head Coach Steve Clifford continues to preach to each of the 16 players to be ready. With eight seeding games compacted into 15 days, coupled with the long layoff, the Magic will need everyone on the roster prepared to play. Currently in eighth place and just a half-game back of the seventh-place Brooklyn Nets, there is a sense of urgency for the Magic as they try to climb the postseason ladder.
The seeding games will mean different things to different teams. If you are the Lakers, Clippers, or Bucks for example, the eight seeding games are more tune-up games for the pending playoffs, as there is essentially no homecourt advantage. But for the Magic, the eight seeding games are arguably the most important contests of the year as the team tries to solidify its second straight playoff berth.
Certain things have stayed the same during the NBA restart, maybe most notably "D.J.'s Daycare." After most practices Magic veteran point guard D.J. Augustin grabs most of the young players on the team to compete in a perimeter shooting game from spots around the three-point arc. D.J. wins 98 percent of the time, but admits from time to time, "I let them win once in a while to build their confidence." Augustin meanwhile continues to work on his golf game while in the bubble. Although, his counting of strokes is interesting.
Here was a recent conversation we had.
Glass Half Full: I shot 86 today.
D.J.: Is that good? I usually shoot in the 60s or 70s.
GHF: What!?!?!?! 60s or 70s!!!???
GHF: Wait, how many holes are you playing?
Well, that's one way to lower your score.
To begin a recent Zoom media session, Aaron Gordon joined one of several players to say Breonna Taylor deserves justice, while asking for the police officers involved to be arrested.
It's great to see the players and coaches use their platform to send peaceful, powerful messages and continue conversations which can be difficult, but are necessary. As a team the Magic wore "Get Off The Bench. Get Into The Game." t-shirts upon arrival to the campus and watched the documentary John Lewis: Good Trouble. Also, from the bubble, Michael Carter-Williams took part in a virtual town hall meeting for area youth along with Orange County Mayor Jerry Demings and local sheriff's John Mina and Orlando Rolon. Players will wear social justice messages on their uniforms and Head Coach Steve Clifford has joined other NBA coaches to tape a special message and wear "Coaches for Racial Justice" pins during games. The Magic have also produced a pointed video called "Walk With Us" found here.
Finally, Magic-Nets, Friday, 2:30 p.m. ET tip, Fox Sports Florida coverage starts at 2 p.m. Biggest game of the year. Move ya hips over to the television to turn it on.
Glass Half Full: Pick It Up, Put It Down
As previously mentioned, for the NBA restart the Orlando Magic travel party is a scaled back 37 (16 players, 8 athletic trainers/human performance staff, 6 coaches, 3 basketball operations leadership/logistics people, 1 equipment manager, 1 security, 1 content person, 1 public relations person). In the coming weeks, you will meet the team behind the team.
ORLANDO – Australian rock band Men At Work sang it loud and proud, "He was six-foot-four and full of muscle. I said "Do you speak-a my language? He just smiled and gave me a vegemite sandwich. And he said, I come from the land down under…"
Meet Orlando Magic Strength and Conditioning Coach Nathan Spencer.
Spencer joined the Magic from Sydney, Australia after earning a Bachelor's Degree in Exercise Physiology from the University of New South Wales, working for the West Tigers of the National Rugby League, earning a Master's of High Performance Degree at Australia Catholic University in Melbourne and working for the Illawara Hawks of Australia's National Basketball League.
He was hooked up with Magic High Performance Director David Tenney after meeting Major League Soccer's Seattle Sounders Strength Coach Chad Kolarcik during his master's degree studies.
When he joined the Magic in June of 2018, it was first time he, and his wife-to-be Megan, had set foot in the United States.
His first impression: "Hot and humid, but the people were great and made me feel welcomed."
Spencer is a self-proclaimed coffee snob and a says he has become a foodie since coming to the U.S.A. "I now know the difference between a good steak and a great steak," he says.
Yup, red meat and a true desire to make the Magic the best they can be.
Watch him for a while around the team and you'll see his passion and hear a motivational phrase, or two.
If a player is not interested in giving a little more: (sarcastically) "I'm happy with mediocrity if you are."
Or on what it takes to go from good to great and suffer through the proverbial no pain, no gain: "The path to easy street goes through the sewer."
Or, his favorite, from the lips of Arnold Schwarzenegger: "Pick it up, put it down, pick it up, put it down."
Spencer has personalized strength and conditioning programs for each player, but seriously prides himself on getting to know the person.
What does he miss most about Australia, "Saturday afternoons at the pub betting on the horses and having a few schooners with the boys."
Glass Half Full: Lights, Camera, Action!
My very first thought? This set has more bells and whistles than the television set for the hit game show "Who Wants To Be A Millionaire."
Welcome to the game setting for the NBA restart.
The league has done an amazing job of literally building a television studio with a basketball court. And they replicated it three times in three separate venues on the Disney Wide World of Sports campus.
They even call them "Broadcast Courts."
Inside you will find a baseline-to-baseline video board which runs the 94-feet of the court and will feature fans digitally. Behind the baskets are additional boards for fans to watch and interact with the game action.
There are approximately 30 cameras positioned everywhere to capture the action, many of them robotic. To give you some perspective, a regular season televised game uses, in the neighborhood, of 12 cameras.
The lights focused on the court are bright and the background is dark. I'm telling you the cast of Hamilton would be jealous of this stage lighting.
With the court being lit, corporate partners can be highlighted using virtual technology like that of the first down line in football.
The natural sound is amazing and content teams, including the Orlando Magic's team-embedded content generator Jason Dewberry, will give fans a behind-the-scenes look throughout the competition.
Safety continues to be a theme as well, as the team bench chairs are socially distanced and the scorer's table is enclosed in glass like a hockey penalty box.
While bringing this beautiful game to the fans like they've never seen before, one of the league's driving principles was to preserve as much as possible what a normal basketball game would feel like to the players. To this end, the designated "home team" for any given game has its regular homecourt elements piped into the game presentation.
Glass Half Full: Notes & Quotes
Coming up on two weeks in the NBA Bubble … I mean Campus
It's said that if Chik-fil-A handled coronavirus testing via its drive-thru window the world would be in a much better place. Put the NBA in that safety category too. In the bubble, players, coaches and staff use a mobile app and the Oura ring to monitor health, a Kinexon tracking device to measure social distance and a Disney Magic band which is scanned at various checkpoints around the hotel and practice sites to give you an all clear green light notification. Everyone also has a thermometer and fingertip pulse oximeter in their room. There's healthy habits signage everywhere and NBA-branded masks and hand sanitizer is readily available. There are also mental health wellness services available and AdventHealth is on campus to assist. Wander off campus unexcused and you get a mandatory quarantine.
Usually on a standard NBA trip, honestly, you live out of your suitcase. You aren't in any city long enough to pack or unpack. But here on the Disney campus, I unpacked for maybe the first time in 25 years and used every hotel room drawer. And thank you to Disney for weekly laundry service, but admittedly my room is starting to look like that of a teenager. You have your dirty clothes pile, your semi-dirty clothes pile and your maybe-can-get-one-more-wear-out-of-it pile. Febreze fabric refresher is important, just saying.
By the way, love the player/staff barbershop they set up in adjoining rooms at Grand Floridian.
One tactic to master when eating multiple meals in the team meal room is to learn the finer points of combining food items to add to the variety. NBA veteran and Magic assistant coach Tyrone Corbin is like an Iron Chef when it comes to this skill. The other day he took a shrimp and rice dish and combined it with potato soup to make a gumbo of sorts. Move over Chopped. Add a little hot sauce and it's even more Cajun.
The excitement has not worn off. We realize we are part of something historic, while keeping sometimes uncomfortable, but necessary, conversations around racism, police accountability and the Black Lives Matter movement going. The Magic have produced a pointed video called "Walk With Us" found here, while also promoting voting registration in partnership with legendary voting activist Desmond Meade. The organization is also working on developing an internal social justice task force which will address everything from recruiting and hiring practices to staff education to governmental, business and law enforcement relation initiatives. Social justice messages will take the place of several player's last name on their jerseys for select seeding games. Michael-Carter-Williams recently took part in a town hall with area youth, Orange County Mayor Jerry Demings, and Sheriffs John Mina and Orlando Rolon.
The Orlando Magic, which has had Disney as a corporate partner for 10-plus years and have the Disney logo emblazoned on its jersey, has held two training camps at the Wide World of Sports Complex, one coming in 1997 and again in 2003. And, count Wes Iwundu of those who played AAU games at Disney.
Magic veteran guard-forward Evan Fournier probably described the feeling in the bubble the best when he called it an "Olympic Village feel". There are the resort pools, team eating and meeting rooms are adjacent to each other and there's a series of games such as Cornhole and Spikeball around campus, not to mention the other amenities available such as golf, fishing and Pontooon boats. I've seen games of Dominoes and the card game Uno as well and everyone seems to have a video gaming system. It will be interesting to see what the forthcoming competition does to the current Kumbaya feeling among teams staying at the same hotel.
Speaking of competition, according to sources, the teams staying at the Grand Floridian – Magic, Thunder, 76ers, Rockets, Pacers, Mavericks, Nets and Grizzlies - are planning a Cornhole competition with proceeds going to charity.
Gary Clark, B.J. Johnson, Michael Carter-Williams, Mo Bamba and Jonathan Isaac went fishing the other day. Stick by them and you won't go hungry. Having spent a lot of time fishing while growing up in North Carolina, Clark is arguably the team's top angler.
Orlando Magic head coach Steve Clifford continues his daily message to his club: This is all about the team having the right approach. Approach to practice. Approach to film study. Approach to competing. Approach to making the most of the opportunity ahead.
Glass Half Full: The Team Behind The Team
Walt Disney said: "Whatever we accomplish belongs to our entire group, a tribute to our combined effort."
Added Peter Pan, "All it takes is faith and trust."
As previously mentioned, for the NBA resumption the Orlando Magic travel party is a scaled back 37 (16 players, 8 athletic trainers/human performance staff, 6 coaches, 3 basketball operations leadership/logistics people, 1 equipment manager, 1 security, 1 content person, 1 public relations person).
On a regular trip you would have three more coaches/video personnel and additional human performance, player development and security staff, as well as a television/radio/social media crew totaling nine additions. For the NBA restart, our Fox Sports Florida television crew and our English and Spanish radio teams will broadcast remotely from the Amway Center.
But here at Disney, the 22 teams were limited to a traveling party of 37 each, including players. Decisions on who goes and stays was agonizing, but everyone checked their egos at the door. And the crew not here, continues to add amazing support remotely.
With a smaller on-site staff, great teamwork is a key. No job is too small for anyone regardless of title, whether carrying an equipment bag or re-organizing the players' eating area.
Over the next few weeks, you will meet some of the unsung heroes whose sole mission is to assist our players and coaches. This league starts and ends with the players. Period. And helping them maximize potential is the priority.
Our current travel group is led by our president of basketball operations Jeff Weltman and general manager John Hammond. Then comes Becky Bonner, our true restart captain who handles all the logistics, the daily schedule and communications with the league. Equipment manager Jacob Diamond equips the team exceptionally, while our security guard Larry Thompson can see something coming from a mile away and makes sure we are safe. Content genius and jack-of-all-trades Jason Dewberry is documenting the trip which will undoubtedly be a 30 For 30 documentary and "Inside The Magic" series.
As for today, meet lead Athletic Trainer Ernest Eugene, the man with two first names.
Ernest Eugene is down-to-earth and egoless and will answer to either his first or his last name. And no matter how long you have known him, you tend to mix it up. I sometimes just go with "Hey Double E".
He would tell you his mission is to maximize player availability by insuring health and safety.
He's also the go-to guy for any ache or pain, as he has more meds and ointments than a Walgreens and CVS combined. He packed 20-plus bags for the trip, including an ample supply of six, yes SIX!, types of athletic tape: athletic white tape, power flex tape, stretch tape, pre-wrap tape, Leuko tape and Kinesio tape.
It all sounds sticky, but if we get in a stickier situation, he has ultrasound equipment, crutches, walking boots and a defibrillator.
His day looks like this: Pre-practice: monitor the team's health status via a mobile app, make sure daily vitamins such as Vitamin C, D, Calcium, Zinc and probiotics are administered, tape ankles, treat and warm tissue. In-practice: monitor the situation and assist with any assessments/treatments and/or provide any additional braces or sleeves. Post-practice: Ice, use pneumatic compression devices and provide and coordinate treatment with the rest of the human performance team, which to me performs like a symphony.
EE is a smart dude too. He got his undergraduate degree at George Washington. His master's degree at The Ohio State University and his doctorate at East Tennessee State. He worked four years at Virginia Tech, six years at Marquette and five years with the Washington Wizards before coming to the Magic.
And you want to talk about sacrifice?
While in the bubble he likely will miss each of his three kids' birthdays (Jayden 10, Aug. 23; Mason 6, Aug. 7; Harper 4, Oct. 12) and his 15-year wedding anniversary to his wife Jackie.
But I'll tell you what, he is always there to help, no matter who you are, whether you have a bump, bruise, headache or heartburn. A true team player who epitomizes the selfless team behind the team.
Glass Half Full: Practice, Not A Game, Practice
It's been great to hear the bounce of the balls, the squeak of the sneakers and the swish of the nets again.
Like most things with the NBA restart, the setting is all new to us. Our first practice came on two of the Magic parquet game floors which were transported from the Amway Center to a ballroom at Disney's Coronado hotel. The floors are one of seven makeshift ballroom practice/open gym locations for the 22 teams taking part in eight seeding games and then the playoffs.
Talk about a last dance to the 2020 season.
You can feel a real spirit as Orlando Magic Head Coach Steve Clifford has led our crew through their first full practices in three-plus months. The gang is happy to be together again, and Cliff's message has been about the opportunity the team has to compete. And as D.J. Augustin noted, in this unprecedented setting, anything can happen.
And when he says, anything, he really means anything.
Several nights earlier I received a call from Coach Clifford. He had one question. With a limited coaching staff, would I be comfortable helping the coaches in some drills.
No doubt I answered. After all, I was a high school varsity athlete…playing baseball. I didn't mention to him that I got cut from the basketball team, nor did I mention that I had a successful career coaching my son's YMCA basketball team, although primarily using some of former Magic coach Brian Hill's plays and dressing my kids for practice in Grant Hill and JJ Redick jerseys for added confidence. Yes, we were the talk of the YMCA, but I digress.
In my mind's eye I am an athlete. My straightforward scouting report: Good hands, slow feet, arthritic left knee. Solid midrange shooter who thinks he can shoot threes, but they usually end up as long twos. Can't really get my own shot, but well-conditioned, albeit from swimming, biking and stairmastering. Decent basketball IQ from being in the NBA for 25 years, but knows baseball rule book up and down, as hobby is umpiring.
Anyway, I jumped in where instructed and became a screener, passer and rebounder, while also executing dribble handoffs flawlessly. As an aside, you have no idea how big, fast, strong and quick professional athletes are until you are shoulder to shoulder with them executing a dribble handoff.
I'm adding this all to my scrapbook of stories. Yes, I know, everyone has a scrapbook.
Glass Half Full: Sunlight!
We are through quarantine! Hello sunshine.
While a tremendous commitment is being made by the players, coaches and support staff in being away from their families for an extended time period, the NBA and Disney have done an amazing job of providing amenities to make it as comfortable as possible.
The arrival process included an orientation and the fitting for a Disney Magic Band – which doubles as your no-touch room key and a cashless payment form for any additional needs. Luggage was delivered right to the room.
While in a 48-hour, in-room quarantine we were Coronavirus tested twice and received meals delivered to our room door. One thing is for sure, we will not go hungry. The first meal delivered to me was lunch, shortly after our 25-minute bus ride from the Amway Center in downtown Orlando to Disney. The menu: Tomato bisque with garlic crostini; mixed greens with garden vegetables; bowtie pasta salad with light Italian dressing; an oven roasted turkey, ham, lettuce, provolone, tomato and avocado wrap; a seasoned green beans and carrots medley; a hummus cup with pretzel crisps; sliced fresh melon; and mixed nuts.
That's not a meal. It's a basket for Chopped. It could feed a family of four.
The mini fridge is stocked too: Pepsi, Diet Pepsi, Bubbly, Gatorade, Iced Tea, Cranberry Juice, and Water. And there's a Keurig machine with French roasted coffee and Engish breakfast tea.
Other amenities available include a team meal room with team chef, training room, meeting room, game room, weight room, resort pool, personal laundry, barbers, mani/pedis, fishing, bowling and golf.
Also, there's wellness options, including an AdventHealth clinic, yoga and meditation, and virtual mental health sessions available. And I have more safety products than I'll ever need: NBA-branded hand sanitizer, masks, wipes, gloves, a thermometer, and a handy dandy fingertip pulse oximeter…and more masks and more hand sanitizer. Oh, and we have access to two mobile apps, one to monitor health and a second telling everything there is to know about the Disney campus, services available and key contact information.
Next step, our first full-team practice since mid-March – approximately 17 weeks ago.
Glass Half Full: Where to Start?
As we get ready to head to the Happiest Place on Earth – the Disney campus (it's a CAMPUS! not a bubble) – for the NBA restart, one of your first thoughts turns to, 'What the heck am I going to pack for this odyssey which could…will…last nearly 100 days?'
Yes, I'm packing with the mindset we will be gone from early July to mid-October when the NBA Finals will be played. Glass Half Full!
Despite living approximately 30 minutes away from Disney, it will feel like the other side of the world. But hey, let's be real, there are way worse places to be quarantined. The NBA and Disney have done an amazing job in preparing for the 22-team NBA restart. Hats off to them!
During a typical NBA season, your toughest packing challenge is usually a 10-14 day West Coast trip where you will hit hot and cold cities. Sweaters and shorts. That's hard. :) This is a different animal. As a side note, I did get a kick out of seven-footer Nikola Vucevic explaining his traditional NBA trip packing and noting that he has to always worry about how much space his 3XL clothes and size 16 shoes take up. I don't have that problem and never really thought about a big clothes dilemma.
For the record, I am bringing two bags, a briefcase and, maybe, my golf clubs (Ok, I'm bringing my golf clubs). The dress code is relaxed which makes this pack much easier. And it's about 100 degrees outside, so no sweaters.
While my glass is half full in regard to packing, a special commendation goes to our amazing support staff.
Equipment Manager extraordinaire Jacob Diamond and our human performance team packed 80 bags, 20 trunks and an entire weight room which will be the Orlando Magic's personal gym at the team hotel.
Packed for each player are three different uniforms, four sets of practice gear, four pairs of shoes, and an endless supply of shirts, shorts, socks, compression sleeves and assorted apparel, head bands, face coverings made from repurposed jerseys, various toiletries and 16 regulation basketballs.
We all miss sports in this most unprecedented time. We understand we have the ability to make a difference by keeping important conversations going. We are packed and ready for take-off.
About the Glass Half Full Blog
A famous politician once said he could walk out into the middle of Times Square in New York City and start handing out $100 bills. A third of the people would say he was not handing out enough money. Another third would say he was handing out too much money. Another third would say they didn't like the way he was handing out the money. Yes, it's a world of cynics. Welcome to the flip side - GLASS HALF FULL on OrlandoMagic.com. A local sports writer once told me that his job was to watch the battle from the mountain top, ride down, and bayonet the wounded. We live in what feels like a world of negativity. But not here, at GLASS HALF FULL. I will do my best to offer some insight and anticipate and answer questions you might have.
What can you expect? Rainbows and gum drops. No scraped knees and rubbing alcohol, here. I will give you the flip side. I will give you Cotton Candy, not the dentist's office. It's not Fast Food. It's Good Food Fast. Being negative takes up a lot of energy. Being nice is easy. Will there be some spin? Sure, but I prefer the word "Influence". By nature, I am an optimist. Hopefully, that gives you a look into the Magic-blue colored world I can tend to drift into. My takes will be credible though, just the other side of the coin.