Below is a full breakdown of the upcoming Lakers season, including even more than you need to know about where LeBron, AD, Austin and Co. will be for the 2023-24 regular season:
WHAT'S NEW? THE IN-SEASON TOURNAMENT!
For the first time, the NBA will feature an in-season tournament for its 30 teams, with the NBA Cup on the line.
This idea has been long-pending inside league circles, and fans of international soccer will recognize parts of the format. Of course, in-season soccer tournaments like England's FA Cup have been going on since 1871 – making it the oldest such tourney in the world – and we'll need to give the NBA's inaugural attempt some time to grow.
Group play begins on Friday, Nov. 3, when three groups of five teams in each conference tip off the first of four games within those groups on the designated "Tournament Night", where every NBA game counts towards the in-season tourney. To determine the groups, there was a random draw based on last season's record, with teams coming from one of three pots (1-3, 4-6, 7-9, 10-12, 13-15). Here's how it turned out for the Lakers:
No. 2 seed: Memphis
No. 4 seed: Phoenix
No. 7 seed: Lakers
No. 12 seed: Utah
No. 13 seed: Portland
The Lakers will host Memphis (Nov. 14) and Utah (Nov. 21), and travel to Phoenix (Nov. 10) and Portland (Nov. 17). While it's a bit of a break not to have to travel to typically raucous buildings in Tennessee and Utah, the Suns and Blazers fans don't exactly love the Lakers, which will prove a challenge in what promises to be at least a bit closer to a playoff atmosphere.
These games will also count towards regular season records, which eliminates some concern about "Why are we doing this"? Sure, some teams may decide to treat these games like playoff games, and others may treat them like regular season games. But, a regular season loss is … a loss. So, there's no incentive whatsoever for not attempting to win the games.
The team with the best record out of those four games will advance to the quarterfinals, along with the other two Western group winners (Pod B is DEN, LAC, NOP, DAL and HOU; Pod C is SAC, GSW, MIN, OKC and SAS), and three Eastern group winners. The team with the next-best record in each conference, likely utilizing tie-breaker scenarios, will be the wild card.
On the full NBA schedule, you'll see that Dec. 6 and Dec. 8 say "regular season." That's because the 22 teams that don't qualify for the Knockout Rounds will play regular season games on tournament off nights that week.
The eight teams that do advance to the single-elimination quarterfinal round will play games on Dec. 4 and Dec 5. The four winners will then advance to the semifinal, set to take place in Las Vegas on Dec. 7. The four losers will each play a regular season game on Dec. 8.
The final is set for Dec. 9, and that will be the only game that doesn't count towards one's regular season record. The winner will be awarded the first ever NBA Cup, which also comes with a significant cash bonus.
After the tournament, the NBA will name an MVP, as well as an All-Tournament Team.
OTHER SCHEDULE CHANGES
There's one other way the in-season tournament will impact each team's schedule, which currently has 80 opponents, and two open dates (Dec. 6 and 8). Here's how the NBA described it when I inquired:
Each of the 22 teams that do not advance to the Quarterfinals will be assigned two regular-season games (one home game and one away game) that will be played on Dec. 6 and Dec. 8. A formulaic approach will determine the matchups for these 22 games using the Group Play standings in each conference (fifth through 15th).

Two of the 22 games will be scheduled cross-conference because there will be an odd number of teams in each conference that do not advance to the Quarterfinals. These cross-conference games will be scheduled between bottom-finishing teams in Group Play subject to travel constraints, and no team will play more than one of its two games cross-conference. The other 20 games will be scheduled within conference featuring teams that are otherwise scheduled to play each other three times over the course of the season wherever possible.
In sum: because there are 11 games on Dec. 6 and Dec. 8, 10 will feature inter-conference matchups, but that leaves one game per night where West will have to play East. As such, two Western teams will end up playing a third game against an Eastern Conference team, a first for the NBA.
Now, in previous seasons, each team plays 10 teams in its own conference four times – always including teams within the division – and the other four opponents three times. This year, there are actually six Western teams against whom there are three games scheduled.
Here are the eight teams the Lakers are certain to face four times (2H, 2A): PHX; SAC; LAC; GSW; HOU; MEM; MIN; OKC.
And the six currently scheduled for three matchups: DEN; POR; DAL; SAS; NOP; UTA.
The Lakers could end up seeing one of the teams they're currently scheduled to play four times an additional time, if they were to meet in the quarterfinals, semifinals or final of the in-season tournament. We'll know after the group stage of the in-season tourney games.
AMERICA'S AUSTIN
Before we even get to the regular season opener at DEN on Oct. 24, we can watch last season's breakout Laker, newly re-signed Austin Reaves, play a key role for Team USA (group play begins Aug. 26. As has been customary for Reaves in his young NBA career, there are other players with more pedigree on the squad. But Lakers fans can expect to see the same thing they've experienced: the coach won't be able to keep him off the floor. In this case, it's Steve Kerr, and we already know that Kerr appreciates what Reaves does on the court after having to prep for him throughout LAL's Round 2 victory over GSW.
Reaves's production ballooned after he earned a starting guard spot in March following the Russell Westbrook trade, and his usage went up due to LeBron James's foot injury. Reaves averaged 13.0 points, 3.4 assists and 28.8 minutes after the break, but his playoff production against three very good teams was even better: 16.9 points and 4.6 assists in 36.2 minutes plus 4.4 boards, not to mention a team-best +5.8 postseason net rating.
Having the Team USA experience should not only boost Reaves further, but have him entering his third season in peak condition, all the better to absorb additional minutes that are coming. Reaves played 2,422 overall minutes last season, relative to 1,418 as a rookie, and that should only go up.
EARLY TRAVELS
After two straight seasons with home-heavy starts, the Lakers will open this campaign with just three home games out of their first nine, and nine of their first 20 in Los Angeles.
In 2021-22, 12 of the first 15 games were at home, while last season saw 10 of the first 15 at Crypto.com Arena, even as the Lakers failed to take advantage (5-10).
Of the first nine this year, six come against playoff teams from last season, including Finals opponents DEN (season opener, Oct. 24) and MIA (Nov. 6), plus a pair of games against ORL (Oct. 30 and Nov. 4), and one against HOU (Nov. 8)
Let's rewind for a moment. Heading into last season, the Lakers had only four players that played legit minutes from the prior year: LeBron, Anthony Davis, Westbrook and Reaves. Westbrook certainly wasn't the best fit next to LeBron and AD in the starting lineup, while Reaves was still coming off the bench and not yet featured on the basketball. Almost the entire rest of the roster was new, with Patrick Beverley and Lonnie Walker IV in the starting lineup, and Kendrick Nunn, Juan Toscano-Anderson and Matt Ryan playing the most minutes off the bench in the season opener. Oh, and the coaching staff was almost entirely new, under first-year man Darvin Ham.
But heading into this season, L.A.'s continuity from their post All-Star break run should come in handy. More on that to come.
SCHEDULE QUIRKS
A summary of the nook-and-cranny type details of the schedule:
Perhaps the roughest part of this season's schedule for a team featuring LeBron in Year 21 and AD is the number of back-to-back sets of games: 15. This is considerably up from the 12 B2B's featured in each of the last two seasons, and ahead of this year's league average (14). Mitigating this just a bit: of those B2B's, five have no travel, with four home and home (i.e. vs. MEM on Nov. 14/vs. SAC on Nov 15), plus one involving LAC.
In related news, the Lakers will be at an overall rest disadvantage relative to their opponents. They play seven games when they'll be determined to be the "fresh" team, and 12 as the "tired" team, plus 61 with an "even" designation. Fresh squads do not play the day before, and the opponent does, while tired teams do play the day before, and the opponent does not. Overall, that's a net -5. Last season, the Lakers had a big advantage in that sense, as they were a +6 overall.
The Purple and Gold are set to fly 44,000 miles on their Delta charter plane, which is roughly 1,000 more miles than last season, and exactly the average of other Western teams. The max: 51K; the min: 40K.
Another shift from last season comes on home game days. Last year, L.A. played 12 times at home on Friday and Sunday, and none on Saturday. This season, it's six on Friday, seven on Sunday and four on Saturday. Part of that is due to additional ABC exclusive appearances on Saturdays: Jan 27 @ GSW; Feb. 3 @ NYK; March 2 vs. DEN; and March 16 vs. GSW.
The longest road trip is 10 days and six games, the same as last season, from Jan. 27 to Feb. 5; the most-lengthy home stand is 11 days and six games, from Feb. 29 to March 10.
HAPPY HOME HOLIDAYS!
In a very welcome departure from last season's schedule for Lakers players and staffers, they'll get to spend the majority of holidays in Los Angeles this year:
Halloween: No game. Trick or treat eligible!
Thanksgiving: No game; the team is home against DAL the day before (Nov. 22), with the full Turkey Day off, prior to a Nov. 24 flight to Cleveland for a six-day trip.
Christmas: Home game against BOS, before two full off days ahead of a Dec. 28 home game against CHA.
New Years Day: No game … though the team plane will be landing at around 1 a.m. after a New Years Eve game in New Orleans. As such, 2024 will likely be rung in 30,000 feet above the ground.
Dr. Martin Luther King Jr. Day: Home for a game against OKC (Jan. 15), on one of the most important NBA dates on the calendar.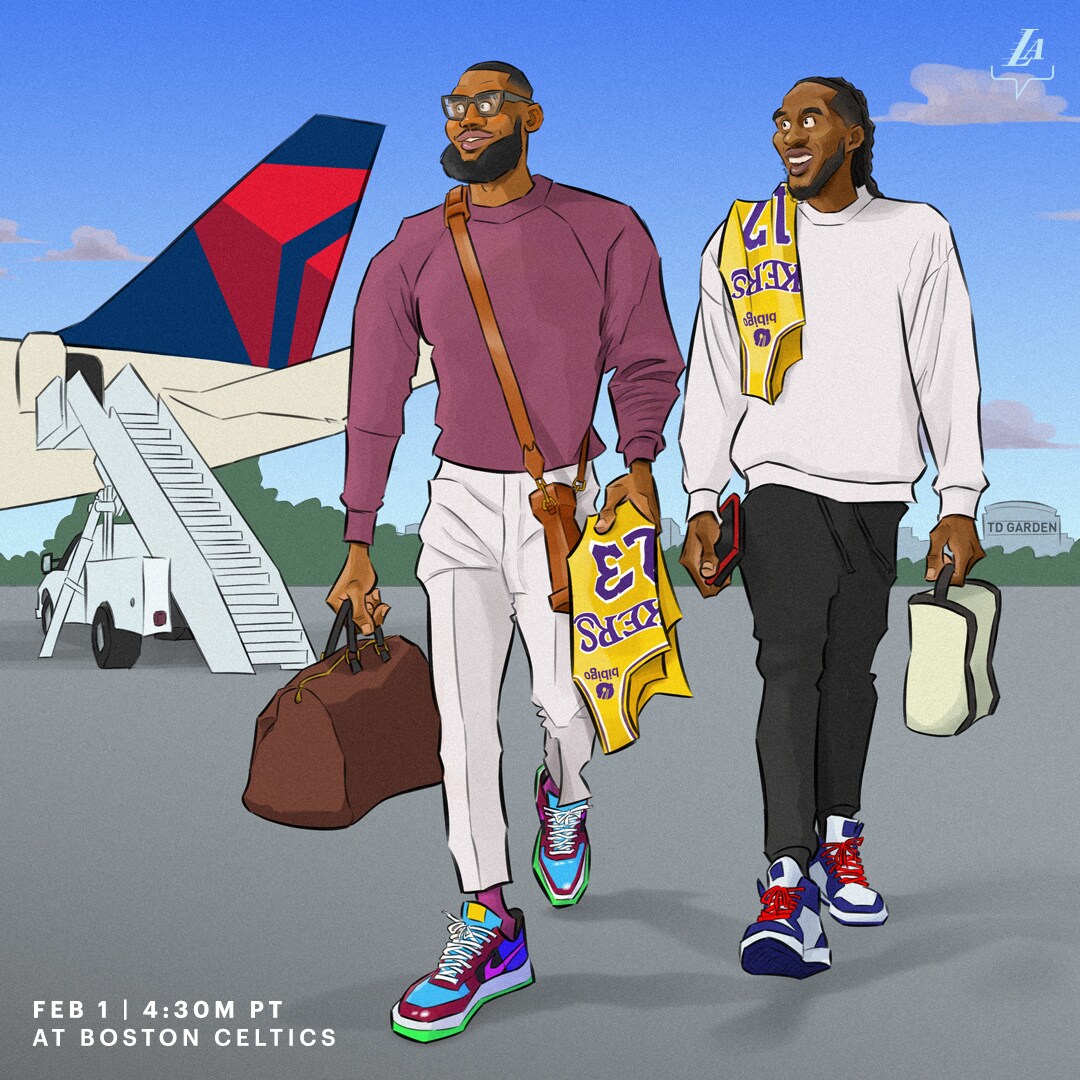 THE ROTATION
The rotation heading into this season looks considerably better than last year's. Here's how things could look* for Darvin Ham.
*In the increasingly positionless NBA, think of the positions more in terms of "What position will this player guard".
PG: D'Angelo Russell, Gabe Vincent, Jalen Hood-Schifino
SG: Austin Reaves, Max Christie
SF: Jarred Vanderbilt, Taurean Prince, Cam Reddish, Maxwell Lewis
PF: LeBron James, Rui Hachimura
C: Anthony Davis, Jaxson Hayes
Max Christie, who was impressive as a rookie and phenomenal in the Summer League, is a very strong contender for a backup wing spot. Hachimura, and newcomers Vincent and Prince, have all shown themselves to be capable NBA starters; Ham may take a look at a different combinations throughout the preseason. Hachimura did start the final playoff game against Denver, and typically closed games with Vanderbilt more likely on the bench in the fourth quarter, but there's some real utility to Vanderbilt's energy and defense – especially on the perimeter – during the regular season.
Vincent took Kyle Lowry's starting job for Miami in its impressive run to the Finals, and impressed by averaging 12.7 points while shooting 37.8% from three on a high volume (6.1 attempts), plus 3.5 assists to 1.4 turnovers. He's capable at either guard spot offensively, and is a tough, strong ball-pressure defender. Prince, meanwhile, is a career 37.2% shooter from three who shot 46.7% overall last year. In 2019-20, Prince grabbed 6.0 boards in 29.0 minutes per game, but corralled only 2.4 in his 22.1 minutes last year. LAL may need that number to bump up.
Reddish and Hayes, both 23, are former lottery picks with plenty of talent that still have something to prove on the court, and represent some upside as they try and crack the rotation. Their on-court production in terms of net rating hasn't been there for their respective previous teams up to this point (Reddish was a -14.9 in 20 games for a POR team that was, shall we say, rebuilding, when he arrived, and -1.6 in 20 games for NYK; Hayes was -5.4 for New Orleans in 47 appearances).
The one spot that may still be lacking is in the frontcourt, where an additional big body could be used to help carry some of the load held up by Davis especially, and LeBron secondarily. L.A. do still have two roster spots to fill; expect a center to get one of those spots prior to or during camp, while the 15th spot could be kept open as has been the case in recent seasons.
LEBRON'S 21st NBA SEASON
Only four players in NBA history have even made it to a 21st season: Kevin Garnett, Dirk Nowitzki, Kevin Willis and Vince Carter.
Carter's 17.5 minutes per game led the way, as did his 7.4 points per game. Hall of Famer's Garnett and Nowitzki averaged 3.2, and 7.3, points respectively.
Certainly, none of those four were coming off a season like LeBron's 2022-23, when he averaged 28.9 points, 8.3 boards and 6.8 assists and made the All-NBA Third Team.
Indeed, at age 38, LeBron completed the best 20th season in NBA history – nobody's been close. Meanwhile, the only one other player that managed to even play in the postseason in Year 20 was Kareem Abdul-Jabbar, whom LeBron overtook for the NBA's all-time regular season scoring lead* last February. LeBron wasn't exactly slowing down by the end of LAL's run to the WCF, as he played nearly 48 minutes towards 40 points, 10 boards, nine assists and two steals in the final game.
*That chase may have obscured LeBron's seismic lead as the all-time playoff scorer, as he has 2,036 more points than second place Michael Jordan.
How close to that level can LeBron stay in Year 21? It's fair to expect a slight drop off in regular season defense, particularly in transition, as James tries to get his body through 82 games with plenty left for a playoff run. It's the responsibility of LeBron's teammates that he doesn't have to try and replicate his aforementioned Game 4 against Denver on, say, Dec. 23 at OKC, or Jan. 13 against DET. Offensively, he's got so much to go to that he may actually improve upon the prior season, considering that he shot only 26.4 percent from three, well below his career average of around 35 percent.
Here's the bottom line: there just haven't been enough signs of a major drop off to expect one from one of the greatest athletes in sports history, as he continues to sprint down an untouched path of excellence in terms of elongated excellence.
DAVIS DOMINANCE
Looking through the NBA schedule, there's one thing that should give the Lakers confidence regardless of how tough the game (opening night at DEN) or easy (April 3 at WAS) is on paper.
The Lakers have Anthony Davis, whom VP of Basketball Ops Rob Pelinka just locked up with a multi-year extension.
There was only one NBA player that had a clearly better all-around postseason than Anthony Davis, and Nikola Jokic got plenty of (well-deserved) flowers after leading his team to the title. Were there a Defensive Player of the Playoffs award, Davis should have won it unanimously. He had the highlight plays, sure … his 50 blocks, for example, were the most in a postseason since 2012 … and he grabbed a ridiculous 14.1 boards per game, not to mention 1.4 steals for a stocks average of 4.5 (with 3.1 blocks). Davis is a defense all unto himself, allowing the coaching staff to skew towards offense with the rest of the rotation, such is AD's ability and desire to defend not just the rim, but the perimeter as well.
Davis had some off games offensively while not only having to do more than any other player on D, but also being atop the scouting report of the Grizzlies, Warriors and Nuggets coaching staff offensively. Yet and still, he averaged 22.6 points per playoff game on 52.0% shooting, and converted 85.2% of his 6.8 FT attempts per game.
Of course, where Davis would love to improve heading into 2023-24 would be availability. He played 62 of 71 possible games during LAL's 2019-20 title season, but just 36, 40 and 56 in the three seasons since, even as he avoided surgery on myriad maladies. The limited court time kept him off the All-NBA teams that featured players inferior to his ability and production. New this year is a mandate of at least 65 games to earn such awards, and if AD gets to or beyond that mark, the Lakers will surely be higher in the standings than they've been of late.
MYCHAL THOMPSON'S MUSINGS: TOP 5 ROAD ARENAS
I asked our beloved Lakers radio analyst on 710 ESPN, Mychal Thompson, to give us his five favorite road arenas from his travels around the league since being drafted No. 1 overall in 1978. Here is his unedited text back, in his abbreviated language (insert shrug emoji).
1) Miami…location and scenery…IN the stands…
3) Boston…Celtic fans are NUTS…
4) Portland…becuz of their HATE (Jealousy) of the Lakers…
5) Atlanta..becuz its like Laker Land of the South…The Brothers n Sistas LOOOVE the Lakers down there…
THREE TITALATING TOSS UPS
Nov. 10 at Phoenix: For the most part, the West boasts strong continuity, with most teams opting to re-sign players in what's both a deep, and relatively open Conference. One team that made a major move was Phoenix, who traded Chris Paul (subsequently moved to GSW), Landry Shamet, four first round pick swaps and six future second rounders to Washington for Bradley Beal. After finishing second in the NBA in scoring in 2020-21 with 31.3 points per game, Beal's availability (90 total games in the past two seasons) and production (23 ppg in each season) dropped considerably, but the 29-year-old's talent remains, and he's certain to be excited about the move to a real contender. With Kevin Durant and Devin Booker flanked by DeAndre Ayton and several new, athletic role players, the Suns should be a major threat not just in this first in-season tournament game on Nov. 10, but throughout the season for LAL.
Feb. 8 vs. Denver: The Lakers may feel like they coulda/woulda/shoulda won at least a couple of the four straight games they dropped to Denver in the Western Conference Finals, and while they'll get a first shot at revenge in the season opener, the Feb. matchup may be more telling about what's going to happen in this season's playoffs. Will Denver be able to match their level of energy and consistency from the prior season when they led the West for much of the year, now that they'll be the ones hunted? Will key losses like Bruce Brown and Jeff Green, plus an injury to Vlatko Čančar, prove costly without any major veteran additions? Will Nikola Jokic be so good, again, that it doesn't matter? Meanwhile, has L.A. gotten notably better? Will they need to make another trade deadline deal like they did last season to get them over the hump? Stay tuned…
April 12 vs. Memphis: A team also featuring both talent and question marks is L.A.'s first round opponent, the Grizzlies, who'll be without suspended Ja Morant early in the season, and who essentially replaced Dillon Brooks with Marcus Smart, but also lost steady backup PG Tyus Jones. Will Memphis be near the top of the standings once again? Will they take a step back without their point guard, or be steadied by the impressive play of Jaren Jackson Jr., perhaps the only NBA player in the defensive conversation with Davis? By April, we should have those answers, and playoff seeding could be on the line if all goes well for both squads.
See our other schedule content