In the Lakers' 56 seasons in Los Angeles, 334 players have donned the purple and gold uniform, but only nine (plus one broadcaster) currently have their jerseys hanging in the rafters at Staples Center.
For good reason, Shaquille O'Neal is one of them.
For a look at the big picture of O'Neal's career, we count down his top accomplishments as a Laker:
10) All-Defensive Team (2000-01, 2003)
Due to his sheer 7-foot-1, 325-pound frame, O'Neal provided a formidable deterrent by simply occupying the paint. As such, he was named to the All-Defensive Second Team in 2000, '01 and '03. The highlights of his defensive approach were, of course, his thunderous blocks, as he ranked among the NBA's top 10 in swats for seven of his eight seasons in L.A. This peaked in 1999-2000 when he placed third in the league with 3.0 per game.
9) Seven All-Star Selections
The only way to keep O'Neal out of the All-Star Game was to not have one at all. The only time he missed it as a Laker was due to the 1998-99 lockout that cancelled the event. Other than that, he was named to seven All-Star teams, played in four games and won two MVP trophies. The first came in 2000 when he and Tim Duncan tied for the award after the Big Fella piled up 22 points and nine rebounds. Then he won again on his home floor at Staples Center in 2004 when he poured in 24 points and 11 rebounds.
8) 2001 NBA Finals MVP
Ordering O'Neal's three NBA Finals MVP awards might just be a futile task considering how destructive he was in each series. Against Philadelphia in 2001, the Diesel averaged 33.0 points, 15.8 rebounds, 4.8 assists and 3.4 blocks, while shooting 57.3 percent from the field. O'Neal's finest moment arose in Game 2, as he went for 28 points, 20 rebounds, nine assists and eight blocks.
7) 11 Straight 30-Point Games
O'Neal's final three weeks of the 2000-01 regular season bordered on unstoppable. The big man scored at least 30 points in each game, averaging 33.7 along with 12.5 rebounds and a 57.9 percent mark from the field. This, in turn, got him ready for the Lakers' 15-1 run to the championship in which he contributed 30.4 points and 15.4 rebounds per game.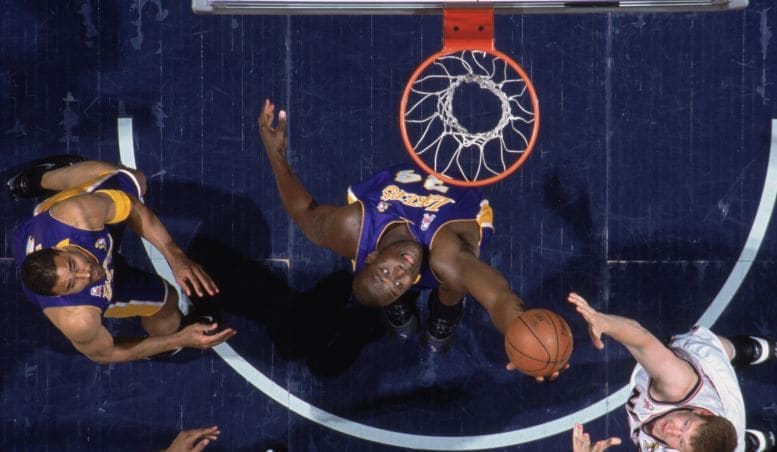 6) 2002 NBA Finals MVP
L.A.'s sweep of New Jersey was inevitable with the way that O'Neal handled the Nets' bigs. The Big Aristotle averaged 36.3 points, 12.3 rebounds and 2.8 blocks, while also hitting 59.5 percent on field goals. In fact, no Net scored as many points in one game as O'Neal averaged through the entire series.
5) 34 Straight Double-Doubles
This streak actually spanned seven months, as it began on March 18, 2001 and ran to the end of the regular season, through the entire playoffs and ended on the second matchup of the following year. O'Neal's mastery on the scoreboard and glass during this run is highlighted even further considering that this streak also contained the aforementioned 11 straight 30-point games.
4) 2000 NBA Finals MVP
O'Neal's first championship performance was one of the best by any player in league history. The Pacers were helpless against O'Neal's interior scoring, as he chewed them up for 38.0 points per game on an absurd 61.1 percent clip. Not forgetting his responsibilities as a big man, he also racked up 16.7 rebounds and 2.7 blocks. Once again, no opponent managed as many points in a single game as O'Neal averaged.
3) NBA's No. 7 All-Time Scorer
Only six players in the history of the league — Kareem Abdul-Jabbar, Karl Malone, Kobe Bryant, Michael Jordan, Wilt Chamberlain and Dirk Nowitzki — have scored more then O'Neal's 28,596 career points — about 49 percent of which came as a Laker (13,895). In his first seven seasons in L.A., O'Neal ranked among the top four scorers in the league, which included three years as No. 2 and one with the highest average.
2) No. 3 Field Goal Percentage of All-Time
Perhaps the one aspect of O'Neal's game more impressive than his scoring volume was the efficiency with which he did it. Only Artis Gilmore and Tyson Chandler have ever recorded a better career field goal percentage than O'Neal (58.2), who shot 57.5 percent in purple and gold. He led the NBA in shooting percentage for all but one year in Los Angeles, though he still finished second that season.
1) 2000 NBA MVP
No player came close to touching O'Neal during his lone MVP season, as he received 120 of the award's 121 first-place votes. O'Neal finished as that year's scoring champ with 29.7 points per game, while also leading the NBA in field goal percentage (57.4). Off the scoreboard, he averaged 13.6 rebounds and 3.0 blocks, which were both the second-highest of his 19-year career.
This campaign had plenty of signature moments, including when he dropped a career-high 61 points and 23 rebounds on his birthday against the Los Angeles Clippers, and when he scored 40-plus points five times in the playoffs — three of which were in the NBA Finals.