Growing up watching countless basketball games with Jerry West, one of the greatest players and general managers in NBA history, isn't such a bad way to learn about the game.
That's how Ryan West, Jerry's son, developed his passion, which he's continued to hone during his own NBA career that started in the front office of the Memphis Grizzlies in 2002. The 35-year-old West joined Mitch Kupchak's staff in 2009, and continues to hold the position of assistant director of scouting, working closely alongside Lakers director of scouting Jesse Buss.
We posted up in West's office to discuss the Lakers' process with workouts leading into June 26th's NBA Draft, his personal journey into the front office and what it was like being a fly on the wall for Kobe Bryant's famed 1996 pre-draft workouts. Below is a transcription of the conversation:
Mike Trudell: The draft is right around the corner. What's going on in your office heading into the final preparation stage?
Ryan West: We had a couple of guys in our first workout that canceled for various reasons, so we'd like to get those guys in here. There were certain guys that we liked in that workout, and we'd like to see if we can get them back in here for another one. It's just about seeing these guys compete as much as possible. We're only allowed to bring in players twice during this process; it's nice for us to get them here in our facility, have a chance to be around the coaches, staff and training staff. We'll put them in various NBA sets, but most of all, I just like seeing these guys compete against each other, see what kind of teammates they are and if they're rooting each other on. Are they picking up the level of intensity, or are they out for themselves? And usually you don't see that. All the guys we've had in this year and in year's past have been great guys. We've never had any kind of issues that way.
The workouts are the same for every player that comes in; we don't tailor them to specific players. We like to put them through certain drills like ball-handling drills and defensive slides, and we want to see them compete in a 3-on-3 setting. We want to see who comes out on top, even though it doesn't really matter who wins as much as the (overall performance).
MT: How important are these workouts in the larger scheme of things, as (L.A.'s basketball operations staff) has been watching as far back as when the players became potential draft prospects?
West: The workout is just a piece to the puzzle. The thing that has to carry the most weight is what you saw in games throughout the previous season if he's a freshman, or up to four years if he's a senior. That's the most important thing to me. A workout is just another viewing tool to watch a guy. But sometimes it's nice to see a guy out of his system, and every little piece of scouting we can do on a guy is beneficial. We may not take anything from a workout; a guy may have a bad day. We aren't going to base our decision on who to draft based just on how a guy works out.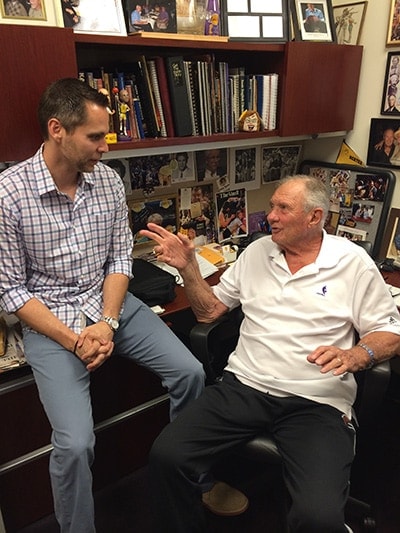 MT: What happens in Kupchak's office, or in the conference (war) room, after the workout concludes?
West: We'll normally take that day's workout and rank the guys based upon how they worked out that specific day. That doesn't carry any weight as to what we'll do on draft day, but Mitch likes to get all of our voices together and just rank each guy, from one through six. It's just an exercise. Nothing is set in stone.
MT: With the various voices in the room, is it just a group consensus? Like, if you love one guy and Mitch, Jim or Jesse Buss doesn't, do you have a debate?
West: It's a consensus decision. We'll all go into our own offices and rank the guys, then get in the group and discuss everything. We'll assign points to certain guys, and whoever has the most or the least, that's where they come out. It's just a little exercise Mitch likes to do.
MT: I'm sure you could make selections 1-60 in the draft right now if need be, yes?
West: Yes, of course.
MT: So when does the list get finalized? Is it a fluid list, or is it set in stone once completed?
West: We don't change anything with our list depending on what other teams do. The week of the draft, all the scouts are in town, there is a lot of discussion, a lot of video we watch. At the end of the day, with about two days before the draft, we'll do our rankings of players. Then, we just follow our board. When a guy is taken, everyone moves up a slot.
MT: Have you ever seen the board change during the draft depending on who's selected?
West: No. The board is set before the draft, and we never go back and change it. Once it's set, that's it. I think things can happen during the draft, when one guy goes and all of a sudden…
MT: Like all of my fantasy basketball and football drafts…
West: Yeah, and you never want that to happen. So when we go into the draft, it's not as stressful because we know where we're going. Mitch is very organized and he thinks things out. There is never a sense of panic in our war room. That's never been the case. Now, I have been in war rooms where there has been a little bit of chaos or panic, and that's not the case here. We're very organized, and prepared for every scenario.
MT: All right, a bit more about you, if you don't mind. I have to guess that your interest in this side of the game grew out of what I know is a great relationship with your dad?
West: Yes, growing up in a basketball family, I was fortunate enough to see in the 1980's maybe the best basketball of all time with the Showtime Lakers. That was my introduction to basketball, a good way to start. Then in my teenage years going into my 20's in college (at Loyola Marymount), I was able to keep watching great basketball through the Shaq and Kobe Lakers. My dad and I always had this special bond with basketball. He saw that I took a liking even as a little kid to the front office side of basketball. I enjoyed playing, but even as a little kid, my interest was always more in the front office. And there were countless nights where we'd just sit on the couch and watch multiple basketball games. We'd talk about players and coaches. It was like getting my doctorate in basketball. I was able to learn a lot from him. Then, transitioning here with Mitch and the Lakers has been fantastic. They have two different styles, but they're both very good at what they do, and I can't argue with either one of their approaches to the game.
Mitch is kind of like an uncle to me. I've known him pretty much my whole life. This was not only a job to my dad, but a family atmosphere. I felt like I grew up around a lot of family members. I sit next to Bill Bertka in the office next door, and he's like a grandfather to me. It's been a fantastic opportunity for me here.
MT: Speaking of the great Bill Bertka – who's still working for the Buss family and Mitch at the tender age of 87, running drills in these workouts for prospects and contributing in myriad ways – how would you explain the impact he's had on basketball going all the way back to the 1940's and 50's?
West: Bill Bertka is one of the most respected men I've ever been around. Everybody that knows him loves him. Any player that sees him runs up to him and gives him a hug. It's unreal, the lives he's touched in all his years in basketball. If you can think about all the great players that he's been around and his coaching career, just from the centers alone: Wilt Chamberlain; Kareem Abdul-Jabbar; Vlade Divac; Shaq; and Andrew Bynum. He has just an unbelievable knowledge of the game. His memory is incredible. He's a great person and an amazing basketball mind. I love chatting with him every day about players and getting his insight. He's seen more basketball than almost all of us combined in his lifetime. To have him out here during our workouts, he gets so much joy out of it. He's pretty tough on the guys in a constructive way, and it's great.
MT: No doubt. When did you transition from being a big fan of the process to actually wanting to get involved?
West: It was a gradual process, but I remember being a teenager, probably 12 or 13, and my dad asking me if I wanted to come watch college players work out. At that age, being a fan of the game, I couldn't believe that player X was coming in with player Y. I thought it was so cool. The first specific trip I remember was for the 1993 Final Four, the Chris Webber time out year, when my dad took me on his scouting trip. And I was able to be in the war room during the draft, learning what it was all about, and it was a really exciting process for me.
MT: You were at the famed Kobe Bryant predraft workout when he was 17 in 1996. What are your recollections?
West: I was there for both of Kobe's two workouts, actually, at the Inglewood YMCA right by the Forum, and that was exciting. I was 16, and Kobe was 17. That was the most nervous I've ever been in the war room (during the 1996 Draft), and I was just a fan. Seeing how truly talented he was in those workouts, you knew he was going to be special. The first workout was Kobe and Michael Cooper, a coach at the time, and the second was against another draft-eligible player.
MT: What stood out about Kobe?
West: It was remarkable to see how far advanced a guy that was nine months older than me was. His competitiveness. Michael Cooper, although he had retired, is regarded as one of the greatest perimeter defenders of all time. And Kobe just took the challenge, went right at him, and it was unbelievable to see how skilled he was at that age. He didn't back down from anybody at all at 17.
MT: So you basically saw two of the greatest draft prospect workouts ever as your introduction into the mix.
West: Yes, and one of the funniest things I remember came after Kobe's first summer league game in Long Beach. He had just scored somewhere around 27 or 31 points playing against grown men, and after the game, I asked him how it went for him. He said, "That was easier than I thought." I knew then that this guy had something special about him. He just had this confidence about him that nobody was going to stop him.
MT: I have to imagine that influenced how you look for what you want in prospects?
West: Absolutely. But with Kobe it was different. When he saw Cooper in front of him, he took it as a direct challenge, to attack one of the greatest defenders on the planet. There is nobody on the planet that has the same killer instinct as Kobe … but we do like seeing guys compete.
MT: OK, back to today. How would you describe your day-to-day role with the Lakers?
West: Jesse Buss and I share an office, and work very closely together. Jesse has brought a lot of great ideas and organization to the scouting department, and we communicate every day, either in the office or on the phone. Before the season starts, we coordinate our scout schedules particularly in the November and December months, the out of conference schedules. We'll run our scouting meetings before training camp and during the year and then the draft. Jesse and I run the meetings, and we have certain scouts that are only in certain regions, while Jesse and I travel everywhere. Then we'll start talking to agents during the draft process to schedule guys coming in for workouts, and trying to get as much information as possible to Mitch. We'll talk to training staffs and coaches from college, watch a lot of film and watch the prospects at all of the camps. The process goes on to continue the summer league, and many other aspects, so it really never stops.
MT: Do you and Jesse let yourselves think about the future, about possibly running the show one day down the road as your dad and Mitch and Jesse's father and brother did and continue to do?
West: We've never had that discussion before. It's a nice thought, and I'm sure at some point we'll talk about it, but right now we're happy with what we're doing and Mitch and Jim are the decision makers. We're both young, and we both have a lot to learn from them.
MT: This will be the highest draft pick the Lakers have had since James Worthy in 1982. Has that changed any part of the process, or the idea behind it?
West: It's really exciting for us to be in this position. We've never had this collective group of talent at one time in for a workout, so it's exciting for us to have some big name college players in here. We think that this year we'll be able to add a player that will be a significant contributor to the Lakers for many years to come.