Kent Bazemore takes a couple dribbles at the free throw line, rolls the ball through his hands, gathers himself and releases.
"Twenty," yells player development coach Mark Madsen. That's the number of free throws Bazemore has made in a row till this point, as he continues to warm up on a near empty Staples Center court three hours before the Lakers and Knicks tip off.
Bazemore continues to go through the same routine with the same end result, draining 26 in a row before the 27th clangs off the back rim.
He hits both hands in disgust.
"I'm so hard on myself," Bazemore said. "I can't help it. I want to be great."
That's been his dream since growing up in Kelford, a small suburb in Bertie County, North Carolina, that is home to no more than 300 people.
Go northeast, more than two hours from Raleigh, and you'll find where Bazemore grew up with his parents, Glynis and Kenneth Sr., and his younger brother, WyKevin. On the side of the house is a three-quarters length basketball court situated on a concrete slab that's broken in some places, smoother in others.
Bazemore honed his craft on this court as a child. He recalls playing against kids from all over town in the summer, starting in the early hours of the morning until the sun went down. This was his safe haven, even in the toughest of times that lasted off and on during his childhood and even throughout high school.
"I was sleeping in a house with no heat, no air conditioning, no electricity, no water," Bazemore said. "Some nights we'd go stay at my uncle's house across the street."
His dad, Kent Sr., was laid off from his work eight months before he was set to receive his pension. His mom, Glynis, worked three jobs to help make ends meet as a teacher's assistant at a nearby elementary school, a school bus driver and a cook at his uncle's diner. She made sure her two sons were given a chance to play at the highest level and promised them they would never have to face the same problem that prevented her from playing collegiate basketball.
"She said: 'You'll never need a ride anywhere,'" Bazemore explained. "So she would take off work early, she'd take a whole week off, she'd sacrifice (money) for gas or for dinner to take us to a basketball camp, just so we could have every opportunity to chase this dream."
Bazemore remembers his mom driving all over North Carolina for AAU games, the car rides to Virginia for tournaments as well as the trips to Florida every summer for nationals. Those trips became routine in the black Chevy Blazer that accumulated more than 290,000 miles.
The long hours on the basketball court in the summer, plus the long treks to AAU games and tournaments paid off. Bazemore was named Northeast North Carolina Conference Player of the Year his junior and senior seasons at Bertie High School. But North Carolina State – his dream school – never recruited him or offered him a scholarship. Instead, he received a lone offer from Old Dominion University during the summer of his senior year.
Listed at 6-foot-5 with a near 7-foot wingspan, Bazemore looked the part of a player who had all the tools to have an impact on a nightly basis. That's exactly what his college coach, Blaine Taylor, saw when watching him play for the first time.
"What I saw physically was a guy who had tremendous potential," Taylor said. "He had length and he had a first step quickness, he had a real hop and jumping ability, he could run end to end. I saw a guy who was very versatile and someone who could be a really rangy, effective defender."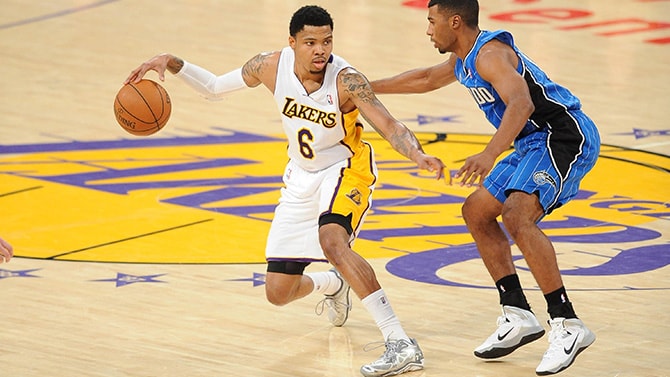 Under Taylor, Bazemore was just scratching the surface.
The lanky swingman developed into an elite defender by the time his junior year rolled around: he was the winner of the Lefty Driesell Award, given to the best defensive player in college basketball, and he earned Colonial Athletic Association Defensive Player of the Year honors his junior and senior seasons.
"We had a really simple phrase: Show up and try hard," Taylor said. "Showing up would be early, showing up would be ready, showing up was having attitude. Give everything you've got with no regrets. Kent tried to get the most out of every day and you typically got a day's work for a day's pay out of him."
Bazemore finished his career at Old Dominion second all-time in steals (250) and was part of a senior class that tallied the most wins in program history (101), which included two NCAA tournament appearances and two conference titles.
"He was a five-year guy who probably really benefitted from the extra time," Taylor said. "He got the full benefit of the weight room, he got two academic degrees, his physical and skill development (improved). But more than anything, he just grew up."
Despite his accomplishments, every team passed on Bazemore in the 2012 NBA Draft. He almost headed overseas to play professionally until a strong showing for Golden State's Las Vegas Summer League squad earned him a non-guaranteed contract. One of his more memorable performances came against Chicago when he blocked seven shots – the most by a Warrior in a summer contest.
Earning playing time during the season, though, was difficult on a roster loaded with players at his position, which included Stephen Curry, Klay Thompson, Jarrett Jack and Harrison Barnes. He averaged 4.4 minutes per game and saw double-digit minutes in just seven of 61 contests he appeared. As such, Bazemore was assigned to the Santa Cruz Warriors – Golden State's NBA D-League affiliate – to fine-tune his game.
"Their message was: 'Let him play,'" said Casey Hill, head coach of the Santa Cruz Warriors. "'Give him the ball, let him play and give him confidence. Put him on their best player and make him defend.' I think there's a really great player that's inside of Kent. You just have to draw it out. Once he gets confidence, it's really difficult to contain him from making an impact on games in multiple different aspects."
Bazemore played five games with Santa Cruz his rookie year, averaging 21.6 points, 7.6 rebounds, 2.8 assists and 4.4 steals. After the franchise season opener in Santa Cruz, Hill fondly remembers a gesture Bazemore made to the whole team postgame.
"Kent had the thoughtfulness to stop right before we broke after the game and basically said: 'I know how much tonight's game meant to you and I can't tell you how much I appreciate you letting me come down and join your family,'" Hill said. "I had never heard a D-League assignment player say that. He had the right attitude, he was a good teammate and he tried to help guys. He's just an over-the-top great kid. He understands what it takes to keep a group together, to stay solid and the sacrifices you have to make."
But the uncertainty of whether his contract would be guaranteed for the remainder of the season weighed on Bazemore. He was on a three-month lease for his apartment, bringing in about $700 every two weeks and sleeping on an air mattress.
"The dream," he said. "The hunger is always there. I love the game of basketball."
His passion for the game was particularly evident in his energy, enthusiasm and his infectious personality on the sidelines. His bench celebrations spawned a phenomenon that eventually became known as "Bazemoring" and it soon caught on with the Warriors fan base, as well as his teammates. Bazemore even started tweeting the hashtag "TheTigerWithin" because he feels that animal personifies his character.
"You see a tiger and it looks like it wouldn't harm a fly," he said. "But it can rage and it can flip the switch and it's ready to go. I'm always smiling and laid back, but when I need to, I can unleash the beast."
Even his college coach knew he had that characteristic within him since day one.
"Kent has tremendous passion," Taylor said. "He loves being in the gym, he loves the game, he's a student of the game, he's a fan of the game. He was having fun with the Warriors and I think he saw that passion as a comfort on the stage."
Fast-forward to the summer of year two and Bazemore started performing like a player that looked a little more comfortable. It showed during the 2013 Summer League, when he guided the Warriors squad to a perfect 7-0 record en route to the championship. He led the team in points, rebounds and assists and earned All-Summer League Team honors.
"That was a statement," he said. "It's all about opportunity. I'm a prime example. I took the D-League seriously; I took the summer league seriously. It's business. I'm not down there to coast. I'm there to prove a point."
But again, Bazemore's playing time was limited in his second year to 6.6 minutes per game. The Warriors signed Andre Iguodala in the offseason, plus Curry, Thompson and Barnes all returned. All the while, though, Bazemore worked, worked and worked. He credits the coaching staff for helping in his development, particularly Joe Boylan and Darren Erman. Not until Bazemore was traded to the Lakers on Feb. 19, did he get to see the fruits of that work pay off.
Before an MRI on Monday revealed a torn tendon in his foot that will require surgery and force him to miss the rest of the season, Bazemore had been performing on a consistent level. Outside of impacting the game defensively, Bazemore showed he could score the ball in myriad ways. He reached double figures in 18 of 23 games and shot respectable percentages of 45.1 overall and 37.1 from beyond the arc. Bazemore displayed his passing ability, most notably finding Wesley Johnson for the game-winning layup off an inbounds pass at Portland in early March, or the career-high eight assists vs. Orlando three weeks later. The team's fastbreak points per game went from 12.7 to 19.3 in part because of his athleticism.
"The move to the Lakers, I told him people would tell him he's lucky," Taylor said. "But I texted him back and forth on this: Luck is what happens when preparation meets opportunity. His college preparation, his time with the Warriors, the summer league, gave him a chance with the Lakers to have that opportunity and try to make the most of it."
The Lakers coaching staff noticed Bazemore's approach to the game, particularly his attitude. On most practice days, he was one of the last players to leave the floor. On game days, he was one of the first ones out on the court to warm up.
"There's this blend of desire and passion in it for the real reasons to do it," player development coach Larry Lewis said. "It comes through in a person's body language and character. You can't measure heart. When a player has that, along with his ability, you're looking at a solid situation."
That foundation started from an early age where the lessons from his family still ring true. Bazemore remembers his grandpa plucking his head and asking if the watermelon was ripe, or in translation, you have to have tough skin and be mentally tough. He remembers his childhood days and the struggles he lived through, but also the constant encouragement and sacrifice from his mom. He remembers getting cut from his under-17 AAU team, from breaking his foot before his senior year at Old Dominion, from being overlooked out of high school and college.
"I think some of the challenges presented to him really hardened his heart to the task at hand to really make it to the league," Taylor said.
From a small town in North Carolina to the Bay Area to the bright lights of Los Angeles today, Bazemore hasn't changed or been fazed.
"I still live with that in the back of my mind," he said. "Guys kind of forget and don't remember what they've been through. That's what keeps me hungry. My situation doesn't change. You can't just throw it away. It's a part of who you are."