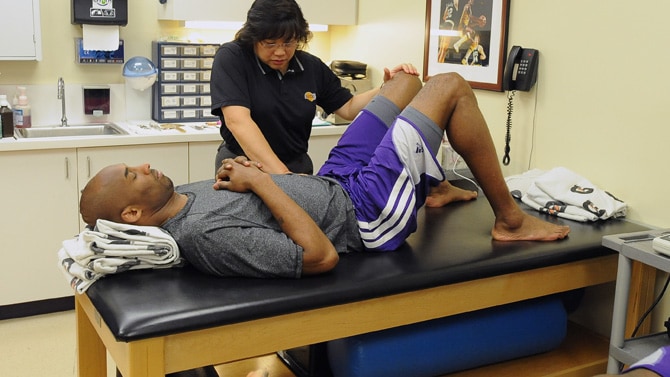 Of all the questions heading into the 2013-14 season for the Lakers, Kobe Bryant's health tops the list.
On Tuesday morning, Lakers spokesman John Black said that Bryant "Is progressing well and has met all the targets and milestones in his rehabilitation." Black added that, at the earliest, the Lakers won't issue a target date for Bryant's return once he commences full weight-bearing running and on-court basketball activities.
The 17-year veteran tore his left Achilles tendon on April 12 in a home win against the Warriors, ending yet another All-Star season (his 15th) after which he was named to the All-NBA First Team for the 11th time.
Bryant had almost immediate surgery to repair the tear, and by all accounts has attacked his rehab with the same intensity he brings to his basketball game. Most mornings, one can find Bryant at the team's facility working with Lakers head physical therapist, Dr. Judy Seto, who also traveled with Bryant on business trips to China, Europe and Brazil. Lakers head trainer Gary Vitti had his strength and conditioning coach Tim DiFrancesco go along with Bryant on some trips, as well, in what's been an all-encompasssing focus on getting No. 24 back to full strength.
Black said that the Lakers do expect Bryant to make a "full recovery," not only to his Achilles, but to the supporting areas of the body.
"It's key for him to build up strength and endurance not only in his Achilles but in his knees, legs, back and core," said Black.