The last time we talked to Mark Madsen, he was accepting the head coaching job for the Lakers' D-League affiliate Los Angeles D-Fenders. But since then, he was asked by Lakers coach Mike D'Antoni and GM Mitch Kupchak to step in as a player development coach for the big club.
We spent some time with two-time NBA champion as a player with the Lakers (2001 and '02) to discuss the coaching transition, what it's like working with D'Antoni, what he thinks about Kobe Bryant and more:
MT: OK, Dog, let's start here: what was behind your making the transition from the D-Fenders to your current position?
Madsen: You know Mike, a few weeks after taking the job with D-Fenders and being able to work within the organization a little bit, there were a couple of opportunities on the Lakers staff. I had some conversations with (Lakers GM) Mitch (Kupchak) and Mike (D'Antoni) during that time, and they said, 'Look, you're part of the Lakers family as the D-Fenders head coach. There's an opportunity to move to the (player development) position, how do you feel about it?' I felt excited and enthusiastic right away, and said I'd love to. Obviously that was with the full blessing of (D-Fenders GM and assistant Lakers GM) Glenn Carraro, and the full blessing of (D-Fenders President) Joey Buss and the Buss family. We've already had some time at Summer League in Las Vegas, and now can continue some of the player development as we move towards training camp.
MT: How would you explain the way you see your job description alongside fellow new player development coach Larry Lewis?
Madsen: What Mitch and Mike really want from us is to be a resource for the players and for the coaching staff, and bridge the gap. So if a player wants to really specialize for several weeks in the offseason on pick and roll, we will take them into the gym and put them through multiple different scenarios. It might include how to guard certain pick and roll situations, or spacing on the other end of the floor, for example. But really, we need to be specialists for the players in terms of what they want to work on, and then what Coach D'Antoni thinks can be improved upon and developed.
MT: What do you see as the area that you can specifically add to the team?
Madsen: I think the great thing about this role is that you're really hands on with the players. This is an individual person whom we're trying to help succeed personally. And when he succeeds personally, it helps the team. Ultimately, his value increases as a result, and we want every player who comes to the Lakers to be able to increase his value. That helps everybody.
MT: You'll be with the team full time, home and road, I presume?
Madsen: Yes, Larry and I will be traveling with you throughout the season on the charter. I haven't missed a plane yet.
MT: Yeah, they don't hold the flights for me, either. If Kobe's late? Sure. Anyways, what have you gotten to know about Larry Lewis?
Madsen: I'd heard great things about Larry, and we're already building a really strong relationship both on and off the court. Obviously we had a chance to work together at the Summer League, where we had a chance to get hands on with players. Larry has a wealth of experience from playing professionally for 20 years mostly overseas in some of the top leagues in the world, and he's more of a perimeter player while I'm more of an inside player. Larry can talk a lot about the nuances of when you're playing the two, or guarding the one, and so on. When it comes down to the inside play, I can come in and have some insight there.
MT: D'Antoni also hired Kurt Rambis and Johnny Davis this recently, alongside Mike's brother Dan, the lone holdover from last season. How does the dynamic work in the coaches' office?
Madsen: The conversation is very much one of collaboration. The ability to synthesize the expertise of Mike and his three bench assistants, and then Larry and I going out and executing what Mike wants on the floor with the players. The other assistants are also always welcome to come down and work with the players on specific things, and they will very often do so. Furthermore, during the season, Larry and I will help out scouting opponents at times, although the bulk of that will come from Dan, Kurt and Johnny.
MT: From what I gather from the rest of the staff, your work ethic is a major reason that the coaches are excited to work with you, particularly in the often tireless role of being constantly available to work with player. To what degree is that a differentiating factor?
Madsen: When I was a rookie in the transition camp, (Hall of Famer) Wes Unseld talked about hard work, saying that it doesn't guarantee you anything, but without it you don't stand a chance. I think that's really well said. You look at all the success Wes Unseld had, and that's something I've always tried to implement into my own career.
MT: Even being in the NBA puts you in the top entirely minuscule percentage of all basketball players, but what's the real key to success for someone like you, compared to Kobe Bryant, that you can try to bring to the current players?
Madsen: Within the NBA, there is so much separation between the top 10 or 20 best players, and the typical role players. The Kobe Bryant's, LeBron James' and Kevin Garnett's are so much better than everyone else in terms of their complete skill set, even with everyone in the NBA being so talented. In terms of being able to play in the NBA for nine years, I'll never forget Kobe pulling me aside when I was a rookie (2000-01), and saying, 'Look, you're a hard worker. You always come ready to play. You can play 10 or 12 years in the NBA if you want to.' When he said it to me, I almost didn't believe it, because I just thought to myself, that would be really hard to do. But Kobe already had so much experience in the NBA even at that point; what he said was true, and it helped me. Just that little piece of advice – because there really is no substitute for hard work. Granted, being 6-8 helped. If I were 6-4, I would have been good in high school and maybe at a small college, so you have to put it all together.
MT: How do you reflect back on your time with Bryant?
Madsen: I'm grateful to have had Kobe as a teammate, because he helped me grow. There were times when he put his arm around me after a tough loss, and other times where he pushed me to be the best I could be. I think he has a nice combination of knowing when to pat somebody on the back, and when to get after somebody. I was a better player because of Kobe. His talent speaks for itself as one of the best to ever play basketball, but I think his leadership is extremely strong. You don't win the five championships he's won without being a great leader. He leads vocally and by example. You're going to find very few players out there as great as Kobe is who also study film, who study opponents, who study other team's sets. When he's on the court, he has scripted ways he can take advantage of other team's sets.
MT: Kobe has taken some criticism for how he was with his teammates particularly early in his career, when you played with him, but what you just said implies you didn't see it that way?
Madsen: No matter who you are when you're at the top of your profession like Kobe is and has been, there are going to be people who will put forth their opinions about you. But as a teammate, I'm grateful for Kobe's influence on my game and how he helped me. He really helped me a lot on and off the court.
MT: A dedicated, hard worker is a teammate he'll always like. Now, if a player isn't willing to give it his all...
Madsen: Kobe has a goal to win an NBA championship every year. One thing I like about Kobe is that's not an individual goal -- that's a team goal towards which he puts forward his best, and expects everyone on the team, coaching staff and in the organization to give their best.
MT: What are you looking forward to now with the Lakers polo shirt on, as opposed to the purple and gold jersey?
Madsen: It's all about maximizing the talent and ability of the players. I'm excited to continue to learn from Kobe, to gain a fresh perspective from Pau (Gasol) and understand all the aspects that have made Steve Nash such a great player. Sometimes a fresh set of eyes from the sideline can be beneficial -- I know I had a lot of coaches that helped me. So I want to be there for every player on this team in the small, subtle ways that over time can make a difference.
MT: What's your opinion of Pau Gasol?
Madsen: Here's a guy who is a winner. He's won at the highest level in the NBA, internationally and throughout his career. He personifies versatility: he can score, he can pass, he can rebound, he can protect the rim, he runs better than people think and he can even shoot threes. He has the quality to make people around him better. He's going to find the open three-point shooter or make the behind-the-head pass to a Jordan Hill, for example, for a dunk. He's an All-Star player who is nonetheless a selfless player that's willing to fit his game around other players to try and help the team win. This organization breeds winning with players like Pau.
MT: What can you do to try and help a player who may be counted upon more this season than in the past, Jordan Hill, to get better?
Madsen: Jordan is already a phenomenal player – I've watched him a lot, and he represents the tenacity and ferocity inside that's almost like a Dennis Rodman. That gets down to heart, and Jordan has a huge heart. There's no doubt in my mind he'll bounce back from the (hip) injury he had (last season) and be 100 percent. I'll never forget being in the film room with my first coach, Phil Jackson, when he said (then Pistons All-Star) Ben Wallace was his favorite player in the NBA. I look at Jordan and the impact he can have on the game without even touching the ball, and I think he can be special like that.
MT: What are some key points you can relay to young players that you learned over your career?
Madsen: Maximize your time, because it goes quickly. You have to continue to grow, and always be ready. I had a mentor in Minnesota named Ervin Johnson (not Magic), a 6-11 center, and he said, 'Your job as a bench player is to be ready when your name is called … you may not have played for four games, but then somebody picks up a fourth foul in the third quarter, or sprains an ankle, and it's your opportunity to perform and help the team win.' So that's the key, to always be ready mentally and physically. Get your conditioning in, do your extra work to get shots up, keep your timing up by playing 3-on-3 after practice.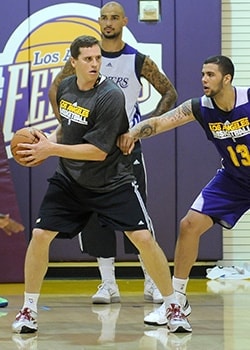 MT: And off the court?
Madsen: As a young player you have to look for mentors and be smart, because all of a sudden now, you have money and tremendous freedom with your time. How are you going to use these resources and learn from mistakes, and stay away from mistakes you don't want to make? Part of it is surrounding yourself with the right people, and part of it is just maturity, recognizing that every action you take could be unveiled on social media and so on.
MT: You're now in a position to be such a mentor. How do you balance being a good influence without being overbearing or presumptuous?
Madsen: It's all based on personal relationships, and having a relationship with players to be able to talk candidly and openly. I have that relationship with some guys on the team, and others I don't know at all, which I'll respectively try to build on and cultivate. But I'm not going to try and re-invent the wheel. I'm going to try and be my best self to try and help each player reach his goal and the Lakers reach the ultimate goal as a team in winning a title.
MT: How would you describe Mike D'Antoni and his system?
Madsen: My interactions with Mike have been great. He places a really high value on helping players develop their own skill set. Last week, we were brainstorming about the players we have coming in and how we can help them. Now, coming in and learning his system … it's a phenomenal system, and it reminds me a lot of the triangle. It really puts a premium on spacing, unselfishness and ball movement, and it allows the players to express their own individual talents and gifts. It's all about how players read and react out of an organized system. I like that, because that's how the triangle was, and that's how the Jerry Sloan system was that we ran in Utah's D-League affiliate when I coached there. The triangle and Mike's system are totally different, don't get me wrong, but there are a lot of similarities in the principles. There is the ability for the player with the ball to make the read himself within the construct of the system.
MT: On the other hand, the Clippers didn't seem to run much other than Chris Paul screen-roll last season, and that was snuffed out in the playoffs.
Madsen: Exactly, because there are ways to combat that. I like systems, because otherwise players can turn into robots, and you never want that.
MT: Last topic: does anybody in the NBA dislike you?
Madsen: I think any time you're in a league that's highly-competitive...
MT: Hey, elbowing somebody for a rebound doesn't count. You have to admit that getting along with people is a Mad Dog strength...
Madsen: It may be a strength, but everyone has people and situations that are ideal, and those that aren't. You do your best in all cases, but I feel very fortunate to have been around some great people in the past.
MT: Come on, just say it: everyone likes me.
Madsen: I wish I could say that!