Jordan Week
Welcome to Jordan Week
As the NBA descends into Charlotte for All-Star 2019, we pay homage to Charlotte Hornets owner and NBA legend Michael Jordan.
* * *
Why We Celebrate MJ
There's Michael Jackson and the Moonwalk. Prince and the color purple. And then there's Michael Jordan and the No. 23. Man can't fly, you say? Jordan forced you to reconsider. Before Jordan, shoes weren't nearly as important as the game that you brought to the floor. Not anymore. He even helped defeat the Monstars. This is Michael Jordan — the G.O.A.T.
* * *
Where It All Started
Every story has a beginning. For Jordan, the dawning of his basketball love story launched in his hometown of Wilmington, North Carolina.
* * *
A Laney Star In Her Own Right
Jordan has been the alumni face of Wilmington's Laney High School for decades. But his jersey isn't alone in the rafters of his old gym. WNBA veteran Tamera Young had a stellar career for the Bucs too, and she talks to Sekou Smith about following in Jordan's Wilmington footsteps.
* * *
The Start Of Something Big
Since it's debut in 1985, the Air Jordan has become an unmatched global phenomenon. Shaun Powell reveals how All-Star weekend during Jordan's rookie season served as an official coming-out party for not only Jordan the player, but Jordan the sneaker pitch man as well.
* * *
The Trophy Room
In Orlando, there's a store geared specifically toward Jordan Brand products. From Air Jordan sneakers to Jordan Brand accessories, there's something for everyone in the family. And it's the family aspect that sets this store apart from the rest, because it was conceived by Jordan's son, Marcus Jordan.
* * *
Jumpman, Jumpman
During Jordan's playing career, we grew accustomed to seeing Air Jordans on his feet. These days, the Jordan Brand legacy continues to thrive on and off the court, on the feet of celebrities and even on football fields.
* * *
When Charlotte Took Center Stage
The NBA's All-Star festivities are returning to Charlotte for the first time in nearly 30 years. Shaun Powell revisits the scene from 1991 and explains how the city has grown since it's first go-round with hosting All-Star weekend.
* * *
'They Gave Him A 50!'
The free-throw dunk was originally made famous by Julius Erving in the 1976 ABA Dunk Contest. Then Jordan came along and pulled it off not once, not twice, but three times in iconic fashion. Which edition was the best — '85, '87 or '88? The Starters settle the score once and for all.
* * *
Made For All-Star Spotlight
Jordan was a 14-time All-Star and left behind countless memories from the NBA's star-studded weekend. The Starters narrowed their favorite MJ All-Star moments down to 10. Here's what they came up with.
* * *
Coming Back Home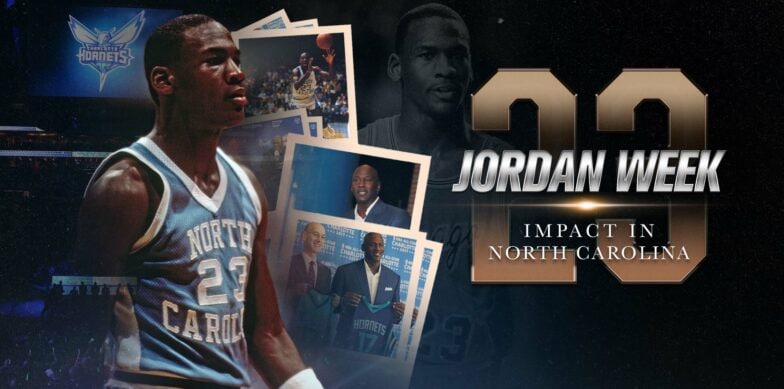 When Jordan became the owner of the Hornets in 2010, it gave him the opportunity to connect with the North Carolina community once again. Steve Aschburner explains what his presence and commitment to philanthropy has meant to North Carolinians since his return to his home state.
* * *