The Miami HEAT host the Charlotte Hornets in their home opener Saturday night at AmericanAirlines Arena. Get your tickets now! Tip-off is set for 8:00 PM, and television coverage is on FOX Sports Sun. You can also listen to the action live on 790 The Ticket.
1: What from Miami's last-second victory in Washington do you think can sustain throughout the season?
Couper Moorhead: Having Rodney McGruder and Derrick Jones Jr. both set career-highs in scoring was certainly fun and it's worth noting that following last season we're two games in and both games have been tight, last-second affairs. But it's Josh Richardson's early performance that could have the most lasting impact on the team's season.
Richardson set a career-high with 21 attempts on Wednesday and followed that up with another 21 shots Thursday. The 25-year-old has looked more aggressive than he ever has before, including suddenly taking pull-up threes that have kept defenses off balance. The shots might come down some as the season goes along and other players get healthy, but Richardson is expanding his game. That will come with some growing pains – Richardson would surely like to be more efficient than he has so far – but it's exactly what you want to see afforded for such a talented young player.
Joe Beguiristain: From a team-wide perspective, it's the HEAT's never-say-die attitude. After a league-leading 53 clutch games last year and two more to start this season (clutch games are defined by the NBA as a game within five points in the last five minutes), it's clear that Miami has been battle tested. Despite being in raucous environments for Orlando and Washington's home openers, the HEAT continued to show mental toughness and never lost their composure.
That definitely rang true for Josh Richardson, who rectified his mistake against the Magic on Wednesday and led Miami with 28 points (including 13 in the fourth on 4-of-7 shooting) versus the Wizards to give his team its first win of the season. And as Coup mentioned above, Richardson's assertive approach (primarily off the bounce) has been quite impressive to watch. Then again, he's also dug in defensively against the opposition's most potent threat. So on Thursday, that meant zeroing-in on John Wall down the stretch.
Talk about getting the job done on both ends of the floor.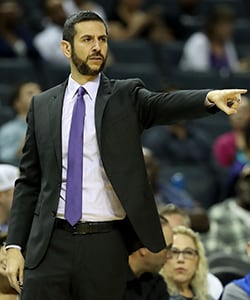 Couper: The most notable one is that James Borrego has taken over as head coach now that Steve Clifford is in Orlando. We'll see how that ultimately affects Charlotte's play style, but the Hornets current roster might be the closest the franchise has come to the team that won 48 games three years ago. With Cody Zeller back starting at center – a look that has always produced good results – and a bench full of a diverse set of capable players, including Tony Parker on his first non-Spurs team ever, this is a versatile Charlotte team with a good balance of players who have been together for years and new injections of talent to keep things fresh. They may have missed the playoffs for a couple of years in a row, but this isn't a team to take lightly.
Joe: With James Borrego now at the helm, the Hornets will likely play faster than they did a year ago. And for a team that has relied on Kemba Walker so much in the pick-and-roll (and rightfully so, given his 1.03 points per possession in those situations last year), getting easy buckets in transition from time to time should make his life a little easier. Not to mention, Borrego's philosophy should also work for Cody Zeller, who runs the floor pretty well, and newcomer Miles Bridges, who can really do damage in transition.
Like Coup mentioned above, Charlotte has a good mix of young guys and vets that could make things tough for opposing teams. We'll see how it all works out.
3: We know about Kemba Walker, but are there any other Hornets the HEAT will have to watch out for?
Couper: You will probably hear plenty about Miles Bridges in the coming months, as it appears the rookie is poised to make a little noise for himself as part of Charlotte's rotation, but it's last season's rookie, Malik Monk, who might be the most immediate threat. Monk spent much of his rookie year injured and never appeared to get into any real groove or rhythm. But in Charlotte's opener on Wednesday he took the second-most shots on the team behind Walker and played 34 minutes. Clearly, he's going to be a factor.
Monk's skillset isn't too different from that of a younger Jamal Crawford. He's capable of pulling up from just about anywhere, which means he's going to take advantage of any defensive cushion Miami affords him. And that's really all there is to it. Monk is the sort of player you have to be constantly aware of.
Joe: In addition to Walker and Malik Monk, Miami also has to be way of Tony Parker. Although Parker did a nice job of leading Charlotte's second unit in its season opener on Wednesday, the 36-year-old also played alongside Walker at times. Regardless of who he was with, Parker ran the pick-and-roll with ease and set up his teammates very well. In fact, the former Spur led the Hornets with seven assists against the Bucks.
Other than Parker, another guy the HEAT need to keep tabs on is Bridges. As I mentioned in my second response, Bridges likes to get out in transition and knows how to get to his spots on the floor. As the rookie gains more experience, he should become even more dangerous.
The HEAT and Hornets both enter the contest at 1-1.
Miami has won six straight against Charlotte.
Justise Winslow (Right Hamstring Tightness), James Johnson (Sports Hernia Surgery) and Dion Waiters (Left Ankle Surgery) are out. Wayne Ellington (Left Ankle Soreness) will be active, but is doubtful to play.
HEAT Offense: 102.9 (22)
HEAT Defense: 103.3 (10)
Hornets Offense: 111.0 (12)
Hornets Defense: 96.6 (2)