In an NBA era where everyone has to be able to shoot, this is not the year you're going to find a lot of wings who can light it up.
That doesn't mean there aren't good forward prospects in this year's Draft. There are, including a key member of the national champion Villanova Wildcats, yet another prominent Spartan Dog and a couple of European wings that can shoot. But there isn't the sure-fire, no-doubt top three guy available at the three and four this year.
Again, a change this year: instead of doing five positions — point guard, shooting guard, small forward, power forward, center — we're just doing three: guards, wings and bigs.
* More DA Big Boards: Guards | Big men
* * *
A note on the rankings:
This is not a predictor of when these players will be taken. These rankings, based on discussions with dozens of NBA and college coaches, and NBA college scouts and team executives, address the question of how ready players are to play the position which they are assigned: In other words, if there was a game tonight, who would play better at that position tonight, not in three years.
We include underclassmen that are expected to declare for the Draft, or are at least thinking strongly about it. No one who hasn't thought about declaring is going to be swayed by seeing his name on a Draft board. So we include everyone. Players have until April 22 to enter the Draft.
Players are listed at the position at which NBA people believe they'll play as pros.
Players who declare for the Draft have until June 11 — 10 days before the June 21 Draft — to pull out, as long as they don't sign with an agent. This rule was instituted last year to give players more time to make a more informed decision about their potential Draft status after talking with and working out for NBA teams at the Combine in Chicago, which will run May 16-20.
Again: This is not a mock Draft. No one has any idea what will happen between now and June 21; we don't know if there will be a major injury that will impact what a team wants or needs. What follows is a rough consensus of what NBA personnel people, GMs and coaches, and college coaches that I trust — and that, obviously, can't be quoted by name — believe is the pro potential for this year's crop of college and international players.
"In The Mix" will refer to players who have a good chance to be drafted, probably in the second round.
• If a player is not invited to the Combine, his height and weight will be his listed one from his school and/or his pro team if he's an international prospect.
* * *
David Aldridge's Big Board 2018: Wings
Rank | Name | School/Team | Class/Age | HT | WT > Projected
1. Michael Porter, Jr. | Missouri | Freshman | 6-10 | 215 | Mid-Lottery
2. Mikal Bridges | Villanova | Junior | 6-7 | 210 | Mid-Late Lottery
3. Miles Bridges | Michigan State | Sophomore | 6-7 | 215 | Late Lottery
4. Kevin Knox | Kentucky | Freshman | 6-9 | 215 | Late Lottery
5. Chandler Hutchison | Boise State | Senior | 6-7 | 197 | Late first round
6. Dzanan Musa | Cedevita | 18 | 6-6 | 195 | Late first round
7. Keita Bates-Diop | Ohio State | Junior | 6-7 | 235 | Late first round
8. Melvin Frazier | Tulane | Junior | 6-6 | 200 | Early Second round
9. Isaac Bonga | Fraport (Germany) | 18 | 6-9 | 194 | Second round
10. Arnoldas Kulboka | Orlando (Italy) | 20 | 6-9 | 209 | Second round
11. Jarred Vanderbilt | Kentucky | Freshman | 6-9 | 214 | Second Round
12. Rodions Kurucs | FC Barcelona | 20 | 6-9 | 220 | Second round
13. Kenrich Williams | TCU | Senior | 6-7 | 210 | Second round
14. Kevin Hervey | Texas-Arlington | Senior | 6-8 | 212 | Second Round
15. Svi Mykhailiuk | Kansas | Senior | 6-8 | 205 | Second round
IN THE MIX: D.J. Hogg (JR), 6-9, 215, Texas A&M; Vincent Edwards, 6-8, 225, Purdue; George King, Colorado, 6-6, 219; MiKyle McIntosh, 6-7, 240, Oregon; Justin Jackson (SO), 6-7, 229, Maryland
* * *
Talented Porter Jr. a wildcard prospect
Three games, 53 minutes.
That's the whole body of work for Missouri freshman Michael Porter, Jr., in his one season of college ball. Out of action for almost all season following back surgery, Porter's situation is somewhat analogous to Boston Celtics All-Star guard Kyrie Irving. Irving played just 11 games total for Duke in his one college season after suffering a right toe injury before declaring for the Draft in 2011. But Irving still went No. 1 overall, to the Cleveland Cavaliers, a toe being a lot less stress inducing to NBA teams than a back.
Porter's injury and absence has cost him a shot at a potential No. 1 selection in the Draft, though he won't fall out of the top 10. The question is where he winds up.
Teams will no doubt fall back on what they thought of Porter when he was the top recruit in the country just two years ago, helping lead the U.S. team to a win in the Nike Hoop Summit after being MVP of the McDonald's All-America Game in 2017.
He originally committed to play for Lorenzo Romar at the University of Washington, but after Romar was fired Porter decommitted and soon signed with Missouri, where his father, Michael Porter, Sr., had returned — Porter, Sr., had been an assistant coach on Mizzou's women's team, where his two daughters played, but had left to take an assistant's job at Washington with Romar, an old friend, and to be near his son.
He can pass and dribble. And he already has the stroke. History tells you your shot is only going to get better in the pros."

Southeast Division team executive, on Michael Porter Jr.
After Romar was fired, Porter, Sr., went back to Missouri for an assistant's job under new Tigers coach Cuonzo Martin. Soon after, Michael, Jr., and another talented son, Jontay, committed to Missouri. So that makes two sons, two daughters and one father on one school's teams.
(It's big-time college basketball, folks. Stuff like this happens all the time.)
Anyway, Michael, Jr., returned after four months after the microdiscectomy, which repaired his L3 and L4 verterbrae, to play in the NCAA Tournament. Understandably, he was rusty, making just 9 of 29 shots in two games, and the Tigers went out in the first round to Florida State. But that did nothing to impact Porter's standing as a potential pro.
NBA people will want to see Porter's medicals in Chicago at the pre-Draft camp. The question is whether they will get them. They know that Porter almost surely won't participate in drills or workouts, though he could hold individual meetings with a handful of the highest teams in the Lottery.
"You would think they'd share medicals with teams in the top five," a Southeast Division executive said. "That's probably his basement. If he was healthy, he could be 1-2. It's going to come down to the medical. When he came back he was rusty. He was still able to show teams he was healthy enough to play. The rust is going to wear off. He's too young for the rust not to wear off. The basketball piece will be just fine. He should be able to play in Summer League."
For teams in the top half of the Lottery, pulling the trigger on Porter will not be a no-brainer.
"From a basketball standpoint alone, based on his college career, you'd have to be clairvoyant to figure this kid out," a Southwest Division exec said. "There was nothing in those two (post-surgery) games. Can you see he's six nine, and can shoot it? Of course. But he wasn't athletic in those games. The doctors and the experts on the back are going to be crucial in figuring this kid out. Having said that, how far is he going to fall? Is he going to be four to nine?"
Porter is not a great athlete. But his ability to shoot at his size is going to be hard to pass on.
"The way the game is played right now, he does the stuff that clubs like who are successful," the Southeast exec said. "That's kind of where the game is. Everybody's not going to be a talent like (Joel) Embiid or Ben Simmons who dominate the game in other ways. The game is on the perimeter, and he has perimeter skills. He can pass and dribble. And he already has the stroke. History tells you your shot is only going to get better in the pros."
Defensively, opponents will no doubt go at Porter to see if he can move laterally. Yet those who champion him are willing to give him the benefit of the doubt.
"Guarding is just about what's in a person's heart," the Southeast exec said. "If he's tough, he'll figure it out. Defense is a team concept. You can think I have this great guy like Tony Allen, but if Tony Allen knows the other four guys aren't going to cover his butt if he gets beat, it's a team concept. If he goes to a team with good defensive principles, he'll figure it out."
Villanova's Bridges a Kawhi in waiting?
There are, by contrast, very few questions about Mikal Bridges, who has been a favorite of many regardless of their current Draft position. The all-Big East first team selection showed significant two-way ability in helping Villanova to the title; he finished third in the Big East in steals (1.3) last season, but was also a force at the offensive end: per sports-reference.com, Bridges was third nationally in win shares (7.7), eighth in the country in offensive rating (132.5) and 18th in 3-point percentage (.435).
With two championships in three seasons at Villanova, and being a key contributor to the second, Bridges has a lot of fans at the next level.
"The kid at Villanova is, perhaps, among the best two-way players in the Draft," another Southeast Division executive said. "He guards multiple positions, while having the capacity to drop 22 points, too. Dare I say, think Kawhi Leonard. The knock on Kawhi Leonard when he first came out of school was he couldn't shoot, and wasn't that athletic. He didn't have an explosive jump. Now, he is incredibly long, but this kid has that same type of length, and he's got some hops."
There, Bridges played very much a team game, where everyone shared the ball. The alpha male was point guard Jalen Brunson. When Bridges gets to the NBA, scouts will want to see if he can assume a similar kind of role on his new team.
"He was on a great team, so he had to fit in," one scout said. "He can shoot it. Now he's showing I can coexist with other great players. You've got (Donte) DiVincenzo. You've got Brunson. When he gets to the next level, who knows if he becomes an All-Star? But he showed he could co-exist with the national player of the year. He's not going to do something he's not capable of doing. And he's not afraid. He can lock a guy down if he needs to. He can make a shot. He can stretch the floor."
From a cap standpoint, from a team standpoint, front office, it's great to get that kind of value with one player … if you can get a guy who can play both sides of the ball and play multiple positions, that's hard to find."

Pacific Division executive, on Mikal Bridges
Mikal Bridges also has a sterling reputation, on and off the floor, that will make whoever takes him very comfortable bringing him in to meet the local media.
"What NBA teams are salivating in with him is any time you can have versatility, where a guy can play two positions." a Pacific Division executive said. "This kid can, I think, eventually play three positions and he can play both sides of the ball. From a cap standpoint, from a team standpoint, front office, it's great to get that kind of value with one player … if you can get a guy who can play both sides of the ball and play multiple positions, that's hard to find. That's great. Big fan. Big fan of Mikal Bridges."
Has Spartans' Bridges leveled off?
Another Bridges, Michigan State sophomore Miles Bridges, will also likely be in the Lottery, though it will be a few places below Mikal Bridges. The first team all-Big 10 selection averaged 17 points and 7 rebounds a game for the Spartans and was a finalist for the Wooden Award. But there are questions about where he will play in the pros.
"What position is he?," one executive asked. "He thinks he's a three. I don't think he's quick enough to guard people on the perimeter level, so he's going to be one of those bastard fours. But that's okay. Bastard fours are in these days. His progress sort of plateaued this year. He didn't keep developing."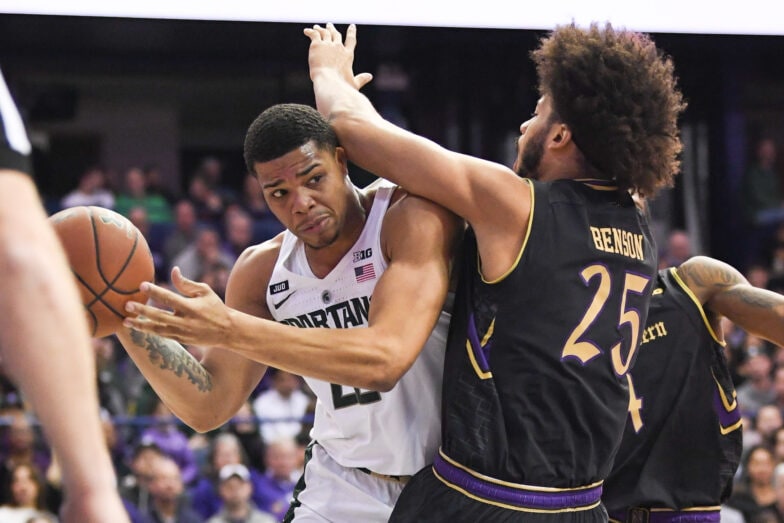 Miles Bridges played power forward as a freshman, but when he pulled his name out of the Draft last year and returned to East Lansing, he played the three next to the Spartans' two big men, sophomore Nick Ward and freshman Jaren Jackson, Jr.
Miles Bridges got props from scouts for remaking his body and getting leaner his second year in college, though one scout says that he runs up on his toes, making balance and lateral movement more difficult. Bridges' 3-point percentage went down to 36 percent from 39 percent as a freshman (though, in fairness, his free throw percentage shot way up — from 69 percent as a freshman to 85 percent as a sophomore). His ability to shoot the ball with range will be the next test for him on offense.
Defensively, he's going to have to show he can guard in space.
"At the next level, when they play him on (Washington Wizards forward) Otto Porter, Otto's going to stretch him," one executive said. "He's not used to playing perimeter defense. He would start at the three but he'd finish at the four."
But, as ever with those who learn from Michigan State coach Tom Izzo, Miles Bridges will compete — "I think he's tough as nails," one admirer said.
"The size will be a factor," the admirer continued, "but if he becomes a knockdown shooter he'll be able to put the ball on the floor and take (a defender) off the dribble. I don't see him being able to do that against threes. I think he might be able to do it against fours. But, in three or four years, are we going to say he was underdrafted? Maybe."
Hutchison's court vision impresses
Boise State's Chandler Hutchison may not be the household name of some of the other prospects, but he's got first-round level talent. And, he could be in the mix anywhere from after the Lottery to the end of the first round.
At 6-foot-7 and 197 pounds 197, Hutchison isn't going to blow anyone away physically. But he nonetheless thrived as the Broncos' primary scoring threat and the chief subject of every opponents' scouting report. The senior and first team all-Mountain West selection averaged 20 points, 7.7 rebounds and 3.5 assists for Boise State, which finished second in the MWC but was upset in the opening round of the conference tournament, leading to an NIT berth.
"Hutchison is a San Diego kid (he played high school an hour north in Mission Viejo) who obviously has gotten better," a Northwest Division executive said. "He's really good with the ball. His ball skills are really good. The transition for him has been interesting. He can really handle it and he sees it pretty well, which you don't see from that 5/4 who's trying to be a three.
"He's long. He's a good athlete — not an F-you athlete, but he's more than capable. The question will be how consistently he shoots it. I saw him one game and he had a (44) point night (against San Diego State) and he made seven threes. I saw him in the tournament and he couldn't throw the ball in the ocean. You just hope he's somewhere in between. If he's 35 percent on threes you're like, okay, because he can do so many of the other things. If he's 32, then you have some pause, because he's your wing shooter who can't make enough shots."
Can play multiple positions, Good athleticism. He's a slasher/scorer, very good in transition and has good ability to get to the rim and finish well."

Opposing NCAA coach, on Chandler Hutchison
But, of course, if there's one thing players tend to get better at with practice, it's shoot the ball. Jayson Tatum shot 34 percent on 3-pointers in his one season at Duke. This season, he shot 43.4 percent on 3-pointers. As long as Hutchison gets in a gym this summer and makes the requisite 500 shots a day, many NBA types think he'll wind up being a pretty good pro.
Hutchison is that rare entity as well entering the Draft — a senior. The NBA is one of the few places on earth that someone who will turn 22 this week could be considered "old." But, there it is. It isn't held against him, though; he plays hard and handled himself well in college.
"He's got good size and good length," said a college coach whose team played against Hutchison and Boise State this season. "Can play multiple positions, Good athleticism. He's a slasher/scorer, very good in transition and has good ability to get to the rim and finish well. He needs to improve his ability to consistency knock down the perimeter shots from two- and three-point land.
Another college coach that played against Hutchison and Boise State said he was "phenomenal in transition" and can rebound and pass well, but was inconsistent and needs to improve his defense.
"That might have been his role because I think he's a good kid," the coach said. "But he definitely got better and better and better. They don't run that much. They're selective running. So I actually think the NBA style will help his game."
Motivation, not talent, a question for Knox
Kentucky freshman Kevin Knox is not quite as polished as most freshmen from that school, and he's certainly not expected to be a high Lottery pick, as many have been over the years. But, he's 18, he's 6-foot-9, he started 37 games for Kentucky coach John Calipari, showed potential as a perimeter threat and was an all-SEC freshmen team selection.
"You go back to a year prior and knowing who he is as a player," one executive said. "I think he can catch and shoot it with range. He's a guy who can get out on the wing. His athleticism is pretty good. He can finish above the rim. A guy like Knox, he could be a small forward on draft day and two years from now he could just be a forward, like the two guys in Boston. Who's the power forward? Jayson (Tatum)? It's the way the game is going. You've got interchangeable pieces."
He had some big moments: 34 points in a big road win at West Virginia in January; 25 points and six rebounds in the Wildcats' first-round win in the NCAA Tournament over Davidson. And Kentucky got better as the season went on. Knox was part of the reason why.
"If you watch him a lot, he's scored in a lot of ways," a Western Conference executive said. "That's all a positive. Don't know the kid, but the one thing I see is that Cal rides him hard. There's no question Cal sees the talent in the kid and wants it to come out. But does Cal think he needs to ride him and push him hard because he isn't a self-starter? I'm really curious about the makeup."
Another Western Conference executive offered similar concerns about Knox's toughness level.
"Physically, he's not an in your face type of player," the executive said. "He's not going to initiate things … but with his ability to stretch the floor and willingness to shoot the deep shot, he'll have a good career."
Physical qualities a concern for Musa
Bosnian Dzanan Musa has been high in many mock drafts. The 18-year-old is playing for Cedevita in the Croatian League, one of the better pro leagues in Europe. He's had some strong offensive performances this season, including 26 points for his native country against Russia in February. He's got unusual offensive creativity for his age and level of experience.
But Musa's physical stature raises many questions among NBA types. Cedevita listed him at 6-foot-6 and 195 pounds, but he doesn't appear very strong or able to take a pounding.
"Musa, physically is a mess," a Central Division executive said. "He will be tested defensively as he has to guard physical, athletic wings in the NBA. But, he has shown that he can put the ball in the basket versus average European talent."
He doesn't stand up straight. He doesn't have his shoulders back like most of us. He doesn't have lung capacity. When you watch him, he gets tired quick."

Western Conference executive, on Dzanan Musa
A Western Conference executive wonders if Musa will be able to get up and down the floor in the NBA without getting winded.
"He's got basically, his shoulders, his chest, he doesn't have a chest," the executive said. "His shoulders are kind of caved and his back is arched. From a physical standpoint, he's hunched over … he's all length, all arms. He doesn't stand up straight. He doesn't have his shoulders back like most of us. He doesn't have lung capacity. When you watch him, he gets tired quick."
But another executive, from the Atlantic Division, thinks Musa will ultimately fill out and be okay "Nowadays, the NBA is so advanced," the Atlantic executive said. "His body is definitely not the strongest one but I think he should be all right … he has to be on the perimeter."
Bates-Diop could be future value pick
Ohio State's Keita Bates-Diop was the Big 10 Player of the Year, averaging 19.8 points and 8.7 rebounds. Those totals and Bates-Diop's strong body of work last season in Columbus has the redshirt junior in the mix for a first-round selection. He answered questions about his motor with a vengeance, scoring in double figures in all but two of 34 games this season, while posting 13 double-doubles.
Bates-Diop spread the pain all around the Big Ten: 32 points and seven rebounds against Michigan State; 35 points and 13 rebounds vs. Illinois; 24 points and 14 rebounds vs. Indiana; 26 points and eight rebounds against Maryland.
He had 24 points and 12 rebounds in Ohio State's first-round win in the NCAAs against South Dakota State, and in the Buckeyes' loss to Gonzaga in the next round, Bates-Diop nonetheless went for 28 points.
Shooting almost 36 percent on 3-pointers, Bates-Diop put his fingerprints on games in different ways. He might wind up being a value pick for a good (read: playoff) team selecting near the end of the first round, or moving up to get him.
"He's versatile, and finds a way to impact the game," a Central Division executive said. "Good nose for the ball and improved perimeter shooter. Average athlete but should find his way into a rotation."
Mykhailiuk an NBA-ready shooter
Kansas senior forward Svi (pronounced civi) Mykhailiuk (pronounced … oh, just listen) made himself into a pro prospect on the strength of a strong year where he finished 10th in the country in made 3-pointers (115) and 12th in 3-point percentage (.444). He made six 3-pointers against Iowa State and Oklahoma in Big 12 play this year, and five against Seton Hall in the NCAA Tournament.
Someone who can hit from deep like that will get a strong look going into the Draft.
"He improved and helped himself, but he's still pretty streaky with his impact," a Central Division exec said. "Like his size and when he makes shots he looks like an NBA player."
Said a Pacific executive: "I was tough on him over his career, but got a chance to see him again at the Big 12. My biggest problem with him is he didn't show enough quickness. And I didn't think his shooting was good enough to justify his quickness. But I think he's worked on that. I could see him playing some two guard and being able to slide over some to play some small forward."
And some notes on the others …
• German-born Isaac Bonga is just 18, but playing in the Bundesliga for the Fraport Skyliners, he's shown he can both handle and score. Against the U.S. team in the FIBA Under-19 championships last year, Bonga did nothing to embarrass himself, continuing a strong stretch that began earlier in the year when he played in the Basketball Without Borders game during NBA All-Star Weekend in New Orleans.
In Fraport, "he's getting consistent minutes," an Atlantic Division executive said. "Let's say he's 6-9, agile, not a super athlete. Not someone who's going to be explosive."
But a team taking Bonga will have to be patient.
"He's a good player, he's a good talent," a Western Conference executive said. "But like a lot of talent, you're going to have to wait. What they're trying to make him into is the next Giannis (Antetokounmpo). He's a lot like Mikal Bridges; he's all arms and legs. He's got a short torso and he's really light. With Giannis, you could tell he had a super motor. This kid's not there yet."
• Lithuanian forward Arnoldas Kulboka is playing this year for Orlando in Italy, which got his rights on loan from his German team, Brose Baskets. At 20, Kulboka, who declared for the NBA Draft last year before withdrawing, can shoot it with range right now, but his body is behind his skill set.
"He just has an ability to shoot the ball," one scout said. "When he shoots it, you think it's going to go in. His personality is a little quirky. He's a different kind of kid. He marches to a different drummer; a lot of the Lithuanians are like that. That doesn't bother me personally. What bothers me if we find out in the next 80 days if the kid has issues. If he doesn't have any friends on the team (as an example). As far as talent, I think a lot of people are missing on him. I think he could be a Peja (Stojakovic) type of shooter. If you played a game of HORSE with international players, this might be the first guy you pick."
• Tulane junior Melvin Frazier projects as a 3-and-D guy in the NBA, after being named Most Improved Player in the American Athletic Conference. Frazier was a second team all-AAC selection as well, shooting 56 percent from the floor and almost 39 percent on threes. Scouts like his potential as a defender and his willingness to guard; he has quick feet and length to close out strong to shooters.
• Latvian Rodions Kurucs will again declare for the Draft after pulling out last year. He's on the Spanish power FC Barcelona team, but not getting the minutes and opportunities NBA scouts would like to see him receive after playing for Barcelona's B team, Lassa, last year. "I don't know if they're super happy with him," one scout said. But Kurucs is 6-9 and may grow a little more. His ability to score and position versatility will intrigue, but he still has a year left on his contract with Barcelona, and he's already had two knee injuries.
* * *
Longtime NBA reporter, columnist and Naismith Memorial Basketball Hall of Famer David Aldridge is an analyst for TNT. You can e-mail him here, find his archive here and follow him on Twitter.
The views on this page do not necessarily reflect the views of the NBA, its clubs or Turner Broadcasting.