Welcome to the MGM Resorts Winter Showcase in Las Vegas, where every G League team converges under one roof to play in front of general managers and player personnel executives from all 30 NBA organizations.
This year's Showcase, the G League's annual in-season scouting event, spans 27 games over four days at the Mandalay Bay Convention Center. Previous hosts include Mississauga, Ont., Santa Cruz, Calif., Reno, Nev., Columbus, Ga., Fayetteville, N.C., Sioux Falls, S.D., Boise, Idaho and South Padre Island, Texas.
In partnership with OGIO, the LA and Agua Caliente Clippers' supplier of high-performance travel gear, we're giving an all-access pass to The Showcase.
One of the marquee names in Las Vegas was Clippers two-way player Johnathan Motley, who leads Agua Caliente with 26.5 points per game on 57.8 percent shooting, along with 11.4 rebounds, and 3.2 assists. Heading into the Showcase, he was the only player in the G League averaging more than 25 points, 10 rebounds and three assists, and had been named Player of the Week twice.
Look no further than the bench for an indication of how a team is faring... The Clippers sank 16 threes in their Showcase-opening victory over the Grand Rapids Drive, the Detroit Pistons' affiliate.
As a senior at Seton Hall, Angel Delgado led all major college players in rebounding, and as a G League rookie, he has remained in the top five on the glass. Angel's coach, former Clipper and fellow Big East alum Zendon Hamilton, congratulates him on another strong effort: 17 points and a game-high 14 boards in the 110-94 win.
No matter the sport or the level, if there is a locker-room food spread, you're likely to find peanut butter, jelly and bananas. Here, former Southern Illinois Saluki Evan Taylor spreads himself a PB&J for a post-game snack.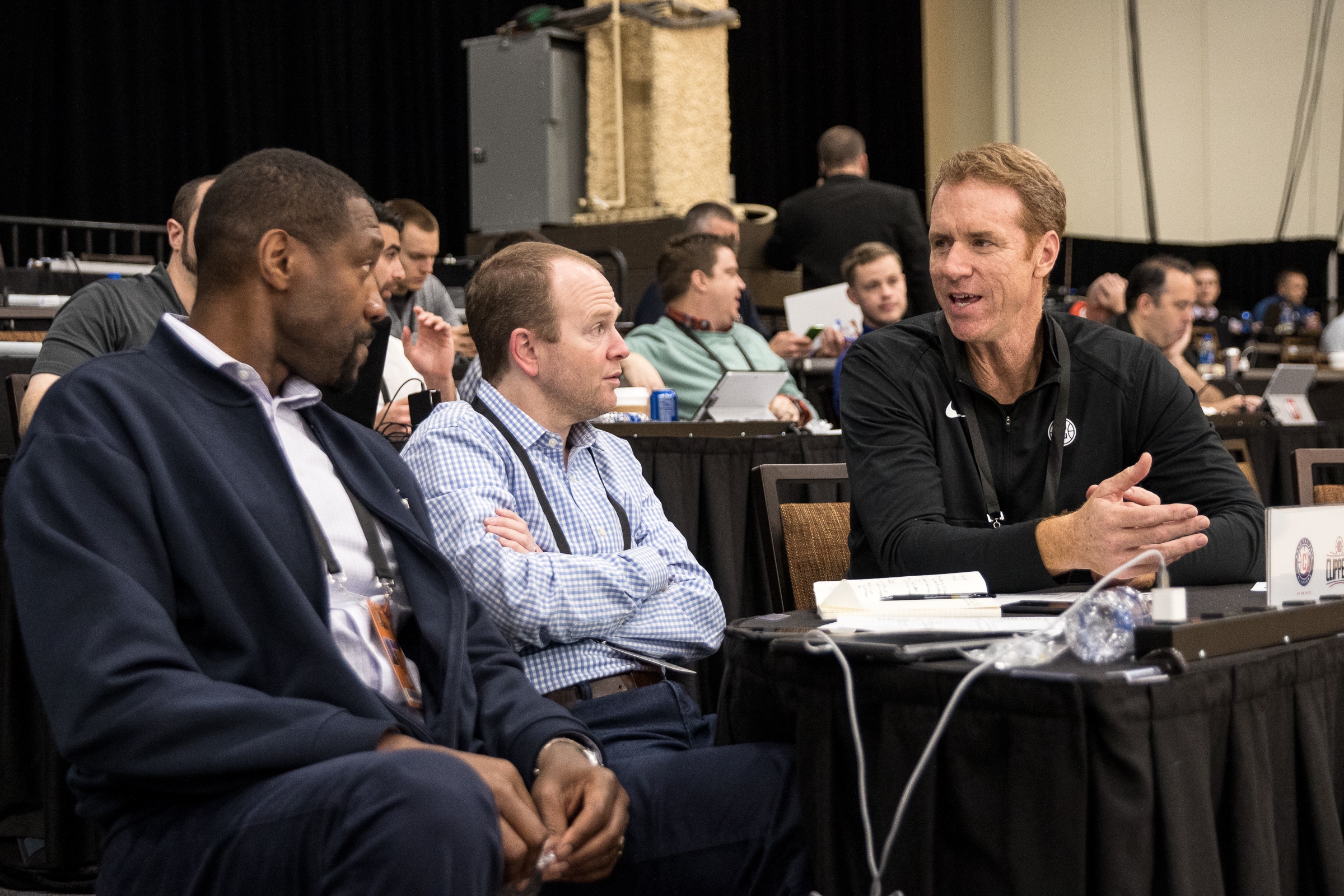 For the first time, the Showcase is held in December, allowing NBA team personnel the opportunity to evaluate players in advance of the 10-day signing period (starting January 5th) and two-way guarantee deadline (January 15th). The G League has become a springboard for players hoping to reach the next level, with 40 percent of NBA players currently boasting minor league experience. More than 60 players have earned NBA contracts during or immediately following the last 14 events – including 11 last year– making the event a premium destination for executives like Mark Hughes (Clippers Assistant General Manager), Lawrence Frank (President of Basketball Operations), and Johnny Rogers (Director of Pro Player Personnel).
The G League has proven to be a breeding ground for talent off the court as well. Dee Brown, speaking here with NBA Entertainment, might be known around the globe as a high-flyer and 12-year NBA vet who won the 1991 Slam Dunk Contest, but the Agua Caliente Clippers General Manager has been working in the G League since 2009.
The Clippers unpack road jerseys from their OGIO Terminal Travel Bag bag for their second Showcase matchup, against the Capital City Go-Go, the Washington Wizards' first-year affiliate.
With 27 teams in the building, staff has to get creative with space. Here, Head Athletic Trainer Colby Claridy prepares Anthony Bennett to take the court for Game 2 in a makeshift training room.
The Showcase brings Bennett back to Las Vegas, where he played high school ball at Findlay Prep. To his right is Jordan McRae, who has played in 66 NBA games for three different teams, winning a championship with the Cavaliers… the same franchise that selected Bennett with the first overall pick in the 2013 Draft. These two take a moment to smile as they continue to pursue their NBA dreams.
Like so many others at the Showcase, Brian Adams is dedicated to the grind. A tireless worker who started as a member of Doc Rivers' video staff in Boston and is now the Agua Caliente Head Coach, he takes great pride in developing his players for future success. "We have to run a system that mirrors that of our big-league club, so when guys do get the opportunity to come up via two-ways or call-ups, they can jump right in," said Adams. "I've seen a lot of players come through Doc's system. He's utilized a wide array of sets and concepts to put those players in a position to succeed and to play to their strengths, so I've got a vast library of his stuff that I can utilize for our personnel."
After four action-packed days, the Showcase comes to a close, with the Clippers splitting their two games. Many players will receive potentially life-changing opportunities in the coming days. They are forging their own paths, hoping to follow in the footsteps of past standouts such as Patrick Beverley and Rudy Gobert, Hassan Whiteside and Clint Capela, Robert Covington and Jeremy Lin, Seth Curry and JJ Barea.