NEW YORK – Rajon Rondo used Boston's morning shootaround on Tuesday to address the media for just the second time this season. He spoke about his rehabilitation from a torn right ACL, as well as the Celtics' development as a team this season.
Rondo last addressed the media on Oct. 23, when he said that he had just been fitted for his first knee brace and predicted that he would be cleared for contact shortly thereafter.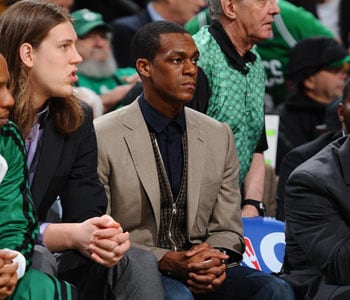 Rajon Rondo is inching closer to joining his teammates on the court, rather than the bench.
Brian Babineau/NBAE/Getty Images
Ever since that date, Rondo has kept the world in the dark when it comes to media availability. We have seen him on the court participating in drills and playing against teammates, but we haven't been able to ask him about his progress. That changed today when he gave reporters a few minutes of his time.
"I'm confident, but like I said, I haven't practiced or anything so it's hard to say," Rondo explained when discussing his confidence level. "One-on-one is different than actually going through picks, hitting the floor, playing 5-on-5, getting back in transition, making quick moves without thinking about it. It's different, so I haven't done that yet."
Rondo did say that he has not yet dunked a basketball, which was a huge hurdle for Derrick Rose, who also tore his ACL. It sounds as if the point guard still has a few critical steps to take before returning to the lineup, and he says he'll take his time in taking those steps.
"It's a long process," he said. "Some days are better than others, but I'm patient and I'm not going to rush."
In the meantime, he'll have the opportunity to watch his teammates continue to grow on the floor. Rondo also spoke this morning about the development of the Celtics, who have won six of their last eight games and lead the Atlantic Division heading into tonight's game.
"I think it's pretty much night and day," Rondo said of the current Celtics compared to the version from two months ago. "I think now we're in a good groove. Guys are playing for one another, making the extra pass, defensively helping a lot more. I think that's the key to our success so far right now."
Rondo went on to explain exactly why it is so important for the Celtics to play team basketball.
"The way the team is playing now, it's hard to scout our team, because it's not just one guy doing all the scoring," he said. "It's a collective effort, a group of guys, five or six guys in double-figures each night."
Then he threw a curveball at the media by comparing the Celtics to the Eastern Conference's best team.
"It's kind of similar, not to compare us, but the Pacers are a hard team to scout," said Rondo. "They have five guys every night scoring double-figures, so the way we're playing right now, we're in a good rhythm."
The man who has kept the Celtics in a good rhythm is Jordan Crawford. Crawford is filling in for Rondo at the starting point guard position, and he was just named the Eastern Conference Player of the Week on Monday. Rondo couldn't say enough good things about Crawford when he was asked about No. 27's progression.
"He's coming along extremely well," Rondo said. "A lot of people probably had negative things to say about Jordan at the beginning of the year, but he's been nothing but a great teammate. Guys like playing with him. He's leading this team right now. He's the starting point guard and he's doing what he has to do to make things go."
The Celtics are currently going better than they have all season long. They head into tonight's contest against the Nets looking for their fourth consecutive win.
Rondo will be able to watch the action from his familiar spot on the bench. He'll be in street clothes cheering his teammates on and coaching them on the bench.
No one knows when those street clothes will turn into a game uniform, but a trend might help us figure that out. This is the second time Rondo has addressed the media this season, and both of those occasions came on a day in which the Celtics played the Nets. Maybe Rondo will make it 3-for-3, and next time as an active player, when Boston hosts Brooklyn on Jan. 26.