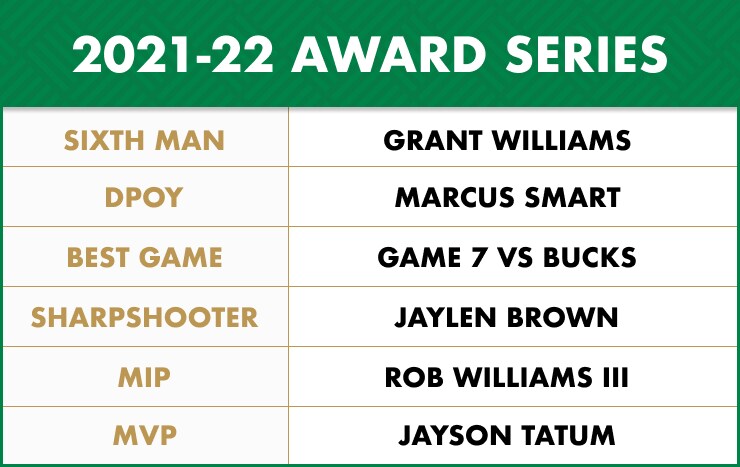 It's awards season at Celtics.com! We're handing out six awards over the next week as we roll through this year's Celtics.com Awards Series. We may not have trophies or acceptance speeches, but we do have some top-flight Celtics performances to outline. Here we go...
We're wrapping up our 2022 Awards Series today with our most prominent recognition. For the third straight year, the team's Most Valuable Player award belongs to Jayson Tatum.
For the fifth straight season, Tatum increased both his production and his role with the Celtics. The 24-year-old forward produced career-highs of 26.9 points, 8.0 rebounds, and 4.4 assists per game during the regular season. He grew as a vocal leader in the locker room. And he helped to carry Boston deeper into the playoffs than it had gone in more than a decade, while leading the postseason in total points and assists.
This was a year in which Tatum transitioned from being a perennial All-Star to a legitimate league MVP candidate, and arguably one of the top five players in the entire NBA.
The 2021-22 season was the biggest test of Tatum's career after the Celtics struggled out of the gates to a mediocre start. In mid-January, Boston owned a 23-24 record and Tatum hadn't been totally himself either, posting shooting percentages of 41.6 percent from the field and 31.1 percent from long range up to that point.
Then on Jan. 24 against Washington, Tatum erupted for 51 points, 10 rebounds and seven assists in a 29-point win over Washington, bringing the Celtics back to .500. It was the turning point of the season, and they never looked back from there.
From that day forward, Boston went 28-7 to close out the regular season. Tatum saw his scoring average jump from 25.2 PPG to 29.1 PPG during that span, and his efficiency went up nearly 10 percentage points to 50.3 percent from the field and 40.2 percent from 3-point range.
In a make-or-break moment, Tatum showed exactly what he was made of, never doubting himself or his teammates, while encouraging them to keep fighting.
His fight was taken note of, as he finished sixth in the league's MVP voting, while also earning his first All-NBA First Team selection alongside Nikola Jokic, Giannis Antetokounmpo, Devin Booker, and Luka Doncic.
In the playoffs, Tatum took his fight to another level.
In Game 1 against Brooklyn, he delivered the first game-winning playoff buzzer beater at home in franchise history, setting the tone for a first-round sweep. He averaged 29.5 points, 7.3 rebounds, 5.0 assists, and 1.8 steals per game in that series, while helping to limit Nets superstar Kevin Durant to an uncharacteristic 38.6 percent shooting clip on the other end of the floor.
Round 2 was a tougher task for Tatum and the C's, as they took on two-time league MVP Giannis Antetokounmpo and the defending champion Milwaukee Bucks. Milwaukee took a 3-2 series lead, but Tatum kept the Celtics alive with an epic 46-point Game 6 effort on the road, before eliminating the Bucks back at home in Game 7.
In a rematch of the 2020 Eastern Conference Finals, the Celtics got their revenge over the Miami Heat in another seven-game thriller. Tatum was once again at the forefront of it all. He averaged 25.0 points, 8.3 rebounds, 5.6 assists, and 1.1 steals per game, leading him to becoming the inaugural winner of the Larry Bird Eastern Conference Finals MVP award.
Unfortunately, after leading Boston to its first Finals appearance since 2010, Tatum and the C's couldn't get the job done against the Golden State Warriors. Despite dealing with a shoulder injury, he still averaged 21.5 points, 6.8 rebounds, 7.0 assists, and 1.2 steals per game, while shooting 45.5 percent from deep in the six-game series.
Tatum ended the postseason as the league leader in total points and assists, while also finishing second in steals and sixth in both rebounds and blocks. He scored by far the most points in the regular season and playoffs combined, ending the year with 2,661 in the scoring column, which was nearly 300 more than Antetokounmpo's second-place mark of 2,382.
At just age 24, Tatum established himself as one of the best all-around players in the league, a legitimate MVP candidate, and the most valuable member of a championship contender.