By Marc D'Amico
Celtics.com
March 28, 2012
BOSTON – Two of the hottest teams in the league will collide at 7:30 p.m. tonight in TD Garden when the Boston Celtics (27-22) host the Utah Jazz (27-23).
These two teams are standing in eerily similar positions as we head into the final month of the NBA season. Both currently own the seventh seed in their respective conference and are within striking distance of a top-four seed for the playoffs. Boston is a half-game out of the fourth seed in the East, while Utah is just 1.5 games out of the fourth seed in the West.
Opponents haven't had much success against these two teams since the All-Star break; both squads have won 12 games since that break in late-February. Only one other team in the league can make that claim, and that team is the Chicago Bulls, who have won 13 and own the NBA's best record.
The Celtics head into tonight's action having won four of their last five and just swept a back-to-back against Washington and Charlotte. Neither of those teams are playoff contenders, but sweeping a back-to-back is impressive nonetheless, especially when you consider that the team accomplished the feat without the services of Ray Allen and Mickael Pietrus.
Allen has been sidelined with a sore right ankle for the past three games. Doc Rivers did say before Monday's win over the Bobcats that he was hopeful to have his Hall of Fame-bound shooting guard back in the lineup for tonight's contest.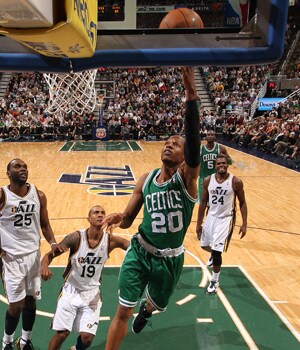 Ray Allen has missed Boston's last three games but could return to the floor tonight against Utah.Melissa Majchrzak/NBAE/Getty
Pietrus, meanwhile, is out of the lineup indefinitely. He suffered a head injury during a crash to the floor Friday night in Philadelphia and the team is taking as much time as necessary to get him back to full strength.
While both of those players were sidelined, Paul Pierce has put the team on his back. Pierce is coming off of an incredible game Monday night in Charlotte, where he stuffed the stat sheet with 36 points, 10 rebounds, four assists, three steals and three blocked shots. He hasn't put up a stat line like that in his entire career.
Pierce has scored at least 20 points and grabbed at least eight rebounds in four consecutive games. He is also shooting 55.6 percent from the field during that stretch.
Boston's captain admits that his play has been positively affected by this do-or-die stretch run of the season.
"I've really been picking up as far as just being aggressive to have the opportunities within the flow of the offense," Pierce said after Monday's win, when he attempted 18 free throws. "It's that point of the year now, we're 40 or 50 games in so it's important that I have to start getting to a comfortable flow heading into the playoffs."
Pierce may need another big performance tonight in order to help his team overcome the Jazz, who have won seven of their past eight games. Utah is coming off of a 21-point victory over the New Jersey Nets Monday night and will wrap up a quick three-game road trip on the East Coast tonight.
Utah's recent success can largely be attributed to its improved offense. It is scoring 104.4 PPG since the All-Star break, which is more than 8 PPG more than it had been scoring prior to the break. The Jazz have been shooting 46.6 percent from the field over their past 18 games thanks in large part to the performances of Al Jefferson and Paul Milsap.
Those two players lead Utah in scoring with 19.4 PPG and 16.2 PPG, respectively. They also combine for more than 18 rebounds a night. Both players are on the verge of shooting 50 percent from the field this season.
With the Jazz clicking and Boston rising, fans will certainly be in store for a fantastic matchup tonight. Both of these teams are fighting to climb up the standings, and both should bring the goods when they step onto the parquet at 7:30 p.m..
The Fight on the Glass
We all know that Boston isn't a great rebounding team. That's a fact that Rivers has addressed all season long. What Bostonians may not know, however, is that Utah is one of the top rebounding teams in the league.
Thanks to its two-headed monster of Jefferson and Millsap in the starting frontcourt, the Jazz can compete with anyone on the glass. Those two help lead Utah to the fourth-best team rebounding average in the league, at 43.6 RPG. They also have Derrick Favors, who grabs nearly six boards in just 20 minutes of action per night, coming off of the bench.
Utah is loaded with big, athletic bodies that can crash the glass. Boston is going to face a difficult challenge in competing with the Jazz in the rebounding department. Pierce, Kevin Garnett and Brandon Bass will lead the Celtics' charge in that area.
Frontcourt Matchups
We already know that these two frontcourts will be competing on the glass, but their one-on-one matchups are something to pay attention to as well.
Garnett and Jefferson, who were traded for each other in 2007 have completely different body types and games, yet they'll be going at each other at the center position tonight. KG will fire up jumpers, while Jefferson will work on the block.
On the other hand, Bass and Millsap are near replicas of each other. Both are undersized power forwards who use their athleticism and shooting to their advantage. They both possess a great mid-range game.
So we'll have two opposites face off at one position and two clones face off at another position. It should lead to some entertaining basketball.
Home Court Advantage
The Celtics recently wrapped up a difficult eight-game road trip and had a brief stop home to take on the Wizards Sunday night. During their first home game in more than two weeks, Boston clobbered Washington and led by as many as 25 points in the game.
TD Garden has been a savior for the Celtics this season. The team owns a strong 17-8 record at home, compared to just a 10-14 record on the road. Playing in the Garden is a clear advantage for this team.
Utah, on the other hand, struggles on the road. The Jazz have stumbled out to an 8-17 record away from home this season, which is the worst record of any team in the league that would currently qualify for the playoffs.