Game-Night Entertainment
LUCKY THE LEPRECHAUN
Lucky the Leprechaun has been the C's mascot for over 50 years! This atypical leprechaun loves to entertain fans at the Garden and in the community with jaw-dropping dunks and stunts.
CELTICS DANCERS
The Celtics Dancers, introduced in 2006, perform at all regular season and playoff home games. They make several appearances at community events and functions throughout the year.
INTERACTIVE PROGRAMS
Want to high five Celtics players or stand on the court during player introductions? The Celtics have several programs designed to help bring players and fans together.
GREEN TEAM PRESENTED BY NEW BALANCE
Keep your eyes open at every Celtics home game for the Green Team! Whether it's on-court stunting, T-shirt tosses or prize giveaways, the Green Team is always there to get you fired up!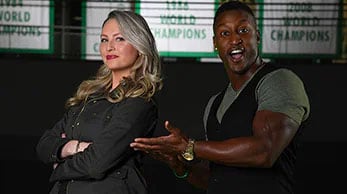 IN-ARENA HOSTS
The Celtics Entertainment hosts bring energy and personality that are an integral part of the game experience.
LIL' PHUNK
Lil' Phunk is the official Celtics junior dance troupe! Performing at about 10 games per year, Lil' Phunk earns rave reviews with their high energy dance and acrobatics.
JETBLUE FLIGHT CREW
Catch the Celtics Dunk Team, lead by the one and only Lucky the Leprechaun, throw down jaw-dropping slam-dunks throughout the Celtics home games this season!
ON-COURT PROMOTIONS
During breaks in the action the on-court fun is often just beginning. Celtics fans can win cash and prizes in a wide variety of promotions and contests at every game.