Game Summary
The Cavaliers are looking to earn a Second Round berth on Sunday afternoon as they take on the Indiana Pacers in a win-or-go-home Game 7 battle. Tipoff from The Q is at 1:00 p.m. (ET).
After falling in Game 6, the Wine & Gold are set for an exciting win-or-go-home scenario, which is the first Game 7 that the franchise has ever played in a First Round series.
CAVS TO DON BLACK JERSEYS
From where to catch all the action to Sunday's game notes, Cavs.com has you covered.
WTAM 1100, 87.7 FM La Mega
Joe G.'s guide to a victory.
Learn more about Sunday's matchup.
Join Wine & Gold Nation and get into the convo.
Great seats are still available!
Sunday's game is also Cleveland's sixth overall Game 7 in the postseason. The Wine & Gold are 3-2 all-time in Game 7s (2-0 at home), winning their most recent one, a 93-89 road victory over Golden State in the 2016 NBA Finals.
The other Game 7s in Cavaliers history are as follows: 1976 Semifinals vs. Washington (4-3), 1992 Semifinals vs. Boston (4-3), 2006 Semifinals at Detroit (3-4) and 2008 Semifinals at Boston (3-4). Sunday's game will also be the first ever Game 7 played at Quicken Loans Arena.
With a win over Indiana on Sunday, the Cavs will advance to the Semifinals for the 12th time in franchise history. The Cavs can also win a series after trailing 2-1 for the fifth time in their team playoff history (Won 4-3 in 1992 Semifinals vs. BOS, 4-2 in 2007 ECF vs. DET, 4-2 in 2015 Semifinals vs. CHI & 4-3 in 2016 Finals vs. GSW).
However, before Cleveland can start thinking about the next round, they'll have to continue to build off the factors that led them to a Central Division title in 2017-18. One of those factors includes the club's excellent play from beyond the arc. In fact, the Cavs have made at least 10 three-pointers in each of the last five games of this series (Games 2-6).
Kyle Korver, whose three-point game is one of the reasons why the Cavs have been so successful from deep, is shooting .455 (15-33) from three-point range since Game 2, averaging 11.0 points and 3.2 boards in 27.0 minutes over that span.
Korver's fellow starter, JR Smith, has also been hot from downtown, hitting three treys early in Friday's Game 6.
Before Korver and Smith take the court with the rest of their team on Sunday, Wine & Gold fans can prep for Game 7 by checking in on some milestones that could be broken in Game 7.
LeBron James (395 STL) is just one steal away from breaking a tie with Scottie Pippen (395 STL) to become the NBA's all-time leader in career playoff steals. James (199 20-pt games) is also just 20 points away from becoming the first player in league history to score 20 points or more 200 times in the playoffs.
Swish (64 STL) is also just one steal away from passing Mark Price (64 STL) for sole possession of the fourth-most steals in franchise playoff history.
Where to Catch the Action
Radio: WTAM 1100, 87.7 La Mega
Probable Starters/Status Update*
#81 - Jose Calderon
#26 - Kyle Korver
#5 - JR Smith
#23 - LeBron James
#0 - Kevin Love
G
G
F
F
C
#2 - Darren Collison
#4 - Victor Oladipo
#44 - Bojan Bogdanovic
#21 - Thaddeus Young
#33 - Myles Turner
Status Update: (Cavs) - George Hill, (Back spasms, Questionable)
Status Update: (Pacers) - None to Report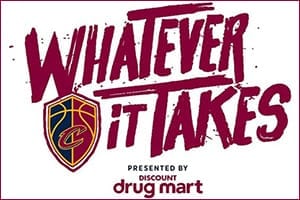 Series Stats
On Sunday, the Cavaliers will look to their leader, LeBron James, to help them beat the Indiana Pacers and earn a Second Round date with the Toronto Raptors.
LeBron James has had at least 20 points, five rebounds and five assists in every game so far this postseason and in 13-straight playoff games going back to the 2017 ECF (5/23/17). In the 2018 Playoffs, James is averaging 32.7 points, the second-most among all postseason players, and leads the Cavs in rebounds (10.3), assists (7.8) and blocks (1.17). He is also shooting a playoff career-high .825 from the foul line and has made 21 consecutive free throws since the third quarter of Game 4.
Over his six career Game 7s, James has averaged 33.2 points, 9.3 rebounds, 4.8 assists and 1.67 steals in 45.7 minutes. His teams are 4-2 in Game 7s, winning each of the last four (2016 Finals at GSW, 2013 Finals vs. SAS, 2013 ECF vs. IND, 2012 ECF vs. BOS).
For Indiana, they have had a number of players step up this postseason, but even more so in their Game 6 victory after having seven score in double-digits, including all of their starting five. Victor Oladipo on Friday night led his club in scoring with 28 points, posting a triple-double in the process with 13 rebounds and 10 assists. Through 34 minutes, the former Indiana Hoosier standout shot 11-19 from the field and 6-8 from three-point range.
The Pacers' second leading scorer, Domantas Sabonis, came off the bench tallying 19 points along with six rebounds. He shot 9-11 from the field in 23 minutes.
On Deck
Following Game 7's conclusion, the winner of the Cavs-Pacers First Round series will take on the Toronto Raptors in the East Semifinals. Game 1 will take place in Toronto on Tuesday, May 1 at 8:00 p.m. ET.
Q Transformation
Before you make your way downtown for Sunday's Game 7 matchup between the Cavaliers and Pacers, be sure to take note of the Huron Rd. lane closures that may effect your travels. For more information, CLICK HERE