Game Summary
With Eastern Conference Finals all knotted up at two games apiece, the series returns back to Cleveland on Wednesday night as the Wine and Gold square off against the Toronto Raptors in Game 5. Tipoff from The Q is at 8:30 PM ET on ESPN, WTAM 1100, 100.7 WMMS, 87.7 La Mega and ESPN Radio.
Cleveland is an NBA-best 10-2 (.833) this postseason, which includes a perfect 6-0 (1.000) mark at home.
EVERYTHING YOU NEED TO KNOW
From where to catch all the action to Wednesday's game notes, cavs.com has you covered.
Tune into ESPN. Pre and postgame coverage on FOX Sports Ohio.
WTAM 1100, 100.7 WMMS, 87.7 FM La Mega, ESPN Radio
Get into the conversation with other die-hards.
Joe G. has your keys to victory.
After two straight losses north of the border, the Wine and Gold will look to bounce back as they return to Cleveland where they have been very successful throughout these Playoffs.
At The Q this postseason, the Cavs are outscoring their opponents by 18.0 points per game (110.5-92.5). Cleveland has reached the century mark in each game at home, while holding their opponents to under 100 points in five straight home contests, which includes two consecutive games under 90 points.
Playing at home should also help the Wine and Gold continue their shooting magic from long range.
For the 10th time this postseason, the Wine and Gold hit the double-digit mark in three-point field goals after connecting on 14 shots from deep in Game 4 against the Raptors. The Cavs lead all NBA teams in three-pointers per game this playoffs at 14.6, while shooting a league-best .424 from beyond the arc.
Despite some slow starts throughout this series, the Cavaliers have clamped down defensively down the stretch.
The Wine and Gold are allowing a postseason-low 21.3 points in the fourth quarter. Against the Raptors in the ECF, the Cavs have held them to 20 fourth quarter points or less in three of their four contests.
If the Cavaliers are looking to take control of the series, they will need to slow down the Raptors All-Star backcourt tandem of Kyle Lowry and DeMar DeRozan.
DeRozan and Lowry are averaging 55.3 points, 9.0 rebounds, shooting .500 (15-for-30) from three-point range and .898 (53-for-59) at the free throw line in these games.
According to the Elias Sports Bureau, DeRozan and Lowry are the third duo in Conference Finals or NBA Finals history to record 30+ points each, while shooting .600 or better from the field.
Where to Catch the Action
TV: Game: ESPN, Pre and Postgame: FOX Sports Ohio
Radio: WTAM 1100, 100.7 WMMS, 87.7 La Mega
Probable Starters/Status Update* presented by  
#2 - Kyrie Irving
#5 - J.R. Smith
#23 - LeBron James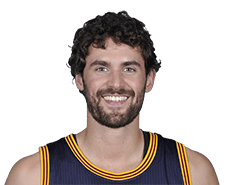 #0 - Kevin Love
#13 - Tristan Thompson
G
G
F
F
C
#7 Kyle Lowry
#10 - DeMar DeRozen
#5 - DeMarre Carroll
#4 - Luis Scola
#8 - Bismack Biyombo
Status Update: (Cavs) - None to Report
Status Update: (Raptors) - Jonas Valancinas, (Sprained Right Ankle, Questionable)
Playoff Stats
LeBron James has scored 20 or more points in 22 straight postseason games, which is the longest active streak in the NBA. In Game 4 of the ECF, James had his second straight 20-5-5 game of the 2016 Playoffs (9th of the 2016 Playoffs, 125th of postseason career) after tallying a team-high 29 points on 11-16 (.688) shooting, a team-high tying nine rebounds, a game-high tying six assists, two steals and one block in 46 minutes. In four games against the Raptors in the ECF, James is shooting .644 (38-59) shooting from the floor and averaging 25.0 points, 8.5 rebounds, 6.5 assists and 2.3 steals in 36.8 minutes per contest.
Channing Frye has made at least two three-pointers in six straight games, shooting a combined .625 (20-32) from deep over that stretch. Frye leads the Cavs in three-point percentage this postseason at .575, which is also the highest among all current players in the 2016 Playoffs. No other Cavalier player has ever shot .575 from beyond the arc in a single postseason (min. 20 3FGA). (Elias Sports Bureau)
Kyrie Irving has tallied 20 or more points in 10 of the 12 playoff games and is averaging a team-high 23.9 points, including a .452 (33-73) mark from beyond the arc, 2.3 rebounds, 4.9 assists and 1.3 steals in 36.2 minutes. In Game 4 of the ECF, Irving finished with 26 points on 11-21 (.524) shooting, three rebounds, a game-high tying six assists and one steal in 39 minutes.
On Deck
After Wednesday's matchup, the series shifts back to Toronto for Game 6 on Friday at 8:30 p.m. ET. If necessary, Game 7 returns to Cleveland on Sunday night at The Q. BECOME A CAVS INSIDER | VIEW SERIES SCHEDULE