The NBA offseason always proves to be entertaining, with plenty of drama and rumors going around. This summer has been no different, with a handful of big moves already made and some teams poised to make a late move - like the Cavs last year.
Let's dive in to see what each team in the Association looks like heading into the new campaign ...
One year ago, this was Kevin Durant and Kyrie Irving's team. One year later, the Nets are headed in an entirely different direction, and Mikal Bridges is the new cornerstone. The 5th-year man, who arrived in Brooklyn at the Deadline in a blockbuster deal with the Suns last year, still took the rebuilding Nets to the Playoffs and gave the Sixers four tough games.
The Nets come into the season with a pair of first rounders – Noah Clowney (No. 21 overall) and Dariq Whitehead (22) – to surround Bridges. Brooklyn re-signed Cam Johnson and have one of the better young bigs in the East in Nic Claxton, the league's second-best shot blocker. But, can they count on Ben Simmons?
The Cavs open the campaign in Brooklyn and the next time they face them will be at the Accor Arena in Pa­ris, France on January 11.
Record vs. Last Season: 2-1 | 2023-24 Home: 1/11, 3/10 Road: 10/25, 2/8
Still loaded with First Rounders well into the future – and with Chet Holmgren set to make his NBA debut, joining All-Rookie First Teamer Jalen Williams – the Thunder are content building around budding superstar Shai Gilgeous-Alexander. Josh Giddey flourished as a sophomore and Lugentz Dort is always a tough night at the office.
The Thunder were relatively quiet in the offseason, bringing in veterans like Davis Bertans and Victor Oladipo to support the young core.
The Cavs celebrate their 2023-24 home opener against the Thunder and travel to OKC less than two weeks later on the Wednesday after Election Day.
Record vs. Last Season: 1-1 | 2023-24 Home: 10/27 Road: 11/8
The Cavaliers have enjoyed their Central Division renaissance, but it's time to start checking the rearview mirror, with talented young squads like Indiana on their way up. Tyrese Halliburton is one of the top pure point men in the East and Bennedict Mathurin was a home run at No. 6 in last year's Draft. Buddy Hield is the fastest player in NBA history to 1,000 three-pointers.
The Pacers inked Bruce Brown fresh off last year's Championship run with Denver and traded for former Knick, Obi Toppin. Indy also added another pair of First Rounders this year – Jarace Walker (No. 8 overall) and Ben Sheppard (26).
The Cavs first In-Season Tournament game is against these Pacers, on Friday, November 3.
Record vs. Last Season: 3-1 | 2023-24 Home: 10/28, 4/12 Road: 11/3, 3/18
The Cavs home clash with the Knicks on Halloween night is the first truly big game of the early season – with the next-biggest game of the early season coming the following evening, tipping off the month of November in New York. The last time Jalen Brunson and Co. came to Cleveland, they left by sending the young Cavaliers packing after five First Round games.
The veteran-heavy Knicks didn't make any major splashes this offseason aside from signing free agent swingman, Donte DiVincenzo. New York traded Obi Toppin to the Pacers and lost Derrick Rose, who signed with the Grizzlies.
The Cavs only other matchup with the Knicks after that opening pair is a nationally-televised March 3 matchup in Cleveland.
Record vs. Last Season: 1-3 | 2023-24 Home: 10/31, 3/3 Road: 11/1
It's probably safe to say the Cavaliers have never had a schedule before featuring two of their first nine games of the season against the Golden State Warriors. But indeed, the Cavs face off against Steph Curry, Klay Thompson and the recently re-signed Draymond Green twice over a six-day span in early November this year.
Steve Kerr's squad will roll in with a new addition to their Hall of Fame backcourt with Chris Paul, acquired in an offseason deal with Washington after the Bradley Beal blockbuster. Veterans Corey Joseph and Dario Saric join the mix, as the Dubs parted ways with Donte DiVincenzo (Knicks), Jordan Poole (Wizards) and Ty Jerome (Cavs).
Over the last 21 meetings against Golden State, the Cavaliers have won exactly one of those contests – Game 4 of the 2017 NBA Finals.
Record vs. Last Season: 0-2 | 2023-24 Home: 11/5 Road: 11/11
In some ways, the Kings story last year was a Western Conference version of the recent Cavaliers run – a former postseason fixture with a frenzied fan base returning to the Playoffs, albeit after a much longer drought. They even did it with Mike Brown, who earned his second Coach of the Year award last season.
After a 48-win season and a First Round matchup that saw them go toe-to-toe for seven games with Golden State, the Kings didn't make a lot of noise this offseason. They tapped into Indiana's backcourt once again, dealing for 3rd-year man Chris Duarte. Other than that, they'll roll into this season with a tough young nucleus led by De'Aaron Fox and Domantas Sabonis.
After facing them in Sacramento early, the Cavs don't welcome the Kings back until early February.
Record vs. Last Season: 0-2 | 2023-24 Home: 2/5 Road: 11/13
When the offseason began, maybe the biggest question on the table was whether or not Damian Lillard would still be a Blazer when the 2023-24 season began. He is as of now. Whether he still will be when the Cavs roll into Portland in mid-November is anybody's guess.
One thing's for sure, Scoot Henderson – the 3rd overall pick in this past June's Draft – will be in a Blazers uniform as the process of passing the torch has begun in the Pacific Northwest. With guys like Shaedon Sharpe and Anfernee Simons, Portland – which didn't make a single addition via trade or free agency this summer – looks to build through their youth.
The Blazers return to Cleveland to wrap up the month of November – and the season series – less than two weeks later.
Record vs. Last Season: 2-0 | 2023-24 Home: 11/30 Road: 11/15
No team in the East is ready for a turnaround more than the Pistons – who've fallen on hard times of late, reaching the postseason just twice over the past 14 years and averaging exactly 20 wins per season over the last four. They also didn't fare as well as they'd hoped to in the Lottery after posting just 17 wins one season ago.
Detroit is counting on the development of Cade Cunningham, Jaden Ivey, Killian Hayes and this year's two First Rounders – Ausar Thompson (No. 5 overall) and Marcus Sasser (25) to develop under Monty Williams in his first year at the helm in Motown.
Cleveland's first home Group Play game for the In-Season Tournament is against Detroit on November 17 – the first of seven of the final eight games of the month at Rocket Mortgage FieldHouse.
Record vs. Last Season: 4-0 | 2023-24 Home: 11/17, 1/31 Road: 12/2, 3/1
The Cavaliers get their first look at the World Champions on a Sunday evening – welcoming Nikola Jokic, Jamal Murray and Co. to town to start out the week before Thanksgiving. Earlier in the summer, Denver put together one of the most impressive title runs in recent history, polishing off Miami in five games to win the franchise's first Championship.
Gone from that title run are key reserves Jeff Green, who inked a free agent deal with Houston, and Bruce Brown, who signed in Indy.
The Wine & Gold travel to the Mile High City for an Easter Sunday meeting to tip off a late-season West Coast trip on March 31.
Record vs. Last Season: 0-2 | 2023-24 Home: 11/19 Road: 3/31
At this time, we really don't know if the Sixers will feature both Joel Embiid and James Harden, or just the league's reigning MVP. And while it's still nice to have the best big man in the Conference, Philly's new coach, Nick Nurse, would love to go into his first season with the dynamic duo. To make it so, Harden and Daryl Morey will have some patching up to do over the next six weeks.
The Sixers still have an improving Tyrese Maxey and the solid Tobias Harris and added veterans Patrick Beverley and Mo Bamba over the summer.
The Cavaliers will face Philadelphia twice on national TV – in a Group Play game at Philly on November 21 (TNT) and a matchup in Cleveland on February 23 (ESPN).
Record vs. Last Season: 1-2 | 2023-24 Home: 2/12, 3/29 Road: 11/21, 2/21
Last summer, the league got a lesson in "Heat Culture," as Miami made its improbable run to the NBA Finals – also marking its third time in four seasons reaching at least the Conference Finals. Even without Tyler Herro, Miami went from the Play-In Game to the league's penultimate plateau.
Over the summer, the Heat signed free agents Thomas Bryant and Josh Richardson, the latter making his second run with Miami, where he spent his first four seasons.
The Cavs host the Heat on Thanksgiving Eve and don't face them again until a pair of meetings over a five-day span in late March.
Record vs. Last Season: 2-2 | 2023-24 Home: 11/22, 3/20 Road: 3/24
The Lakers roll into Cleveland on the Saturday of the Ohio State-Michigan game, so we know what we'll be doing earlier on that afternoon. At night, LeBron James will try to snap a two-game skid – (after winning five straight) – against the team whose record books he owns. In football terms, the Wine & Gold won both games against L.A. last year by an average of exactly two touchdowns (plus the XP – 14.0).
Even after a successful Playoff run last year, the Lakers made some big changes to their rotation – signing free agents Gabe Vincent, Taurean Prince, Jaxson Hayes and Cam Reddish. But they also created stability by re-signing Anthony Davis as the LakeShow celebrates LeBron's 20th NBA season.
The Cavaliers don't meet the Lakers again until April 6, the second-last road game of the regular season.
Record vs. Last Season: 2-0 | 2023-24 Home: 11/25 Road: 4/6
The Raptors fell short of their overall goal last year, finishing exactly at the .500 mark and missing the Playoffs for just the second time in the last 10 seasons. But they sure gave the Wine & Gold a rough time – winning the first three games of the season series, two by double-digits, before the Cavs smushed them by 25 points in late February.
Toronto made a pair of minor free agent moves over the summer – signing Jalen McDaniels and Dennis Schroder – and drafted Kansas sharpshooter Gradey Dick with the 13th overall pick out of Kansas.
After the first meeting at home, Cleveland faces the Raptors in Toronto on New Year's Day and then again in the final road contest before the All-Star Break.
Record vs. Last Season: 1-3 | 2023-24 Home: 11/26 Road: 1/1, 2/18
The Hawks made a coaching change midseason last year and still managed to make the Playoffs for the third straight season before falling to Boston in six First Round games. They'll continue to build around their All-Star backcourt of Trae Young and Dejounte Murray and the interior muscle of Clint Capela.
Atlanta added some veteran leadership – and outside shooting – signing free agent Wesley Matthews and trading for Patty Mills.
Cleveland's final Group Play game is against the Hawks at home on November 28. The Cavs travel to Atlanta in the first road game after Christmas and again in early March.
Record vs. Last Season: 1-2 | 2023-24 Home: 11/28, 12/16 Road: 12/27, 3/6
After winning seven straight in the series, the Cavaliers have owned the Magic over the past couple years – taking six of the last seven, including all four last season. But Jamahl Mosley has something good brewing in Orlando, which won a dozen more games last year than the previous season.
The Magic are comfortable letting their current youth experiment grow to fruition, being led by the runaway Rookie of the Year winner, Paolo Banchero. Franz Wagner continued his upward trend as a sophomore and Wendell Carter Jr. has revived his career in Florida. With their two First Round picks, Orlando tabbed guards Anthony Black (No. 6 overall) and Jett Howard (11).
The Cavs travel to face the Magic in early December and welcome Orlando to Cleveland in the first game after the All-Star Break.
Record vs. Last Season: 4-0 | 2023-24 Home: 2/22 Road: 12/11, 1/20
After reaching the NBA Finals and taking Golden State to six games the previous year, the Celtics overcame some early season adversity last year – reaching the Conference Finals to face Miami for the third time in four years, falling in seven games after falling behind, 0-3.
Jaylen Brown re-signed to answer the big offseason question, but Boston didn't stop there – dealing for Kristaps Porzingis while sending Marcus Smart to Memphis and Grant Williams to the Mavs.
The Cavaliers play their first two-game visit of the season when they visit Beantown for a pair in early December. The Celtics make their lone regular season visit in early March.
Record vs. Last Season: 3-1 | 2023-24 Home: 3/5 Road: 12/12, 12/14
After reaching the Playoffs in eight straight seasons, the Rockets have crashed over the last three – winning an average of less than 20 games per year and playing a sloppy style of basketball. Enter Ime Udoka, who'll look to shape a very talented young roster than includes Jalen Green, Alperen Sengun, Jabari Smith Jr., Kevin Porter Jr. Tari Eason and this year's top picks, Amen Thompson (No. 4 overall) and Cam Whitmore (20).
The Rockets made a big free agent splash with veteran guard Fred VanVleet and added bad-boy Dillon Brooks along with Jeff Green for his second tour of duty in Houston.
After the first meeting at home in December, Cleveland travels to Toyota Center for a Saturday afternoon contest in mid-March.
Record vs. Last Season: 2-0 | 2023-24 Home: 12/18 Road: 3/16
One year after remaking their roster via the Donovan Mitchell deal – acquiring the NBA's Most Improved Player, Lauri Markkanen, along with Collin Sexton, Ochai Agbaji and picks, the Jazz are looking to start making some noise again in the West.
They continued to add young talent, nabbing three First Rounders: Taylor Hendricks (No. 9 overall), Keyonte George (16) and Brice Sensabaugh (28). Utah also acquired forward John Collins in an offseason deal with Atlanta.
The Cavaliers, and Donovan Mitchell, don't make their visit to Salt Lake City until the first game of April.
Record vs. Last Season: 1-1 | 2023-24 Home: 12/20 Road: 4/2
The Pelicans won nine of their final 12 regular season games but fell just short of the postseason, ending another campaign that saw Zion Williamson in street clothes at its conclusion, limited to just 29 games on year ago.
New Orleans is hoping Williamson can return and join a nice young nucleus that includes Brandon Ingram, Larry Nance Jr., Herb Jones, Jose Alvarado and Jonas Valanciunas. Overall, the Pels stood pat in the offseason, adding Cody Zeller after his Finals run with Miami.
Last year, the Cavs snapped an 11-game skein in the Big Easy, where they'll play in mid-March this season.
Record vs. Last Season: 2-0 | 2023-24 Home: 12/21 Road: 3/13
The Bulls won 40 games for the second straight season, but failed to reach the postseason last year. They've still got starting talent in Zach LaVine and DeMar DeRozan along with All-Defensive First Teamer Alex Caruso. Lonzo Ball was limited to 35 games two years ago and didn't play at all last season. His return is still a question mark.
The Cavaliers flummoxed the Bulls in every which way last season – beating them by one point, beating them by 32 points, overcoming a 21-point deficit to win in overtime on Donovan Mitchell's 71-point performance.
Cleveland hosts the Bulls in the final game before the All-Star Break in a nationally-televised affair on ESPN.
Record vs. Last Season: 4-0 | 2023-24 Home: 1/15, 2/14 Road: 12/23, 2/28
Giannis might not have been disappointed with last year's results – falling to the Heat in five games after finishing with the Conference's best record. Their First Round exit cost Coach Mike Budenholzer his job, giving way to Adrian Griffin, who gets his first opportunity to helm an NBA squad.
The Greek Freak was still named to the All-NBA First Team and Brook Lopez, the league's shot-blocking leader, was named to the All-Defensive First Team for the 58-win Bucks – who added Malik Beasley and Brook's twin brother over the summer.
The Cavs close out the 2023 calendar year against the Bucks at Rocket Mortgage FieldHouse, host a nationally-televised contest on January 17 and play their second road twin-bill of the season – traveling to Milwaukee to a pair later that month.
Record vs. Last Season: 2-2 | 2023-24 Home: 12/29, 1/17 Road: 1/24, 1/26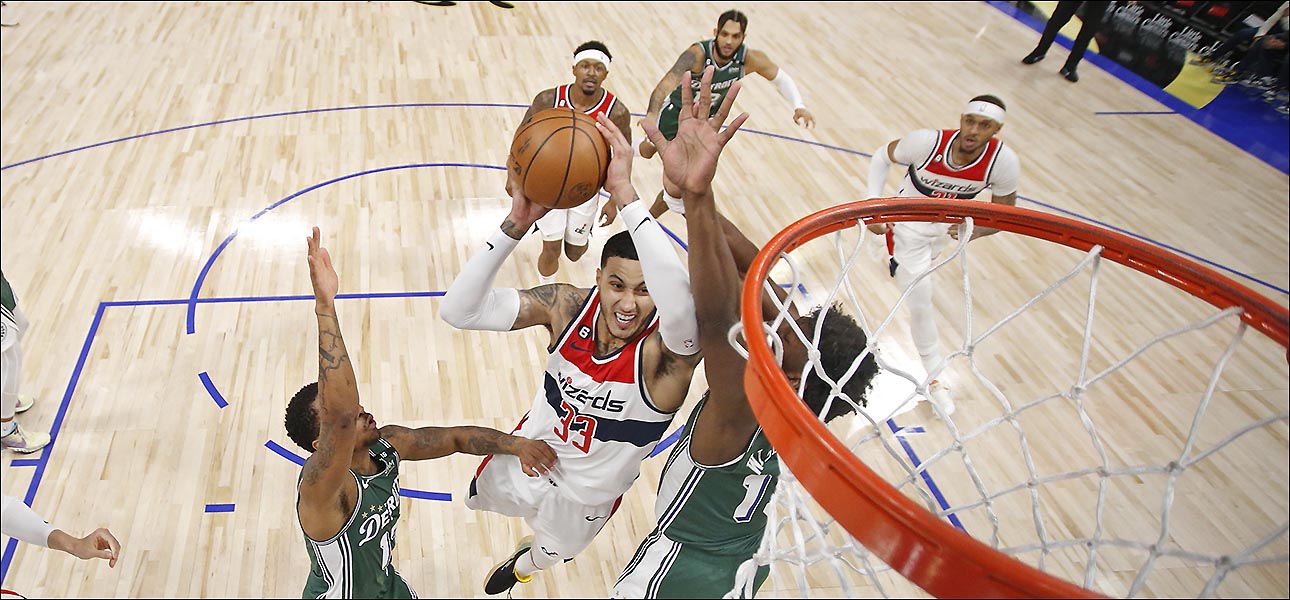 For the first time in the past 11 seasons, the Wizards are not Bradley Beal's team, with the three-time All-Star being shipped off to Phoenix earlier this summer. Washington also moved on from the Kristaps Porzingis experiment, sending him to Boston.
Kyle Kuzma is now the top dog, and Washington is hoping some former Lottery picks like Deni Avdija and Johnny Davis start panning out. Jordan Poole and Landry Shamet will also get all kinds of opportunities with the renovated Wizards.
Cleveland hosts its lone home-and-home two game visit – with the Wizards in town for matchups on January 3 and January 5. The Cavs visit D.C. twice in February.
Record vs. Last Season: 3-0 | 2023-24 Home: 1/3, 1/5 Road: 2/7, 2/25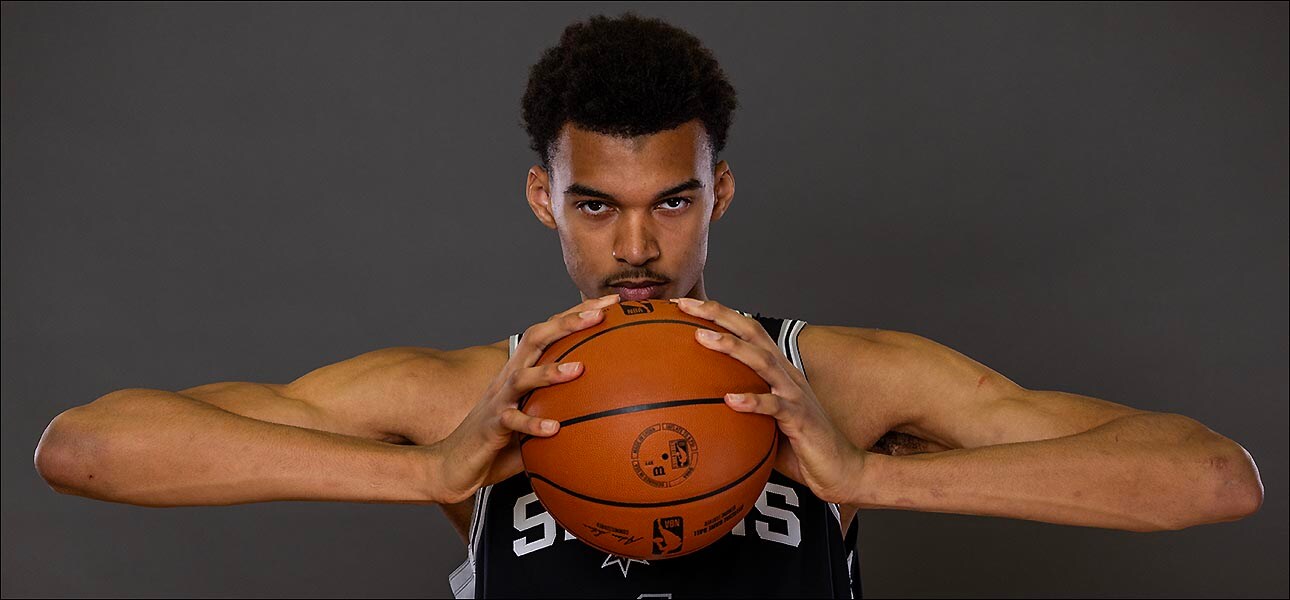 In terms of an inter-Conference matchup, this is one to really look forward to – with familiar face, Cedi Osman, making his return to Cleveland on a Sunday afternoon in early January. That game also marks the first time Cavs fans get a look at top pick, Victor Wembanyama. The Cavs travel to San Antonio in early February.
Last year, Gregg Popovich had his second-lowest win total as a coach. After his lowest total, the Spurs won the rights to Tim Duncan. This year, they won the Wemby lottery – and all eyes will be on French youngster from the moment he takes the court against Dallas on October 25.
The Spurs were already high on some of their young players, including Jeremy Sochan, Devin Vassell, Malaki Branham and Keldon Johnson. Add the top pick from this June's Draft and things could start getting interesting again in south Texas.
Record vs. Last Season: 1-1 | 2023-24 Home: 1/7 Road: 2/3
After reaching the Conference Finals the previous year, the Mavericks missed the Playoffs altogether last season. But the good news for them is that Kyrie Irving, who they acquired from Brooklyn last year, re-upped in Dallas, giving him and Luka Doncic time to build better chemistry.
The Mavs were busy this summer – inking Derrick Jones Jr., Seth Curry and Dante Exum on free agent deals and trading for Boston's Grant Williams. This June, they tabbed a pair of First Rounders – Dereck Lively II (No. 12 overall) and Olivier-Maxence Prosper (24).
The Cavaliers visit the Lone Star State in late January and Kyrie, Luka and Co. return to Cleveland in late February.
Record vs. Last Season: 2-0 | 2023-24 Home: 2/27 Road: 1/22
The Clippers have had the exact same issue for each of the past few seasons – health. Kawhi Leonard has averaged 53 games per season in his three years in Los Angeles. In Paul George's four years, he's averaged 47 games per.
Tyronn Lue still maneuvered the Clippers into the postseason, though they fell in five games to Phoenix. If they can get their two stars back, they can surround them with Nicolas Batum, Robert Covington, Terrence Mann and Ivica Zubac.
The Clips make their first appearance in Cleveland in late January and the Cavaliers last road game of the season is against T. Lue's squad in early April.
Record vs. Last Season: 1-1 | 2023-24 Home: 1/29 Road: 4/7
The Grizzlies have established themselves as the league's new tough guys, even with Dillon Brooks now in Houston. Ja Morant has drawn the ire of Adam Silver for his gun issues. Desmond Bane is a notorious trash talker. On the floor, they have the league's top defender in Jaren Jackson Jr.
The young, rugged Grizzlies – who fell to the Lakers in six games in the First Round after winning 50 games for the second straight season – got even tougher in the offseason, trading for former DPOY Marcus Smart and signing former MVP Derrick Rose.
The Cavs play a nationally-televised contest in Memphis to start the month of February and welcome the Grizz to Cleveland in the final week of the season.
Record vs. Last Season: 1-1 | 2023-24 Home: 4/10 Road: 2/1
The T-Wolves seem like a team ready to take the next step, having been knocked out in the First Round in each of the last two years. Rudy Gobert is looking for a bounce-back season in year two. Karl Anthony-Towns is looking to stay healthy after being limited to just 29 games last year. And Anthony Edwards is simply looking to continue his rapid ascent going into his fourth year.
Minnesota made a couple minor moves in the offseason, like inking Shake Milton away from the Sixers.
The Cavs host the T-Wolves for the first time on Friday, March 8 and travel to the Twin Cities exactly two weeks later.
Record vs. Last Season: 0-2 | 2023-24 Home: 3/8 Road: 3/22
Two years after reaching the NBA Finals and falling to Milwaukee, the Suns have re-made their roster – with DeAndre Ayton and Devin Booker as the lone remaining pieces from that squad. Phoenix went all-in for Kevin Durant last year, and this summer, swung for the fences on Bradley Beal.
With Frank Vogel taking over as head coach, the Suns are strictly in 'win-now' mode after falling in the Second Round in each of the past two seasons. Phoenix will fill out their bench with recent free agent acquisitions like Bol Bol, Keita Bates-Diop, Eric Gordon and Yuta Watanabe.
The Suns come to Cleveland in early March and the two play a nationally-broadcast game on ESPN in Phoenix in early April.
Record vs. Last Season: 2-0 | 2023-24 Home: 3/11 Road: 4/3
The Hornets didn't win the Wembanyama sweepstakes, but they still got an excellent prospect this past June when they landed Alabama's Brandon Miller at No. 2 overall. He might be just the face-of-the-franchise kind of guy that Charlotte – which has reached the postseason just three times in the past 19 seasons – will need moving forward.
Charlotte took a step back last season with the losses of LaMelo Ball and Miles Bridges. If they can get those two back and continue to get good production from Terry Rozier and Gordon Hayward, maybe the Hornets can reverse their recent trend.
The Cavs face Charlotte all three times in the final 11 games of the year – including the regular season finale on Sunday afternoon, April 14.
Record vs. Last Season: 3-1 | 2023-24 Home: 3/25, 4/14 Road: 3/27