Perhaps the trade of Milwaukee's Michael Carter-Williams for Tony Snell, which the Bulls announced Monday morning, will not go down in team or league history as one of the great trades of all time. But in this deal I see not only the Bulls able to fill a vital need of backup point guard, but the acquisition of a player who has been much underutilized for usual and unusual NBA reasons and could play several roles for the Bulls
We know the basics of Carter-Williams, a 6-6 point guard who doesn't shoot well, but who was NBA Rookie of the Year in 2014 as the No. 11 pick out of Syracuse and who produced the unusual statistic of joining Oscar Robertson, Magic Johnson, Grant Hill, Steve Francis and LeBron James as the only players to average 15 points, five rebounds and six assists through his first two NBA seasons. He has a career average of an impressive 14.5 points, 5.6 rebounds and 6.1 assists. So the natural question is how you get a player that relatively accomplished for Snell, who had fallen out of the Bulls rotation?
Well, Carter-Williams did have hip surgery late last season. But he is recovered and had 10 points, 11 rebounds and six assists in the Bucks exhibition season opening win over the Bulls earlier this month. With the Bucks' acquisition of Matthew Dellavedova and using Giannis Antetokounmpo at point guard, Carter-Williams became expendable. Especially not being able to be a spot up shooter. With the season ending injury to Khris Middleton, it's a reasonable risk for the Bucks to take a chance on Snell, who has the potential as a shooter and versatile player. Certainly no longer with the Bulls after three underachieving seasons. It seemed clear he no longer had a role with the team. Some players do prosper in a new environment. Snell seems like a good person and good for him if he can resuscitate his NBA career.
Which really is why most NBA trades get made.
It's a combination of teams agreeing each has a guy they don't like and, what the heck, we'll take a chance on your guy since we know we don't like our guy and he doesn't fit with us. And maybe we will like your guy better.
Same with Carter-Williams, who has a tremendous opportunity to flourish with the Bulls, even if not initially in a major role since he likely will come off the bench behind starting guard Rajon Rondo.
But Carter-Williams potentially fills more needs than just the backup point guard spot, which was being debated lately among Spencer Dinwiddie, Isaiah Canaan and Jerian Grant. Any could emerge, but Carter-Williams has credentials and experience. Plus, he also fills an important need as a strong defensive player off the bench. It would seem to give the Bulls the opportunity as well to start Taj Gibson at power forward and then have a strong defender like Carter-Williams to play point guard, or even small forward, with a group of reserves.
"He's been great," Bucks coach Jason Kidd said about Carter-Williams after Saturday's Bulls/Bucks game. "We've asked him to do a lot of different things. He started for us; he's one of the better defenders in this league and we've asked him to come off the bench. He's a team guy. Big guard, athletic ability, being able to play multiple positions. We asked him to do all of that."
To his credit, Kidd was positive. But it also was because of Kidd, or so the talk went around the NBA, that Carter-Williams was available. Kidd last season supposedly decided Carter-Williams and Greg Monroe didn't fit his plans and asked management to trade both at the deadline. When neither was traded, Kidd supposedly said he'd play them off the bench until they were traded. So it may just have been an inevitability.
Which didn't mean anything negative about Carter-Williams, who actually is regarded as a competitive player and high character individual. Bulls fans may remember him for some extra curricular activity in the physical 2015 playoffs, or as physical as things can be these days in the NBA. Mike Dunleavy, who had a quietly unhappy history with some Bucks players after playing there, got into several confrontations with Carter-Williams in Game 6. This was after Carter-Williams in Game 5 basically beat the Bulls with 22 points, eight rebounds, nine assists and three blocks. Eventually, Antetokounmpo, in believing he had to defend his teammate, tackled Dunleavy on a shot and would be ejected and eventually suspended to open the next season.
So how do you get a former Rookie of the Year with that sort of versatility and point guard size for a player out of your rotation? There must be something wrong with a former Rookie of the Year traded twice in three seasons?
Sometimes it's the teams.
Carter-Williams had the misfortune of being drafted by the Philadelphia 76ers, who then were working on the clever plan of getting rid of their best players. Carter-Williams proved too capable, averaging 16.7 points, 6.3 rebounds and 6.2 assists as a rookie. So they traded him two months into his second season for more draft picks.
I actually liked the trade for the Bucks even though the Suns got Brandon Knight from the Bucks in the three-way deal. It seemed to fit the Bucks strategy of all those long armed, versatile players who could switch on defense. But they traded too many other players with the Monroe acquisition and changed their makeup. Though Carter-Williams is regarded as a weak three-point shooter, he shot 26 percent as a rookie with a stroke that wasn't terrible. He could prove acceptable. Mostly it's difficult to find point guards with that kind of size, defensive ability and versatility. He's potentially that Swiss Army knife type player who can defend multiple positions and play various roles.
Bulls coach Fred Hoiberg said he hasn't made any decisions yet regarding the starting positions at power forward and backup at point guard. And that those could change as the season progresses, anyway.
Plus, Canaan has played well with his backup point guard minutes and Grant has come on strong his last two games. Plus, Carter-Williams is behind coming in late in the preseason. So he will have to earn his time as well.
But this seems like the sort of deal that has a unique upside to not only improve a position, but increase the depth and breath of the roster and help produce a more well rounded team with a higher win potential. Maybe it doesn't make someone's all time top 10 Bulls trades. But it looks good from here so far.
The Biggest Trades in Bulls History
1. June, 1987
The Bulls acquired the draft rights to the No. 5 pick for the No. 8 pick. The Bulls used the pick to select Scottie Pippen, who went on to support Michael Jordan as the running mate for six NBA championships. Seattle selected Olden Polynice. The Bulls also got a first round pick they used for Jeff Sanders in 1989. The Supersonics received a second round pick and a 1989 first round pick that the Bulls later got back and used for B.J. Armstrong. Seattle got Brad Sellers for the Armstrong pick.
2. September, 1969
The Bulls acquired Chet Walker and Shaler Halimon from Philadelphia for Jim Washington. Walker went on to be the clutch scoring option for the Bulls best run in the early 1970s until the Jordan title years and a Hall of Fame player. Walker remains the only player in Bulls history other than Jordan to score more than 55 points in a game.
3. June, 1988
The Bulls acquired Bill Cartwright from the Knicks for Charles Oakley. The Bulls also received the No. 11 pick in the 1988 draft they used for Will Perdue while the Bulls gave the Knicks No. 19, which they used for Rod Strickland. Initially an unpopular deal, especially to Jordan who was close with Oakley, Cartwright proved the necessary final piece for the first three championships as the big center to counter centers like Patrick Ewing, James Edwards and Brad Daugherty.
4. October, 1995
Acquired Dennis Rodman from San Antonio for Will Perdue. With Jordan's return from baseball and Horace Grant's departure as a free agent after the 1993-94 season, the Bulls needed a power forward. Rodman was considered radioactive after undermining the Spurs in the playoffs with odd antics. But despite missing 45 games with injuries and suspensions his first two seasons with the Bulls, he proved vital, especially in the playoffs, against powerful big men like Shawn Kemp, Karl Malone and even Shaquille O'Neal. He was inducted in the Basketball Hall of Fame, though mostly for his play with Detroit.
5. June, 1989
The Bulls traded Dave Corzine to Orlando for their second round pick, No. 29, in 1990. The Bulls used the pick to select Toni Kukoc, who went on to be a crucial sixth man and frequent starter and clutch shooter for the 1996-98 championship teams.
6. November, 1971
Acquired Norm Van Lier from the Cincinnati Royals for center Jim Fox and a second round pick the Royals used for Mike Ratliff. The Bulls got a third round pick they used for Frank Russell. The Bulls had drafted Van Lier in the third round in 1969 but traded him for center Walt Wesley. Van Lier went on to lead the league in assists for the Royals before the Bulls regained him. He went on to be a three-time Bulls All-Star and longtime broadcaster and Chicago media celebrity.
7. November, 1968
8. October, 2005
The Bulls traded Eddy Curry and Antonio Davis to the Knicks in a convoluted deal for Tim Thomas, Michael Sweetney, Jermaine Jackson, two first round picks and a swap of picks. The Bulls used one pick for the rights to LaMarcus Aldridge they traded for Tyrus Thomas and Viktor Khryapa. But with the swap of picks they got Joakim Noah and the Knicks got Wilson Chandler and the Bulls used a second round pick for Thabo Sefolosha, whom they later traded for the draft pick used for Taj Gibson.
9. June 2004
Bulls acquire the rights to the No. 7 pick in the 2004 draft, which they used to draft Luol Deng for cash, a second round pick used for Jackson Vroman. The Suns also received a 2005 first round pick from the Bulls they used at No. 21 for Nate Robinson.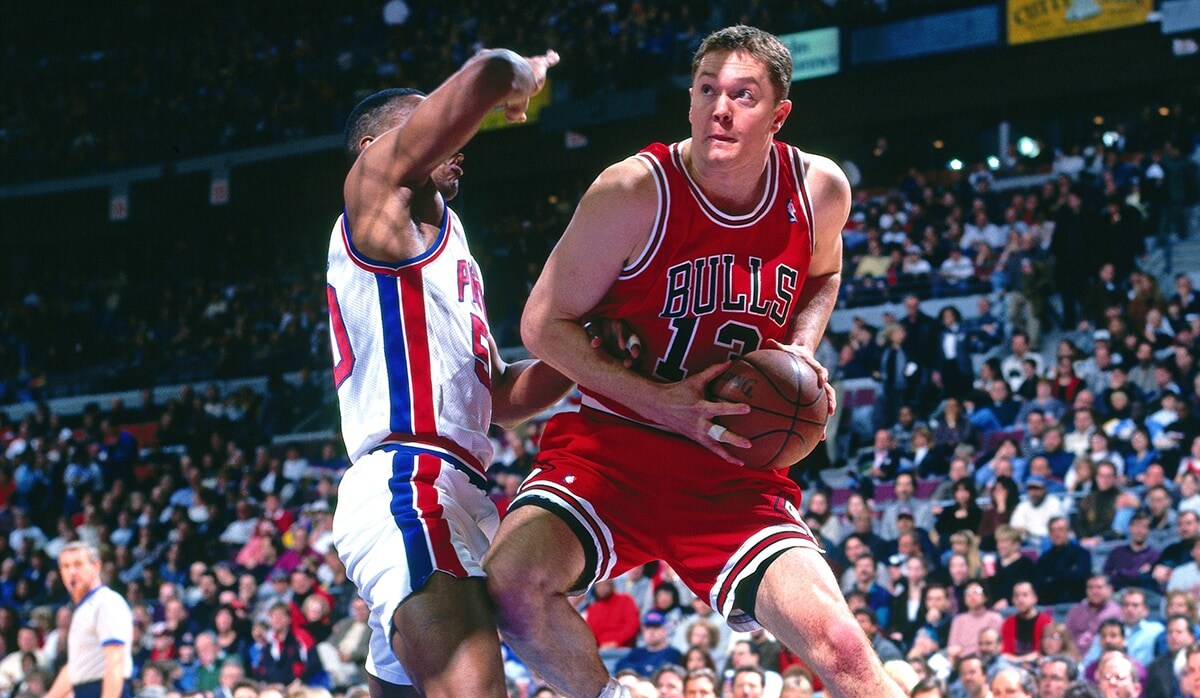 10. February, 1994
The Bulls traded Stacey King to Minnesota for Luc Longley. Longley, though a limited scorer, would go on to be the starting center for the 1996 through 1998 championship teams as the vital big man to clog the middle. Though an asterisk is due for the previous positive trade that brought King to the Bulls from the Orlando Woolridge trade. King did go on to play an important reserve role and some key playoff moments for the 1991-93 championship teams.