Five years ago, there was so much hope for Nikola Mirotic; dare we say, the next Dirk Nowitzki? He was a 6-10 sensation from Europe, back to back winner of the award for the best player under 22 in the tough EuroLeague. It looked like the Bulls had scored a coup in the 2011 draft, moving up in trade to grab Mirotic before the hungry Oklahoma City Thunder, who had been targeting the gangly kid from Montenegro. Perhaps, finally, a second star to support Derrick Rose was the anticipation.
So I traveled to Memphis in the 2012 preseason to get a look at the phenom, whose Real Madrid team was on an American tour and playing the Memphis Grizzlies. Mirotic, who didn't speak much English at the time, didn't disappoint with 14 points and seven rebounds with a pair of threes against the Grizzlies, his range and easy shooting motion confounding Marc Gasol and Zach Randolph. And then it was 17 and 12 to close the trip in Toronto.
"I was just asking Marc about him," Randolph told me after the game. "I like him. I told Marc he can shoot the ball. I was asking how old he was. He's just 21. The kid's got a real upside. He can play in the NBA."
Now, after three seasons of all too frequent disappointments amidst Bulls coaching and personnel changes, a pair of successful summers with his Spain's national team and then a summer contract dispute in which Mirotic just Tuesday settled for just a year guaranteed from the Bulls, this may well be Mirotic's last chance, at least with the Bulls, to prove he can truly play in the NBA.
Mirotic seemed so certain and promising just five years ago, a draft steal and potential star for the franchise. Now he's trying to just earn minutes at a crowded power forward position, seemingly coming from the outside rail against Bobby Portis and rookie Lauri Markkanen.
Mirotic is bigger, stronger and rested.
He seems to know the wall is very close to his back.
"I know that you guys are very disappointed," Mirotic offered after Tuesday's first preseason practice to a question about if he was disappointed in his Bulls tenure. "I saw that the last two, three years, those reactions to that. It is what it is. I came back thinking about what happened. I knew what happened. I worked on all my weaknesses this summer. It's time to change some things. I'm in a place where I can improve and get better. I'm looking forward. It's not just proving to you or the fans. It's more proving to myself than you guys."
Well, and the Bulls, probably.
This season is the Bulls restart, a curious period when losses are not that unwelcome. Not so for a player like Mirotic, who is on a career lifeline. It won't be over, and he'll always be welcomed back in Europe with his EuroLeague and Olympic success and perimeter shooting game.
But the NBA is where the pot of gold lies, and Mirotic isn't finished digging.
Which is why he didn't play for Team Spain in the Eurobasket tournament this summer, why he's added 25 pounds that's not all beard, and why he seems much less happy-go-lucky and more determined.
"I knew I had to do something different to make me be more consistent," said Mirotic. "The last three years, I was playing with the national team all summer and I was a little bit tired when I came back here. I had that slow beginning. I knew I had to put some weight on me and get stronger to be more consistent. Even if you don't make some of those shots, you can rebound and be better on defense.
"I finished (last season weighing) 237, and 260 now," Mirotic reported. "I'm feeling good. I've never felt that strong in my legs, feeling better with the rebounding, and I worked all summer in the low post, especially when I play that pick-and-roll and they switch (on) me. When I came here the first day (to the Bulls in 2014), I had Taj (Gibson), Jo (Noah) and Pau (Gasol) at my position. That made me grow as a player. I was waiting for my opportunity with Thibs. I remember when the opportunity came, I was playing well. I think we can all play together, too, Lauri, Bobby and me. This is modern basketball now. We can play all shooters. I'm really not worried."
While the development of the three young players from the Jimmy Butler trade will be the story of the 2017-18 season, the fate of Mirotic remains perhaps a larger curiosity.
Mirotic finally signed with the Bulls for the 2014-15 season, Tom Thibodeau's last as coach. Mirotic didn't play much to start the season, which isn't unusual for most rookies, and especially with the Bulls still a contending team. But Mirotic impressed when he did play, won December Rookie of the Month and then was a phenomenon in March, averaging 20.8 points and 7.6 rebounds, among the best in the NBA. He even led everyone in the NBA in the largest percentage of his team's fourth quarter points. What, he's even a closer!
The Bulls could not believe what they were seeing.
Thibodeau basically shut down Mirotic for the playoffs because of his inexperience, but Mirotic despite being a low first round pick finished second to Andrew Wiggins in the Rookie of the Year voting.
Fred Hoiberg came in as coach in 2015-16 with the plan to play faster and with more shooting. Mirotic was a natural, which sent Noah to the bench with Gasol starting at center. Mirotic had 19 points to lead in scoring as the Bulls beat the Cavs and James in the opener. But both Gasol and Jimmy Butler balked at the fast paced game since both preferred to play more deliberately. Noah was injured and Butler and Rose seemed at odds.
Mirotic lost his bearings in the morass, ending up being shifted to small forward, out of position to try to accommodate an angry Noah. Then Mirotic suffered an appendix attack and needed surgery, and complications followed. Again, he recovered late in the season and scored at least 20 points in six of the team's last eight games. But the Bulls missed the playoffs. Mirotic finished averaging 11.8 points after 10.2 in his rookie season. So there were few concerns as Mirotic went to join Spain for the 2016 Olympics.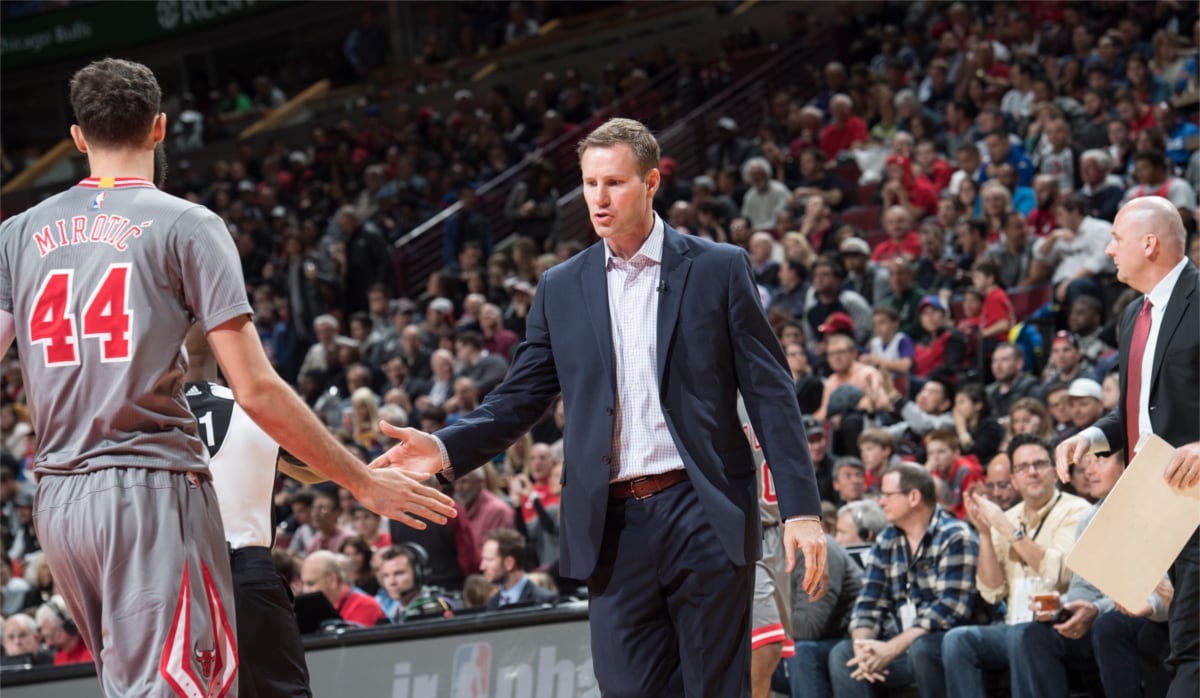 Hoiberg hoped Mirotic would start for the 2016-17 season, but again Mirotic, shaky on defense, was left unmoored to the Bulls ship. It was taken over by Butler, Dwyane Wade and Rajon Rondo, and Taj Gibson, going into his contract season, overwhelmed Mirotic in their head to head play and won the starting job. Mirotic seemed to grow detached. By January, he was piling up multiple benchings, listed as inactive, benched so even Joffrey Lauvergne could play. Once again in March, he recovered as Wade went out with injury and the Bulls played their best of the season. Mirotic had a stretch with 28 points in three of four games and at least 20 in five of eight in March. He finished the season averaging 10.6 points, his third consecutive in double figures. He scored in double figures in three of the six playoff games against Boston.
But his three-year contract was up. The Bulls had the right to keep him one more season, after which he would become an unrestricted free agent. The Bulls made an offer believed to be for three years. Mirotic said Tuesday he rejected that, but the sides apparently could not agree and the free agent market declined this summer. On the eve of training camp, Mirotic and the Bulls agreed to a two-year deal, though with one season guaranteed.
"I'm very happy with my new contract, to be honest," Mirotic insisted Tuesday. "Very happy to be here, very thankful for the Chicago Bulls organization for this opportunity. I said at the end of the season that my goal is to be here, to do what I didn't do maybe those first three years. I played some parts of the season well, some parts not so well, so I took this summer off and didn't play with the national team because I knew that I needed to step up with my weight, get stronger. Some people thought I was worried with my contract. No, I was very calm, working here (at the Advocate Center) until the middle of August. I'm very excited. I'm looking forward to this season.
"It's just not about the money, to be honest," Mirotic added. "It's more about being happy where you are, feeling comfortable with you and your family. I knew that my wife, my son, would be very happy in Chicago, too, so it was a goal. The bottom line was we all knew I was going to be here. Maybe you guys [the media] did not, but I knew. It's great (now), especially knowing how Fred wants to play this year. Going to play fast; there's no more holding the ball, playing isolation. Now it's more free, like when we used to play with Rajon on that second unit. Play free and share the basketball. This is the first practice and the team is looking good. We have enough talent to score a lot, so we're going to be in good shape. I don't think we're going to be that bad like people are thinking.''
Everyone will be tested, especially Nikola Mirotic. The promise is past for him; now it's only about results. It figures to determine his destination.