The Bulls have the No. 18 selection in Thursday's NBA draft. Which generally doesn't mean much unless you are particularly good at your job.
Bulls Executive Vice President of Basketball Operations Artūras Karnišovas, who will make the pick, often has been very good. Like last year with the No. 38 pick in the second round for guard Ayo Dosunmu, who cracked the rotation for a playoff team and was named second team All-Rookie. Dosunmu as the lowest 2021 draw pick to be named All-Rookie.
Although he likely didn't make the final selection, Karnišovas was part of the Denver Nuggets team that made one of the most significant low draft picks in NBA history, two-time MVP Nikola Jokic at No. 41 in the second round in 2014.
Which makes Karnišovas something of a basketball Buzz Lightyear, seeking success to infinity and beyond (the lottery).
It's not difficult when you have an NBA lottery selection. Pretty much by the time of the draft, the order is mostly set and teams generally select players slotted close to their number. This year, for example, it seems almost certain the top four picks in the draft will be Auburn forward Jabari Smith, likely No. 1 to Orlando, Gonzaga center Chet Holmgren, Duke forward Paolo Banchero and Purdue guard Jaden Ivey.
Picks rarely vary one or two slots from one another in the projected top 10.
Those executives become linked to their player's vagaries. They're usually teenagers or barely 20 years old in this era, so you hope they have the motivation to match the projection. And the accept the praise or blame.
Where a top team executive makes his reputation is with a selection outside the lottery who becomes a star, like Giannis Antetokounmpo and Kawhi Leonard at No. 15 and Jimmy Butler at No. 30. Or the likes of Draymond Green, Paul Millsap, Carlos Boozer, Mark Price, Dennis Rodman and Jokic in the second round.
Sometimes those "brilliant" picks accrue when it isn't a trend yet or risk, like high school players when there still were doubts, like Monta Ellis in the second round. Or international players like Manu Ginobili, Toni Kukoc and Tony Parker when the NBA still had doubts about the European game and toughness.
There's not usually much expected of players taken outside the lottery. But when a team hits on one it can make a franchise, as it has for the Bucks and Nuggets with the last four league MVPs.
It's almost certain up to a half dozen players among the top 14 will have good NBA careers. Once outside that lottery, the choices could be among 15 to 20 players to find a gem or two. Can the Bulls do that this week?
Here's a look at some of the teams in the last 20 years who defied the odds by selecting potential stars and valuable role players when picking lower than No. 18 in the first round. It happens just about every year. But it's not easy and generally not expected. Still, it is the job.
After all, what are they doing all winter?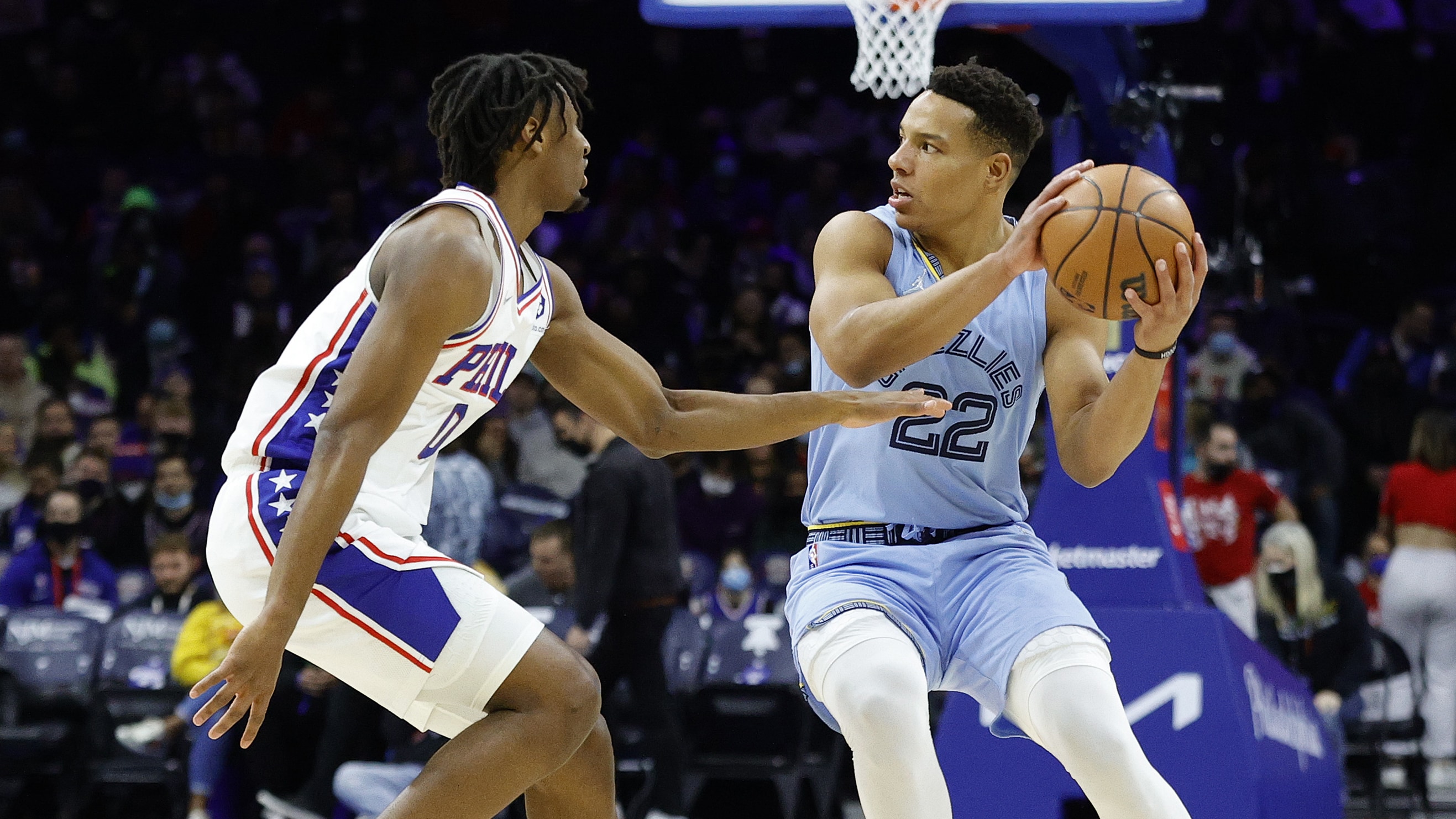 2020: Tyrese Maxey (21) and Desmond Bane (30). Both have become starting level guards for top playoff teams, good shooters and clutch scorers. Saddiq Bey (19) and Immanuel Quickley (25) were nice additions.
2019: Jordan Poole (28). After a stint in the G-league, he became a vital all around guard and high scorer for the championship Warriors team and still was making big plays in the Finals. Olympian Keldon Johnson (29) and second rounders Nic Claxton and Daniel Gafford became valuable big man role players.
2018: This draft upset my historic belief about second rounders. Jalen Brunson (33) may be the star free agent this summer after becoming Luka Doncic's valuable running mate. Maybe also for free agency Mitchell Robinson (36). Gary Trent Jr. (37) and De'Anthony Melton (46) were worth the gambles. Robert Williams (27) became a defensive star for the Finals Celtics. Kevin Huerter (19), Anfernee Simons (24), and like him or not, Grayson Allen was a good addition at (21).
2017: John Collins (19), Jarrett Allen (22), OG Anunoby (23), Kyle Kuzma (27), Derrick White (29), Dillon Brooks (45) and Denver's Monte Morris (51). Jordan Bell with the Bulls' selection they got rid of at No. 38? Not so much.
2016: Pascal Siakam (27) was the big prize, a likely perennial All-Star. And probably, too, Dejounte Murray (29). Caris LeVert (20). Malcolm Brogdon was Rookie of the Year and though he's been injured and now with trade rumors was a good one at No. 36.
2015: Bobby Portis (22), Larry Nance Jr. (27), Kevon Looney (30), and you wouldn't go wrong with second rounders Montrezl Harrell (32), Richaun Holmes (37), Josh Richardson (40), Pat Connaughton (41) and Norman Powell (46).
2014: Gary Harris (19), Rodney Hood (23), Clint Capela (25), Bogdan Bogdanovic (27), Joe Harris (33), Spencer Dinwiddie (38), Olympian Jerami Grant (39), Sixth Man winner Jordan Clarkson (46) and Jokic.
2013: Tim Hardaway Jr. (24) and multiple Defensive Player of the Year Rudy Gobert (27), the latter originally drafted by Denver. The Nuggets also had their oops like when they traded Donovan Mitchell or Trey Lyles and a future pick that didn't work out.
2012: This year was a better second round than post-18 first round. Second rounders included Green (35), Jae Crowder (34), Tomas Satoransky (32), Will Barton (40) and multiple All-Star Khris Middleton (39).
2011: Tobias Harris (19), Nikola Mirotic (23), Reggie Jackson (24), Butler (30), and second rounders who had varying degrees of significant success like Bojan Bogdanovic (31), Chandler Parsons (38), Davis Bertans (42), E'Twaun Moore (55) and Isaiah Thomas (60).
2010: Avery Bradley (19), and second routers like Hassan Whiteside (33), soon-to-be ring wearer Nemanja Bjelica (35) and Lance Stephenson (40).
2009: Jeff Teague (19), Darren Collison (21), Taj Gibson (26), Wayne Ellington (28), Patrick Beverley (42), three-time champion and also all-defense like Beverley Danny Green (46) and Patty Mills (55).
2008: Three-point champ and Most Improved Ryan Anderson (21), Courtney Lee (22); Serge Ibaka (24), Nicholas Batum (25) and George Hill (26), who all are still in the NBA while with the two picks after No. 1 Derrick Rose are long out of the NBA. Mario Chalmers (34), DeAndre Jordan (35), Omer Asik (36) and Goran Dragic (45).
2007: Jared Dudley (22), DePaul's Wilson Chandler (23), Most Improved and three-point champion Aaron Brooks (26), Arron Afflalo (27). Second rounders Carl Landry (31), Glen Davis (35) and All-Star Marc Gasol (48).
2006: Rajon Rondo (21) and still going as well as Kyle Lowry (24). Second rounder P.J. Tucker (35), who is opting out for a better deal, and four-time All-Star Paul Millsap (47).
2005: Mini dunk champion Nate Robinson (21), Jarrett Jack (22), All-Star David Lee (30) and in the second round C.J. Miles (34), Ersan Ilyasova (36), Monta Ellis (40) and Sixth Man Lou Williams (45) and Marcin Gortat (57).
2004: Dorell Wright (19), All-Star Jameer Nelson (20), another Chicago defensive wiz Tony Allen (25), scorer Kevin Martin (26), second-rounder Anderson Varejao (30), the Bulls' Chris Duhon (38) and Trevor Ariza (43).
2003: Boris Diaw (21), Kendrick Perkins (27), Leandro Barbosa (28), All-Star Josh Howard (29) to finish out a strong end of the first round. Then Luke Walton (32), Zaza Pachulia (42), Mo Williams (47) and All-Star shooter Kyle Korver (51).
2002: Tayshaun Prince (23), John Salmons (26) and second round All-Star Carlos Boozer (35), Matt Barnes (36) and Luis Scola (56).
2001: All-Star and Most Improved Zach Randolph (19), Gerald Wallace (25), Tony Parker (28) and All-Stars Gilbert Arenas (31) and Mehmet Our (38). And White Mamba Brian Scalabrine (35).
So, yes, they are out there. They're in every draft. Can the Bulls find one?
The contents of this page have not been reviewed or endorsed by the Chicago Bulls. All opinions expressed by Sam Smith are solely his own and do not reflect the opinions of the Chicago Bulls or its Basketball Operations staff, parent company, partners, or sponsors. His sources are not known to the Bulls and he has no special access to information beyond the access and privileges that go along with being an NBA accredited member of the media.