So now it begins, Saturday afternoon in Cleveland, the 2017 NBA playoffs, the revered second season when every possession counts and the league lets you know when it's time to rest. It's the best time in every sport, though as much as it's sometimes taken for granted, it was a memorable regular season. Let's take a look back.
Probably the story of the season was less the Golden State Warriors with Kevin Durant, who eased to 67 wins, if such a thing is possible, than the man left behind, Russell Westbrook. He's probably on the way to the league MVP award with another of those records that never would be broken, averaging a triple double for a season. Good they named it so guys could try for it. Deliciously, his Thunder open the playoffs against the man who is the competition for MVP, James Harden and his long shot Houston Rockets.
Everyone figured the Warriors for the best record with free agent shocker Durant, and they got it even with Durant missing a long stretch with a knee injury. Watch out! They're rolling. It's tough to see who can take them down now, especially with the Cavaliers napping much of the season and falling to second place in the East behind Boston. No, didn't see that coming.
Joining the defending champion Cavs. as underachievers, though 51 wins still looks nice, were the Pistons, finishing last in their division, the Timberwolves, talented and with Thibodeau, but not many wins. No coaches were fired (yet), but the Magic's disappearance cost their gm his job. The Hornets fell back, perhaps victim to bathroom confusion in North Carolina. The NBA relieved them of the All-Star game.
The Knicks were noisy and stuck, sort of like being in New York. The Heat heated up too late and the Jazz pulled off a quietly nice one, as you do in Utah, becoming one of a handful of teams ever to in four consecutive seasons to win in the 20s, 30s, 40s and now 51 games. Hey, you didn't know that!
The Spurs again won 60-some, somehow with Pau Gasol, LaMarcus Aldridge and Dewayne Dedmon as their Tim Duncan replacements. And with the skeleton of Tony Parker. Amazing stuff. None of the really big guys were traded, but the Raptors with Serge Ibaka and the Thunder with Taj Gibson helped themselves. Too bad for the 76ers. They processed out Ben Simmons and Joel Embiid again. Now we'll see where Camelo Anthony is headed next. Will the Celtics cash in those Nets draft picks for All-Stars?
Oh, we almost forgot Kawhi Leonard again, as usual. And there's so much more. It was fun, but it's time to move on. Here's a look at each series:
Boston Celtics (1) vs. Chicago Bulls (8)
Celtics: 52-29. Bulls 41-41 Series: 2-2
It really is a possible rare one/eight upset, and not because you are reading this on the Bulls web site. Boston sort of backed into the top seed when the Cavaliers decided it really was a 70-game season. Boston's good in what big city folk like. They grew up playing outside in cold weather with no nets on the rims and they like those guys who hustle and work. That's the Celtics, a 76ers-2001 type team of role players hustling after the ball to get Isaiah Thomas more shots. One of the most reliable statistics is point differential, and the Celtics have one of the worst in history for a No. 1 seed. Their margin over the Bulls is one of the lowest ever and lower than previous one/eight upsets. Though the Bulls last two wins helped their ratio a bit out of proportion. Can the Bulls control Thomas? Can the Celtics outhustle and unsettle the Bulls' kids? How much do Wade and Rondo have left? And why do they call it the Hub? Really, a city of baked beans with all those lobsters floating nearby?
Pick: Check Bulls.com Sunday for the matchups
Cleveland Cavaliers (2) vs. Indiana Pacers (7)
Cavaliers 51-31. Pacers 42-40 Series: Cavaliers 3-1.
Though everyone says the Cavs. will flip the switch, it sure doesn't look like they know where it is. Anyone seen their Clapper? They lost 12 of their last 21 to close the season. They still have the best player in the Eastern Conference playoffs in James, but Paul George for the last month has been as good as anyone, finally back to attacking the rim and dominating his matchup. George moaned much of the season about his team. Now he's just showing them. He closed the season averaging 30 points the last 12 games. The Pacers' recent overtime loss to the Cavs. was a classic that got LeBron ripping his teammates, mostly because he faced up against George and couldn't stop him. Plus, Lance Stephenson is back with Indiana to distract James and who knows what this time. Whisper more sweet nothings? Adding shooters who cannot defend well has made the Cavs. a beat-you-with-offense team. And we're told you can't do that in the playoffs.
Toronto Raptors (3) vs. Milwaukee Bucks (6)
Raptors 51-31. Bucks 42-40 Series: Raptors 3-1.
If Jabari Parker hadn't torn his ACL again—one of the saddest stories of season—this might be another thing. Of course, the Bucks then might have been third. The Bucks did win 20 of their last 30, but the Raptors made maybe the best trade deadline deals to add long missing defense with Serge Ibaka and overlooked P.J. Tucker. Tucker is one of the best perimeter defenders in the league and with DeMarre Carroll and their tough backcourt with DeMar DeRozan and Kyle Lowry back from injury, that gives the Raptors a real chance to make a move on Cleveland. Sorry, top seeded Boston. Hey, that immigration thing include Canada?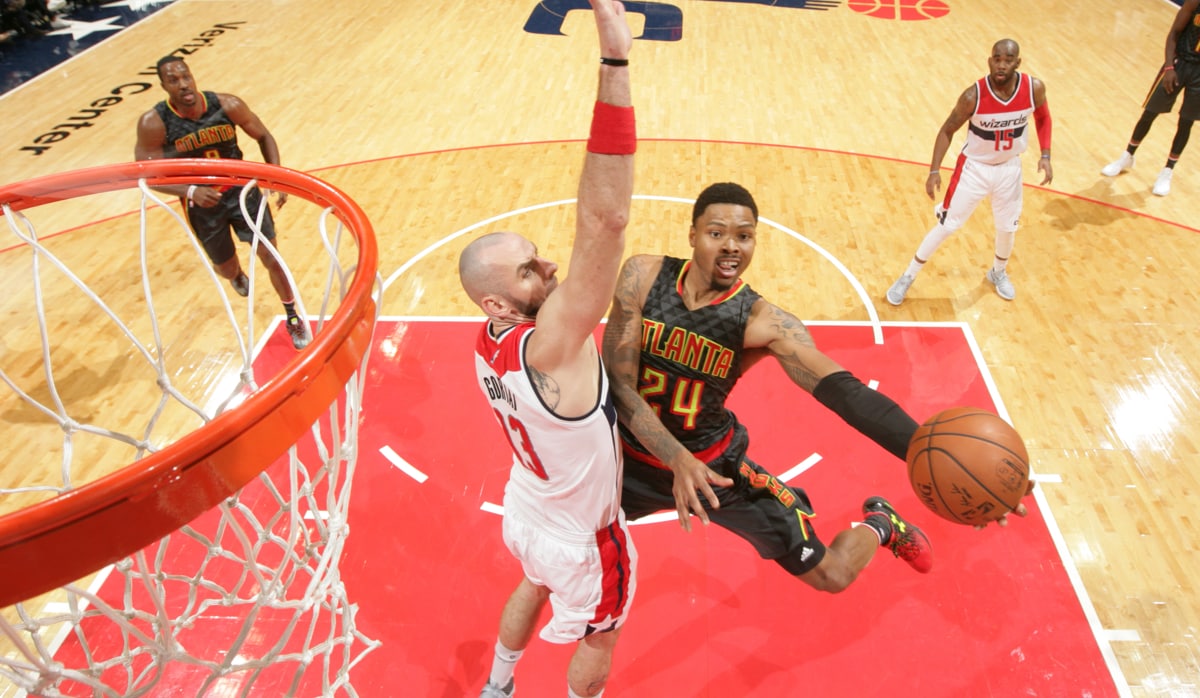 Washington Wizards (4) vs. Atlanta Hawks (5)
Wizards 49-33. Hawks 43-39 Series: Wizards 3-1.
After years of Bradley Beal injuries, the Wizards suddenly were one of the healthiest teams in the league. Washington is sick about what's going on there and the Wizards feel good? Go figure. Their starters played more minutes together than any group in the East and had the best rating among any East starting group, including the Cavs.'. They have a variety of playmakers and won a division title for the first time in almost 40 years. They're due? The Hawks looked like they were going to break up the team at midseason, then went on a long winning streak, then went on a long losing streak, and still have Dwight Howard and you never know what you'll get because with Howard and Paul Millsap that's a pretty good defense.
Golden State Warriors (1) vs. Portland Trailblazers (8)
Warriors 67-15. Trailblazers 41-41. Series: Warriors 4-0.
So when does the second round begin? The Trailblazers had a heck of a finish to nose out Denver for the last playoff spot. So you know their goals are someone more modest. The Warriors don't say much about it, but blowing that 3-1 Finals lead last season has to haunt them. Men on a mission from God? Blues Brothers remake? Portland got a boost with the addition of Denver's Jusuf Nurkic for their big man vacancy, but he's been hurt and uncertain about playing. Even if he does, the Warriors basically out of the conversation for MVP talk and alltime best record and joining the rest patrol ran up one of the top five point differentials of all time. The Trailblazers have a great backcourt; the Warriors have maybe the best ever.
San Antonio Spurs (2) vs. Memphis Grizzlies (7)
Spurs 61-21. Grizzlies 43-39. Series: 2-2.
Really, how did they do it? Should Popovich get coach of the year every year? Plus, they rest most of their guys it seems like 60 to 70 games a season. This is the fourth time in seven seasons they're meeting in the playoffs, and the Grizzlies pulled off an upset once. And it's still the same Memphis guys, though Tony Allen is out hurt. That grind game of Memphis now relates more to them wearing out with age. The Grizzlies slow it down, though more because they run with walkers lately. Memphis was hoping for a youth infusion and maybe trying to talk Tim Duncan out of retirement. Pau Gasol is aging, too, but he's now a reserve. The Grizzlies counter with Vince Carter. They'll get the Spurs into one of those close games and Mike Conley can win one for you.
Houston Rockets (3) vs. Oklahoma City Thunder (6)
Rockets 55-27. Thunder 47-35. Series: Rockets 3-1.
This is the one we all want to see, and bring your calculators. Mike D'Antoni's offensive system does work, and it's worked great with Harden playing Steve Nash with flailing arms—will he get all those calls in the playoffs?—and with shooters nicely spaced around him. Westbrook figures to average 48 minutes per game in the series and has become nothing like we've ever seen. He takes some crazy shots, but he makes some crazy ones, too. He's been terrific as a closer making game winning shots and arguably the most fearsome threat in a league with the Warriors and LeBron. Patrick Beverley is going to get into it with him, but Andre Roberson will with Harden. Watch out. It doesn't seem like Westbrook, though, has quite enough around him to score with the Rockets bombers, but you know he'll try. He and Harden get along, unlike he and Durant. Should be amazing, anyway.
Los Angeles Clippers (4) vs. Utah Jazz (5)
Clippers 51-31. Jazz 51-31. Series: Clippers 3-1.
I see an upset here, if you can call something an upset when the teams had the same records. OK, you can't. But the Clippers are the more famous team with the more famous TV salesmen. Heck, most NBA analysts can't name three Jazz players. Ooh, ooh, pick me, Gordon Hayward, Rudy Gobert, uh, uh. Give me a minute. The Jazz play that grindhouse game as well, slow, deliberate with strong defense at the basket, but with Hayward and if he's healthy George Hill, who mostly has not been—hey, that's another—they can make some shots. This may be the Clippers' last dance. The feeling is if they cannot make a playoff run this season it may be time to make major changes; plus they have a bunch of free agents. Utah will get them in a half court game and the Clippers' offense fizzles when that occurs. Can't wait to watch DeAndre Jordan purposely fouled. That's playoff excitement. The Clippers did have a strong finish to the season, but Chris Paul never has been to the conference finals despite all those commercials.